What is Conversational Commerce and Why Does it Matter for Brands?
Imagine walking into a store only to find there's nobody to greet you and you can't find anything easily. You have questions about products you're interested in, but no one is there to answer them. You leave empty-handed. Without conversational commerce, this happens in online retail stores all the time.
More customers are shopping online than offline. That's no excuse for skipping out on quality customer service. Learn how to take your customer service digital with conversational commerce.
Bonus: Learn how to sell more products on social media with our free Social Commerce 101 guide. Delight your customers and improve conversion rates.
What is conversational commerce?
Conversational commerce (or social commerce, or conversational marketing) uses conversation to better serve customers. Conversational commerce takes your customer service digital. It makes it possible to talk to thousands of potential customers at once.
These conversations happen anywhere customers are: social media, messenger apps, and your website. Conversations happen with live customer service agents, chatbots, or both.
Why is conversational commerce important?
Conversational commerce makes shopping online easier, more fun, and more personal for customers.
The Future of Customer Experience Survey by PwC shows customers are looking for speed, convenience, and friendliness when shopping. The survey also found:
73% of customers consider experience an important part of their buying decision. But, only 49% of customers say companies provide good customer service.
1 in 3 customers (32%) will leave a brand forever with one bad customer service experience.
65% of customers say a positive experience is more influential than great advertising.
Businesses who use conversational commerce see:
Source: PwC Future of Customer Service Experience Survey
Types of conversational commerce
You don't need to be the fastest talker in the west to join the conversation. Many brands are using these tools to talk to more customers online:
Conversational AI chatbots
An AI chatbot is a robot customer service agent. Yes. We are living in the future.
Through automation, a chatbot allows customers to connect with a brand instantly.
When people think of personalized service, a friendly robot may not come to mind. But, chatbots like Heyday, use machine learning to give personal responses to customers. These responses become more accurate and effective over time. Like a real agent, an AI conversational chatbot remembers its customers.
Chatbots like Heyday can also answer all the FAQs coming in, saving your team valuable time and resources.

Source: Heyday
Live chat apps
A live chat app gives customers the option to message a real-live customer service agent. Long gone are the days of the dreaded customer service form and 1-800 numbers.
Live chat apps allow automation of common answers to common questions. Human customer service can focus on the people who need extra help the most.
64% of customers would prefer to use a chat app than call customer service.
Live chat allows customer service to respond to many customers at once. Which creates more efficiency and a better customer experience.
Voice assistant software
Conversational commerce also includes using voice assistants to answer questions. More people are asking Siri, Alexa, or Google Assistant questions to make their purchases.
One survey of online millennial shoppers found almost half (47%) used a voice assistant to make a purchase.
Marketers should think of common questions or orders from customers. It's much easier for a customer to ask Alexa to order something than to click through your product pages.

Source: Survey of 1038 online shoppers
Messaging apps
People use social messaging apps more than social media. The user base of the top four messaging apps is larger than the user base of the top four social media platforms.
Customers are deciding what to buy before visiting a company's website. People use social messaging apps more like search engines. More questions are coming through a company's Facebook Messenger or WhatsApp. Make sure someone, or something, is there to answer them!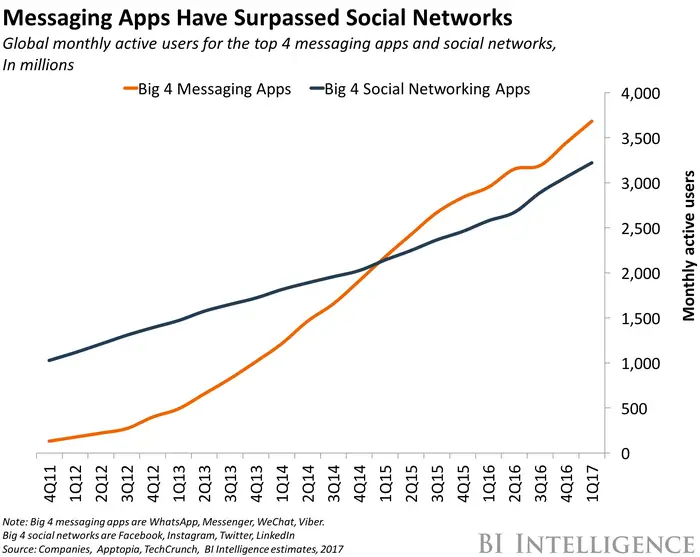 Source: The Messaging Apps Report, Business Insider
Social media
A new study from Publicis and Twitter, says "social conversations are the new online review."
92% of people seek out information on a brand on social media.
64% of people will change their minds about a brand after reading about them on social media.
The discussions happening around your brand are driving sales. It's time to embrace those conversations and encourage customers to post photos and reviews on social media.
Read our guide for building a strong customer service experience on socials. And also learn more about social selling.

Source: Twitter
6 benefits of using conversational commerce
When shopping, customers seek speed, friendliness, and helpfulness as the top qualities.
Here are our top six ways conversational commerce delivers this experience.
1. Give 24/7 customer support
It's called instant messaging for a reason. Customers want answers to their questions right away. Offering a high level of 24/7 customer support is impossible without it.
Through chatbots, businesses can respond to customers faster. Chatbots can also answer common questions right away. Or, give customers the option to schedule a call with a live agent when they are available.
2. Drive sales through chats and relationships
Customers reaching out via messenger or chat provide valuable information. Chatbots or live agents can suggest products based on the customer's needs.
For example, the Canadian brand Dynamite uses a Heyday chatbot on their website. If a customer is looking for a red sweater, the chatbot serves up different products for the customer.They can even buy within the chat!
Source: Dynamite
Adding a personal touch sells more products. Through chatbots, brands can learn more about their customers.
By assigning agents to repeat customers, brands can build relationships online. Like in stores, customers are far more likely to buy and return when the brand seems eager to help.
3. Reduce abandoned shopping carts
Abandoned shopping carts are a huge issue in ecommerce. The ecommerce industry loses $18 billion a year from abandoned shopping cart orders.
A conversational commerce tool can help reduce that number by:
Sending customers who abandon shopping carts reminders or nudges to complete their order.
Checking-in to see what has stopped customers from buying and gain valuable info to close the deal.
Sending customers looking for certain products, like a tennis racket, an automated link directly to the product.
4. Collect customer data and feedback
Your relationship with a customer doesn't have to end once they buy a product. Your chatbot can follow up with the customer to receive reviews or feedback, saving live agents valuable time.
You can also send automated follow-ups to customers to increase the chance of a review. 63% of customers are more willing to offer more personal information if they have a great experience.
5. Generate more and better quality leads
Conversational commerce opens up a new world of meeting new customers.
With the help of a chatbot you can
Send your top customers a message to ask for a customer review or referral.
Automate sales call bookings through chat to get more appointments and less no-shows.
Send a message to upsell an extra product of interest.
55% of businesses that use conversational commerce receive better quality leads as well.
6. More languages
Customers now have the ability to shop all around the world. Many companies miss out on the opportunity to engage customers who don't speak the same language.
A multilingual chatbot breaks down language barriers. Answer FAQs in other languages without hiring a whole new team.
You can use AI to answer questions and perform simple tasks in a customer's preferred language. For example, Merci Handy serves customers in both French and English using Heyday's chatbot. No live agent or translator necessary.
Source: Heyday
Best practices for using conversational commerce
Conversational commerce plays a different role depending on where your customer is at. Find balance between being helpful and not annoying.
Be the digital version of a helpful customer service agent. Not the digital version of a used car salesperson.
These best practices will help you get the most out of conversational commerce.
Awareness
Awareness-focused conversation happens on messengers and social media. This is before customers even visit your website. The goal here is to be quick to respond, helpful, and relevant.
Do:
Set up automations for FAQs to provide immediate responses to customers.
Have a welcome message go out to people visiting your website to engage them.
Make it easy and clear that customer service is open and available through chat 24/7.
Don't:
Spam customers.
Wait too long before answering customers. Most customers expect an immediate response.
Consideration/Decision
As customers make their final selections, ensure there is a live chat option on your website. Close that deal!
Do:
Provide short and to-the-point answers for customers.
Connect customers with specific questions or concerns to a live agent.
Include an obvious "live chat" button. Make it easy for customers to connect, especially on product and contact pages.
Don't:
Put pressure on customers to close deals.
Be afraid to follow up. Research shows interest decays overtime.
Retention
When a person visits your website, you want to try to make the visitor become a customer, or if they buy a product, then a repeat customer. You can strive to do that in a few ways.
Do:
Create a welcome pop-up.
Link customers to review pages or surveys and ask for feedback.
Welcome a known customer back to your website with special offers or promotions.
Send a thank-you when customers complete an order.
Don't:
Follow-up aggressively and try to make a new sale.
According to research from Twitter, 71% of people feel much more likely to consider buying if they talk with a brand before shopping.
Source: Twitter
Top conversational commerce platforms
Heyday
Heyday by Hootsuite is a conversational commerce platform. Heyday uses machine learning to automate up to 80% of the most common customer interactions.
Heyday also manages live customer service on the same platform. It's a smart chatbot that can manage FAQs, is multilingual and will connect the customer to a live agent when necessary.
Heyday integrates with the top ecommerce platforms like Shopify. You can be set up in as little as 10-minutes!
Facebook Messenger
As far as free tools go, Facebook Messenger has recently added a lot of new chatbot tools for businesses to use. Messenger is the most common chat app in North America. The number of messages sent to businesses on Facebook has doubled in the past year.
Facebook Messenger is the first place customers look to learn more. Facebook messenger has automations for businesses to respond to common questions. It also helps organize messages from Facebook and Instagram channels into one dashboard.
Note that Facebook Messenger doesn't integrate with other platforms or your website.
To help manage the conversations within Facebook Messenger, try Hootsuite. Hootsuite is a social media marketing and management tool. It allows you to easily manage all incoming messages across platforms.
LiveChat
LiveChat is an all-in-one live chat platform for your customer service team. The platform organizes all your customer interactions with live agents.
LiveChat will automatically segment visitors to your website based on what they do on your site, so you can better meet customer needs. It can also anticipate questions as customers are typing to help your team respond faster.

Source: LiveChat
Drift
Drift is another option for a live chat platform. It connects real sales reps with customers on your website and is quickly becoming a popular choice.
It has a few automated chat features. People can connect with live agents right away, or book appointments. Drift has beautiful dashboards and many live chat features. It can be a great tool to build simple chatbots.
Engati
Engati is a rising star in the chat bot world. It's a simple option for those getting started in conversational commerce. Engati's main selling feature is its intuitive chatbot builder. It allows you to automate simple chats on your website and messaging apps like What's App.
Start automating your customer service. Provide a simple easy-to-use platform for your customer service team with Heyday.
Turn customer service conversations into sales with Heyday. Improve response times and sell more products. See it in action.
How to Create Effective Social Media Guidelines for Your Business
No matter what industry you're in, every modern business needs to have social media guidelines.
Social media guidelines lay out the best social practices for your employees. In some cases, these rules are required by law or for legal protection. But ultimately, the goal of these guidelines is to empower employees with the information they need to make the right choices on social media, both for themselves, and for the company.
This is true even if your company doesn't have a social media presence yet. Whether you have an official Twitter account or Instagram profile or not, you'd better believe your employees are out there on the internet, chatting up a storm.
This article will review:
The difference between a social media policy and social media guidelines
Real-life examples from other brands
How to use our free social media guidelines template to create your own set of guidelines
Bonus: Get a free, customizable social media guidelines template to quickly and easily create recommendations for your company and employees.
Social media guidelines are suggestions for how employees of a company should represent themselves and the company on their personal social media accounts.
Think of social media guidelines as an employee manual for social media best practices.
They should outline how to behave on social media in a way that's positive and healthy for the company, employees, and customers alike. Social guidelines may include etiquette tips, helpful tools, and links to important resources.
Importantly, we really don't recommend prohibiting employees from using social, or restricting them from talking about your company at all. It's not a good look to police or censor your team members' social presence: talk about a morale killer, and say goodbye to any organic ambassador opportunities.
Social media guidelines, it should be noted, are different from your company's social media policy. They're also distinct from your social media style guide.
A social media policy is a comprehensive document that describes in detail how the company and its employees use social media. These policies are intended to protect a brand from legal risk, and maintain its reputation on social media. Where a social media policy lays out the rules and repercussions for breaking them, social media guidelines are more instructive.
A social media style guide, meanwhile, defines the brand voice, brand visuals, and other important marketing elements. It is often used by the content creators in an organization to ensure that their posts are "on brand".
One more distinction: social media guidelines are also different from community guidelines, which set the rules for public engagement with your account or group.
Want to learn more? Take Hootsuite Academy's free course Implementing Social Media Governance Within your Organization.
Every single employee (yes, including Maurice in accounting) is a potential online brand ambassador. Sharing social media guidelines is your chance to provide the whole team with tools to help them hype you up positively, inclusively, and respectfully.
Use social media guidelines to:
Empower your employees to engage positively on their personal social accounts
Educate on social media best practices
Encourage employees to follow your official accounts or use official hashtags
Distribute your company's social media strategy
Introduce employees to helpful third-party tools and resources, such as Hootsuite's social media dashboard or Hootsuite Academy training
Protect your employees from social harassment
Safeguard your company from cybersecurity risks
Clarify what information is OK to share, and what is a violation of confidentiality
Boost your brand's reputation on social media
While social media guidelines are usually crafted to share with employees, anyone else you're working with can benefit from these best practices too — think corporate partners, marketing agencies, or influencers.
If you don't create best practices around how your company is represented or discussed on social media, things can spiral out of control fast. And on the flipside, a lack of social media guidelines also can prevent you from benefiting from employee content. An enthusiastic team member, armed with social guidelines and feeling confident about what they're allowed to say, can become a powerful ambassador for your brand.
Here's a rundown of core sections you should include in your social media guidelines. But of course, while these details are common, go ahead and tailor any part of this to fit your brand: after all every industry is different.
In fact, every company is different… so before you lock in any hard and fast rules, you might want to check in with your team. Your employees might have specific questions or concerns that could be helpful to address in your master doc.
1. Official accounts
Identify your company's official social media channels, and encourage employees to follow. This isn't just a chance to gain a few more followers: it's an excellent opportunity to demo to employees how your brand presents itself on social media.
You might also want to identify specific hashtags, too, if those are a core part of your social strategy.
In some cases, companies either allow or require certain employees to run brand-affiliated social accounts. If that's something your business does, this is a good place in your social guidelines to explain how a team member can (or can't) be authorized for their own branded account.
2. Disclosure and transparency
If your team members are proudly identifying on their social accounts that they work for your company, it's a good idea to ask them to clarify that they're creating social media posts on behalf of themselves, not your brand. Adding a disclosure to their social profile or bio that "All opinions expressed are my own" (or similar) helps make it clear that these are not official viewpoints.
That being said, if they're going to discuss company-related matters on social, it's actually required by law that they identify themselves as an employee. This one's a rule, not a friendly suggestion. In fact, in the United States, the Federal Trade Commission requires the identification to occur in the relevant post. Just noting it in a bio is not enough.
An example of a Google employee's Twitter bio
3. Privacy
It never hurts to remind your team that confidential company information is confidential off the clock, too. Whether private info about coworkers, financial disclosures, upcoming products, private communications, research and development intel, or other sensitive information, clarify that privacy and confidentiality should be respected across all social media platforms.
4. Cyber safety
Cyber hacks and threats are no joke. Even if your employees are vigilant about phishing scams and the like, it never hurts to review cyber-safety basics, especially if you collect information about customers or clients.
Cyber safety first!
A quick refresh of cyber security 101:
Choose strong passwords
Use a different password for every social account
Don't use the same passwords for your corporate accounts
Use two-factor (or multi-factor) authentication to login to social networks
Limit the personal and professional information you share
Use personal credentials for personal accounts
Make sure your Internet connection is secure
Do not download or click on suspicious content
Only activate geolocation services on apps when necessary
Practice safe browsing
5. Harassment
Guidelines commonly remind staff to be kind on social media. But beyond promoting positivity, businesses should also make clear that they do not tolerate any form of social media harassment.
On the flip side of that is an opportunity to provide your employees with support should they experience harassment. Define your policy for dealing with trolls or bullies, whether it's to report them, ignore them, or block or ban them.
Tell people how to report issues they may have seen or experienced. If support is needed, tell employees how and where they can get it.
Providing protocol and tools is going to help your team nip problems in the bud before it grows into a full-blown social media crisis.
6. Inclusivity
It's important for every employer and brand to promote inclusivity on and off social media. Encouraging your employees to do the same is a way to show that you care about them, too.
Inclusivity guidelines may include:
Use inclusive pronouns (they/them/theirs/folks)
Provide descriptive captions for images
Be thoughtful about representation
Don't make assumptions about gender, race, experience, or ability
Avoid gender or race-specific emojis
Feel free to share your preferred pronouns
Use title case for hashtags (this makes them more legible for screen readers_
Use diverse imagery and icons. This includes stock imagery, emojis, and branded visuals.
Report and remove any comments deemed sexist, racist, ableist, ageist, homophobic, or hateful to any group or person
Make text accessible, using plain language and accessible to people learning English as a second language or those with learning disabilities
Find more inclusivity resources here.
7. Legal Considerations
Your social guidelines can include a reminder to employees to respect intellectual property, copyright, trademarks, and other relevant laws. When in doubt, the rule of thumb is relatively simple: if it's not yours, and you don't have permission, don't post it. Easy!
8. Do's and don'ts
Of course, while you may want to get into detail with the previous sections, making a quick-to-reference list of do's and don'ts is a chance to spell things out super clearly.
For example…
DO list the company as your employer in your social media bio (if you wish to)
DON'T engage with competitors in an inappropriate way
DO share company social media posts, events, and stories
DON'T share company secrets or confidential information of your colleagues
DO express your own opinion — just make sure it's clear you're not speaking on behalf of the company
DON'T comment on legal matters pertaining to the company
DO report harassment you've experienced or noticed
DON'T engage with trolls, negative coverage or comments
9. Helpful resources
You may wish to include links to helpful resources throughout your guideline document, or you might want to list in a separate section. Wherever you put them, it's a good idea to link to your social media policy, social media style guide, and community guidelines, so everyone has this info at their fingertips.
Other links you might want to include could be:
company documents

corporate code of conduct
employee agreements
privacy policies
If your company offers social media resources, what better place than your social media guidelines to make everyone aware of them? Whether its tools or training from Hootsuite, or stipends for social media classes, empower the people that work for you to put their best foot (feet?) forward on social.
For instance, may we recommend Hootsuite Amplify? It's a great way to find vetted content to share and enhance your personal brand.
10. Contact Information and Date
Be sure to also add information where questions can be sent. That may be a specific person, a forum or Slack channel, or an email address.
You should also indicate when your guidelines were most recently updated.
Looking for real world examples of social media guidelines? We've assembled a few sources of inspiration.
The Grossmont-Cuyamaca Community College District outlines tips for best practices clearly and concisely. "Freedom of speech must be exercised responsibly," the page reminds readers. "These recommendations provide a roadmap for constructive, respectful, and productive use of social networking sites."
Intel makes every effort to assure employees that they're not here to censor or police their online behavior. "We trust you," the guidelines say, both explicitly and implicitly. Right off the top, Intel is clear about its wishes: Be Upfront, Focus on the Good, and Use Your Best Judgement.
Stanford University (yep, the same institution Facebook founder Mark Zuckerberg dropped out of) has social media guidelines that are quite dense, but provide lots of resources and context for users. If your social media guidelines are this thorough, it may be a good idea to review the key takeaways with your team in a workshop or seminar to make sure the details aren't skimmed over.
Bloomberg School of Nursing at the University of Toronto has a very concise, bullet-point list of guidelines that are easy to digest at a glance. It's a good reminder that how you design your guidelines can help with comprehension, whether it's a web page, a PDF or a brochure.
Remember that your guidelines can be as long or as a brief as you wish. Sharp News, for example, only has four guidelines for social media use.
The Olympic Committee kept its social media guidelines to one page for the Beijing Olympics — albeit a pretty dense one. Leaning on the "do's" and "don'ts" makes it clear at a glance what is acceptable and what is frowned upon.
Because Nordstrom is a company that deals with customer service and privacy is important, its social media guidelines are heavily focused on protecting customers. Your own industry will have its own special sensitivities, so adjust your guidelines to fit your specific problem areas (or opportunities!).
We've distilled all these hot tips into one free downloadable template. It's just a simple Google doc and quite easy to use.
Simply make a copy and start plugging in your recommendations to guide your team to social media greatness.
Save time managing your social media presence with Hootsuite. From a single dashboard you can publish and schedule posts, find relevant conversions, engage the audience, measure results, and more. Try it free today.
Hootsuite Amplify makes it easy for your employees to safely share your content with their followers—boosting your reach on social media. Book a personalized, no-pressure demo to see it in action.
TikTok SEO in 5 Steps: How To Make Sure Your Videos Show Up in Search
What if I told you that TikTok SEO can help your content reach more people and even make your videos go viral?
If you've been sleeping on your social media SEO strategy, this blog is for you. We'll walk you through all the juicy details about TikTok SEO specifically, how it works, and how you can optimize your video content to get the most out of it.
Stick with us, and you'll be on the For You page in no time.
Bonus: Get a free TikTok Growth Checklist from famous TikTok creator Tiffy Chen that shows you how to gain 1.6 million followers with only 3 studio lights and iMovie.
What is TikTok SEO?
TikTok SEO is the practice of optimizing your videos on TikTok to rank higher in search. Just as you would use keywords and analytics to optimize the content on your website, you can also use these tactics to help your TikTok videos show up in more search results–this includes results on TikTok, as well as Google.
But wait. TikTok isn't a search engine, right? Maybe not technically, but it still has its own search bar, making SEO an important part of the platform. In fact, Google's own data found that 40% of young people primarily use TikTok and Instagram for search.
And, although social media posts on TikTok, Instagram, Facebook, and the like were not indexed by Google in the past, they now show up in the SERPs. Fancy that!
Your TikTok SEO strategy should include both SEO for Google and SEO for TikTok search. That way, you're giving your content a fighting chance in all of the biggest online search arenas.
TikTok SEO ranking factors
To understand TikTok SEO, you first need to understand what TikTok looks for when ranking content. There are several core ranking factors for the TikTok algorithm. These are:
User interactions
User interactions can include anything from videos you've liked, videos you've hidden, videos you've added to your favorites, and videos you watch all the way to the end. TikTok takes note of all of this data and uses it to determine which videos to show you.
Video information
All of the information contained in a video can affect its ranking on TikTok. This includes captions, hashtags, sound effects, and music. TikTok looks for videos that contain relevant keywords in their titles and descriptions, as well as videos that cover trending topics.
Devices and account settings
These are settings TikTok uses to optimize performance. They include language preference, country setting (you may be more likely to see content from people in your own country), type of mobile device, and categories of interest you selected as a new user.
Note that while account settings do factor into your TikTok SEO ranking, they receive a lower weight than video info and user interactions.
What's not included?
You'll be happy to hear that TikTok does not factor follower count into its SEO ranking algorithm (though, if you do want to get more followers, we have you covered). This means that if you create great content that speaks directly to your target audience, you have as much chance of landing on their For You page as the biggest TikTok stars.
This is what sets TikTok apart from other platforms like Instagram. And honestly? We're here for it.
Google SEO ranking factors
Anyone who knows anything about SEO knows that Google's ranking factors aren't exactly the most transparent topic. That aside, there are a couple of things we know for sure. And, *spoiler alert*, these ranking factors are also going to be a big part of your TikTok SEO tips.
Here's what Google looks for when ranking search results.
Keywords
These are the words and phrases that users type into a search engine when looking for answers. For example, someone looking for advice on keeping their hair healthy might search for "hair care."
Expertise
Google doesn't just give anyone the top search spot. To earn it, you have to be an authority on the topic.
How do they know you're an authority? This part is a bit tricky. But, in essence, Google looks at how many other pages link to your page (this acts as a reference and shows what you're saying is true) and how popular those pages are. This basically means a link from Apple is going to be worth way more than a link from your brother's local pizza parlor. Sorry, Antonio.
The good news for TikTok'ers is that social media platforms (Instagram, TikTok, Facebook) are some of the most "authoritative" sites in this world. So having a presence on these platforms, and having your content show up in Google search, can really help boost your discoverability.
Relevance
A piece of content must be related to what users are searching for in order to get a good rank. No one wants to see a page on WWII history when they're looking for makeup brush cleaning tips.
Freshness
Google generally prefers new content to old, though there are some exceptions to this rule. For example, Google says, "The freshness of the content plays a bigger role in answering queries about current news topics than it does about dictionary definitions."
How to do TikTok SEO in 5 steps
Now that we know what TikTok and Google's search engines look for, here are our top TikTok SEO tips.
1. Start with your audience
One of the most important aspects of TikTok SEO is understanding your audience. Knowing who they are and what they're looking for can help you create content that resonates with them.
If you're already active on TikTok, you may have a good idea of what your audience likes. If not, consider taking some time to get to know them better. Look at the videos they're engaging with and the hashtags they're using. As well, look at the comments and messages they're sending you. This can help you get an idea of their interests so that you can create content tailored to them.
Why does this matter for SEO? Well, understanding your audience can help you craft better titles and descriptions for videos, making them easier to find in TikTok searches. Similarly, you want to create content that your audience wants to see. Or the content they are already searching for. This can give you a leg up when it comes to being discovered by new audiences, too.
2. Do keyword research
Keyword research is an essential part of traditional SEO, so it makes sense to use it on TikTok, too. Find out what words or phrases your target audience is using when searching for content like yours.
Remember to consider different ways of phrasing a topic, as well as related keywords. You can do this through tools like Google Ads Keyword Planner, SEMrush, Ahrefs, and more.
Keep in mind these tools are scraping data from Google itself–not TikTok. Because SEO in TikTok is so new, there aren't currently any TikTok SEO tools that can tell you what people are searching for on TikTok.
But don't get discouraged. The best way to figure out what people are searching for on TikTok is to use the TikTik platform directly. Simply go to TikTok, open the search bar, and enter any keywords you've pulled from your TikTok keyword research.
TikTok will automatically auto-populate the search bar with the most popular keywords related to your query. Look through what it shows you, and select any keywords that match up with your content.
If you want to see even more keyword ideas, try typing in your keyword followed by a single letter. TikTok will then show you all the related keywords that begin with your query and the letter you entered.
For example:
Hair care "A."
Hair care "B."
Hair care "C."
You can keep repeating this process until you have a list of relevant hashtags and keywords to use in your TikTok SEO strategy.
3. Add keywords to your content
Once you have your TikTok keyword research completed, start adding them to your content in the titles, descriptions, and captions of your videos. This includes any on-screen text, such as lyrics or explanations.
Also, be sure to say the keywords out loud! That's right, TikTok's algorithms prioritize videos where the keywords are actually spoken.
You'll also want to include your keywords in any hashtags you use, as this will help people find your posts more easily. Use both your main keyword and any variations of your keyword that make sense. But don't overdo it. Make sure you know the optimal number of hashtags to use on each platform.
Finally, add your most relevant target keywords to your TikTok profile. This will ensure that your profile is more visible when people search for these keywords. It also gives potential followers an idea of what kind of content you post and whether they should follow you.
4. Add your TikTok to a microblog
This is the exciting part, where we get to mash everything we know about traditional SEO with everything we're learning about TikTok SEO!
Blogging is a big part of ranking in Google search. Remember when we talked about Google prioritizing content that is relevant and fresh? Well, that's pretty much why blogs exist. What better way to keep your content fresh than to publish consistently?
To leverage this technique for your TikTok SEO, create a microblog post that discusses a particular topic related to your TikTok video. Be sure to include your main keyword in the title and your secondary or long-tail keywords in the subheadings and content of the post. Also, don't forget to embed your TikTok video in the blog, too!
5. Track your progress
Every savvy SEO marketing strategy requires continuous monitoring and tweaking. Sure, you put all the best practices in place, but how will you know if your efforts are successful?
Tracking your TikTok analytics is the best way to see if your SEO strategy is paying off. This will give you insights into which videos are performing well, what kind of engagement they're getting, and more. It can also help you identify areas where you can improve, such as topics or keywords that don't seem to be resonating with your audience.
Hootsuite Analytics can show you exactly how many views are coming from search, as opposed to the For You page or from existing followers.
Be sure to track this progress over time, as well as the progress of your competitors. This will give you a better understanding of what works best in terms of TikTok SEO and can help you refine your strategy accordingly.
Frequently asked questions about TikTok SEO
What is SEO on TikTok?
SEO on TikTok is the process of optimizing your TikTok content to make it more discoverable on the platform, increasing views, likes and followers. This is done by researching hashtags, targeting certain keywords, and leveraging popular trends on the platform.
TikTok videos also have the ability to rank in Google search, so optimizing your content for SEO can help you gain even more reach and visibility.
How do you increase SEO on TikTok?
Increasing SEO on TikTok starts with keyword research. This involves researching and identifying popular keywords related to your content, so you can include those keywords in your captions and in the audio of your video.
You should also be aware of popular trends on the platform and use relevant hashtags related to your content. This will make your video more visible in TikTok's search results and maximize its chances of getting seen.
How do keywords work on TikTok?
Keywords on TikTok are the same as those for any other platform–-words and phrases commonly used to search for content. Popular keywords in your niche can help TikTok's algorithm boost your video and make it visible to more potential viewers.
How is TikTok a search engine?
TikTok is not technically a search engine, but it does have its own algorithm that can be used to find content. The algorithm takes into account the number of views, likes, and comments a video gets, as well as what other users are searching for. This helps TikTok serve up relevant content to each user based on their interests and past interactions with the app.
Grow your TikTok presence alongside your other social channels using Hootsuite. Schedule and publish posts for the best times, engage your audience, and measure performance — all from one easy-to-use dashboard. Try it free today.
Grow on TikTok faster with Hootsuite
Schedule posts, learn from analytics, and respond to comments all in one place.
How To Create a Strong Social Media Advocacy Program
There's nothing more convincing than a friend's endorsement — especially on social media. That's why a social media advocacy program is the best way to show the benefits of your products instead of telling your customers why they should care.
Brand advocates help you connect with potential customers and cut through the noise online. They can boost your visibility by:
Showing off your products on social media
Leaving positive reviews on your website
Driving more traffic to your products
In short, an engaged community leads to better sales outcomes. Keep reading for our guide to building a strong social media advocacy program.
Bonus: Download a free employee advocacy toolkit that shows you how to plan, launch, and grow a successful employee advocacy program for your organization.
Social media advocacy is a way to leverage the social networks of the people who like you and/or are invested in your continued success: your customers, employees, business partners, influencers, and more.
According to Nielsen's 2021 Trust in Advertising study, a whopping 89% of respondents trust recommendations from people they know. These recommendations are almost twice as likely to generate action, too.
A social media advocacy strategy turns your biggest fans into brand advocates. A brand advocate is someone who loves your brand so much that they choose to voluntarily promote your products or services on their own social media channels.
While influencers are paid to create sponsored content for your brand, brand advocates are motivated by their enthusiasm for your product or service. They opt into your advocacy program voluntarily. Savvy customers are great at spotting paid influencer content, but organic endorsements still carry serious weight.
By leveraging your company's biggest cheerleaders, you gain access to their social networks. The trust-based customer relationships you'll build are worth their weight in gold.
What can brand advocates do for you?
Social media is now a top channel for online brand research, second only to search engines. Customers rely on social at every stage of the purchasing journey. A brand advocate's positive post can really help you stand out from the crowd.
Here are a few ways in which brand advocates can help you build your business:
They leave positive reviews
Reviews from real users provide useful information for potential customers. In fact, reviews are the third-most important factor when shoppers are contemplating an online purchase:
Source: Hootsuite Digital 2022 report
Encourage your brand advocates to leave positive reviews on your website — and make it easy for them to do so. You can even generate a link to leave a review on Google and include it in your post-purchase emails to all customers.
Customers find a mix of positive and negative reviews more trustworthy. Responding to reviews shows that your brand is open to feedback. Make sure to engage with or respond to all reviews, good or bad.
They create user-generated content
User-generated content (UGC) is original, brand-specific content created by customers and published on social media or other channels. UGC acts as a trust signal, taking your brand authenticity to the next level. It's incredibly influential in the final stages of the buyer's journey.
Brands like Starbucks leverage UGC to break up the flow of traditional marketing posts in their social media streams:
Source: instagram.com/Starbucks
Only four of these 12 recent posts on the Starbucks Instagram feed are brand marketing posts. The other eight posts are user-generated content. In these examples, UGC creates a sense of FOMO that drives customers to stop in for the latest seasonal treat.
They bring in new users or customers
Seeing someone else's success can help new customers visualize their own. That's why success stories are invaluable when recruiting potential customers or users.
Airbnb, a giant in the short-term homestay space, builds brand advocacy with the Superhost Ambassador program.
Superhosts are experienced users who have completed at least 10 stays in the past year, maintain a 4.8+ rating, and have a 90% response rate within 24 hours. They enjoy perks and special recognition for earning Superhost status.
Superhost Ambassadors share positive experiences to help new users see the benefits of hosting. They provide mentorship and tools to help new hosts succeed, all while earning rewards for bringing new hosts to Airbnb.
Source: airbnb.ca/askasuperhost
With the "Ask a Superhost" function, Ambassadors become de facto customer service representatives. They answer questions from newbies and help them create successful Airbnb listings. In exchange for their support, Ambassadors earn cash rewards and enjoy exclusive features and tools.
The key to building a strong social media advocacy program lies in leveraging your existing communities. But before you reach out to potential advocates, make sure you've got a plan in place.
Here's how to start building your own social media advocacy program.
1. Start with your goals
Consider what you're trying to achieve with your social media advocacy program. What kinds of brand advocates are you looking to build your community with? What kind of ROI are you aiming for?
Use the S.M.A.R.T goal-setting program to develop a set of effective goals. That means setting specific, measurable, attainable, relevant, and timely goals.
Here's an example of a S.M.A.R.T goal:
Create a brand advocacy program to grow my Instagram following by 15 percent over the next 90 days.
Now that you've got an actionable goal in mind, you can figure out the tactics you'll need to follow to achieve it.
2. Identify potential brand advocates
After setting your goals, you need to find your brand advocates, recruit them to your cause, and grow excitement among them about your company, campaign, or initiative.
Be sure to develop your program around valuable opportunities and rewards for the participants. Show them how taking part in the program will benefit them. Three core things to focus on to drive the program, including your search for the perfect participants, are:
Effective communication
Clear program architecture
Professional integration
To find the best brand advocates for your social media advocacy program, you need to understand who you want to target, and ask yourself some key questions:
What are their pain points?
What incentives would be valuable to them?
What are their interests?
Who do they engage with on social media?
Deciding to develop a brand advocacy program doesn't have to mean starting from scratch. If your brand is active on social media, then there's a good chance your customers and fans are as well. This community is likely already talking about (and to) your brand.
Look at your social media followers and newsletter subscriber lists. Who's liking your posts and clicking your newsletter links? These engaged fans are prime candidates for your advocacy program.
3. Don't forget about employee advocates
Employees can also be fantastic advocates for your brand and business. An employee advocacy program amplifies company messaging and broadens your social media reach.
When recruiting employee brand advocates, make it clear that the program is optional. Internal advocates usually see the value in incentives, but they don't want to be bribed or coerced into participating!
Here are a few tips to incentivize your employee brand advocates:
Follow employees from your company accounts to boost their network
Use the company accounts to share creative messaging created by employees
Create a contest where everyone who shares a piece of marketing content is entered to win a prize
Keep track of employees who share content consistently and share this information with their managers
Acknowledge frequent sharers in company meetings or newsletters
Hootsuite Amplify helps you take the guesswork out of employee social media advocacy. Amplify allows your employees to access pre-approved content to share on their social feeds — all queued up and ready to go.
When done right, employee advocacy is one of the most effective ways to boost your public image and employee engagement.
4. Reward your advocates
Once you've got brand advocates, hang onto them! Make sure your social media advocacy program includes valuable opportunities and rewards for the participants. Show them how taking part in the program will benefit them.
Try the following tips to get the ball rolling:
Follow users that follow you and engage with the content they share
Highlight community members who contribute positively to your online discussions
Reward the people who stand out in your community
Send them swag or discount codes
Keep brand advocates engaged
For your advocacy program to be effective, you need to build a strong connection with your advocates. Best case scenario: you'll have hundreds, or even thousands, of engaged brand advocates championing your brand. These advocates need to feel valued!
Your social media advocacy strategy needs to be scalable. Put someone in charge of answering advocate questions and keeping them on track. Consider appointing a program lead to take on the engagement task as the program grows.
Add value to the experience
You can keep members engaged by adding value to their experience:
Create programming or education for your brand advocates
Offer discounts on educational opportunities
Add value with exclusive experiences, such as in-person meetups
Incentivize or even gamify your program by running contests or fun challenges
A relationship with a good brand advocate is mutually beneficial, so keep up with your end of the bargain.
Review your advocacy program on a regular basis
Review your brand advocacy program every few months to see how your progress is tracking against the goals you established at the start. If something isn't working, make adjustments to get things back on track. Social media is constantly evolving, and so should your advocacy program.
Tap into the power of employee advocacy with Hootsuite Amplify. Increase reach, keep employees engaged, and measure results—safely and securely. Learn how Amplify can help grow your organization today.
Request a demo of Hootsuite Amplify
Hootsuite Amplify makes it easy for your employees to safely share your content with their followers—boosting your reach on social media. Book a personalized, no-pressure demo to see it in action.