Why You Need LinkedIn Showcase Pages [2022 Set Up Guide]
LinkedIn is the world's premier business network with 722 million users as of January 2022. 25% of all American adults use LinkedIn, and 22% of those use it every single day.
The main reason? To "strengthen their professional network." For individuals, it's a great place to stay in touch with old colleagues, get referrals for new business or look for a new job.
But how do you effectively market your business on LinkedIn?
We've rounded up everything you need to know about marketing your company on LinkedIn — freshly updated for 2022.
Bonus: Download a free step-by-step guide to combining organic and paid social tactics into a winning LinkedIn strategy.
How to use LinkedIn for Business
The first thing you need to do on LinkedIn is make a page for your business. This video will show you how to create a LinkedIn Company Page from scratch:
Step 1: Create a user account for yourself
To access LinkedIn, you need to create an individual account. This will also be the administrator of your Company Page (although you can add additional Page managers later). I'd recommend signing up with your work email address but, hey, I'm not the boss of you.
Step 2: Create a LinkedIn Company Page
Okay, now we can create your Page. After you've logged in, click on the Work icon at the top right of your browser. Scroll to the bottom of the menu that pops up and pick Create a Company Page.
Choose the right type of Page from the four available options:
Small business
Medium to large business
Showcase page
Educational institution
They're all self-explanatory except for "Showcase pages." These are for companies who want to separate out divisions in their business to each have their own sub-page, but still link them back to the main corporate Page.
Showcase Pages appear on the main Company Page, as you can see here with Hootsuite's COVID-19 Resources page listed under "Affiliated pages."
After you select the Page type, start filling in your details. Your logo and tagline will serve as the first impression most LinkedIn users will have of you, so spend the time necessary to write a good tagline.
Hootsuite's tagline is: "The global leader in social media management."
When you're done, click Create page.
Ta-da, you now have a Company Page.
Step 3: Optimize your Page
OK, those are the basics, but it's time to optimize your new Page to get noticed and build your following.
First, scroll down and click the blue Edit Page button.
Fill out all the fields in this additional information area. This will make what you do clear to users and help with your LinkedIn SEO, a.k.a. showing up in search results. It's worth it: Companies with complete profiles get 30% more views.
A few LinkedIn Page optimization tips
Use translations
Serve a global audience? You can add translations here, so you don't need to create a separate Company Page for each region. You can have up to 20 languages on your Page, and it includes the name, tagline and description fields. Me gusta.
Add keywords in your description
Your LinkedIn Page is indexed by Google, so work in natural-sounding keywords where you can in the first paragraph of your company description. Keep it to 3-4 paragraphs max about your vision, values, products and services.
Add hashtags
Nope, not in your Page copy. You can add up to 3 hashtags to follow.
You can see all posts using these hashtags by going to your Page and clicking Hashtags under the post editor. This allows you to easily comment, like and share relevant posts right from your Page.
Add a branded cover image
Take advantage of this space to bring attention to your latest product launch or other big news. Keep it on-brand and simple. Hootsuite's features the new Social Trends 2022 report: a free mega-deep dive containing the secret sauce to outperform your competition this year (and next year, and the year after that…).
The current dimensions for this space are 1128px x 191px.
And finally: add a custom button
This is the button located next to the Follow one that LinkedIn users will see on your Page. You can change it to any of these:
Contact us
Learn more
Register
Sign up
Visit website
"Visit website" is the default option.
You can change it anytime, so if you have a webinar or event running, change it to "Register" or "Sign up" to focus on that, then back to your website after. Your URL can include a UTM so you can track where leads are coming from.
Step 4: Build your Page following
No one's going to know your Page exists unless you tell them.
Until you start posting content, you'll see this frankly adorable illustration of a marketer wearing sweatpants in deep discussion with their dog about this quarter's—wait a minute, that's me…
Here are 4 ways to get your new Page some love:
1. Share it
From your main Page, click on Share Page beside the Edit button.
Share your new Page to your personal LinkedIn profile and ask your employees, customers and friends to give it a follow. It's an easy first step.
2. Link to it from your website
Add the LinkedIn icon to the rest of your social media icons in your footer, and anywhere else you link out to social media.
3. Ask employees to update their profiles
This is key for the long-term growth of your Page. When your employees first listed their job titles on their profiles, you didn't have a Page. So those titles don't link anywhere.
Now that your page exists, ask your employees to edit their job descriptions on their LinkedIn profiles to link them to your new Company Page.
All they have to do is edit that section on their profile, delete the company name and begin retyping it in the same field. LinkedIn will search for matching page names. Once they click yours and save the changes, their profile will now link back to your Page.
This allows their contacts to find and follow you, but it also adds that user as an employee at your company. Displaying the number of employees you have can help your company establish credibility on the platform.
4. Send invitations to follow
From your Page, you can invite your connections to follow it. LinkedIn limits how many invites you can send out to ensure people don't spam.
This isn't the most effective method since many people ignore their LinkedIn notifications (guilty), but it only takes a minute, so why not?
Step 5: Execute your LinkedIn marketing strategy
You have a LinkedIn marketing strategy, right?
Creating a Page is the easy part. Keeping it going with content your audience wants is the hard part — unless you have a plan.
The LinkedIn part of your social media strategy should include answers to:
What is the goal of your LinkedIn Page? (This may be different from your overall social media goals.)
What will you use your Page for? Recruiting? Lead generation? Sharing the super nerdy industry stuff that doesn't perform as well on Instagram or Facebook?
Are you going to advertise? What is your LinkedIn ads budget?
What are your competitors doing on LinkedIn, and how can you create better content?
Lastly, make a content plan:
How often will you post?
What topics will you cover?
How can you repurpose existing content to use on LinkedIn?
Are you going to curate content from others?
Once you know what you're going to post about and how often, it's easy to stay on track with Hootsuite's Planner.
You can upload your content, schedule it to auto-publish and quickly see everything in either a weekly or monthly view. At a glance, ensure your posts are evenly balanced across all the goals and topics you want to cover and easily add new content or rearrange upcoming posts as needed.
Besides posting your own content, don't forget to engage with others. Even though it's for business, LinkedIn is still a social network.
Check out our best tips for growing your audience in 2022:
4 ways to use LinkedIn for business
LinkedIn advertising
There are many LinkedIn ad formats to choose from, including:
Sponsored text ads
Sponsored posts (like "boosting" an existing Page post)
Sponsored messaging (to a user's LinkedIn inbox)
Dynamic ads that can include a user's details, such as name, profile photo and employer in the ad
Sponsored job ad listings
Photo carousel ads
Four out of five LinkedIn users have the power to influence business purchase decisions, so ads can be highly successful.
With Hootsuite Social Advertising, you can create, manage and analyze the performance of all your social ad campaigns across LinkedIn, Instagram and Facebook in one dashboard. Hootsuite's unique analytics unlock new insights by showing the performance of both paid and organic campaigns across all three platforms. You always have the information you need at your fingertips and the ability to tweak campaigns for maximum results.
Posting job listings and recruiting
Job listings are already a popular destination for LinkedIn users. Forty million people look for a new job on LinkedIn every week. You can post a listing for free, which also shows up on your Company Page.
Paying to advertise your job listings can be worth it, too. Paid single job ads receive 25% more applications than non-promoted job ads.
LinkedIn has a dedicated Recruiter premium account that's been the standard for recruiters around the world for years. They also have a Lite version intended for small businesses.
Networking
This is the entire point of LinkedIn. Your professional network is more important than ever as more business tasks and deals continue to happen virtually.
LinkedIn reports that conversations between connected users grew by 55% from January 2020 to January 2021.
LinkedIn Groups is a great tool for networking. These are private discussion groups so anything you post there won't show up on your profile. The only drawback for companies is that you can't join with your Company Page. You have to use your personal profile in Groups.
But, many Groups allow users to share Page content, so joining a Group can be a good way of building both your personal network connections and Page followers.
You can find Groups under the Work icon at the top right of the LinkedIn dashboard.
Thought leadership
LinkedIn allows you to post long-form content, which many business leaders have used to build influential thought leadership reputations. Long-form content, when used properly, can cement you as an innovative leader and expert in your industry.
To post an article, click Write article from the LinkedIn homepage.
You can choose your personal account or Company Page to post from. Since our goal is to grow your business following, choose your new Company Page.
Alternatively, you could post thought leadership content under your CEO's personal profile, then re-share that content to your Company Page.
The publishing platform is almost like having your own blog software. It allows you to format your post easily, including adding images and video, and you can even save drafts.
Writing your piece is the easy part. Now, who's going to read it?
If thought leadership is your goal, you need to stick with it long enough to build momentum and interest in your work. Why bother? B2B decision-makers love thought leadership content.
These valuable prospects say they're willing to pay more to work with companies that publish thought leadership content.
A few tips to succeed:
Be consistent. This is the most important thing to keep your current readers and earn new ones. Decide on a weekly, bi-weekly or monthly posting schedule and then — I can't stress this enough — do it.
Be original. Don't regurgitate existing articles from the internet. Take a stand, form an opinion and provide a strong argument for your point. Not everyone has to agree with you. If they do, it's probably not true thought leadership.
Write once, promote forever. Don't forget to share and promote your older posts. Content production on LinkedIn grew 60% in 2020, so you've got competition. There's still a place for your content — just make sure to share it more than once.
3 important LinkedIn marketing tips
How you market your business on LinkedIn will depend on your goals. Generally speaking, these are the three things everyone should do to market like a pro.
Optimize your posts
Relevancy is more important than recency on LinkedIn. Their algorithm, like all platforms, aims to show users more of what they want to see and less of what they don't.
For example, the only LinkedIn poll I ever voted in was about how much I hated polls, so I had to laugh when LinkedIn served me this at the top of my feed today:
Here are the key ways to optimize your content:
Always include an image or other asset. Posts with visuals receive 98% more comments than text-only posts. For example, include a photo, infographic, SlideShare presentation, or video. (Videos receive five times the engagement of other assets.)
Keep your post copy short. For sharing long-form content, create a brief lead, then link over to the full article.
Always include a clear call to action.
Name the audience you're trying to reach (i.e., "Calling all creatives" or "Are you a working parent?")
Tag people and pages mentioned
Lead with a question to prompt responses
Create LinkedIn polls for feedback and engagement
Include two to three relevant hashtags in a natural way
Write strong headlines for articles
Respond to comments quickly to encourage more engagement
Find more tips in this course from Hootsuite Academy on LinkedIn content optimization.
Learn from LinkedIn analytics
If you're not trackin', you're only hackin'.
In all seriousness, measuring your marketing goals is only possible with accurate and timely analytics. LinkedIn has built-in analytics to tell you the basics, but you can save time and learn even more by using Hootsuite Analytics.
We've got a complete guide to everything you need to know about Hootsuite Analytics, but basically, you can track:
Your most engaging content.
How people found your Page.
Traffic for each section of your Page, and Showcase Pages if you have any.
Demographic information.
How your Page is performing compared to your competitors.
Snoopy information about your competitors and even their employees, including skills, where they've studied, job titles and more.
Hootsuite Analytics includes custom insights so you can tweak your LinkedIn strategy as needed to meet your goals.
Post at the best time
What's the best time to post on LinkedIn?
…There isn't one best time. It all depends on when your target audience is on LinkedIn. That depends on a ton of factors, from their time zone to work schedule.
As with everything in content marketing, success comes from knowing your audience.
Hootsuite helps out with this big time.
Not only can you schedule all your posts in advance, so you never forget to post, but you can also choose to AutoSchedule them at the best time for your company. Hootsuite analyzes your past performance to find when your audience engages the most.
4 LinkedIn marketing tools
Hootsuite
We've talked about how Hootsuite helps your LinkedIn strategy throughout this article. Hootsuite can do it all, from post planning, AutoScheduling it, placing ads, easily replying to comments and best-in-class analytics.
Hootsuite + LinkedIn = BFFs
But Hootsuite can actually do a lot more than that, for LinkedIn and your other social platforms, too. Check out how powerful Hootsuite can be:
Adobe Creative Cloud Express
Formerly Adobe Spark, Creative Cloud Express allows you to create free, eye-catching visuals right from your browser or mobile device.
You can remove image backgrounds, add animation, resize graphics for any platform and create professional-quality video assets. It also has a template library for expertly designed pieces to help grow your brand. You can also use Adobe Stock images for free.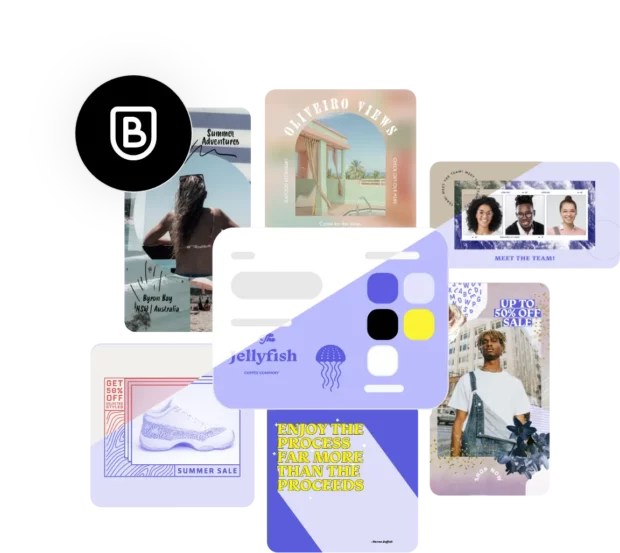 SlideShare
Adding meaty content like a presentation, infographic or white paper instantly makes your LinkedIn post highly shareable.
To add this kind of content, you need to do so through SlideShare. It's a separate platform from LinkedIn, so adding your content will also make it discoverable over there (bonus!). But the reason you want to add it there is so we can attach it to LinkedIn posts as a functional slider presentation, like this:
You can upload a PDF, PowerPoint, Word or OpenDocument file to use this way, and LinkedIn will show it in a presentation format.
Glassdoor
Managing your company reputation on LinkedIn is vital for recruitment.
Through Hootsuite's App Directory, you can install the Glassdoor app. Share your LinkedIn Company Page posts to Glassdoorso job hunters can get a better feel for your company. It also includes analytics reports for Glassdoor content engagement alongside your other Hootsuite reports.
LinkedIn is a professional network that allows you to build credibility, create a meaningful network and establish your company as an industry authority. All this is possible with the right LinkedIn marketing strategy, and now you know everything about how to create yours.
Easily manage your LinkedIn Page and all your other social channels using Hootsuite. From a single dashboard, you can schedule and share content (including video), reply to comments and engage your network. Try it free today.
Do it better with Hootsuite, the all-in-one social media toolkit. Stay on top of things, grow, and beat the competition.
Social Media Activism in 2022: How to Go Beyond the Hashtag
Social media activism is no longer optional, especially for larger brands. Consumers, employees, and social followers all expect your brand to take a stand on issues that really matter.
Bonus: Read the step-by-step social media strategy guide with pro tips on how to grow your social media presence.
What is social media activism?
Social media activism is an online form of protest or advocacy for a cause. Because hashtags play a central role in mobilizing movements on social media, the term is often used interchangeably with hashtag activism.
Activism on social media includes promoting awareness of social justice issues and showing solidarity through the use of hashtags, posts, and campaigns.
Genuine social media activism is supported by concrete actions, donations, and measurable commitments to change.
Without genuine offline action, using a hashtag or posting a black square or rainbow flag comes across as opportunistic and lazy. Critics are often quick to call out these minimal efforts as "slacktivism" or performative allyship.
Brands should tread carefully: More than three-quarters of Americans (76%) say "social media makes people think they are making a difference when they really aren't."
Along the same lines, when a company participates in social media activism that does not align with its past or present actions, it can prompt backlash and calls of virtue signaling, greenwashing, or rainbow capitalism.
We're about to dive into 10 ways to engage in meaningful activism on social media. And, of course, we'll provide plenty of social media activism examples where brands got things right.
But it really all boils down to this:
Words are just words, and hashtags are just hashtags. Yes, they can both be extremely powerful. But for brands, especially those with significant market share and resources, actions speak much louder. Social media activism must be accompanied by real world action.
Listen to credible voices working on the cause. Learn from those who have well-established expertise in the movement. And commit to working towards real change.
How to use social media to authentically support a cause: 10 tips
The first thing to do before engaging in social media activism – whether you're responding to an immediate crisis or beginning a longer term campaign of activism and allyship – is to hit pause.
Review your social calendar. If you use a social media scheduler, you might want to unschedule upcoming posts and save them for later. Review your content calendar to see how things align with the stance you're about to take. If you're responding to a crisis, you'll likely want to stay focused on the cause at hand.
Consumers do want brands to respond in times of crisis. More than 60% say "brands should acknowledge moments of crisis in their advertising and communications when they are occurring."
In the wake of the Uvalde shooting, the New York Yankees and Tampa Bay Rays paused their social media game coverage and instead used their social channels to share information about gun violence.
— New York Yankees (@Yankees) May 26, 2022
They went all-in on this, not holding anything back.
Firearms were the leading cause of death for American children and teens in 2020.

— New York Yankees (@Yankees) May 26, 2022
While your regular content is on pause, take the time to learn about what's happening beyond the headlines so you can take a meaningful stance followed up with concrete action.
That action component is critical in terms of garnering support for your activism rather than backlash.
Before returning to regular programming, consider how your campaigns and content will resonate within the larger context.
DON'T:
Try to profit from your support. Social movements are not marketing opportunities, and customers will call out actions your brand takes that appear motivated by anything other than good faith.
2. Listen to your customers (and employees)
It's normal for emotions to run high during social justice and human rights movements. But those in-the-moment spikes can lead to long-term changes in how people feel and behave – and how they expect companies to behave.
70% of members of Generation Z say they are involved in a social or political cause. And they expect brands to join them. More than half (57%) of Gen Z says brands can do more to solve societal problems than governments can, and 62% say they want to work with brands to address those issues.
But the 2022 Edelman Trust Barometer found consumers don't think brands are doing enough to address social change.
Source: Edelman 2022 Trust Barometer
Use social listening to better understand how your audience is feeling. Understanding the broader perspective allows you to express empathy and solidarity with negative sentiments, then rally your audience around positive sentiments with strong calls to action.
This could include rallying followers to share messages, sign petitions, or match donations. Sometimes it's as simple as acknowledging how people feel in the context of social upheaval, such as Aerie's ongoing advocacy for mental wellness – in this case, literally giving followers tools for combatting anxiety and improving mental health.
DON'T:
Dismiss emotions or police tone. People typically have legitimate reasons to feel what they feel.
3. Be honest and transparent
Before posting anything in support of a cause, reflect on your company history and culture. That might mean looking at the diversity of your teams, re-evaluating non-environmental practices, assessing the accessibility of your marketing, and more.
While difficult, it's important to have honest internal conversations about company values and changes you may need to make. If you're not honest, you're going to have problems with social media activism.
Admitting past mistakes is the first way to show that your company means what it says. Be upfront about anything that goes against your current position. Without doing this, your social activism will ring hollow—or worse, hypocritical. It could also prompt people to call you out.
Disney originally stayed silent in response to Florida's "Dont Say Gay" bill, sending out an internal email of support for LGBTQ employees rather than making a public statement. That quickly became a problem for the company, as the hashtag #DisneyDoBetter took off and employees, creatives, and fans all shared their concerns about the weak stance as well as the company's previous donations to supporters of the bill.
tl;dr: "We will continue to invite the LGBTQ+ community to spend their money on our sometimes-inclusive content while we support politicians working tirelessly to curtail LGBTQ+ rights."

I'm a huge Disney fan as is well documented on this site. Even I say this statement is weak. https://t.co/vcbAdapjr1

— (((Drew Z. Greenberg))) (@DrewZachary) March 7, 2022
Within a few days, Disney had to acknowledge its mistake and make a lengthy public statement.
Today, our CEO Bob Chapek sent an important message to Disney employees about our support for the LGBTQ+ community: https://t.co/l6jwsIgGHj pic.twitter.com/twxXNBhv2u

— Walt Disney Company (@WaltDisneyCo) March 11, 2022
Brands can either hold themselves accountable, or be held accountable. But don't feel you need to be perfect before you can take a stand. For example, more than half of employees say CEOs should publicly speak out about racism as soon as the company has its own racial equity and diversity goals in place, with concrete plans to meet them.
DON'T:
Hide internal issues and hope no one finds out about them – or hide behind internal communications. Internal emails can quickly go public when employee concerns are not addressed.
Be afraid to be honest. Customers appreciate honesty. But Edelman found only 18% of employees trust their company's head of DEI to be honest about racism within the organization. If your employees can't trust you, how can customers?
4. Be human
Humanize your communication efforts. People can and do see through inauthentic behavior.
Overused phrases and carefully calibrated language tend to make company statements look templated. (Thoughts and prayers, anyone?) Be considerate in what you want to say, but throw out the corporate jargon and canned content. Be real.
Edelman found that 81% of respondents to the 2022 Trust Barometer expect CEOs to be personally visible when talking about work their company has done to benefit society.
When then-Merck CEO Kenneth Frazier spoke out about voting rights, the company posted his comments on their social accounts.
This morning our Chairman & CEO Kenneth C. Frazier appeared on @CNBC taking a stand on Georgia's restrictive new voting law. pic.twitter.com/P92KbhN1aL

— Merck (@Merck) March 31, 2021
Yes, this is a statement that has likely gone through lawyers and other corporate messaging professionals. But it's clear and does not hold back. And Frazier has repeatedly proven his ability to unite business leaders in social action. He's talked about his values and how the issues on which he chooses to take a stand align with corporate values.
He told the Albert and Mary Lasker foundation that when he stepped down from President Trump's Business Council after the President's remarks about events in Charlottesville, he spoke to the Merck board about whether he should present it as a strictly personal decision or include mention of the company.
"I'm very proud to say that my board unanimously said, 'No, we actually want you to speak to the company's values, not just your personal values,'" he said.
DON'T:
Just say what everyone else is saying. It needs to come from your company.
Worry about keywords, irrelevant hashtags, or algorithms. Say the right thing, not the highest ranking thing.
5. Make your stance clear and consistent
When you do share a message in support of a cause, ensure that message leaves no room for ambiguity. Don't leave people asking questions or filling in the blanks for you.
The gold standard for clear brand positioning comes from ice cream brand Ben and Jerry's. They are consistent and vocal in their support of racial and social justice.
Consumers want your stance on important issues to be clear before they make a purchase. That means taking a stand in your social content and ads, but also on your website, so the message is consistent when someone clicks through to learn more or buy.
DON'T:
Try to have it all or do it all. Speak to the causes that matter most to your brand and your employees, so you can be consistent and authentic.
People want to hear how brands are tackling issues beyond social media.
It's one thing to post a message in support of Ukraine. But it's action that really counts. More than 40% of consumers boycotted businesses that continued to operate in Russia after the invasion. On social, both #BoycottMcDonalds and #BoycottCocaCola were trending in early March, until the companies finally ceased Russian operations.
@CocaCola is refusing to pull out of Russia – outrageous and disgusting decision. I will NOT be adding to their profits (and I am particularly partial to Costa Coffee) and i would encourage others to boycott too. #BoycottCocaCola #Ukraine️ pic.twitter.com/tcEc6J6sR1

— Alison (@senttocoventry) March 4, 2022
Show that your company is actually taking action. Which organizations are you donating to, and how much? Will you make regular contributions? How is your brand actually doing good within communities? What steps are you taking toward a more ethical production process and supply chain? Be specific. Share receipts.
For example, when Dove launched its #KeepTheGrey campaign to draw attention to ageism and sexism in the workplace, the brand donated $100,000 to Catalyst, an organization that helps create more inclusive workplaces.
Age is beautiful. Women should be able to do it on their own terms, without any consequences 👩🏼‍🦳👩🏾‍🦳Dove is donating $100,000 to Catalyst, a Canadian organization helping build inclusive workplaces for all women. Go grey with us, turn your profile picture greyscale and #KeepTheGrey pic.twitter.com/SW5X93r4Qj

— Dove Canada (@DoveCanada) August 21, 2022
And when the makeup brand Fluide celebrated Trans Day of Visibility, they highlighted diverse trans models while committing to donate 20% of sales during the campaign to Black Trans Femmes in the Arts.
DON'T:
Make empty promises. Edelman's 2022 special report on business and racial justice found more than half of Americans think companies are not doing a good job meeting their promises to address racism. If you can't live up to your promises, you're better off not to make them in the first place.
7. Ensure your actions reflect your company culture
Similar to point #3, practice what you preach. If your brand promotes diversity on social media, your workplace should be diverse. If you promote environmentalism, you should use sustainable practices. Otherwise, it's not social activism. It's performative allyship or greenwashing. And people notice: Twitter saw a 158% increase in mentions of "greenwashing" this year.
One way to ensure your activism aligns with your culture is to choose causes that connect to your brand purpose. In fact, 55% of consumers say it's important for a brand to take action on issues that relate to its core values and 46% say brands should speak about social issues directly related to their industry.
For example, the sexual wellness brand Maude has an ongoing campaign promoting inclusive #SexEdForAll.
Offering real calls for action and donating a percentage of profits from their Sex Ed For All capsule collection, they work in partnership with the Sexual Information and Education Council of the United States (SIECUS) to promote inclusive sex education.
That said, your brand purpose may not have an obvious connection to social causes. That doesn't mean you can opt out of the conversation.
Source: Twitter Marketing
Responsible corporate culture should be first and foremost about doing the right thing. But know that over time, it will actually improve your bottom line. Diverse companies are more profitable and make better decisions.
Plus, nearly two-thirds of consumers – and nearly three-quarters of Gen Z – buy or advocate for brands based on their values. They're willing to pay more for brands that do good in the world.
DON'T:
Take too long to follow through on commitments. Your customers are watching and waiting.
8. Plan for good and bad responses
Before your brand takes a stance on social media, prepare for feedback.
The aim of social activism is often to disrupt the status quo. Not everyone will agree with your position. Customers may applaud your brand, while others will be critical. Many will be emotional. And unfortunately, some commenters may be abusive or hateful.
Brands taking a stand in the face of the overturning of Roe v. Wade faced abusive comments on their social posts.
Benefit did all the right things on this post by stating the actions they were taking, showing how the cause related to their core values, and linking to partners who are experts in the work.
That said, they still faced comments that could be very triggering for their social team to see coming in, especially anyone impacted by their own abortion or fertility experiences.
Expect an influx of messages and equip your social media managers with the tools they need to handle them. That includes mental health support—especially for those who are directly impacted by the movement you are supporting.
Consider the following do's and don'ts:
DO:
Review your social media guidelines and update as needed.
Clearly define what constitutes abusive language and how to handle it.
Develop a response plan for frequently asked questions or common statements.
Be human. You can personalize responses while sticking to the script.
Hold relevant training sessions.
Apologize for past actions, when necessary.
Adapt your strategy for different audiences on different social media platforms.
DON'T:
Disappear. Remain present with your audience, even if they are upset with you.
Delete comments unless they are abusive or harmful. Don't tolerate hate.
Be afraid to admit that you don't have all the answers.
Make it the responsibility of your followers to defend their basic human rights.
Take too long to respond. Use tools like Mentionlytics to keep track of messages.
9. Diversify and represent
Diversity shouldn't just be a box your brand checks during Pride month, Black History Month, or on International Women's Day. If you support LGBTQ rights, gender equality, disability rights, and anti-racism, show that commitment throughout the year.
Make your marketing inclusive. Build representation into your social media style guide and overall content strategy. Source from inclusive stock imagery from sites like TONL, Vice's Gender Spectrum Collection, and Elevate. Hire diverse models and creatives. Remember that just about every movement is intersectional.
Most important: Listen to people's voices rather than simply using their faces. Shayla Oulette Stonechild is not only the first Indigenous global yoga ambassador for Lululemon, but she's also on the company's Vancouver-based committee for Diversity, Equity, and Inclusion.
Open your platform up to takeovers. Amplify unique voices. Build meaningful relationships with a broader group of influencers and creators. You'll likely grow your audience and customer base as a result.
DON'T:
Stereotype. Don't cast people in roles that perpetuate negative or biased stereotypes.
Let abusive comments go unchecked after spotlighting someone. Be prepared to offer support.
10. Keep doing the work
The work doesn't stop when the hashtag stops trending.
An important point to not forget. This is not the time to divest from purpose and inclusivity in marketing, it's actually the time to dive deeper into those commitments— and truly great marketers should be able to both show ROI AND center purpose https://t.co/8w43F57lXO

— God-is Rivera (@GodisRivera) August 3, 2022
Commit to ongoing social activism and learning. Continue educating your brand and your employees and sharing helpful information with social media users who follow your brand.
Champion the cause offline, too. Perform non-optical allyship. Look for ways to support long-term change. Become a mentor. Volunteer. Donate your time. Keep fighting for equity.
DON'T:
Think of brand activism as "one and done." One supportive post isn't going to cut it. If you're going to wade into the waters of digital activism, be prepared to stay there for the long term.
Schedule messages and connect with your audience on social media using Hootsuite. Post to and monitor multiple social networks from one dashboard. Try it free today.
Do it better with Hootsuite, the all-in-one social media toolkit. Stay on top of things, grow, and beat the competition.
How Brands Can Support Indigenous Communities on Social—the Right Way
There is a growing interest among businesses, large and small, to add their voices to the nationwide acknowledgment of the trauma inflicted upon Indigenous children at Canada's Indian Residential Schools.
This was amplified in 2021 with the location of nearly a thousand unmarked graves at sites of the now-shuttered institutions—and we know thousands more have yet to be discovered.
On National Day for Truth and Reconciliation, it's important for Indigenous people (and, frankly, for non-Indigenous people) to see businesses and brands honour those who lost their lives through the 165-year program of assimilation.
It's also important for us as Indigenous people to see them pay tribute to those who survived their years at the notorious schools.
But deploying the hashtag #TruthAndReconciliation or #EveryChildMatters can be a risky undertaking. There are many ways to make a well-meaning blunder that will prompt eye rolls throughout Indigenous Canada or, worse, to accidentally post something that's outright offensive.
That's why I wrote this blog post. I'm a Métis woman and lawyer who has been the CEO of the Native Women's Association of Canada (NWAC), the largest organization representing Indigenous women in Canada, since 2017.
I, and other Indigenous women who follow social media, brace ourselves as September 30 rolls around, waiting for the inevitable ham-fisted attempt by non-Indigenous actors to be part of the commemoration.
Please don't misunderstand. We want you to be there with us as we grieve and as we remember and as we honour. We just want you to do so respectfully. So here are some guidelines.
What is the National Day for Truth and Reconciliation? How is it different from Orange Shirt Day? And what should we call it on social media?
The National Day for Truth and Reconciliation was declared by the Canadian government in 2021, after the graves were found at Indian Residential Schools.
(Please note: "Indian Residential Schools" is the official name for the schools and a construct of the colonial mindset of 19th Century Canada. In any other context, the word Indian is extremely offensive when used to refer to the Indigenous people of Turtle Island.)
National Day for Truth and Reconciliation is a day for honouring the victims and celebrating the survivors of the schools. And it's a federal statutory holiday, so it applies to all federally regulated workplaces. But it's been left to provinces and territories to choose whether it is marked within their own jurisdictions.
We note that it took Canada's federal Liberal government (which came to power in 2015 promising to act on all 94 Calls to Action of the Truth and Reconciliation Commission) nearly seven years to meet the relatively simple Call Number 80. It urged the creation of the holiday "to ensure that public commemoration of the history and legacy of residential schools remains a vital component of the reconciliation process."
There is no doubt that the discovery of the graves—which the Truth and Reconciliation report said would be found if an effort was made to look for them—bolstered public support for such a day.
September 30 should be thought of as our Remembrance Day, and it should be referred to by its official name: the National Day for Truth and Reconciliation. Any other name fails to communicate the sombreness of the occasion, just as it minimizes Remembrance Day to call it Poppy Day.
September 30 is also Orange Shirt Day, reminding us of the day in 1973 when six-year-old Phyllis Webstad from the Stswecem'c Xgat'tem First Nation arrived at the St. Joseph Mission Residential School, just outside Williams Lake, B.C.
She was wearing a vibrant orange shirt her grandmother bought her to match her excitement for her first day of school. But the shirt was immediately taken from her by school authorities and never returned—an event that marked the beginning of the year of atrocities and torment she experienced at the institution.
We wear orange shirts on September 30 as a reminder of the traumas inflicted by residential schools. If you're specifically referring to Phyllis' story on social media, then it is appropriate to call it Orange Shirt Day.
But the holiday is the National Day for Truth and Reconciliation, and should be referred to as such.
What terms should you use when you refer to Indigenous people? (Terminology 101)
Speaking of terminology, when is it appropriate to refer to someone as First Nations, Métis, or Inuit, and when is it appropriate to refer to someone as Indigenous?
First up, here's what those different terms actually mean:
First Nations: The largest Indigenous group in Canada, these are members of the 634 First Nations spread across the country
Métis: A distinct group of people who have an ancestral connection to a group of French Canadian traders and Indigenous women who settled in the Red River Valley of Manitoba and the Prairies
Inuit: The Indigenous people of the Arctic and sub-Arctic regions
Indigenous: The First Peoples of North America whose ancestors were here before the arrival of the Europeans
Next, where to use them: It's always best to be as specific as you possibly can when describing us on social media.
Here's a quick reference on the best way to refer to Indigenous individuals:
Reference the person's specific first nation and its location
Reference the person's nation and ethno-cultural group
Reference their ethno-cultural group
Refer to them as First Nations, Mètis, or Inuit
Refer to the person as Indigenous
So, if someone is a Cree from the Cree First Nation of Waswanipi, say that. Second best would be to call them a Waswanipi Cree. Third best would be to call them a Cree. Fourth best would be to call them a First Nations member.
And fifth best would be to call them Indigenous, which is a catch-all phrase that includes all First Nations, Métis, and Inuit. But it also includes all Indigenous people around the world. The Māori of New Zealand are Indigenous.
Saying someone is Indigenous is like calling a Chinese person Asian. It's true. But it misses a lot of detail.
If you don't know how best to describe someone, ask us. Preferences vary from individual to individual.
But please, despite the fact that my organization is called the Native Women's Association of Canada, which is a holdover from a much earlier time (NWAC was formed in 1974), please do not call Indigenous people 'native.'
What role should brands play on social media on September 30?
At NWAC, our hashtag for the National Day for Truth and Reconciliation is #RememberHonourAct. We think those are good guidelines for everyone—individuals and businesses alike—on September 30 and, indeed, year-round.
Remember the survivors of the residential schools, honour them, and act to strengthen the relationship between Indigenous and non-Indigenous people.
If yours is a local business, pay tribute to the Indigenous people in your area. Acknowledge their traditional territory. Recognize that your operations are taking place on the land that they have shared with you, and that you and your employees are benefitting from that.
If you are a national brand, turn the spotlight back on the First Nations communities. Highlight the achievements and the contributions that First Nations people have made to Canadian prosperity.
Yes, September 30 is a sombre day of remembrance. But we don't want pity. We want acknowledgments of past wrongs and promises that they will not be repeated, but we also want to embrace the promise of a better future in which Indigenous people can enjoy prosperous and happy lives free of historical trauma.
Are there other notable days for brands to keep in mind for Indigenous people?
Yes.
There are other sombre days.
Less than a week after the National Day for Truth and Reconciliation, Indigenous women across Canada will gather at Sisters in Spirit Vigils to honour the women, girls, and gender-diverse people who have lost their lives in the ongoing genocide that targets us for violence. This is an annual event created to give support and comfort to the families and friends who have been left to mourn their loved ones.
On February 14, Valentine's Day, annual Women's Memorial Marches are held in cities and towns across Canada and the United States. They too are meant to honour Indigenous women and girls who have been murdered or who have gone missing.
And on May 5, we mark Red Dress Day, a day on which red dresses are hung in windows and in public spaces around Canada, again to honour the missing and murdered Indigenous women and girls.
But there are also joyous occasions.
Although there is not a specific date set aside, summer is the time for gathering. It is powwow season. Fall is the time that we traditionally rejoice in the bounty of the hunt.
On June 21, the Summer Solstice, we celebrate National Indigenous Peoples Day. This is a day for rejoicing in our heritage, our diverse cultures, and the contributions that Indigenous people are making to the complex fabric of Canadian life.
What social media mistakes do brands make on September 30?
The most egregious examples of brand behaviour around the National Day for Truth and Reconciliation are attempts to monetize our pain for financial gain.
If you own a clothing company, please don't print a batch of orange shirts and sell them for profit. And don't promote the sales of your shirts on social media. This happens every year and it is offensive in the extreme.
On the other hand, printing and selling orange shirts and then turning the profits over to Indigenous causes is a wonderful gesture of support.
And it's not just the small brands that are doing this. Walmart, for instance, promises to donate 100% of the profits from its Every Child Matters t-shirts, which have been designed by an Indigenous artist, to the Orange Shirt Society.
Be the brand that does something like that.
In all of your social media posts, be mindful that this is our history. Every Indigenous person in Canada has been touched by the residential school experience, whether or not we or our ancestors attended one of the institutions. Be mindful of the traumas that can be brought to the fore with a thoughtless twist of words.
And again, Indigenous people are at a place where we don't need or want pity. We need people to celebrate our accomplishments. We need to feel part of a society that is eager to include us.
What opportunities are there for intersections between Indigenous people and other social movements?
In a simple word: lots.
If there is a social justice issue being championed—whether that is Pride in the gender-diverse community, or climate justice, or prisoners' rights, or racial equality—you'll find Indigenous people at the forefront.
My organization is an example of that. We have whole units of staff working on all of those things.
Reach out to us, or other national Indigenous organizations (we list a few later on), to ask about ways you can get involved, projects you can promote, and causes you can stand behind.
This is a prime opportunity to collaborate with Indigenous creators who are passionate about the larger social issue at hand.
How can brands work with Indigenous content creators?
Find them and ask them. There are plenty out there. Any search engine will quickly turn up hundreds of names of Indigenous content creators and influencers, and many will be eager to collaborate with you.
Here are some examples of places to look:
What Indigenous organizations can brands support or partner with?
Most of the National Indigenous Organizations are looking for partners. We, at NWAC, have terrific partnerships with brands like Sephora, Hootsuite, and TikTok.
@tiktokcanada

Applications for the TikTok Accelerator for Indigenous Creators are now open! Indigenous creators, apply by September 15 💫
But there are also smaller groups out there who would be delighted to hear from you.
One example that immediately springs to mind is Project Forest in Alberta which is working in partnership with Indigenous communities to restore sacred lands so that medicinal plants and native species will thrive again in First Nations communities.
There is also a range of organizations that are working tirelessly to improve the lives of the First Nations, Métis, and Inuit.
I would point to the First Nations Child and Family Caring Society of Canada, Susan Aglukark's Arctic Rose Foundation, The Martin Family Initiative, or the Indian Residential School Survivors Society.
Those are just a few. And of course, there is NWAC—we work tirelessly for the well-being of Indigenous women, girls, Two-Spirit and gender-diverse people.
What are some examples of brands that are supporting and/or highlighting Indigenous communities the right way?
Many brands are doing things right. I will again mention beauty company Sephora partnered with the NWAC to run a roundtable on Indigenous beauty to find out where they could improve. And they've acted on their learnings.
TikTok, likewise, has taken the time to reach out to us to ask for guidance on how to get engaged with Indigenous people and communities. And, over the past few years, we have worked closely with Hootsuite, providing advice and information.
But others are also making great strides.
I would point to the National Hockey League which has been unreservedly vocal in denouncing the racism directed at Indigenous hockey players. The Calgary Flames opened their season with a land acknowledgement.
Ahead of National Day for Truth and Reconciliation, the #Flames wore orange jerseys for the morning skate and the day will be recognized prior to puck drop tonight 🧡 pic.twitter.com/appz0sN7c9

— Calgary Flames (@NHLFlames) September 29, 2021
This would not have happened 10, or maybe even five, years ago. But society is changing, corporate behaviour is changing, the world is changing. And social media has had, and will have, much to do with that.
How To Win at TikTok (According to TikTok)
That's how Khartoon Weiss, TikTok's Global Head of Agency & Accounts, described the world's most downloaded app at The Gathering, an annual business and marketing summit held in Banff, Canada.
What's the distinction?
People don't "check" Tiktok. They watch it. And, Weiss says, "that small pivot in behavior is everything."
Bonus: Get a free TikTok Growth Checklist from famous TikTok creator Tiffy Chen that shows you how to gain 1.6 million followers with only 3 studio lights and iMovie.
So what does it mean for marketers?
In this post, we'll share key takeaways from Weiss's on-stage presentation. But that's not all!
Weiss shared more detailed insights at one of The Gathering's intimate "inner sanctums". And we've got the scoop for you below.
Embrace the shift from Me to We
TikTok is not a platform for YOLO, FOMO, and selfies. Instead, it's familial and inclusive.
You see into everyone else's living room. And they see into yours.
It's a collaborative space that rewards optimism. "Microcommunities" crystalize around hashtags like #crafttok, #planttok, and #DIYtok.
The experts within these communities share "complex information boiled down so usefully". This in turn creates even more experts and more knowledge to share.
As a brand, this means you need to focus on providing entertainment or edutainment.
Find your place in these existing communities and contribute value that's uniquely yours. Turn your assets into multiple TikToks and learn as you go what works for your brand.
And leave the comments on your content open – the community will tell you what they think. Use their insights to guide your ongoing TikTok strategy.
Be real, not retouched
You know who's not big on TIkTok? The Kardashians. "We keep it real on TikTok," Weiss said. "They are not accepted at the scale of a Jessia."
So who's Jessia? A Vancouver-based singer who went from this:
To this:
After her song caught fire as a body positivity anthem that spawned countless TikTok duets.
On TikTok, it's all about "the language of the next generation and the new digital media behaviors."
"It's challenging if you want it to be great, but the community doesn't have a problem with accepting whatever it is you want to put out there," Weiss said.
And that community acceptance is critical. TikTok's algorithm focuses on a content graph, not a social graph. That means what you see in your feed is what the community brings to the surface, rather than who you follow.
On this front, #smallbusinesstiktok is leading the way. How? You guessed it: by telling real behind-the-scenes and product-creation stories.
"Small businesses have taken their creativity and turned it into content and now it's automatically commerce," Weiss said.
Real, genuine stories create that visibility in the content graph. And the best people to tell those genuine stories about your brand may not (yet) work for or with you.
Understand the power of creators
"We've redefined what celebrity means," Weiss said. "And we're the driving force behind the migration from the attention economy to the creator economy."
A key example? Just like Jessia, 7 of the 10 nominees for Best New Artist at the 2022 Grammys gained at least some of their momentum from TikTok.
Creators fuel discovery. And discovery creates demand.
"We consume things, and we convert on product, because it embodies the communities and the people we want to emulate," Weiss said.
For marketers, this means empowering and learning from creators who understand the platform.
"Unlearn everything you've learned," Weiss said in her inner sanctum. "It's not how the next generation speaks. You've always had agencies consult you – why wouldn't you let creators? Creators will help you unpack your brand and think about ways to connect with your audience."
View discovery as lower funnel (aka #tiktokmademebuyit)
"When every touchpoint becomes an opportunity to buy, every strategy becomes a commerce strategy," Weiss said. "It's a brave new world where media and entertainment have found their way to content, creator, and commerce."
Rather than social commerce, TikTok likes to think of this as "community commerce."
"Thousands of creators are jumping in, and they are delivering product efficacy and product advocacy," Weiss said.
Witness the case of 54-year-old Trinidad Sandoval:
She created a nearly 3-minute TikTok showing her go-to eye cream in action. Trinidad thought only her 70 followers would see it. Nope.
She went viral and led the 10-year-old product to sell out virtually everywhere within a week.
This wasn't a paid partnership – it was brand loyalty and advocacy in action.
This all adds up to one important lesson for brands: TikTok is not like other platforms, and it's impossible to fake your way to success.
Above all: Be real and put the community first. Create a great product. Build that loyalty. And the community will fuel the discovery of your brand.
Want to learn more about how to get the most from TikTok? Check out the resources below!
Grow your TikTok presence alongside your other social channels using Hootsuite. From a single dashboard, you can schedule and publish posts for the best times, engage your audience, and measure performance. Try it free today.
Grow on TikTok faster with Hootsuite
Schedule posts, learn from analytics, and respond to comments all in one place.