2022 Instagram Marketing: Complete Guide + 18 Strategies
With over 2 billion monthly active users as of Q4 2021 (up 200% from 2018) Instagram is both the O.G. and trendsetter of social media marketing. Instagram has shaped the landscape of social commerce, the creator economy, and how brands use social media for over a decade.
So how can you use Instagram marketing to grow your business in 2022?
Do you need Instagram ads (or worse: dancing Reels) to be successful? How can you best use Instagram's shopping tools?
Find out how to use Instagram to grow your business online, no matter your industry or goals.
Bonus: Download a free checklist that reveals the exact steps a fitness influencer used to grow from 0 to 600,000+ followers on Instagram with no budget and no expensive gear.
What is Instagram marketing?
Instagram marketing is the practice of using Instagram to grow your brand awareness, audience, leads, and sales. As the favorite social media platform of people ages 16-34, Instagram is a highly effective marketing platform for brands, entrepreneurs, and creators.
Instagram marketing strategies include:
Organic content: Photo, video, or carousel posts, Reels, Stories
Paid content: Instagram ads, including Stories ads, Shopping ads, and more
Influencer marketing
Shopping tools: Shop tab, Product tags and catalog, Live shopping, Instagram Checkout, Shopping ads
How to set up Instagram for marketing
If you're just starting out, here's what you need to do to set your company's Instagram account up for success.
Set up an Instagram Business profile
To use most of the marketing tips featured here, you need an Instagram Business account. It's free, and you can create a new one or convert your existing Personal account.
If you have an existing Personal account, skip to Step 3.
Step 1: Download Instagram
You can only create an account using a mobile device.
Step 2: Create a Personal account
Tap Create new account. Follow the prompts to enter your email and phone number and choose a username and password. You don't need to fill out the rest of your profile right now (more on how to optimize it later).
Step 3: Switch your new account to a Business one
Go to your profile and open the menu. Go to Settings and choose Switch to professional account near the bottom. Select Business as the account type and follow the prompts to convert your account.
Get verified
Most companies aren't verified. Research shows 73.4% of creators or brands with over a million followers are verified, but only 0.87% of those with 1,000-5,000 followers are.
You don't need that little blue checkmark to be successful on Instagram, but having it can help you earn trust and stand out.
To apply for Instagram verification:
1. In the app, open the menu. Click Settings, then Account, then Request Verification.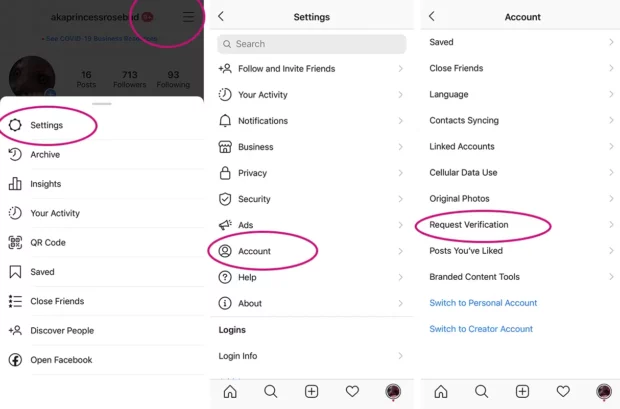 2. Fill out the form.
After submitting the form, you'll receive the answer as a notification within Instagram in about a week. Instagram will never email you, ask for payment, or contact you any other way.
If your verification request is unsuccessful, you can try again in 30 days. If it's approved, hooray and welcome to the super-elite Insta club.
The tricky part of getting verified is having enough third-party content to prove you're well-known enough to warrant needing verification. We cover tips for getting that supporting content in our complete guide to getting verified on Instagram.
Try Instagram ads
Expanding your marketing strategy with ads can have a big impact. Even simple ads can earn results, like coffee retailer Country Bean's 3 week campaign which resulted in a 16% sales increase.
There are two ways to get started with Instagram ads:
The easy way: Boost a post
You can turn any existing Instagram post into an ad by clicking the Boost Post button. You need to have either a Business or Creator account, though.
As you probably guessed, this is exactly like Facebook's "boost" feature. Now that Meta owns both companies, you'll also need to connect your Instagram account to Meta Business Suite.
After clicking Boost Post, follow the quick prompts to set your budget, narrow your target audience, set a duration, and boom—you now have an Instagram ad.
You can customize the targeting options or have Instagram automatically target your ads. Boosted posts are a good way to dip your toe in the advertising pool, so if this is all new to you, stick to auto mode.
Go big: Launch a full Instagram ad campaign
Step 1: Log in to Meta Business Suite
Click on Ads in the left menu, then Create ad at the top right.
Step 2: Choose a goal
Remember Choose Your Own Adventure books? It's like that, but for marketing.
For a first campaign, Automated Ads are a good option. Instagram will try to get you the most results with the least budget possible, and they auto-adjust your targeting and bidding strategy as they learn more from your audience's reactions. It's like having a 24/7 robot assistant.
If you want to experiment with ad targeting yourself, or have a specific goal, try out one of the other options, like focusing on leads or traffic.
Step 3: Create your ads
The prompts to complete your ad vary depending on which goal you pick, but generally the next step is to create the ad creative. For example, this is what the next step is for the "Build your business" goal.
For a well-rounded campaign, you should have at least 2-3 ad groups, each containing 3 or more ads.
Most ad formats have an option to allow Instagram to switch out your creative assets automatically to optimize ad performance. It's like having a real-time, built-in A/B testing process. Add multiple creative assets for each ad to take advantage of this.
Try to include a mix of photo, video, Stories ads, Reels ads, and Catalog and Shopping ads if you sell products online. Test out different ad copy and calls to action.
And, ensure you have ads for each stage of your buyer's journey, from consideration all the way to conversion.
Step 4: Define your audience
Take a shot every time you read "define your audience" in a marketing blog.
Targeting is critical to your ad's success. Meta Business Suite gives you five options:
You can target:
An Advantage Audience (Recommended for newbies!): This is Meta's AI-optimized audience based on your existing account audience, and updates itself automatically as your audience grows or changes. It analyzes what interests and demographics your followers share.
People you choose: Create your own audience from scratch, including location, demographics, interests, and more.
People who've previously engaged with posts or ads: Create a retargeting campaign to remind people who already know you about your offer.
Page Likes: Targets your existing Facebook Page and Instagram followers.
Page Likes and similar: In addition to your existing audience, this will also expand to target people the algorithm thinks are similar to them to bring in new leads.
If you're new to ads, use the Advantage audience option. Want to learn more about perfecting your ad targeting? The info in our Facebook ad targeting guide works for your Instagram ads, too.
Step 5: Set your budget
Whichever targeting option you pick, you'll need to set a budget and duration. You'll see the predicted results of your choices on the right side in estimated reach and clicks.
Step 6: Launch
Lastly, choose if you want your ad to appear only on Facebook, Instagram, or Messenger, or across all three platforms. We recommend running it across all.
Click Promote Now to save and launch your Instagram ad campaign. Woo!
Running a successful ad campaign is a huge undertaking. Check our in-depth Instagram ads guide for tips on creating great ads in 2022.
Add an Instagram Shop to your account
Instagram Shopping tools are a must-have for ecommerce businesses. 44% of Instagram users shop weekly on the platform, and 1 in 2 use Instagram to find new brands.
Tips on using Instagram Shopping are in the next section, but you need to add the Shop tab to your Instagram profile first.
This allows you to create a fully shoppable product catalog directly on Instagram, as well as tag and link to products in your posts and Stories, and more.
Step 1: Ensure you meet Instagram Shopping requirements
Brands using Shopping features must adhere to Meta's merchant policies. You're probably doing all these things correctly anyway, but it's a good idea to review Meta's commerce policies first before applying.
Step 2: Sign up for Commerce Manager
To create your Instagram Shop, you need to have a Meta Commerce Manager account. You need a Business or Creator Instagram account first, then you can sign up one of two ways:
Through your ecommerce platform
If your website runs on Shopify, Magento, WooCommerce, or other major platforms, you may only have to click a button to set up your Instagram Shop.
The process is different for each, so check out Meta's list of supported platforms to find instructions for yours.
Manually through Commerce Manager
Don't use one of those? It's easy to sign up from scratch.
Log in to Meta Business Suite and click on Commerce in the left navigation.
Click Add Account. Click Next on the following page to start the manual set up process.
First, choose a checkout method:
Checkout on your website.
Checkout directly inside Facebook and/or Instagram. (Recommended, but currently only available for U.S.-based companies.)
Checkout via direct message on WhatsApp or Messenger.
Select the Facebook and Instagram profiles you want to create your Shop on, then click Next. Create a new product catalog, and click Next again.
It will prompt you to enter your website URL and the countries you ship to. The final page is a summary of all your information. Ensure it's accurate, then click Finish Setup.
Step 3: Wait for approval
Instagram reviews new Commerce Manager applications manually, though you should hear back within a few business days.
Eager to learn while you wait? Learn how to tag products in your scheduled Hootsuite posts, and the next steps to optimize your Instagram Shop.
18 tips for a winning Instagram marketing strategy
1. Set S.M.A.R.T. social media goals
You know, the specific, measurable, achievable, relevant, and time-bound yada yada yada type goals. What do you want your Instagram account to do for your business?
A few common examples are:
Lead generation
Brand awareness
Recruitment
But, your goals are as unique as your company. The important point? Have some.
Learn how to set effective social media goals that directly connect to your marketing strategy.
2. Optimize your profile
There's a lot to cover here, so check out our full step-by-step recommendations to optimize your Instagram profile.
At minimum, ensure yours has:
The great thing about digital marketing is nothing is set in stone. Don't sweat about making the perfect Instagram profile. You can always tweak it later.
Remember: it's what's inside that counts (most). As in, your actual Instagram post content.
3. Up your graphics game
Instagram is a visual platform. While no one's expecting a small business to have the same resources as a megacorp, you still need to create eye-catching posts that attract your audience.
Besides hiring a professional photographer to take your product shots—which you really should—try:
Sourcing inclusive stock photography, like Vice's Gender Spectrum Collection and others who showcase the full range of the human experience. (Here are more stock photo sites.)
Popular Instagram Reels ideas. Not sure where to start? Try a Reels template.
Use graphic templates to up your style without spending a lot. Hire a designer to make them, or use an app like Adobe Express.
4. Champion user-generated content
The best way to boost your Instagram for free? User-generated content.
Encourage your followers to share photos or video of your products. Not every shot will be an Ansel Adams-worthy one, but you can't beat the authenticity of real customer photos and stories.
Instagram makes this easy with the Tagged tab, which shows all the posts other users tag you in. There's a hack to make it so only the crème de la crème are visible: Enabling manual approval for tagged photos.
So instead of a jumbled mess, you can curate user-generated content that fits your aesthetic.
5. Develop a brand aesthetic
Speaking of style… have one. While your audience isn't going to hand over their wallets solely due to good looks, make an effort to create a cohesive-looking profile.
Why? Because people will see one of your posts in their Instagram feed and instantly know it's from you before even seeing the account name. They'll recognize your style. That's branding at work.
6. …But don't be too concerned with aesthetic
Yes, having a recognizable look helps you attract the audience you want, but style without substance isn't a strategy. 58% of Instagram users say they like it more when brands share candid, unpolished content.
Don't let the fear of your content not looking "pretty" enough stop you. Post it anyway.
7. Have a distinctive brand voice
One thing that always needs to be on point, raw or not, is your brand voice.
Your voice comes through everything you communicate, such as:
Post captions
How you come across on video
Key terms you use
How people speak on camera when representing your company
Your bio copy
Text in videos or Reels
Besides what you say, it's how you say it. Are you casual and fun, or serious and scientific? Keep things light with jokes, or stick to the facts? There isn't a wrong way, but you need to stay consistent.
Your brand voice and tone is a key part of your social media brand guidelines.
8. Use Reels
It seems like all you see when you open Instagram now are Reels, and there's a reason for it: They get engagement. We conducted an experiment that found a significant correlation between posting a Reel and an immediate boost in overall engagement rate.
Some may not get many views and that's okay, because when one of yours does go a lil' bit viral? It's all worth it.
Anyone can be successful with Reels, it just takes practice. We've got tons of resources to makes yours reel-y (ugh) good:
9. Use Stories
Reels may be newer, but Instagram Stories aren't going anywhere. Popular for more informal content, Stories allow you to develop relationships with your audience in a unique way.
It doesn't take a ton more work to see a big effect, either. A year-long study found that when companies shared one Story per day, it resulted in a 100% retention rate.
Not only that, but 500 million people use Stories every day. I'm not great at math but having 100% of your audience remember your content, with a potential reach of 500 million people? That's a no brainer.
If you need tips on what to share in your Stories, check out our Instagram Stories guide for businesses and how to create effective Instagram Stories ads.
10. Create useful Stories highlights
Stories only last 24 hours, but your Stories highlights can live on forever.
Highlights are great for communicating lots of information quickly in the format most people prefer these days: Short video. 61% of Gen Zers and Millennials prefer videos under 1 minute long.
Plus, adding Stories highlights is a way to repurpose your Story content and keep it working for you.
Try adding a temporary highlight for a new product launch or event. Leave up always-relevant ones like FAQ or ordering information.
For effective Stories highlights, ensure you have:
Short, clear titles
Cover designs that fit your brand
Only your best content featured in them
11. Use Stories tools
Instagram makes it easy to link to your products or services (whether you have Commerce Manager set up or not) and engage with your audience.
Access the ever-expanding Stories toolbox by tapping the smiley sticker-thing:
Be sure to try out:
Product tags: If you have an Instagram Shop, you can easily tag your products in Stories. Users can tap the product name and checkout in-app.
Links: Useful for directing people to any URL, but especially so if you don't have an Instagram Shop. You can still link out to your products on external sites.
Questions: Get quick and valuable feedback.
Gift cards and more: Depending on your account type, users can purchase gift cards or order food delivery directly from a Story.
Hootsuite makes it easy to schedule Instagram Stories in advance, including all the special tools and features you need.
12. Stay up to date on hashtags
To hashtag or not to hashtag? Is it nobler to suffer the highs and lows of the algorithm, or take arms against a sea of content?
You can add up to 30 hashtags per Instagram post. But a 2021 experiment we did showed that using more doesn't get more views. Last year, Instagram's official @creators account recommended no more than 3-5 per post.
What about in 2022?
A casual experiment I ran on my account this week showed an opposite effect. I loaded up on hashtags, using between 15-20 per post, and most of my (albeit small) reach came from those hashtags.
So what does this tell us?
TL;DR: Science is hard, no one knows how many Instagram hashtags are "the perfect amount," and you should regularly experiment with this.
Check out our Instagram hashtag guide for tips on what's working right now.
13. Reply to comments and DMs
Engage with your audience! Reply to their comments, messages, carrier pigeons, etc.
Because a higher engagement rate looks good on your analytics reports, right? No! Reply to your followers because it's the right thing to do.
Yes, it also boosts your engagement rate. But more importantly, it encourages your potential customers to start conversations with you. Over time, those conversations become the foundation of their perception of your brand and greatly influence purchase decisions.
Hootsuite Inbox allows you to stay on top of all comments and DMs across all your platforms in one place. Assign conversations to team members, track responses, and ensure no one falls through the cracks. See how efficient it is to foster genuine engagement with Inbox:
14. Try Instagram Live video
Live video doesn't need to be scary. It's a powerful tool for growth and deepening your relationship with your audience.
Try:
Hosting a workshop or class.
A Q&A session.
Product demos.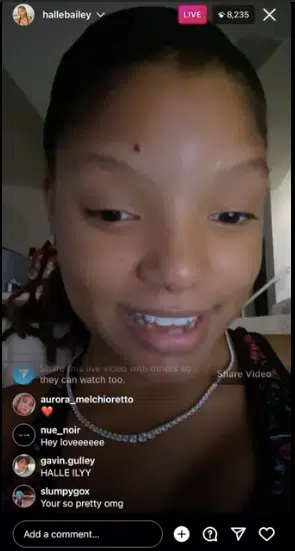 Our complete guide to going live on Instagram covers how to do it and ideas you can try today.
15. Partner with influencers
Influencer marketing is still going strong in 2022 and projected to grow more every year. In 2021 alone, influencer marketing accounted for $13.8 billion USD in value.
Don't forget your most valuable influencers: your employees. Starting an employee advocacy program can boost your profits 23% and internal team morale. Win-win.
Learn how to maximize your ROI with our free Influencer Marketing 101 guide for businesses of all sizes.
16. Run contests and giveaways
What do people like? Free stuff!
When do they want it? All the time!
Sometimes the best strategies for Instagram are the oldest. Contests can boost your organic reach and give you tons of user-generated content.
Contests don't need to be expensive. Give away free products in a simple raffle by having users like and comment on your post, or partner with someone else in your industry to split the cost of a larger prize package.
Get inspired with creative Instagram contest ideas, and a step-by-step process for running giveaways.
17. Measure your ROI
You see the positive comments customers leave, the sales coming in, and your follower count going up. But how do you put a number on it? What are the real results of your efforts?
Measuring your ROI, or return on investment, is important for reporting to your boss, but it can also help you justify establishing or increasing your paid advertising budget.
It's also the only way to know if your marketing strategy needs a tweak, or if you should double down on what you're doing.
Rather than sifting through each platform's analytics dashboard and attempting to assemble the full picture yourself, lean on Hootsuite Impact instead. Impact pulls together data for all your organic and paid content across every platform in one place, giving you powerful insights whenever you need them.
18. Experiment!
Last but not least, don't wildly follow every Instagram marketing tip you read on marketing blogs. 🙃
Seriously: You need to experiment. Every audience is different. Maybe your peeps hate live video. Maybe they're only online at 3pm on Wednesdays. Maybe they will give you their first-born child for a free sweatshirt.
Evaluate your performance often and set aside time to run experiments to see which tactics work best for you. Don't worry, we have a free social media audit template to help out.
Why use Instagram for marketing?
Need a bit more convincing? Here's how Instagram marketing can help you grow your business.
Instagram Shopping tools can boost sales by 300%
44% of Instagrammers shop weekly on the platform. Since launching basic shopping tools in 2018, like linking to products from Stories, Instagram is now a complete social commerce solution.
Brands can achieve up to 300% more sales with a combination of Shopping tools and ads.
People spend 30 minutes per day on Instagram
Instagrammers spend 30 minutes per day on the app, which is fairly average among major social platforms, but it's the session length that really stands out.
People spend about 18 minutes per session, which beats out the average Amazon shopping trip (13 minutes), Twitter scroll (14 minutes), and YouTube session (7 minutes). Surprisingly, also the average session on Pornhub (14 minutes).
Now that's real engagement.
Source: Hootsuite Digital Trends 2022 Report
Instagram ads reach almost 1/3rd of all internet users
Instagram ads can reach up to 1.48 billion people. That's 29.9% of all internet users and 23.9% of everyone over age 13 worldwide.
Instagram ads also significantly impact brand sentiment: 50% of people say they find businesses more interesting after seeing their ads on the platform.
Source: Hootsuite Digital Trends 2022 Report
3 Instagram marketing tools
Lil' biased here, but Hootsuite really is a great choice to manage all your social media marketing. We have all the basic tools you need, like scheduling, planning, and analytics, as well as advanced capabilities to take you even further.
With Hootsuite, you can schedule posts for Instagram (Posts, Stories, and Reels), Facebook, TikTok, Twitter, LinkedIn, YouTube, and Pinterest. from one intuitive dashboard. Think of all the time you can save not switching between 7 apps to post content!
Hootsuite also offers detailed analytics comprehensive reporting, as well as a calendar view and content creation tools that allow you to publish the best content possible.
That's not it. Every Hootsuite user gets access to custom, fully personalized recommendations for the best times to post content for maximum reach, impressions, or engagement.
Check out everything Hootsuite can do for you:
Notion is like if a notebook and a spreadsheet had a baby. A Gen Z baby 'cause it's digital-first.
You can add anything to a Notion page that you add to a document, like text, images, etc. But its real power is databases, allowing you to filter and sort your info in multiple ways, including on a calendar, in tables, or with Kanban boards, to name a few.
It's what I use to plan my social media content (before I put it into Hootsuite, of course) and I love how easy it is to edit on mobile. Plus, if I had friends a team, everyone could collaborate in the same Notion workspace, too.
Check out Notion's template gallery, or make your own content board from scratch.
Adobe Express is a free online tool to create great-looking social graphics and more. You get additional features if you already have an Adobe subscription, including Adobe Stock access and more.
With Hootsuite's Creative Cloud integration, you can view all your Adobe libraries directly inside Hootsuite, and edit photos in Hootsuite Composer. It's a perfect pair, especially if you already use other Adobe apps like Photoshop or Illustrator.
Manage all your Instagram marketing alongside your other social platforms with Hootsuite's time-saving tools. From a single dashboard, you can schedule posts, Stories, and Reels, engage with your audience, and measure your social ROI. Try it free today.
Easily create, analyze, and schedule Instagram posts, Stories, and Reels with Hootsuite. Save time and get results.
YouTube Shorts Monetization Guide [How Much Can You Make?]
Just like all the other social platforms, YouTube has been leaning hard into short-form video content, with a Shorts tab on the main menu and a prominent Shorts feature on the watch page. So, it's no surprise that YouTube Shorts reached two billion monthly logged-in users as of July 2023.
In this post, we talk specifically about YouTube Shorts monetization, a.k.a. how to make money from your YouTube Shorts. If you're looking for a more general primer on this format, check out our blog post on how to make YouTube Shorts.
Get your free pack of 5 customizable YouTube banner templates now. Save time and look professional while promoting your brand in style.
Can you monetize YouTube Shorts?
Yes!
It's been possible to monetize regular long-form YouTube videos for more than 15 years now. In that time, creators, artists, and media companies have earned more than $50 billion from their YouTube content.
But Shorts are a much newer format, and they weren't originally part of the YouTube Partner Program (YPP). Fortunately for all those who found themselves wondering, "When will YouTube Shorts be monetized?," the platform announced YouTube Shorts monetization options in late 2022. Since then, creators who focus on YouTube's short video format have been able to earn money from their work.
How does YouTube Shorts monetization work?
YouTube Shorts monetization is, well, a little complicated. The sources of monetization are:
YouTube Shorts ad revenue sharing
YouTube Premium subscription revenue sharing for Shorts
YouTube Shopping
YouTube fan funding
YouTube first launched Shorts monetization through the YouTube Shorts fund in 2021. It was a $100 million fund intended to encourage the adoption of the new format by rewarding Shorts creators who made the most engaging content. It was always meant to be a stopgap measure while YouTube worked on a long-term model for monetizing Shorts. This fund was discontinued when the Shorts ad revenue sharing model launched in February 2023.
YouTube Shorts ad revenue sharing
In this method of seeing your YouTube Shorts monetized, you get a share of the revenue generated from ads between videos in the Shorts feed. Your share is based on a four-step formula.
Source: YouTube Help
YouTube adds together all the revenue from ads shown between videos in the Shorts feed.
YouTube calculates how much of the revenue associated with Shorts is needed to cover music licensing for tracks used in Shorts. That money is paid directly to music partners. The rest of the ad revenue goes into the Creator Pool
YouTube allocates a percentage of the total Creator Pool to each monetizing creator based on their share of total views in each country.
YouTube applies the revenue share formula: They take 55% of the allocated revenue and you get 45%.
YouTube Premium subscription revenue sharing for Shorts
Like ad revenue sharing, this method of seeing your YouTube Shorts monetized allocates payments based on your share of views within your country. In this case, the formula only applies to subscription Shorts views.
Here's how YouTube describes the formula:
"YouTube will pay 45% of the net revenue from YouTube Premium that is allocated to monetizing creators for Shorts. A portion of YouTube Premium revenues are allocated to help cover costs of music licensing."
You can see your estimated daily Shorts Feed ad revenue in YouTube Analytics.
YouTube Shopping features
In addition to revenue sharing from ads and Premium subscriptions, you can monetize your YouTube Shorts using YouTube Shopping to promote your products.
If your Short features products, you can tag them during the upload flow. A product overlay will then show on your content, which allows users to browse and purchase your products without leaving YouTube while continuing to watch your Short.
YouTube Fan Funding
Once you turn on YouTube monetization, you're eligible for all YouTube fan funding options, including:
Super Thanks
Super Chat
Super Stickers, and
Channel Memberships
The most relevant to creators focused on YouTube Shorts are Super Thanks and Channel Memberships.
Formerly known as Viewer Applause, Super Thanks is a way for your biggest fans to show appreciation for your content. Through Super Thanks, a viewer purchases a one-time animation that only they see over the top of your Short. They also get to post a customizable and colorful comment in the comments section of the Short.
Super Thanks is available at four price points, ranging from $2 to $50. You get 70% of the Super Thanks revenue after taxes and fees.
Source: YouTube Official Blog
Meanwhile, channel memberships is a fan funding program that allows you to reward paid members with perks like badges, emojis, exclusive content, and live streams.
You can set your membership tiers as low as $0.99 and as high as $499. You can have up to five tiers with different monthly price points and perks. Creators keep 70% of that amount, while YouTube takes a 30% commission.
Who is eligible for YouTube Shorts monetization?
To be eligible for full YouTube Shorts monetization, you need to have a minimum of 1,000 subscribers. You also need to have either 10 million valid public Shorts views in the last 90 days or 4,000 valid public watch hours of long-form videos in the last 12 months.
Public watch hours from Shorts in the Shorts Feed don't count towards the watch hour threshold, so the Shorts views requirement is the better target if you focus primarily on Shorts.
Source: YouTube Help
Can you monetize YouTube Shorts before you hit these thresholds? Yes, but in a limited way. In June 2023, YouTube launched an expanded program to allow newer creators and those with a smaller following to monetize through YouTube Shopping and fan funding.
However, you will not have access to Shorts ad revenue sharing or YouTube Premium subscription revenue sharing.
To apply for this expanded program, you need to have 500 subscribers. You also need three valid public uploads in the last 90 days and three million valid public Shorts views in the last 90 days. (Or 3,000 valid public watch hours of long-form videos in the past year.)
Source: YouTube Help
For both programs, you must also:
Understand and comply with the YouTube Channel Monetization policies.
Live in a region where the program is available. (The expanded program is for now only available in these countries.)
Ensure your channel doesn't have any active Community Guidelines Strikes.
Turn on 2-step verification for your Google account.
Have access to advanced features on YouTube based on your channel history or by verifying your identity (not applicable for the expanded program).
Have an active AdSense account.
You can log into YouTube Studio at any time to see how close you are to eligibility, and request notification when you're eligible.
Source: YouTube Studio
How to start monetizing YouTube Shorts
Here's how to become part of the YouTube Partner Program and start monetizing your YouTube Shorts.
Sign in to YouTube.
Click your profile picture in the top right and then click YouTube Studio.
Click Earn in the left menu.
If you're eligible, you'll see an Apply button. Go ahead and click it. If you're not yet eligible, click the Get Notified button to come back and finish the process once you meet the requirements.
Click Start to review and Accept the Base terms.
Link your existing AdSense account, or click Start to set up a new one if you need to.
Wait for YouTube to review your application. (This usually takes about a month, so be patient.)
Once you are approved, go back to the Earn section of YouTube Studio and accept the Shorts Monetization Module.
Note: These are the instructions for applying from your computer. The specific instructions are slightly different for Android and iOS, but in both cases, you start by opening the YouTube Studio app and tapping Earn in the bottom menu.
To start monetizing with Super Thanks fan funding, go to the Earn tab in YouTube Studio and click Supers. Click Get Started and follow the prompts.
For Channel Memberships, go to the Earn tab, then click Memberships and Get Started.
How much can you earn through YouTube Shorts monetization?
Unfortunately, the earnings from YouTube Shorts are – at least so far – not spectacular. The consensus among YouTube Shorts creators is that revenue per thousand views (RPM) is coming in around $0.05 to $0.07. That's about $50 to $70 for a million views.
For those of you curious about YouTube Shorts monetization updates, here is Feb2-Feb 8th earnings from approx 35 Million views. pic.twitter.com/kMyjW6KB0b

— Zach King (@zachking) February 10, 2023
YouTube Shopping revenue will depend entirely on how well you promote your products and the price point of those products. Keep an eye on Revenue in your YouTube Analytics to see how much you earn through your YouTube Shopping tags in Shorts.
Likewise, Super Thanks will depend on how much your fans value your content, and how close a connection you form with them. Super Thanks is, after all, like a digital tip.
So: Are YouTube Shorts monetized? Yes. But, the earnings are not going to replace what a creator would typically earn from long-form YouTube videos.
However, as you'll see below, the YouTube Shorts monetization features are not the only way to earn money with your short-form content on YouTube.
4 other ways to make money with YouTube Shorts
1. Join an affiliate program
There are two ways to make money on YouTube Shorts with an affiliate program, depending on how big your channel is and where you live
YouTube Shopping Affiliate Program
If you have more than 20,000 subscribers and are based in the United States, you may be eligible for the official YouTube Shopping Affiliate Program. This program allows you to use YouTube Shopping to promote products from other brands in your Shorts and earn a commission.
Just like regular YouTube Shopping, you can tag the products directly in your content and use a call to action to let viewers know where to shop. You can also request product samples from select brands to help you plan and develop future YouTube Shorts.
External affiliate programs
You can also use YouTube Shorts to promote affiliate programs that you join directly. There's no set number of subscribers for this, or any required amount of watch time.
You simply find an affiliate program that relates to products you mention in your Shorts, and then earn an affiliate commission for sales you refer to that retailer. In this case, you get paid by the retailer that runs the affiliate program (or their affiliate network), rather than by YouTube itself. So how do you actually direct viewers to your affiliate link?
This YouTube creator uses a pinned comment on his Shorts to direct viewers to his profile for links to specific products. Think of it as the YouTube Shorts equivalent to an Instagram link in bio.
Source: @SimontheSiameseCat
He is promoting products using the Amazon Associates program. Since this is one of the largest affiliate programs out there, we've got a whole blog post on everything you need to know about Amazon Associates.
Shorts that include affiliate content must follow Google's Ad Policies and Community Guidelines. You also need to disclose that there is paid promotion in the Short. During the upload workflow, tap Yes, it includes paid promotion, then tap Yes.
Your Short will then show a label to let viewers know that the video includes paid promotion.
If you're interested in this approach to YouTube Shorts monetization, check out our post on how to use affiliate marketing.
2. Work with brands
Rather than applying for affiliate programs, you can reach out to brands to work with them directly. If you have a large enough following, brands may even start to reach out to you.
Working with a brand as a YouTube Shorts influencer could mean anything from free products to getting paid a fee to create and post brand-specific content.
As with affiliate marketing in YouTube Shorts, you need to disclose the brand relationship using the paid promotion disclosure option in the upload workflow.
3. Patreon
If you were an artist living in Renaissance Europe, you'd likely have a patron to fund your work. Patreon brings this concept into modern times by allowing content creators to monetize their content through paid subscriptions.
Video is the top content format on Patreon, so it's a good fit for monetizing YouTube Shorts. You could use Shorts to share an excerpt of a deep-dive video and let viewers know the full story is available through one of your Patreon membership tiers.
Or, you could use the Community tab on Patreon to chat with your patrons and develop a community.
So, what's the advantage of using Patreon over YouTube channel memberships? First off, you can create a Patreon with no minimum subscriber or watchtime threshold.
Beyond that, you'll need to explore each program to see which makes more sense for your specific situation and the perks you want to provide.
For more ideas, check out our full blog post on how to earn money with Patreon.
4. Use Shorts to grow viewership for long-form videos
While this is not strictly speaking a direct form of YouTube Shorts monetization, it's an important thing to think about when calculating ROI for your YouTube Shorts.
Sure, the YouTube Partner Program payouts for YouTube Shorts are not spectacular. But, especially for new YouTube creators, Shorts can be the one of fastest ways to build your audience. You can then create and monetize regular long-form YouTube videos, which earn ad revenue at a much higher RPM.
Stay ahead of the social media game with Hootsuite. Schedule posts, analyze results, build your audience, and grow your business. Sign up today for free.
Grow your YouTube channel faster with Hootsuite. Easily moderate comments, schedule video, and publish to Facebook, Instagram, and Twitter.
5 B2B Social Media Marketing Tactics That Actually Work
B2B social media marketing can be an effective way for brands to build awareness, strengthen relationships, and close sales. But B2B social marketers face unique challenges when it comes to tone and content mix.
So, how do you use social tools to bring in (and keep) followers, create engagement, build brand awareness, and fill your funnel? Read on for all the tips you need to build an effective B2B social media strategy.
Bonus: Get a free social media strategy template to quickly and easily plan your own strategy. Also use it to track results and present the plan to your boss, teammates, and clients.
B2B social media marketing is the use of social channels to market products or services to business clients and prospects. (B2B stands for business-to-business, as opposed to business-to-consumer or B2C.)
Marketers at B2C companies use social channels to reach consumers and influence purchases. Effective B2B marketing requires a different approach. B2B marketers have to think more strategically to reach business owners and decision-makers. They then nurture relationships that can lead to large purchase agreements.
All social channels can have a place in B2B marketing. But the balance and type of content will look different for a B2B social media strategy than for a consumer-focused plan.
B2B social media success begins with a sound B2B social media strategy. Here's how to build one for your brand.
 1. Align goals with business objectives
Just like a good B2C strategy, every B2B social media plan should answer the following two questions:
What are the company's business objectives?
How will B2B social media marketing help achieve them?
But the similarities mostly end here. B2B and B2C social media marketers use social platforms for different purposes. B2C social media campaigns drive sales, while B2B social is more "top of funnel." Social media goals for B2B marketers should likely focus on longer-term business objectives.
In fact, the top 3 overall goals for B2B companies are:
Create brand awareness
Build trust and credibility
Educate audiences
Generating sales or revenue comes in at number 8.
Those top three goals all contribute to social media B2B lead generation. Successful B2B marketers also use content marketing to nurture subscribers, audiences, or leads.
Our blog post on goal-setting can help you establish the right goals and objectives for your B2B social media plan.
Don't forget to include internal objectives and goals within your plan. According to research published in the Journal of Business Logistics, social media can help account managers increase both product and competitor knowledge.
2. Know your audience
Your corporate structure probably caters to various client personas. Or, at least, different client categories.
For instance, a design firm might work for commercial, public, and residential customers. It likely has team members or verticals that specialize in each category.
Your B2B social media marketing strategy should do the same. Focus on building fleshed-out buyer personas of your ideal customers. These will allow you to create social media content that speaks to real people.
Understanding your audience also means understanding which social channels they use. As a general rule, you should be where your customers are. Not sure where that might be? Start with the overall social media demographics. Then, dive into some audience research.
Almost all B2B content marketers (96%) use LinkedIn. They also rated it as the top-performing organic platform.
Source: Content Marketing Institute
For paid social media posts, the picture for B2B social media platforms is similar but not identical. LinkedIn again comes out on top (78%). But Instagram outranks YouTube and Twitter (a.k.a. X) is down at the bottom of the pack.
Source: Content Marketing Institute
Separate channels may also be relevant for different verticals, products, and markets. Depending on the industry and size of your business, you might want to consider:
a news channel
a careers channel
Or any other account that speaks to a specific audience within your niche. Make sure you're delivering the information your target audience wants in the right place and at the right time.
Keep in mind that B2B social marketing will likely become even more personalized in the future. Account-based marketing (ABM) will become the norm. In ABM, sales and marketing teams work together. They personalize outreach and marketing to decision-makers at target companies.
Social media is a prime tool for ABM. For instance, social listening allows you to keep tabs on your most important prospects.
3. Understand the competition
While you never want to copy the competition, it's always useful to know what they're up to. Understanding what the competition is doing helps you understand your own specific niche.
Start by benchmarking your current social media performance against your competitors. Hootsuite Analytics has a built-in benchmarking tool that shows how you stack up against others in your field.
You can get an even better understanding of the competition by using social media listening to monitor their social media activities, so you can gain insights from their B2B social media examples. Such as:
When and how often they post
What kinds of voice and tone they use
What kind of content gets the most engagement
Specific customer pain points that may be unaddressed
You can use this information to guide your own social strategy. Especially before you have enough data to get meaningful insights from your own social posts. (More on that later.)
Want more details on competitor research? We've got a full blog post on how to conduct a competitor analysis on social media.
4. Create a content calendar and content library
Once you understand your customers and the competition, it's time to think about what and when you will post on social media.
First, you need to plan your content calendar: What you will post on each of your social accounts and when. Deciding on the right content mix is an important part of this step, as no one will want to follow you if all you do is promote your products. We've got some content ideas for you later on in this post.
A social media management platform organizes your content calendar so you can create and schedule content in advance. And 76% of the most successful B2B businesses do so.
Hootsuite's Composer allows you to schedule all of your social media channels from one screen. You have a holistic view of your content distribution. This advance planning gives you time to use the built-in content approval workflows. Composer also recommends the best time to post on each platform based on your past performance and selected goals.
Hootsuite's content library is another important feature for B2B marketers. You can use the library to store pre-approved content and brand assets.
This protects your brand identity and reputation while making life easier for all members of the content creation team.
5. Analyze and refine
​​Almost all (87%) of the most successful B2B content marketers say they measure their content performance accurately. Compare that to only 19% of the least successful.
This makes sense. How can you know how well your social content performs if you don't measure with clear metrics and KPIs?
What metrics and data should you monitor? This depends on your business goals. You might focus on response time, impressions, engagement rate, conversions, sales, and more. The important thing is to set benchmarks and achievable goals.
Don't ignore barometers like customer satisfaction ratings, qualitative reviews, and your Net Promoter Score. Look at reductions in recruitment and customer support costs as well. All of this contributes to return on investment.
Be realistic about what efforts you'll have hard numbers for and which will be trickier to quantify. Remember, just because you can measure something doesn't always mean you should. And just because you can't measure something (easily) doesn't mean it's not worthwhile.
Your best ally in building out a performance measurement plan is a good social media analytics tool. Hootsuite Analytics gives you one-screen access to performance data from every social network, including easy-to-understand graphics and charts.
Speak to humans, not businesses
Remember that you're not talking to brands – you're talking to the people behind those brands. Likewise, they want to do business with the humans behind your brand.
In the LinkedIn B2B Thought Leadership Impact study, 64% of executives said they prefer "a more human, less formal tone of voice" over "an even-toned, intellectual voice."
And you're not just talking to CEOs and purchasing officers. Younger people will move up the ranks and be making purchasing decisions within a few years. It pays to nurture relationships with industry pros at all stages of their careers.
One simple way to break out of the boardroom with your content is to get your employees involved. Tell their stories. Highlight their accomplishments. Real people make your social media presence and brand voice appear more human and boost your recruiting efforts.
Tip: You can easily build a streamlined employee social program using Hootsuite Amplify.
Help your audience do their jobs
Think about ways you can make your followers' (work) lives easier or more enjoyable. Provide content and resources that delight them in some way. Think how-to information, industry news, trends, tips, strategy, and so on.
Thought leadership is particularly important. 61% of decision-makers say thought leadership can be "moderately or a lot more effective at demonstrating the potential value of its products/services compared to traditional product-oriented marketing."
In content that does specifically promote your product, focus on how it will directly benefit the customer in real business terms. The latest Linked-in-Edelman B2B Thought Leadership Impact Report found that non-business-critical suppliers can best increase their chances of making a sale by:
Proving they will increase a prospect's profit margins or minimize losses
Showing they can increase the likelihood of the prospect retaining customers and clients during a downturn
Showing they can help the prospect outperform competitors
Use humor your followers will understand
B2B social media is about starting conversations and building relationships that lead to sales in the long term. That "long term" part is key, though. Followers aren't going to stick around if your content doesn't interest them.
So don't let B2B's reputation for boring content hold you back. Humor is an import tool in your content-creation toolbox. You just have to find the right tone.
What kind of humor speaks directly to your audience? Is there an inside joke that only industry pros will understand? A pun that will amuse your followers while highlighting your product benefits? Signal to your audience that you understand social media is primarily a platform for content that entertains and delights.
Respond to DMs and comments
If we were to highlight the most important component of a B2B social media strategy, this would probably be it. Anyone who comments on your content or sends you a DM is expressing interest in your brand. They're practically raising their hands and shouting, "Hey! I'm a lead!"
That said, it's easy for comments and DMs to get lost when you're juggling multiple social platforms, each with its own inbox. A consolidated social media inbox like the one built into Hootsuite makes sure you never miss a thing.
Hootsuite Inbox also speeds up your response time by automatically routing messages through to the most appropriate person on your team. This ensures potential sales don't get bogged down in the customer service queue.
Reduce response time (and your workload)
Manage all your messages stress-free with easy routing, saved replies, and friendly chatbots. Try Hootsuite's Inbox today.
1. Share a free resource
A free resource like a white paper or report can be a valuable way to earn the trust of your B2B social media followers. But only if the report provides quality information backed up by reliable data and research – and offers real-world suggestions for how to incorporate that information into operations.
Two of the main qualities business leaders look for in thought leadership content are "robust research and strong supporting data" and "concrete guidance on how to respond to the issues or opportunities discussed."
For example, here's the primary and secondary data information for the Hootsuite 2023 Social Media Career Report:
And here are some of the ways Hootsuite shared the report on social media:
But how much asking is too much? 🤣

All kidding aside, this is why you must ask for the damn raise already! You deserve it for so many reasons.

Discover the most convincing reasons, and build up the courage to ask with insights from our career report: https://t.co/khvqGRv9m1 pic.twitter.com/yzD3sPLZ4k

— Hootsuite 🦉 (@hootsuite) September 19, 2023
2. Crack a joke
We talked about humor earlier in this post. Here's where the rubber hits the road. From a tongue-in-cheek play on words, to a funny meme, to a straight-up dad joke, tickle your followers' funny bones from time to time to keep them coming back for more.
The level of humor can vary with the platform, and should be based on audience research. For instance, you can likely skew a lot more silly on TikTok than on LinkedIn.
@adobe

@artandsuchevan finds creativity in the tiniest and most unexpected places ✨
Keep a close eye on your analytics after posting anything outside the norm for your brand to see how your audience responds. If they love it, give them more. If the response is tepid or you see an unusual number of unfollows, rethink your strategy and try a different approach to humor.
3. Join a relevant conversation
We talked about social listening above in the context of competitor research. But it's also a great way to find conversations relevant to your industry and your brand.
Simply add relevant hashtags and industry terms to your Hootsuite streams. When you find a relevant conversation, pop in with helpful information (never a hard sell). This is all about building relationships and creating brand awareness.
For example, when Patrick Mahomes was caught correcting an awkward grammar mistake on Twitter (shout out to the edit button!), both Grammarly and Merriam-Webster jumped in.
Source: @PatrickMahomes
The edit deserves a touchdown.🏈

— Grammarly (@Grammarly) September 12, 2023
Proud of this edit.

— Merriam-Webster (@MerriamWebster) September 12, 2023
4. Share some stats
We've talked about the importance of thought leadership already. Quick stats and infographics are an easy and effective way to share thought leadership on social media without requiring followers to dive deep into a long report.
Infographics are snackable and highly shareable, meaning they can help your content spread well beyond your own social followers.
5. Empathize
Business can be tough, and you can gain a lot of brand loyalty by showing you understand the difficulties employees face. Remember, you need to win the hearts and minds of future business leaders, not just those who are making purchasing decisions today.
We hope this message finds you well. Unless you're on PTO. In that case, we hope this message does not find you; we hope you find yourself with a fully recharged battery. 🔋

— Slack (@SlackHQ) September 19, 2023
Easily manage all your social media profiles using Hootsuite. From a single dashboard, you can schedule and publish posts, engage your followers, monitor relevant conversations, measure results, manage your ads, and much more.
Do it better with Hootsuite, the all-in-one social media tool. Stay on top of things, grow, and beat the competition.
2023 Average Engagement Rates for 13 Industries [STATS]
So you've planned and launched a social media campaign, and waited patiently for the likes, comments, and conversions to roll in. Now you're looking at your performance report, wondering what the numbers actually mean. Is a 2% engagement rate high or low? Did your target audience love your campaign, or was it a flop?
Without social media benchmarks (a.k.a. average performance stats for a social platform or industry), it's difficult to make sense of raw data. But we got you. In this post, we've rounded up average social media engagement rates from 13 top industries to give you a better understanding of where you stand. (And empower you to brag to your boss with data-informed confidence — you're welcome.)
We've even included a simple (and free!) engagement rate calculator you can use to quickly double-check your own performance stats.
#1 Analytics Tool for Growth
Beautiful reports. Clear data. Actionable insights to help you grow faster.
Average engagement rates (September 2023)
Below, you'll find the latest average engagement rates (per post), broken down by industry and social network.
Where did this data come from? Our team collects and anonymously compiles data from social accounts connected to Hootsuite. Each benchmark is based on at least 100 social accounts, and no data can be traced back to any individual account.
For more benchmarks (including impressions, audience growth rate, posting frequency, and much more) and insights that will help you improve your marketing strategy, start a free 30-day Hootsuite trial and browse stats from your industry — and hand-picked competitors — in Hootsuite Analytics
Agencies
Average X (Twitter) engagement rate: 1.02%
Average Instagram engagement rate: 2.06%
Average Facebook engagement rate: 0.82%
Average LinkedIn engagement rate: 1.18%
Average TikTok engagement rate: 0.71%
Education
Average X (Twitter) engagement rate: 1.03%
Average Instagram engagement rate: 3.16%
Average Facebook engagement rate: 1.63%
Average LinkedIn engagement rate: 1.81%
Average TikTok engagement rate: 0.52%
Entertainment and media
Average X (Twitter) engagement rate: 1.4%
Average Instagram engagement rate: 1.66%
Average Facebook engagement rate: 1.09%
Average LinkedIn engagement rate: 1.32%
Average TikTok engagement rate: 9.77%
Financial services
Average X (Twitter) engagement rate: 0.99%
Average Instagram engagement rate: 1.87%
Average Facebook engagement rate: 0.97%
Average LinkedIn engagement rate: 1.74%
Average TikTok engagement rate: 0.64%
Food and beverage
Average X (Twitter) engagement rate: 0.79%
Average Instagram engagement rate: 1.49%
Average Facebook engagement rate: 0.71%
Average LinkedIn engagement rate: 1.11%
Average TikTok engagement rate: 0.64%
Government
Average X (Twitter) engagement rate: 1.33%
Average Instagram engagement rate: 2.05%
Average Facebook engagement rate: 1.64%
Average LinkedIn engagement rate: 2.14%
Average TikTok engagement rate: 0.8%
Healthcare and wellness
Average X (Twitter) engagement rate: 0.92%
Average Instagram engagement rate: 2.28%
Average Facebook engagement rate: 1.31%
Average LinkedIn engagement rate: 1.61%
Average TikTok engagement rate: 0.75%
Nonprofit
Average X (Twitter) engagement rate: 1.18%
Average Instagram engagement rate: 2.47%
Average Facebook engagement rate: 1.61%
Average LinkedIn engagement rate: 2.26%
Average TikTok engagement rate: 0.63%
Real estate
Average X (Twitter) engagement rate: 0.81%
Average Instagram engagement rate: 1.5%
Average Facebook engagement rate: 1.01%
Average LinkedIn engagement rate: 1.68%
Average TikTok engagement rate: 0.39%
Retail
Average X (Twitter) engagement rate: 0.87%
Average Instagram engagement rate: 2.07%
Average Facebook engagement rate: 0.82%
Average LinkedIn engagement rate: 1.29%
Average TikTok engagement rate: 1.21%
Professional services and consulting
Average X (Twitter) engagement rate: 0.89%
Average Instagram engagement rate: 1.62%
Average Facebook engagement rate: 1.05%
Average LinkedIn engagement rate: 1.55%
Average TikTok engagement rate: 0.36%
Technology
Average X (Twitter) engagement rate: 1.34%
Average Instagram engagement rate: 1.47%
Average Facebook engagement rate: 1%
Average LinkedIn engagement rate: 1.72%
Average TikTok engagement rate: 0.55%
Travel, hospitality, and leisure
Average X (Twitter) engagement rate: 1.32%
Average Instagram engagement rate: 1.7%
Average Facebook engagement rate: 0.97%
Average LinkedIn engagement rate: 1.47%
Average TikTok engagement rate: 6.01%
Average engagement rates: September insights
1. Instagram users are the most engaged
Across almost all industries, Instagram consistently has the highest average rates compared to other social networks.
Interestingly, educational institutions generated higher Instagram engagement than any other industry in September. If you run social media for a school, college, or university and struggle to get your engagement rates up to the industry average, here are some tips that will help.
2. TikTok is a great platform for entertainment and travel-related content
Exceptionally high TikTok engagement rates suggest that short-form video is a great way to capture audience attention in these sectors. If you operate in one of these industries and haven't started using TikTok to promote your business yet, you might be missing out! Our beginner's guide to TikTok marketing will help you get started and connect with TikTok's hyper-engaged community.
3. Financial services and technology have a hard(ish) time generating engagement
In general, financial institutions and tech companies appear to generate slightly lower social media engagement compared to other sectors — on every social media platform except for LinkedIn. This might be because these industries deal with complex and technical topics that can be challenging to engage a broad audience.
Remember: It's not a product or service that makes something seem "boring" — it's bad marketing. You can create engaging social content even if your industry has a boring reputation. Not sure how? Check out these blog posts for inspiration:
4. The food and beverage industry wins on Instagram
Restaurants and other food-related businesses see high engagement on Instagram — which makes perfect sense, considering the platform's focus on visual content (and its users' obsession with posting pictures of their meals).
Free engagement rate calculator
Ready to compare your performance to industry benchmarks? Use this free tool to find out your engagement rate by post.
Note: If you're calculating your account's total engagement, include information about all your posts (e.g total number of posts published, total number of likes, and so on). If you're calculating the engagement rate of a specific social media marketing campaign, only include the details of the posts that were part of the campaign.
Engagement rate calculator
If you're looking for more detailed data or you want to calculate different kinds of engagement (like engagement rate by reach or engagement rate by impressions), download our free spreadsheet calculator that will do the math for you.
Or, better yet, start a free 30-day Hootsuite trial to easily track the performance of all your social channels in one place (so you can replicate what works and get more engagement). Hootsuite's social media analytics tool collects your stats from Facebook, Instagram, Twitter, LinkedIn, and TikTok.
With Hootsuite Analytics, you can also:
Find out when your audience is online
Get personalized recommendations for your best times to post for each of your accounts
Easily view industry benchmarks and see how you compare to competitors
Use Hootsuite to track and improve engagement rates across all your social media channels. Try it free today.
Beat the competition
See how you perform against competitors, get actionable insights, and become the best in your space with Hootsuite Analytics.