2022 Instagram Marketing: Complete Guide + 18 Strategies
With over 2 billion monthly active users as of Q4 2021 (up 200% from 2018) Instagram is both the O.G. and trendsetter of social media marketing. Instagram has shaped the landscape of social commerce, the creator economy, and how brands use social media for over a decade.
So how can you use Instagram marketing to grow your business in 2022?
Do you need Instagram ads (or worse: dancing Reels) to be successful? How can you best use Instagram's shopping tools?
Find out how to use Instagram to grow your business online, no matter your industry or goals.
Bonus: Download a free checklist that reveals the exact steps a fitness influencer used to grow from 0 to 600,000+ followers on Instagram with no budget and no expensive gear.
What is Instagram marketing?
Instagram marketing is the practice of using Instagram to grow your brand awareness, audience, leads, and sales. As the favorite social media platform of people ages 16-34, Instagram is a highly effective marketing platform for brands, entrepreneurs, and creators.
Instagram marketing strategies include:
Organic content: Photo, video, or carousel posts, Reels, Stories
Paid content: Instagram ads, including Stories ads, Shopping ads, and more
Influencer marketing
Shopping tools: Shop tab, Product tags and catalog, Live shopping, Instagram Checkout, Shopping ads
How to set up Instagram for marketing
If you're just starting out, here's what you need to do to set your company's Instagram account up for success.
Set up an Instagram Business profile
To use most of the marketing tips featured here, you need an Instagram Business account. It's free, and you can create a new one or convert your existing Personal account.
If you have an existing Personal account, skip to Step 3.
Step 1: Download Instagram
You can only create an account using a mobile device.
Step 2: Create a Personal account
Tap Create new account. Follow the prompts to enter your email and phone number and choose a username and password. You don't need to fill out the rest of your profile right now (more on how to optimize it later).
Step 3: Switch your new account to a Business one
Go to your profile and open the menu. Go to Settings and choose Switch to professional account near the bottom. Select Business as the account type and follow the prompts to convert your account.
Get verified
Most companies aren't verified. Research shows 73.4% of creators or brands with over a million followers are verified, but only 0.87% of those with 1,000-5,000 followers are.
You don't need that little blue checkmark to be successful on Instagram, but having it can help you earn trust and stand out.
To apply for Instagram verification:
1. In the app, open the menu. Click Settings, then Account, then Request Verification.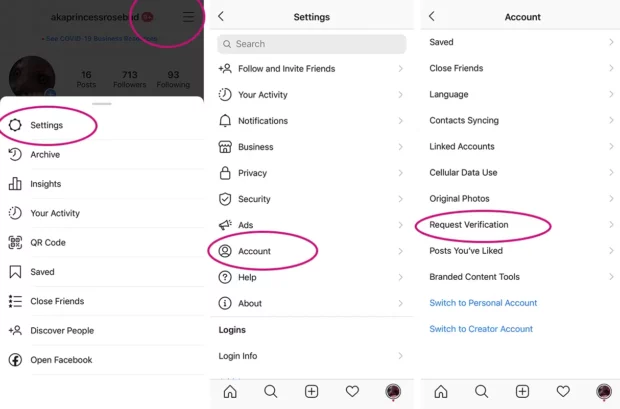 2. Fill out the form.
After submitting the form, you'll receive the answer as a notification within Instagram in about a week. Instagram will never email you, ask for payment, or contact you any other way.
If your verification request is unsuccessful, you can try again in 30 days. If it's approved, hooray and welcome to the super-elite Insta club.
The tricky part of getting verified is having enough third-party content to prove you're well-known enough to warrant needing verification. We cover tips for getting that supporting content in our complete guide to getting verified on Instagram.
Try Instagram ads
Expanding your marketing strategy with ads can have a big impact. Even simple ads can earn results, like coffee retailer Country Bean's 3 week campaign which resulted in a 16% sales increase.
There are two ways to get started with Instagram ads:
The easy way: Boost a post
You can turn any existing Instagram post into an ad by clicking the Boost Post button. You need to have either a Business or Creator account, though.
As you probably guessed, this is exactly like Facebook's "boost" feature. Now that Meta owns both companies, you'll also need to connect your Instagram account to Meta Business Suite.
After clicking Boost Post, follow the quick prompts to set your budget, narrow your target audience, set a duration, and boom—you now have an Instagram ad.
You can customize the targeting options or have Instagram automatically target your ads. Boosted posts are a good way to dip your toe in the advertising pool, so if this is all new to you, stick to auto mode.
Go big: Launch a full Instagram ad campaign
Step 1: Log in to Meta Business Suite
Click on Ads in the left menu, then Create ad at the top right.
Step 2: Choose a goal
Remember Choose Your Own Adventure books? It's like that, but for marketing.
For a first campaign, Automated Ads are a good option. Instagram will try to get you the most results with the least budget possible, and they auto-adjust your targeting and bidding strategy as they learn more from your audience's reactions. It's like having a 24/7 robot assistant.
If you want to experiment with ad targeting yourself, or have a specific goal, try out one of the other options, like focusing on leads or traffic.
Step 3: Create your ads
The prompts to complete your ad vary depending on which goal you pick, but generally the next step is to create the ad creative. For example, this is what the next step is for the "Build your business" goal.
For a well-rounded campaign, you should have at least 2-3 ad groups, each containing 3 or more ads.
Most ad formats have an option to allow Instagram to switch out your creative assets automatically to optimize ad performance. It's like having a real-time, built-in A/B testing process. Add multiple creative assets for each ad to take advantage of this.
Try to include a mix of photo, video, Stories ads, Reels ads, and Catalog and Shopping ads if you sell products online. Test out different ad copy and calls to action.
And, ensure you have ads for each stage of your buyer's journey, from consideration all the way to conversion.
Step 4: Define your audience
Take a shot every time you read "define your audience" in a marketing blog.
Targeting is critical to your ad's success. Meta Business Suite gives you five options:
You can target:
An Advantage Audience (Recommended for newbies!): This is Meta's AI-optimized audience based on your existing account audience, and updates itself automatically as your audience grows or changes. It analyzes what interests and demographics your followers share.
People you choose: Create your own audience from scratch, including location, demographics, interests, and more.
People who've previously engaged with posts or ads: Create a retargeting campaign to remind people who already know you about your offer.
Page Likes: Targets your existing Facebook Page and Instagram followers.
Page Likes and similar: In addition to your existing audience, this will also expand to target people the algorithm thinks are similar to them to bring in new leads.
If you're new to ads, use the Advantage audience option. Want to learn more about perfecting your ad targeting? The info in our Facebook ad targeting guide works for your Instagram ads, too.
Step 5: Set your budget
Whichever targeting option you pick, you'll need to set a budget and duration. You'll see the predicted results of your choices on the right side in estimated reach and clicks.
Step 6: Launch
Lastly, choose if you want your ad to appear only on Facebook, Instagram, or Messenger, or across all three platforms. We recommend running it across all.
Click Promote Now to save and launch your Instagram ad campaign. Woo!
Running a successful ad campaign is a huge undertaking. Check our in-depth Instagram ads guide for tips on creating great ads in 2022.
Add an Instagram Shop to your account
Instagram Shopping tools are a must-have for ecommerce businesses. 44% of Instagram users shop weekly on the platform, and 1 in 2 use Instagram to find new brands.
Tips on using Instagram Shopping are in the next section, but you need to add the Shop tab to your Instagram profile first.
This allows you to create a fully shoppable product catalog directly on Instagram, as well as tag and link to products in your posts and Stories, and more.
Step 1: Ensure you meet Instagram Shopping requirements
Brands using Shopping features must adhere to Meta's merchant policies. You're probably doing all these things correctly anyway, but it's a good idea to review Meta's commerce policies first before applying.
Step 2: Sign up for Commerce Manager
To create your Instagram Shop, you need to have a Meta Commerce Manager account. You need a Business or Creator Instagram account first, then you can sign up one of two ways:
Through your ecommerce platform
If your website runs on Shopify, Magento, WooCommerce, or other major platforms, you may only have to click a button to set up your Instagram Shop.
The process is different for each, so check out Meta's list of supported platforms to find instructions for yours.
Manually through Commerce Manager
Don't use one of those? It's easy to sign up from scratch.
Log in to Meta Business Suite and click on Commerce in the left navigation.
Click Add Account. Click Next on the following page to start the manual set up process.
First, choose a checkout method:
Checkout on your website.
Checkout directly inside Facebook and/or Instagram. (Recommended, but currently only available for U.S.-based companies.)
Checkout via direct message on WhatsApp or Messenger.
Select the Facebook and Instagram profiles you want to create your Shop on, then click Next. Create a new product catalog, and click Next again.
It will prompt you to enter your website URL and the countries you ship to. The final page is a summary of all your information. Ensure it's accurate, then click Finish Setup.
Step 3: Wait for approval
Instagram reviews new Commerce Manager applications manually, though you should hear back within a few business days.
Eager to learn while you wait? Learn how to tag products in your scheduled Hootsuite posts, and the next steps to optimize your Instagram Shop.
18 tips for a winning Instagram marketing strategy
1. Set S.M.A.R.T. social media goals
You know, the specific, measurable, achievable, relevant, and time-bound yada yada yada type goals. What do you want your Instagram account to do for your business?
A few common examples are:
Lead generation
Brand awareness
Recruitment
But, your goals are as unique as your company. The important point? Have some.
Learn how to set effective social media goals that directly connect to your marketing strategy.
2. Optimize your profile
There's a lot to cover here, so check out our full step-by-step recommendations to optimize your Instagram profile.
At minimum, ensure yours has:
The great thing about digital marketing is nothing is set in stone. Don't sweat about making the perfect Instagram profile. You can always tweak it later.
Remember: it's what's inside that counts (most). As in, your actual Instagram post content.
3. Up your graphics game
Instagram is a visual platform. While no one's expecting a small business to have the same resources as a megacorp, you still need to create eye-catching posts that attract your audience.
Besides hiring a professional photographer to take your product shots—which you really should—try:
Sourcing inclusive stock photography, like Vice's Gender Spectrum Collection and others who showcase the full range of the human experience. (Here are more stock photo sites.)
Popular Instagram Reels ideas. Not sure where to start? Try a Reels template.
Use graphic templates to up your style without spending a lot. Hire a designer to make them, or use an app like Adobe Express.
4. Champion user-generated content
The best way to boost your Instagram for free? User-generated content.
Encourage your followers to share photos or video of your products. Not every shot will be an Ansel Adams-worthy one, but you can't beat the authenticity of real customer photos and stories.
Instagram makes this easy with the Tagged tab, which shows all the posts other users tag you in. There's a hack to make it so only the crème de la crème are visible: Enabling manual approval for tagged photos.
So instead of a jumbled mess, you can curate user-generated content that fits your aesthetic.
5. Develop a brand aesthetic
Speaking of style… have one. While your audience isn't going to hand over their wallets solely due to good looks, make an effort to create a cohesive-looking profile.
Why? Because people will see one of your posts in their Instagram feed and instantly know it's from you before even seeing the account name. They'll recognize your style. That's branding at work.
6. …But don't be too concerned with aesthetic
Yes, having a recognizable look helps you attract the audience you want, but style without substance isn't a strategy. 58% of Instagram users say they like it more when brands share candid, unpolished content.
Don't let the fear of your content not looking "pretty" enough stop you. Post it anyway.
7. Have a distinctive brand voice
One thing that always needs to be on point, raw or not, is your brand voice.
Your voice comes through everything you communicate, such as:
Post captions
How you come across on video
Key terms you use
How people speak on camera when representing your company
Your bio copy
Text in videos or Reels
Besides what you say, it's how you say it. Are you casual and fun, or serious and scientific? Keep things light with jokes, or stick to the facts? There isn't a wrong way, but you need to stay consistent.
Your brand voice and tone is a key part of your social media brand guidelines.
8. Use Reels
It seems like all you see when you open Instagram now are Reels, and there's a reason for it: They get engagement. We conducted an experiment that found a significant correlation between posting a Reel and an immediate boost in overall engagement rate.
Some may not get many views and that's okay, because when one of yours does go a lil' bit viral? It's all worth it.
Anyone can be successful with Reels, it just takes practice. We've got tons of resources to makes yours reel-y (ugh) good:
9. Use Stories
Reels may be newer, but Instagram Stories aren't going anywhere. Popular for more informal content, Stories allow you to develop relationships with your audience in a unique way.
It doesn't take a ton more work to see a big effect, either. A year-long study found that when companies shared one Story per day, it resulted in a 100% retention rate.
Not only that, but 500 million people use Stories every day. I'm not great at math but having 100% of your audience remember your content, with a potential reach of 500 million people? That's a no brainer.
If you need tips on what to share in your Stories, check out our Instagram Stories guide for businesses and how to create effective Instagram Stories ads.
10. Create useful Stories highlights
Stories only last 24 hours, but your Stories highlights can live on forever.
Highlights are great for communicating lots of information quickly in the format most people prefer these days: Short video. 61% of Gen Zers and Millennials prefer videos under 1 minute long.
Plus, adding Stories highlights is a way to repurpose your Story content and keep it working for you.
Try adding a temporary highlight for a new product launch or event. Leave up always-relevant ones like FAQ or ordering information.
For effective Stories highlights, ensure you have:
Short, clear titles
Cover designs that fit your brand
Only your best content featured in them
11. Use Stories tools
Instagram makes it easy to link to your products or services (whether you have Commerce Manager set up or not) and engage with your audience.
Access the ever-expanding Stories toolbox by tapping the smiley sticker-thing:
Be sure to try out:
Product tags: If you have an Instagram Shop, you can easily tag your products in Stories. Users can tap the product name and checkout in-app.
Links: Useful for directing people to any URL, but especially so if you don't have an Instagram Shop. You can still link out to your products on external sites.
Questions: Get quick and valuable feedback.
Gift cards and more: Depending on your account type, users can purchase gift cards or order food delivery directly from a Story.
Hootsuite makes it easy to schedule Instagram Stories in advance, including all the special tools and features you need.
12. Stay up to date on hashtags
To hashtag or not to hashtag? Is it nobler to suffer the highs and lows of the algorithm, or take arms against a sea of content?
You can add up to 30 hashtags per Instagram post. But a 2021 experiment we did showed that using more doesn't get more views. Last year, Instagram's official @creators account recommended no more than 3-5 per post.
What about in 2022?
A casual experiment I ran on my account this week showed an opposite effect. I loaded up on hashtags, using between 15-20 per post, and most of my (albeit small) reach came from those hashtags.
So what does this tell us?
TL;DR: Science is hard, no one knows how many Instagram hashtags are "the perfect amount," and you should regularly experiment with this.
Check out our Instagram hashtag guide for tips on what's working right now.
13. Reply to comments and DMs
Engage with your audience! Reply to their comments, messages, carrier pigeons, etc.
Because a higher engagement rate looks good on your analytics reports, right? No! Reply to your followers because it's the right thing to do.
Yes, it also boosts your engagement rate. But more importantly, it encourages your potential customers to start conversations with you. Over time, those conversations become the foundation of their perception of your brand and greatly influence purchase decisions.
Hootsuite Inbox allows you to stay on top of all comments and DMs across all your platforms in one place. Assign conversations to team members, track responses, and ensure no one falls through the cracks. See how efficient it is to foster genuine engagement with Inbox:
14. Try Instagram Live video
Live video doesn't need to be scary. It's a powerful tool for growth and deepening your relationship with your audience.
Try:
Hosting a workshop or class.
A Q&A session.
Product demos.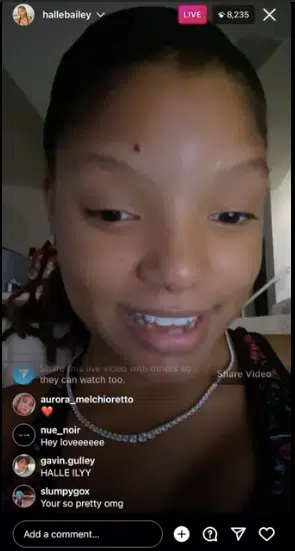 Our complete guide to going live on Instagram covers how to do it and ideas you can try today.
15. Partner with influencers
Influencer marketing is still going strong in 2022 and projected to grow more every year. In 2021 alone, influencer marketing accounted for $13.8 billion USD in value.
Don't forget your most valuable influencers: your employees. Starting an employee advocacy program can boost your profits 23% and internal team morale. Win-win.
Learn how to maximize your ROI with our free Influencer Marketing 101 guide for businesses of all sizes.
16. Run contests and giveaways
What do people like? Free stuff!
When do they want it? All the time!
Sometimes the best strategies for Instagram are the oldest. Contests can boost your organic reach and give you tons of user-generated content.
Contests don't need to be expensive. Give away free products in a simple raffle by having users like and comment on your post, or partner with someone else in your industry to split the cost of a larger prize package.
Get inspired with creative Instagram contest ideas, and a step-by-step process for running giveaways.
17. Measure your ROI
You see the positive comments customers leave, the sales coming in, and your follower count going up. But how do you put a number on it? What are the real results of your efforts?
Measuring your ROI, or return on investment, is important for reporting to your boss, but it can also help you justify establishing or increasing your paid advertising budget.
It's also the only way to know if your marketing strategy needs a tweak, or if you should double down on what you're doing.
Rather than sifting through each platform's analytics dashboard and attempting to assemble the full picture yourself, lean on Hootsuite Impact instead. Impact pulls together data for all your organic and paid content across every platform in one place, giving you powerful insights whenever you need them.
18. Experiment!
Last but not least, don't wildly follow every Instagram marketing tip you read on marketing blogs. 🙃
Seriously: You need to experiment. Every audience is different. Maybe your peeps hate live video. Maybe they're only online at 3pm on Wednesdays. Maybe they will give you their first-born child for a free sweatshirt.
Evaluate your performance often and set aside time to run experiments to see which tactics work best for you. Don't worry, we have a free social media audit template to help out.
Why use Instagram for marketing?
Need a bit more convincing? Here's how Instagram marketing can help you grow your business.
Instagram Shopping tools can boost sales by 300%
44% of Instagrammers shop weekly on the platform. Since launching basic shopping tools in 2018, like linking to products from Stories, Instagram is now a complete social commerce solution.
Brands can achieve up to 300% more sales with a combination of Shopping tools and ads.
People spend 30 minutes per day on Instagram
Instagrammers spend 30 minutes per day on the app, which is fairly average among major social platforms, but it's the session length that really stands out.
People spend about 18 minutes per session, which beats out the average Amazon shopping trip (13 minutes), Twitter scroll (14 minutes), and YouTube session (7 minutes). Surprisingly, also the average session on Pornhub (14 minutes).
Now that's real engagement.
Source: Hootsuite Digital Trends 2022 Report
Instagram ads reach almost 1/3rd of all internet users
Instagram ads can reach up to 1.48 billion people. That's 29.9% of all internet users and 23.9% of everyone over age 13 worldwide.
Instagram ads also significantly impact brand sentiment: 50% of people say they find businesses more interesting after seeing their ads on the platform.
Source: Hootsuite Digital Trends 2022 Report
3 Instagram marketing tools
Lil' biased here, but Hootsuite really is a great choice to manage all your social media marketing. We have all the basic tools you need, like scheduling, planning, and analytics, as well as advanced capabilities to take you even further.
With Hootsuite, you can schedule posts for Instagram (Posts, Stories, and Reels), Facebook, TikTok, Twitter, LinkedIn, YouTube, and Pinterest. from one intuitive dashboard. Think of all the time you can save not switching between 7 apps to post content!
Hootsuite also offers detailed analytics comprehensive reporting, as well as a calendar view and content creation tools that allow you to publish the best content possible.
That's not it. Every Hootsuite user gets access to custom, fully personalized recommendations for the best times to post content for maximum reach, impressions, or engagement.
Check out everything Hootsuite can do for you:
Notion is like if a notebook and a spreadsheet had a baby. A Gen Z baby 'cause it's digital-first.
You can add anything to a Notion page that you add to a document, like text, images, etc. But its real power is databases, allowing you to filter and sort your info in multiple ways, including on a calendar, in tables, or with Kanban boards, to name a few.
It's what I use to plan my social media content (before I put it into Hootsuite, of course) and I love how easy it is to edit on mobile. Plus, if I had friends a team, everyone could collaborate in the same Notion workspace, too.
Check out Notion's template gallery, or make your own content board from scratch.
Adobe Express is a free online tool to create great-looking social graphics and more. You get additional features if you already have an Adobe subscription, including Adobe Stock access and more.
With Hootsuite's Creative Cloud integration, you can view all your Adobe libraries directly inside Hootsuite, and edit photos in Hootsuite Composer. It's a perfect pair, especially if you already use other Adobe apps like Photoshop or Illustrator.
Manage all your Instagram marketing alongside your other social platforms with Hootsuite's time-saving tools. From a single dashboard, you can schedule posts, Stories, and Reels, engage with your audience, and measure your social ROI. Try it free today.
Easily create, analyze, and schedule Instagram posts, Stories, and Reels with Hootsuite. Save time and get results.
How Brands Can Support Indigenous Communities on Social—the Right Way
There is a growing interest among businesses, large and small, to add their voices to the nationwide acknowledgment of the trauma inflicted upon Indigenous children at Canada's Indian Residential Schools.
This was amplified in 2021 with the location of nearly a thousand unmarked graves at sites of the now-shuttered institutions—and we know thousands more have yet to be discovered.
On National Day for Truth and Reconciliation, it's important for Indigenous people (and, frankly, for non-Indigenous people) to see businesses and brands honour those who lost their lives through the 165-year program of assimilation.
It's also important for us as Indigenous people to see them pay tribute to those who survived their years at the notorious schools.
But deploying the hashtag #TruthAndReconciliation or #EveryChildMatters can be a risky undertaking. There are many ways to make a well-meaning blunder that will prompt eye rolls throughout Indigenous Canada or, worse, to accidentally post something that's outright offensive.
That's why I wrote this blog post. I'm a Métis woman and lawyer who has been the CEO of the Native Women's Association of Canada (NWAC), the largest organization representing Indigenous women in Canada, since 2017.
I, and other Indigenous women who follow social media, brace ourselves as September 30 rolls around, waiting for the inevitable ham-fisted attempt by non-Indigenous actors to be part of the commemoration.
Please don't misunderstand. We want you to be there with us as we grieve and as we remember and as we honour. We just want you to do so respectfully. So here are some guidelines.
What is the National Day for Truth and Reconciliation? How is it different from Orange Shirt Day? And what should we call it on social media?
The National Day for Truth and Reconciliation was declared by the Canadian government in 2021, after the graves were found at Indian Residential Schools.
(Please note: "Indian Residential Schools" is the official name for the schools and a construct of the colonial mindset of 19th Century Canada. In any other context, the word Indian is extremely offensive when used to refer to the Indigenous people of Turtle Island.)
National Day for Truth and Reconciliation is a day for honouring the victims and celebrating the survivors of the schools. And it's a federal statutory holiday, so it applies to all federally regulated workplaces. But it's been left to provinces and territories to choose whether it is marked within their own jurisdictions.
We note that it took Canada's federal Liberal government (which came to power in 2015 promising to act on all 94 Calls to Action of the Truth and Reconciliation Commission) nearly seven years to meet the relatively simple Call Number 80. It urged the creation of the holiday "to ensure that public commemoration of the history and legacy of residential schools remains a vital component of the reconciliation process."
There is no doubt that the discovery of the graves—which the Truth and Reconciliation report said would be found if an effort was made to look for them—bolstered public support for such a day.
September 30 should be thought of as our Remembrance Day, and it should be referred to by its official name: the National Day for Truth and Reconciliation. Any other name fails to communicate the sombreness of the occasion, just as it minimizes Remembrance Day to call it Poppy Day.
September 30 is also Orange Shirt Day, reminding us of the day in 1973 when six-year-old Phyllis Webstad from the Stswecem'c Xgat'tem First Nation arrived at the St. Joseph Mission Residential School, just outside Williams Lake, B.C.
She was wearing a vibrant orange shirt her grandmother bought her to match her excitement for her first day of school. But the shirt was immediately taken from her by school authorities and never returned—an event that marked the beginning of the year of atrocities and torment she experienced at the institution.
We wear orange shirts on September 30 as a reminder of the traumas inflicted by residential schools. If you're specifically referring to Phyllis' story on social media, then it is appropriate to call it Orange Shirt Day.
But the holiday is the National Day for Truth and Reconciliation, and should be referred to as such.
What terms should you use when you refer to Indigenous people? (Terminology 101)
Speaking of terminology, when is it appropriate to refer to someone as First Nations, Métis, or Inuit, and when is it appropriate to refer to someone as Indigenous?
First up, here's what those different terms actually mean:
First Nations: The largest Indigenous group in Canada, these are members of the 634 First Nations spread across the country
Métis: A distinct group of people who have an ancestral connection to a group of French Canadian traders and Indigenous women who settled in the Red River Valley of Manitoba and the Prairies
Inuit: The Indigenous people of the Arctic and sub-Arctic regions
Indigenous: The First Peoples of North America whose ancestors were here before the arrival of the Europeans
Next, where to use them: It's always best to be as specific as you possibly can when describing us on social media.
Here's a quick reference on the best way to refer to Indigenous individuals:
Reference the person's specific first nation and its location
Reference the person's nation and ethno-cultural group
Reference their ethno-cultural group
Refer to them as First Nations, Mètis, or Inuit
Refer to the person as Indigenous
So, if someone is a Cree from the Cree First Nation of Waswanipi, say that. Second best would be to call them a Waswanipi Cree. Third best would be to call them a Cree. Fourth best would be to call them a First Nations member.
And fifth best would be to call them Indigenous, which is a catch-all phrase that includes all First Nations, Métis, and Inuit. But it also includes all Indigenous people around the world. The Māori of New Zealand are Indigenous.
Saying someone is Indigenous is like calling a Chinese person Asian. It's true. But it misses a lot of detail.
If you don't know how best to describe someone, ask us. Preferences vary from individual to individual.
But please, despite the fact that my organization is called the Native Women's Association of Canada, which is a holdover from a much earlier time (NWAC was formed in 1974), please do not call Indigenous people 'native.'
What role should brands play on social media on September 30?
At NWAC, our hashtag for the National Day for Truth and Reconciliation is #RememberHonourAct. We think those are good guidelines for everyone—individuals and businesses alike—on September 30 and, indeed, year-round.
Remember the survivors of the residential schools, honour them, and act to strengthen the relationship between Indigenous and non-Indigenous people.
If yours is a local business, pay tribute to the Indigenous people in your area. Acknowledge their traditional territory. Recognize that your operations are taking place on the land that they have shared with you, and that you and your employees are benefitting from that.
If you are a national brand, turn the spotlight back on the First Nations communities. Highlight the achievements and the contributions that First Nations people have made to Canadian prosperity.
Yes, September 30 is a sombre day of remembrance. But we don't want pity. We want acknowledgments of past wrongs and promises that they will not be repeated, but we also want to embrace the promise of a better future in which Indigenous people can enjoy prosperous and happy lives free of historical trauma.
Are there other notable days for brands to keep in mind for Indigenous people?
Yes.
There are other sombre days.
Less than a week after the National Day for Truth and Reconciliation, Indigenous women across Canada will gather at Sisters in Spirit Vigils to honour the women, girls, and gender-diverse people who have lost their lives in the ongoing genocide that targets us for violence. This is an annual event created to give support and comfort to the families and friends who have been left to mourn their loved ones.
On February 14, Valentine's Day, annual Women's Memorial Marches are held in cities and towns across Canada and the United States. They too are meant to honour Indigenous women and girls who have been murdered or who have gone missing.
And on May 5, we mark Red Dress Day, a day on which red dresses are hung in windows and in public spaces around Canada, again to honour the missing and murdered Indigenous women and girls.
But there are also joyous occasions.
Although there is not a specific date set aside, summer is the time for gathering. It is powwow season. Fall is the time that we traditionally rejoice in the bounty of the hunt.
On June 21, the Summer Solstice, we celebrate National Indigenous Peoples Day. This is a day for rejoicing in our heritage, our diverse cultures, and the contributions that Indigenous people are making to the complex fabric of Canadian life.
What social media mistakes do brands make on September 30?
The most egregious examples of brand behaviour around the National Day for Truth and Reconciliation are attempts to monetize our pain for financial gain.
If you own a clothing company, please don't print a batch of orange shirts and sell them for profit. And don't promote the sales of your shirts on social media. This happens every year and it is offensive in the extreme.
On the other hand, printing and selling orange shirts and then turning the profits over to Indigenous causes is a wonderful gesture of support.
And it's not just the small brands that are doing this. Walmart, for instance, promises to donate 100% of the profits from its Every Child Matters t-shirts, which have been designed by an Indigenous artist, to the Orange Shirt Society.
Be the brand that does something like that.
In all of your social media posts, be mindful that this is our history. Every Indigenous person in Canada has been touched by the residential school experience, whether or not we or our ancestors attended one of the institutions. Be mindful of the traumas that can be brought to the fore with a thoughtless twist of words.
And again, Indigenous people are at a place where we don't need or want pity. We need people to celebrate our accomplishments. We need to feel part of a society that is eager to include us.
What opportunities are there for intersections between Indigenous people and other social movements?
In a simple word: lots.
If there is a social justice issue being championed—whether that is Pride in the gender-diverse community, or climate justice, or prisoners' rights, or racial equality—you'll find Indigenous people at the forefront.
My organization is an example of that. We have whole units of staff working on all of those things.
Reach out to us, or other national Indigenous organizations (we list a few later on), to ask about ways you can get involved, projects you can promote, and causes you can stand behind.
This is a prime opportunity to collaborate with Indigenous creators who are passionate about the larger social issue at hand.
How can brands work with Indigenous content creators?
Find them and ask them. There are plenty out there. Any search engine will quickly turn up hundreds of names of Indigenous content creators and influencers, and many will be eager to collaborate with you.
Here are some examples of places to look:
What Indigenous organizations can brands support or partner with?
Most of the National Indigenous Organizations are looking for partners. We, at NWAC, have terrific partnerships with brands like Sephora, Hootsuite, and TikTok.
@tiktokcanada

Applications for the TikTok Accelerator for Indigenous Creators are now open! Indigenous creators, apply by September 15 💫
But there are also smaller groups out there who would be delighted to hear from you.
One example that immediately springs to mind is Project Forest in Alberta which is working in partnership with Indigenous communities to restore sacred lands so that medicinal plants and native species will thrive again in First Nations communities.
There is also a range of organizations that are working tirelessly to improve the lives of the First Nations, Métis, and Inuit.
I would point to the First Nations Child and Family Caring Society of Canada, Susan Aglukark's Arctic Rose Foundation, The Martin Family Initiative, or the Indian Residential School Survivors Society.
Those are just a few. And of course, there is NWAC—we work tirelessly for the well-being of Indigenous women, girls, Two-Spirit and gender-diverse people.
What are some examples of brands that are supporting and/or highlighting Indigenous communities the right way?
Many brands are doing things right. I will again mention beauty company Sephora partnered with the NWAC to run a roundtable on Indigenous beauty to find out where they could improve. And they've acted on their learnings.
TikTok, likewise, has taken the time to reach out to us to ask for guidance on how to get engaged with Indigenous people and communities. And, over the past few years, we have worked closely with Hootsuite, providing advice and information.
But others are also making great strides.
I would point to the National Hockey League which has been unreservedly vocal in denouncing the racism directed at Indigenous hockey players. The Calgary Flames opened their season with a land acknowledgement.
Ahead of National Day for Truth and Reconciliation, the #Flames wore orange jerseys for the morning skate and the day will be recognized prior to puck drop tonight 🧡 pic.twitter.com/appz0sN7c9

— Calgary Flames (@NHLFlames) September 29, 2021
This would not have happened 10, or maybe even five, years ago. But society is changing, corporate behaviour is changing, the world is changing. And social media has had, and will have, much to do with that.
How To Win at TikTok (According to TikTok)
That's how Khartoon Weiss, TikTok's Global Head of Agency & Accounts, described the world's most downloaded app at The Gathering, an annual business and marketing summit held in Banff, Canada.
What's the distinction?
People don't "check" Tiktok. They watch it. And, Weiss says, "that small pivot in behavior is everything."
Bonus: Get a free TikTok Growth Checklist from famous TikTok creator Tiffy Chen that shows you how to gain 1.6 million followers with only 3 studio lights and iMovie.
So what does it mean for marketers?
In this post, we'll share key takeaways from Weiss's on-stage presentation. But that's not all!
Weiss shared more detailed insights at one of The Gathering's intimate "inner sanctums". And we've got the scoop for you below.
Embrace the shift from Me to We
TikTok is not a platform for YOLO, FOMO, and selfies. Instead, it's familial and inclusive.
You see into everyone else's living room. And they see into yours.
It's a collaborative space that rewards optimism. "Microcommunities" crystalize around hashtags like #crafttok, #planttok, and #DIYtok.
The experts within these communities share "complex information boiled down so usefully". This in turn creates even more experts and more knowledge to share.
As a brand, this means you need to focus on providing entertainment or edutainment.
Find your place in these existing communities and contribute value that's uniquely yours. Turn your assets into multiple TikToks and learn as you go what works for your brand.
And leave the comments on your content open – the community will tell you what they think. Use their insights to guide your ongoing TikTok strategy.
Be real, not retouched
You know who's not big on TIkTok? The Kardashians. "We keep it real on TikTok," Weiss said. "They are not accepted at the scale of a Jessia."
So who's Jessia? A Vancouver-based singer who went from this:
To this:
After her song caught fire as a body positivity anthem that spawned countless TikTok duets.
On TikTok, it's all about "the language of the next generation and the new digital media behaviors."
"It's challenging if you want it to be great, but the community doesn't have a problem with accepting whatever it is you want to put out there," Weiss said.
And that community acceptance is critical. TikTok's algorithm focuses on a content graph, not a social graph. That means what you see in your feed is what the community brings to the surface, rather than who you follow.
On this front, #smallbusinesstiktok is leading the way. How? You guessed it: by telling real behind-the-scenes and product-creation stories.
"Small businesses have taken their creativity and turned it into content and now it's automatically commerce," Weiss said.
Real, genuine stories create that visibility in the content graph. And the best people to tell those genuine stories about your brand may not (yet) work for or with you.
Understand the power of creators
"We've redefined what celebrity means," Weiss said. "And we're the driving force behind the migration from the attention economy to the creator economy."
A key example? Just like Jessia, 7 of the 10 nominees for Best New Artist at the 2022 Grammys gained at least some of their momentum from TikTok.
Creators fuel discovery. And discovery creates demand.
"We consume things, and we convert on product, because it embodies the communities and the people we want to emulate," Weiss said.
For marketers, this means empowering and learning from creators who understand the platform.
"Unlearn everything you've learned," Weiss said in her inner sanctum. "It's not how the next generation speaks. You've always had agencies consult you – why wouldn't you let creators? Creators will help you unpack your brand and think about ways to connect with your audience."
View discovery as lower funnel (aka #tiktokmademebuyit)
"When every touchpoint becomes an opportunity to buy, every strategy becomes a commerce strategy," Weiss said. "It's a brave new world where media and entertainment have found their way to content, creator, and commerce."
Rather than social commerce, TikTok likes to think of this as "community commerce."
"Thousands of creators are jumping in, and they are delivering product efficacy and product advocacy," Weiss said.
Witness the case of 54-year-old Trinidad Sandoval:
She created a nearly 3-minute TikTok showing her go-to eye cream in action. Trinidad thought only her 70 followers would see it. Nope.
She went viral and led the 10-year-old product to sell out virtually everywhere within a week.
This wasn't a paid partnership – it was brand loyalty and advocacy in action.
This all adds up to one important lesson for brands: TikTok is not like other platforms, and it's impossible to fake your way to success.
Above all: Be real and put the community first. Create a great product. Build that loyalty. And the community will fuel the discovery of your brand.
Want to learn more about how to get the most from TikTok? Check out the resources below!
Grow your TikTok presence alongside your other social channels using Hootsuite. From a single dashboard, you can schedule and publish posts for the best times, engage your audience, and measure performance. Try it free today.
Grow on TikTok faster with Hootsuite
Schedule posts, learn from analytics, and respond to comments all in one place.
Meta for Business: How To Get the Best Results From Each Platform
During the second quarter of 2022, 3.65 billion people were using at least one Meta product each month. That's nearly half of the world's population. Arguably, no other brand has a larger reach, which makes using Meta for business an absolute must.
Part of the reason why Meta changed its name from Facebook was to better represent the multiple products under its umbrella. Meta has several core products including Facebook, Instagram, Messenger, and WhatsApp.
While there's a large audience, not every platform will have the same impact on your business. Each social network or app requires different marketing tools and strategies to get noticed by customers. Let's dive into how to get the best results for each!
Bonus: Get a free social media strategy template to quickly and easily plan your own strategy. Also use it to track results and present the plan to your boss, teammates, and clients.
Meta for Business
The various Meta platforms have an incredibly large and diverse audience for businesses to reach. Just take a look at the number of people on each platform:
Facebook: 2.9 billion
Messenger: 988 million
Instagram: 1.4 billion
WhatsApp: 2 billion
Let's review each app in the Meta business suite, who uses it, and what you need to succeed on it.
Facebook for business
Creating a Facebook business page is the first step to connecting with an audience on Facebook.
A business page lets you post updates, share contact information, and promote events or products.
While Facebook marketing is completely free, you could also opt to create and post Facebook ads.
Facebook user statistics
With almost 3 billion users, your target audience is probably using it. Here's a brief overview of the Facebook audience:
Females aged 35-54 and males aged 25-44 are most likely to say Facebook is their favorite social media platform
The average time spent on Facebook is 19.6 hours per month for Android users
Facebook business tools
No matter what your business is, Facebook has a business tool to help you grow online. Let's explore some of the features available on a Facebook business page that you may want to use:
Appointments: Have your customers book an appointment directly on Facebook.
Events: If you're playing a concert or launching a new product, the Events tool can promote interest in your audience and remind them of the event.
Jobs: Hiring talented employees is tough. But you can reach more potential candidates by posting jobs on Facebook.
Shops: Product-based businesses will benefit from enabling the Shops tool. It lets you share your inventory, and customers can buy directly on Facebook.
Facebook Groups: Groups can be private or public communities for audiences with shared interests. It's a more intimate way of connecting with your followers.
Still stuck on how to promote your business on Facebook? Check out our VERY complete guide on Facebook marketing.
Facebook examples
Let's take a look at real-life examples of how businesses used Facebook to meet their business goals.
Pink Tag used Facebook Shops and Live Shopping to make over $40,000 in sales in a nearly 5-month period. By displaying products and making them available to purchase all within Facebook, it made it easy to boost their sales.
Interested in doing the same? Check out our guide on setting up a Facebook shop.
Tonal created a Facebook group to motivate customers to use its strength training system. It hosted events and community chats to encourage interaction.
This led to 95% of the most active Facebook group members saying they would be very disappointed if they could no longer use Tonal.
Is a Facebook Group the right strategy for you? Read on to learn how Facebook Groups can grow your business.
Instagram for business
Instagram started as a platform to share photos and has grown to incorporate features like Stories, Reels, and Shopping. This makes it a great platform to create an influencer marketing strategy.
Instagram user statistics
With over 1.4 billion users Instagram is the fourth most popular social media platform. Let's explore the Instagram audience:
Females aged 16-34 and males aged 16-24 are most likely to say Instagram is their favorite social media platform
The average time spent on Instagram is 11.2 hours per month for Android users
Instagram business tools
Here are some tools you can consider incorporating into your Instagram strategy:
Action Buttons: A call-to-action is an important part of any strategy. Action buttons on your profile make it easier to book an appointment, make a restaurant reservation, or order food delivery.
Collab Posts: Instagram features Collab posts on both the brand's and creator's Instagram feed. Collab posts can easily boost the effectiveness of influencer and brand partnerships.
Shopping: With Instagram Checkout, followers can find a product and purchase it without ever leaving the app.
Story Highlights: You can choose your most important Stories and save them in a highlights section. New followers can see more content, and current followers can reference it to follow products, menus, or services.
Instagram examples
Besides static ads in an Instagram feed, consider branching out into video and Stories. Chobani used video ads in Instagram Stories to successfully boost awareness of a product launch.
Need help creating effective Instagram Story ads? We got you covered.
e.l.f. Cosmetics is using Story Highlights and a pinning feature to promote specific products.
By putting its in-demand products at the top of its feed and profile, followers are going to have a hard time missing what it is selling.
Don't forget to read our post on some of the best tips and tricks on using Instagram Stories.
Messenger for business
Meta Messenger lets you send texts, photos, videos, and audio. It also includes features such as live group video calls and payments.
It allows you to connect with followers and provide the information they need.
Messenger user statistics
Messenger is a key component of an overall Facebook marketing strategy. A live chat function can answer questions and secure sales.
To capitalize on this, learning about the demographics of people who use Messenger will help your messaging:
The average time spent on Messenger is 3 hours per month for Android users
The largest advertising demographic (19%) are males between the ages of 25-34 years
82% of US adults say Messenger is their most regularly used messaging app
Messenger business tools
Messenger is more than exchanging texts with your audience. It can support the entire customer journey from discovery to purchase.
Here are a few of the Messenger business tools you can implement to create a strong marketing campaign:
Chatbots: Automate FAQs with chatbots. It provides a 24/7 resource for your followers and can answer questions, provide recommendations, or complete a sales process. If you need the human touch though, a chatbot can connect a person to your live customer support team.
Connect with Instagram: Messenger also connects to your Instagram account. When someone sends a direct message to your Instagram profile, Messenger will be there to help them.
Customer Feedback: Surveys help you learn about your customers. Messenger has a Customer Feedback tool to make it easy to ask your audience if they are happy with your service.
Showcase Products: You can turn your Messenger into a mini-catalog to help your customers find products and purchase them.
Accept Payments: Speaking of purchases, you can accept payments by integrating Webview. It will also send a receipt and post-purchase messages.
Messenger examples
BetterHelp uses chatbots to help followers learn how it works, answer questions, and get in touch with customer support if needed.
Not having any response to Messenger is poor etiquette. Learn 9 other tips to interact with your customers on Messenger.
Dii Supplements used its ad campaigns to encourage people to send a message on Instagram (which is connected to Messenger). With a specialist on the other side, people were able to learn about the company's products. Below is an example from one of their clients, Lucky Shrub.
WhatsApp for Business
WhatsApp Business helps you stay connected by automating, organizing, and quickly responding to messages.
It is a great place to connect with your customers, provide excellent customer support, and share updates.
WhatsApp user statistics
WhatsApp is one of the most popular apps on the planet with over 2 billion users. Here is a quick breakdown of who is using WhatsApp:
15.7% of Internet users aged 16 to 64 say WhatsApp is their favorite social media platform
Females aged 55-64 and males aged 45-64 are most likely to say WhatsApp is their favorite social media platform
The average time spent on Whatsapp is 18.6 hours per month for Android users
WhatsApp business tools
WhatsApp can function similarly to Messenger. Here are a few business tools it includes:
Catalog: Create an online storefront with WhatsApp. This tool lets you add your products and services to your profile and allows followers to browse the catalog.
Status: Similar to Instagram and Facebook Stories, WhatsApp Status disappears after 24 hours. You can post text, videos, images, or GIFs to stay connected with your audience.
Profile: WhatsApp lets business accounts create profiles. It contains a description, address, business hours, website, and social media links. This makes it easier to identify your business on WhatsApp.
Automated messages: You can set up messages on WhatsApp to send greetings, away messages, and quick replies. If you're looking for a fully developed chatbot feature, you'll need a third-party vendor.
WhatsApp examples
It's important to meet customers with the apps they already use. If your audience prefers WhatsApp over Messenger, then create an exceptional WhatsApp experience.
Omay Foods connected its WhatsApp business account to its website, Facebook page, and Instagram profile. This led to a 5x increase in customer inquiries.
Take a look at our guide to learn more about how to use WhatsApp for Business. You may also want to read our tips on using WhatsApp for customer service.
Facebook Metaverse for business
While the Metaverse is still a work in progress, it's expected to combine the real world with augmented reality (AR) and virtual reality (VR).
Metaverse user statistics
To get an idea of who might use the Metaverse, let's take a look at the demographics of current virtual universes like Roblox. Here is a look at who uses online gaming currently:
Metaverse business tools
Creators and businesses will become a huge part of making the Metaverse. Until then, there are ways to currently get involved with AR or digital products. Here are a few business tools to think about:
Filters: Augmented reality filters are responsible for turning your face into a dog or trying out new make-up looks.
Digital Items: Selling digital merchandise on Fortnite led to $1.8 billion in sales. NFTs are also a popular digital item making the market worth $22 billion.
Advertising: AR is available on Facebook advertising. It's an interactive way for consumers to try out your products or brand.
Metaverse examples
You can already use AR for ads. Take a look at what MADE did. It used ads to encourage people to use AR to see how furniture would look in their homes. The campaign had a 2.5x conversion rate.
Creating your own Instagram AR filter is another way to encourage followers to share your brand. Disney created a filter to celebrate the launch of the TV series, Loki. The filter adds Loki's Horned Helmet.
(Source)
Manage your business's presence on Facebook, Instagram, Messenger, and all your other social media channels using Hootsuite. From a single dashboard, you can schedule brand posts, share video, engage your audience, and measure the impact of your efforts. Try it free today.