A University of Chicago professor saw his MIT lecture canceled. He blames a Twitter 'outrage mob.'

College
"My crime? Arguing for academic evaluations based on academic merit."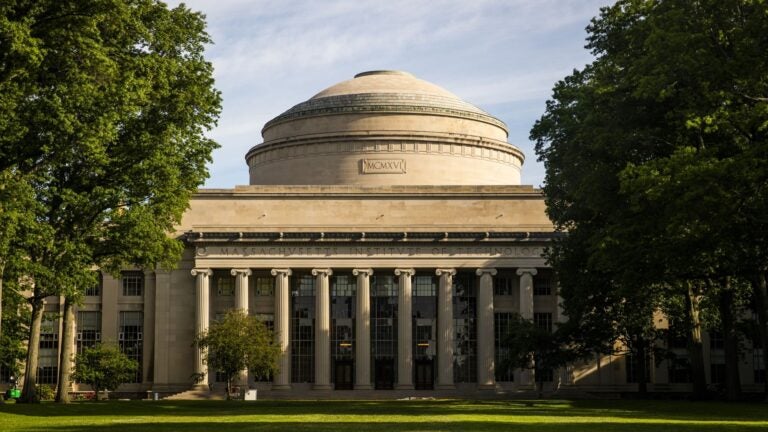 The Massachusetts Institute of Technology canceled a visiting professor's lecture after many took to Twitter to call out his views on diversity, equity, and inclusion in higher ed. 
The university cited "current distractions" in its decision to nix a John Carlson Lecture — a prestigious honor — to be given by University of Chicago professor Dorian Abbot, the Boston Herald reported. Abbot, who works in the university's Department of Geophysical Sciences, was set to give a lecture on planets and climate hosted by MIT's earth, atmospheric, and planetary sciences department.
On Tuesday, Abbot posted about the experience, saying his lecture was canceled because of an "outrage mob on Twitter."
"My crime? Arguing for academic evaluations based on academic merit," he wrote. 
On Sept. 22, he said, a group of MIT students, post docs, and alumni took to Twitter to demand he be uninvited. Abbot wrote that on Sept. 30, MIT's department chair told him they'd be canceling the lecture to "avoid controversy."
"It's worth stating what happened again: a small group of ideologues mounted a Twitter campaign to cancel a distinguished science lecture at the Massachusetts Institute of Technology because they disagreed with some of the political positions the speaker had taken," Abbot wrote. "And they were successful within eight days."
On Aug. 12, Abbot wrote an op ed for Newsweek with fellow academic Ivan Morinovic, titled "The Diversity Problem on Campus." It's the views expressed therein that many called out on Twitter, including what several called out as an inappropriate comparison to Nazi Germany.
"Ninety years ago Germany had the best universities in the world," Abbot wrote. "Then an ideological regime obsessed with race came to power and drove many of the best scholars out, gutting the faculties and leading to sustained decay that German universities never fully recovered from. We should view this as a warning of the consequences of viewing group membership as more important than merit, and correct our course before it is too late."
MIT told the Herald the lecture will not be held this year, and Abbot was invited to present his work on campus to students and faculty. 
"We felt that with the current distractions we would not be in a position to hold an effective outreach event," Professor Robert van der Hilst, head of the Department of Earth, Atmospheric and Planetary Sciences, told the Herald. "I made this decision at my discretion, after consulting with faculty and students in the department, and knowing that some might mistake it as an affront on academic freedom — a characterization I do not agree with."
The Academic Freedom Alliance spoke out in support of Abbot, however, saying they were "dismayed" by MIT's decision.
"I write on behalf of the Academic Freedom Alliance to express our firm view that this disinvitation represents an egregious violation of the principles of academic freedom and an abnegation of MIT's own stated commitment to freedom of thought," Keith Whittington, AFA chair, wrote in a letter.
Abbot will host his prepared lecture virtually in partnership with Princeton on Oct. 21.
Newsletter Signup
Stay up to date on all the latest news from Boston.com
Twitter likely to roll out 'Reactions' feature soon
After unveiling several features this year, micro-blogging site Twitter is reportedly readying new features, including Reactions, Downvotes and Sorted Replies for iOS users.
According to reverse engineer Nima Owji, the Reactions feature, which started being tested a couple of months ago, is set to launch soon, reports 9To5Mac.
With four new reactions, "tears of joy," "thinking face," "clapping hands" and "crying face," this feature is designed to give users the ability to better show how conversations make them feel and to give users "a better understanding of how their Tweets are received".
Citing the reverse engineer, the report also mentioned that the micro-blogging site is now able to store data about the downvotes feature, which is another indicator that this function will be released sooner rather than later.
The report also notes that the company changed the downvote position as well. It has even added a new tab explaining how downvotes work.
This month, the company has rolled out its in-app tipping feature to all Android users above the age of 18, following the iOS launch in September.
Twitter said the "Tips" feature is geared toward users looking to get a little financial support from their followers through Cash App, PayPal, Venmo and Patreon directly through the app.
Elon Musk has sold more than half of the Tesla stock that Twitter informed him.
Tesla shares have fallen 10% since Musk conducted a Tweet poll about the sale. They dropped more than 17% within the first few days following the Nov.
Twitter Investigating Bug Causing Unexpected Logouts on iOS 15
Twitter Support
has acknowledged
a bug causing unexpected account logouts on
iOS 15
, promising that its teams are working on a fix and that it'll keep users updated on when it's resolved.
Posts on Twitter over the last several hours have shown users experiencing the bug, with some sharing frustrations that the app is requiring them to log back into Twitter upon every app launch. While some of the reports lack the specificity that the bug is happening on iOS devices, it seems likely to be the case following the acknowledgment from Twitter itself.
Hey @Twitter can you please make it so I don't have to sign in every other freaking day? I never log out of my account yet I keep having to sign in. Thanks
— blueyosh (@hotorc97) November 24, 2021
WHY IS TWITTER LOGGING ME OUT OF ALL OF MY ACCS???? I HAVE 8 TWITTER ACCS AND DO YOU KNOW HOW HAED TO LOG IN ALL OF THEM???????? IVE BEEN DOING IT 2 TIME ALREADY SINCE OCTOBER
— kyle (@leeknowonIyfans) November 24, 2021
I almost got a heart attack when I tried to get in my Twitter and it wanted me to log in?? I never logged out 😭😩😭
— Enny Does It All❤ (@Queen_Enny19) November 24, 2021
Users impacted by the bug are advised to ensure they're running the latest Twitter version from the App Store and monitor the company's support account for updates.