Facebook, WhatsApp na Instagram zongeye gukora nyuma y'amasaha zihagaze – BBC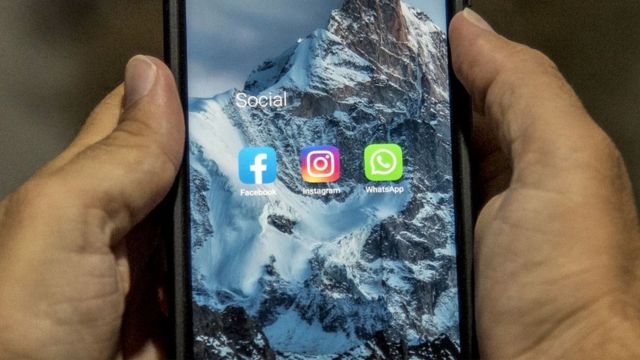 Imbuga nkoranyambaga Facebook, WhatsApp na Instagram zongeye gukora nyuma yuko zimaze amasaha hafi atandatu zidakora, nkuko ubuyobozi bwa Facebook bubivuga.
Iyi kompanyi yo muri Amerika yavuze ko byatewe n'ikibazo cya tekinike cy'imbere mu mikorere yayo, kitagize ingaruka gusa kuri serivisi za Facebook, ahubwo amakuru avuga ko cyanibasiye na emails z'abakozi bayo n'ibyangombwa byo kwinjira ku kazi.
Izo serivisi uko ari eshatu ni iza kompanyi Facebook. Muri icyo gihe ntizashoboraga kugerwaho kuri mudasobwa cyangwa kuri 'apps' zo kuri telefone zigezweho.
Sheera Frenkel, umunyamakuru ku ikoranabuhanga wa New York Times, yabwiye ikiganiro Today cya BBC ko ku ruhande rumwe impamvu byafashe igihe kirekire cyane ngo ikibazo gicyemurwe ari ukubera ko "abantu bageragezaga kumenya iki kibazo icyo ari cyo banatashoboraga kugera mu nyubako bo ubwabo" ngo bashobore gutahura aho ibintu byapfiriye.
Urubuga Downdetector, rugenzura ibyo gukora kw'imbuga zitandukanye, rwavuze ko uko ari ko kudakora kwa mbere kunini rubonye kugeza ubu, aho ku isi hose hatangajwe ibibazo miliyoni 10.6 byo kubura izo serivisi.
Ariko umubare nyawo w'abagizweho ingaruka wo ni munini cyane kurushaho: abantu barenga miliyari 3.5 bakoresha Facebook, Messenger, Instagram na WhatsApp.
Abantu benshi bisanze batandukanye n'abo mu miryango yabo n'inshuti baganirira kuri izo mbuga zitandukanye, mu gihe ubucuruzi buto bukoresha imbuga nkoranyambaga mu guhura n'abakiliya bwasigaye bushobora guhura n'ihungabana mu bukungu ritunguranye.
Nkuko urubuga Fortune rw'amakuru ku bushabitsi rubivuga, hari aho byageze icyo kibazo gihombya uwashinze Facebook Mark Zuckerberg agera kuri miliyari 6 z'amadolari y'Amerika ubwo imigabane yo ku isoko yagabanukaga bikomeye.
Bwana Zuckerberg yasabye imbabazi abagizweho ingaruka n'icyo kibazo.
Izo mbuga zari zahagaze gukora ahagana saa kumi z'umugoroba ku isaha mpuzamahanga ya GMT (16:00 GMT), ni ukuvuga ahagana saa kumi n'ebyiri z'umugoroba (18h) ku isaha yo mu Rwanda no mu Burundi.
Abazikoresha bongeye gutangira gushobora kuzikoresha mu masaha ya saa yine z'ijoro (22:00 GMT), ni ukuvuga mu ma saa sita z'ijoro ku isaha yo mu Rwanda no mu Burundi.
Mu itangazo ryo kuri uyu wa kabiri, Facebook yavuze ko iyo mpinduka mu mikorere itagenze neza yagize ingaruka ku bikoresho by'imbere no muri 'systems' za Facebook, ibyo bikaba byatumye amagerageza yo gucyemura ikibazo agorana.
Yongeyeho ko "nta gihamya igaragaza ko amakuru y'abakoresha urubuga yahungabanyijwe n'uku guhagarara gukora".
Guhagarara gukora kumara igihe kirekire gutyo ntigukunze kubaho. Mu 2019, ikibazo cyateje Facebook n'izindi 'apps' kudakora henshi ku isi mu gihe cy'amasaha arenga 14.
Kompanyi nyinshi z'ikoranabuhanga, zirimo nka Reddit na Twitter, zateye urwenya ku kibazo Facebook yari yahuye na cyo – bituma izo 'apps' ziyisubiza.
Nka Twitter, isa nk'iyumvikanisha ko yari yo ahanini isigaye ikurikiwe, yagize iti: "nsuhuje urebye buri muntu wese".
Instagram, kuri Twitter, irasubiza iti: "Turagusuhuje kandi ugire umunsi wo ku wa mbere mwiza".
Iki kibazo cyo guhagarara gukora kibaye hashize umunsi umwe hatangajwe ikiganiro n'uwahoze akora muri Facebook wahishuye inyandiko ku mikorere yayo.
Ku cyumweru, Frances Haugen yabwiye televiziyo CBS yo muri Amerika ko iyi kompanyi yashyize imbere "umusaruro kurusha umutekano".
Kuri uyu wa kabiri, Madamu Haugen aratanga ubuhamya mu kanama ko muri sena y'Amerika, mu kiganiro cyiswe "Kurinda Abana Ku Mbuga", kijyanye n'ubushakashatsi bw'iyi kompanyi ku ngaruka Instagram yagize ku buzima bwo mu mutwe bw'urubyiruko ruyikoresha.
Isesengura rya James Clayton
Umunyamakuru wa BBC ku ikoranabuhanga muri Amerika ya ruguru
Guhagarara gukora kw'imbuga nini ni ikintu kijya kibaho. Nk'urugero mu cyumweru gishize, iki kibazo cyabaye ku rubuga Slack.
Igituma iki cyibazwaho cyane ni ingano y'abo cyagezeho, urwego kiriho n'igihe kibereyemo.
Byinshi mu bibazo byo guhagarara gukora kw'imbuga bijyanye n'uburyo bw'ishakiro ry'urubuga (domain name) akenshi bicyemurwa mu buryo bwihuse kurushaho. Akenshi kandi ibyo bibazo biba mu karere runaka, abantu bamwe ntibashobore gufungura urubuga rushobora kugaragara mu kindi gihugu.
Ariko, iki kibazo cyo guhagarara cyari kiri ku rwego rw'isi, kandi cyibasira amashami menshi yose ya Facebook.
Igihe kirekire ikibazo cyo kudakora cyamaze na cyo ntigisanzwe. Hari hari amakuru ko habayeho "akaduruvayo" ku cyicaro gikuru cya Facebook, abatekinisiye barwana no gucyemura ikibazo.
Iki cyumweru n'ubundi cyari cyatangiye nabi – nyuma yuko uwahoze akoramo wamennye "Amabanga ya Facebook", ku cyumweru yigaragaje uwo ari we.
Ariko icyumweru kibi kirimo kwihuta kiba kibi cyane kuri iyi kompanyi y'imbuga nkoranyambaga.
Updating Special Ad Audiences for housing, employment, and credit advertisers
On June 21, 2022 we announced an important settlement with the US Department of Housing and Urban Development (HUD) that will change the way we deliver housing ads to people residing in the US. Specifically, we are building into our ads system a method designed to make sure the audience that ends up seeing a housing ad more closely reflects the eligible targeted audience for that ad.
As part of this agreement, we will also be sunsetting Special Ad Audiences, a tool that lets advertisers expand their audiences for ad sets related to housing. We are choosing to sunset this for employment and credit ads as well. In 2019, in addition to eliminating certain targeting options for housing, employment and credit ads, we introduced Special Ad Audiences as an alternative to Lookalike Audiences. But the field of fairness in machine learning is a dynamic and evolving one, and Special Ad Audiences was an early way to address concerns. Now, our focus will move to new approaches to improve fairness, including the method previously announced.
What's happening: We're removing the ability to create Special Ad Audiences via Ads Manager beginning on August 25, 2022.
Beginning October 12th, 2022, we will pause any remaining ad sets that contain Special Ad Audiences. These ad sets may be restarted once advertisers have removed any and all Special Ad Audiences from those ad sets. We are providing a two month window between preventing new Special Ad Audiences and pausing existing Special Ad Audiences to enable advertisers the time to adjust budgets and strategies as needed.
For more details, please visit our Newsroom post.
Impact to Advertisers using Marketing API on September 13, 2022
For advertisers and partners using the API listed below, the blocking of new Special Ad Audience creation will present a breaking change on all versions. Beginning August 15, 2022, developers can start to implement the code changes, and will have until September 13, 2022, when the non-versioning change occurs and prior values are deprecated. Refer below to the list of impacted endpoints related to this deprecation:
For reading audience:
endpoint gr:get:AdAccount/customaudiences
field operation_status
For adset creation:
endpoint gr:post:AdAccount/adsets
field subtype
For adset editing:
endpoint gr:post:AdCampaign
field subtype
For custom audience creation:
endpoint gr:post:AdAccount/customaudiences
field subtype
For custom audience editing:
endpoint gr:post:CustomAudience
Please refer to the developer documentation for further details to support code implementation.
First seen at developers.facebook.com
Introducing an Update to the Data Protection Assessment
Over the coming year, some apps with access to certain types of user data on our platforms will be required to complete the annual Data Protection Assessment. We have made a number of improvements to this process since our launch last year, when we introduced our first iteration of the assessment.
The updated Data Protection Assessment will include a new developer experience that is enhanced through streamlined communications, direct support, and clear status updates. Today, we're sharing what you can expect from these new updates and how you can best prepare for completing this important privacy requirement if your app is within scope.
If your app is in scope for the Data Protection Assessment, and you're an app admin, you'll receive an email and a message in your app's Alert Inbox when it's time to complete the annual assessment. You and your team of experts will then have 60 calendar days to complete the assessment. We've built a new platform that enhances the user experience of completing the Data Protection Assessment. These updates to the platform are based on learnings over the past year from our partnership with the developer community. When completing the assessment, you can expect:
Streamlined communication: All communications and required actions will be through the My Apps page. You'll be notified of pending communications requiring your response via your Alerts Inbox, email, and notifications in the My Apps page.

Note: Other programs may still communicate with you through the App Contact Email.

Available support: Ability to engage with Meta teams via the Support tool to seek clarification on the questions within the Data Protection Assessment prior to submission and help with any requests for more info, or to resolve violations.

Note: To access this feature, you will need to add the app and app admins to your Business Manager. Please refer to those links for step-by-step guides.

Clear status updates: Easy to understand status and timeline indicators throughout the process in the App Dashboard, App Settings, and My Apps page.
Straightforward reviewer follow-ups: Streamlined experience for any follow-ups from our reviewers, all via developers.facebook.com.
We've included a brief video that provides a walkthrough of the experience you'll have with the Data Protection Assessment:
Something Went Wrong
We're having trouble playing this video.
The Data Protection Assessment elevates the importance of data security and helps gain the trust of the billions of people who use our products and services around the world. That's why we are committed to providing a seamless experience for our partners as you complete this important privacy requirement.
Here is what you can do now to prepare for the assessment:
Make sure you are reachable: Update your developer or business account contact email and notification settings.
Review the questions in the Data Protection Assessment and engage with your teams on how best to answer these questions. You may have to enlist the help of your legal and information security points of contact to answer some parts of the assessment.
Review Meta Platform Terms and our Developer Policies.
We know that when people choose to share their data, we're able to work with the developer community to safely deliver rich and relevant experiences that create value for people and businesses. It's a privilege we share when people grant us access to their data, and it's imperative that we protect that data in order to maintain and build upon their trust. This is why the Data Protection Assessment focuses on data use, data sharing and data security.
Data privacy is challenging and complex, and we're dedicated to continuously improving the processes to safeguard user privacy on our platform. Thank you for partnering with us as we continue to build a safer, more sustainable platform.
First seen at developers.facebook.com
Resources for Completing App Store Data Practice Questionnaires for Apps That Include the Facebook or Audience Network SDK
Resources for Completing App Store Data Practice Questionnaires for Apps That Include the Facebook or Audience Network SDK
First seen at developers.facebook.com