Our Progress Addressing Challenges and Innovating Responsibly – About Facebook
How technology companies grapple with complex issues is being heavily scrutinized, and often, without important context. There is a lot more to the story. What is getting lost in this discussion is some of the important progress we've made as a company and the positive impact that it is having across many key areas.
We firmly believe that ongoing research and candid conversations about our impact are some of the most effective ways to identify emerging issues and get ahead of them. This doesn't mean we find and fix every problem right away. But because of this approach, together with other changes, we have made significant progress across a number of important areas, including privacy, safety and security, to name a few. Just as the world has changed a lot, so has Facebook.
In the past, we didn't address safety and security challenges early enough in the product development process. Instead, we made improvements reactively in response to a specific abuse. But we have fundamentally changed that approach. Today, we embed teams focusing specifically on safety and security issues directly into product development teams, allowing us to address these issues during our product development process, not after it. Products also have to go through an Integrity Review process, similar to the Privacy Review process, so we can anticipate potential abuses and build in ways to mitigate them. Here are a few examples of how far we've come.
Safety and Security
Some of the most important changes we've made in recent years have been in prioritizing safety and security. As a result: 
Today we have 40,000 people working on safety and security, and have invested more than $13 billion in teams and technology in this area since 2016.

Since 2017, Facebook's security teams have disrupted and removed more than 150 covert influence operations, both foreign and domestic, helping prevent similar abuse.

Our advanced AI has helped us block 3 billion fake accounts in the first half of this year.

Our AI systems have gotten better at keeping people safer on our platform, for example by proactively removing content that violates our standards on hate speech.

We now remove 15X more

of such content across Facebook and Instagram than when we first began reporting it in 2017.

Since 2019, we've started using

technology that understands the same concept in multiple languages

— and applies learnings from one language to improve its performance in others. 
We have also changed our approach to protecting people's privacy as a company. This includes investing in and expanding our Privacy Checkup, which today is used by tens of millions of people every month to manage their settings and control their experience on Facebook, and launching tools like Off-Facebook Activity and Why Am I Seeing This? that show people how their information is used and let them more easily manage settings.
Combating Misinformation
Misinformation has been a challenge on and off the internet for many decades. People are understandably concerned about how it will be handled for future internet technologies. At Facebook, we've begun addressing this comprehensively — rather than treating it as a single problem with a single solution. This means we've gotten better at addressing this complex challenge. We've worked to develop and expand our systems to reduce misinformation and promote reliable information. As a result: 
We remove false and harmful content that violates our Community Standards, including more than 20 million pieces of false COVID-19 and vaccine content.

We've built a global network of more than 80 independent fact-checking partners who rate the accuracy of posts covering more than 60 languages across our apps. 

We've displayed warnings on more than 190 million pieces of COVID-related content on Facebook that our fact-checking partners rated as false, partly false, altered or missing context. 

We've helped over 2 billion people find credible COVID-19 information through our COVID-19 Information Center and News Feed pop-ups — and more than 140 million people visited our US 2020 Voting Information Center.
Innovating More Responsibly
Most importantly, we've also changed not just what we build but how we build so that when we launch new products, they are more likely to have effective privacy, security and safety protections already built in. For example: 
This year when we rolled out Live Audio Rooms, we built them with integrated safety and integrity measures:

We prohibit people who have reached a certain threshold of Community Standards violations from creating or speaking in Live Audio Rooms.

We give room hosts the ability to demote speakers to listeners or block people from joining their room entirely.

We give speakers and listeners the ability to report the host.

We also launched Facebook Horizon in beta last year with a

number of new features

that put people in control of their experience in VR. 

We introduced Safe Zone, which lets people take a break from their surroundings and then block, mute or report. 

And we introduced a new feature in Horizon that makes it easier to submit reports, since we know it's difficult to record a painful incident while it's happening.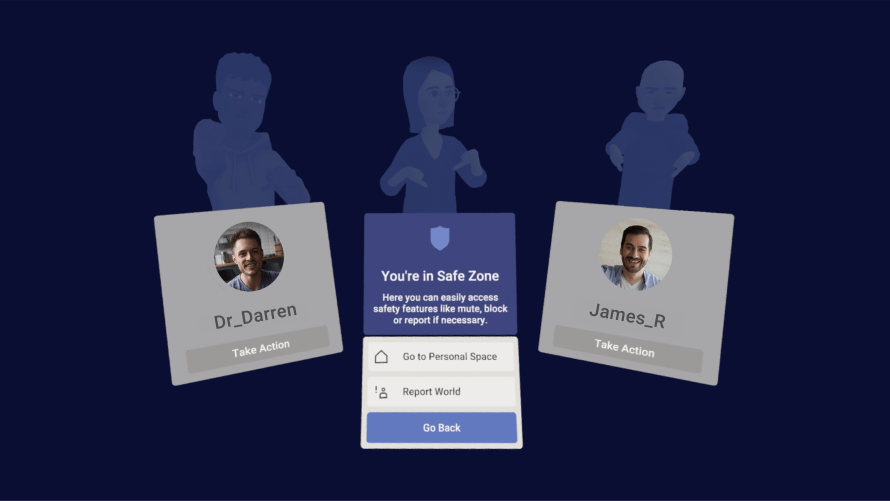 You can read more about the direction of our responsible innovation efforts from Margaret Stewart, VP of Product Design & Responsible Innovation at Facebook. 
Yes, we've made progress. But we also know that there will always be examples of things we miss and things we take down by mistake. There is no perfect here. Collaborating with experts, policymakers and others has made us better, and continued collaboration will be key to making sure our progress continues. And that's our plan. 
Read more about our efforts on our new page, which features updated information and figures, to give a sense of where things have improved and where we still have more work to do. Our Transparency Center is also a comprehensive destination for our integrity and transparency efforts. Also, see a timeline of our integrity efforts since 2016.
For more, visit about.facebook.com/progress.
Updating Special Ad Audiences for housing, employment, and credit advertisers
On June 21, 2022 we announced an important settlement with the US Department of Housing and Urban Development (HUD) that will change the way we deliver housing ads to people residing in the US. Specifically, we are building into our ads system a method designed to make sure the audience that ends up seeing a housing ad more closely reflects the eligible targeted audience for that ad.
As part of this agreement, we will also be sunsetting Special Ad Audiences, a tool that lets advertisers expand their audiences for ad sets related to housing. We are choosing to sunset this for employment and credit ads as well. In 2019, in addition to eliminating certain targeting options for housing, employment and credit ads, we introduced Special Ad Audiences as an alternative to Lookalike Audiences. But the field of fairness in machine learning is a dynamic and evolving one, and Special Ad Audiences was an early way to address concerns. Now, our focus will move to new approaches to improve fairness, including the method previously announced.
What's happening: We're removing the ability to create Special Ad Audiences via Ads Manager beginning on August 25, 2022.
Beginning October 12th, 2022, we will pause any remaining ad sets that contain Special Ad Audiences. These ad sets may be restarted once advertisers have removed any and all Special Ad Audiences from those ad sets. We are providing a two month window between preventing new Special Ad Audiences and pausing existing Special Ad Audiences to enable advertisers the time to adjust budgets and strategies as needed.
For more details, please visit our Newsroom post.
Impact to Advertisers using Marketing API on September 13, 2022
For advertisers and partners using the API listed below, the blocking of new Special Ad Audience creation will present a breaking change on all versions. Beginning August 15, 2022, developers can start to implement the code changes, and will have until September 13, 2022, when the non-versioning change occurs and prior values are deprecated. Refer below to the list of impacted endpoints related to this deprecation:
For reading audience:
endpoint gr:get:AdAccount/customaudiences
field operation_status
For adset creation:
endpoint gr:post:AdAccount/adsets
field subtype
For adset editing:
endpoint gr:post:AdCampaign
field subtype
For custom audience creation:
endpoint gr:post:AdAccount/customaudiences
field subtype
For custom audience editing:
endpoint gr:post:CustomAudience
Please refer to the developer documentation for further details to support code implementation.
First seen at developers.facebook.com
Introducing an Update to the Data Protection Assessment
Over the coming year, some apps with access to certain types of user data on our platforms will be required to complete the annual Data Protection Assessment. We have made a number of improvements to this process since our launch last year, when we introduced our first iteration of the assessment.
The updated Data Protection Assessment will include a new developer experience that is enhanced through streamlined communications, direct support, and clear status updates. Today, we're sharing what you can expect from these new updates and how you can best prepare for completing this important privacy requirement if your app is within scope.
If your app is in scope for the Data Protection Assessment, and you're an app admin, you'll receive an email and a message in your app's Alert Inbox when it's time to complete the annual assessment. You and your team of experts will then have 60 calendar days to complete the assessment. We've built a new platform that enhances the user experience of completing the Data Protection Assessment. These updates to the platform are based on learnings over the past year from our partnership with the developer community. When completing the assessment, you can expect:
Streamlined communication: All communications and required actions will be through the My Apps page. You'll be notified of pending communications requiring your response via your Alerts Inbox, email, and notifications in the My Apps page.

Note: Other programs may still communicate with you through the App Contact Email.

Available support: Ability to engage with Meta teams via the Support tool to seek clarification on the questions within the Data Protection Assessment prior to submission and help with any requests for more info, or to resolve violations.

Note: To access this feature, you will need to add the app and app admins to your Business Manager. Please refer to those links for step-by-step guides.

Clear status updates: Easy to understand status and timeline indicators throughout the process in the App Dashboard, App Settings, and My Apps page.
Straightforward reviewer follow-ups: Streamlined experience for any follow-ups from our reviewers, all via developers.facebook.com.
We've included a brief video that provides a walkthrough of the experience you'll have with the Data Protection Assessment:
Something Went Wrong
We're having trouble playing this video.
The Data Protection Assessment elevates the importance of data security and helps gain the trust of the billions of people who use our products and services around the world. That's why we are committed to providing a seamless experience for our partners as you complete this important privacy requirement.
Here is what you can do now to prepare for the assessment:
Make sure you are reachable: Update your developer or business account contact email and notification settings.
Review the questions in the Data Protection Assessment and engage with your teams on how best to answer these questions. You may have to enlist the help of your legal and information security points of contact to answer some parts of the assessment.
Review Meta Platform Terms and our Developer Policies.
We know that when people choose to share their data, we're able to work with the developer community to safely deliver rich and relevant experiences that create value for people and businesses. It's a privilege we share when people grant us access to their data, and it's imperative that we protect that data in order to maintain and build upon their trust. This is why the Data Protection Assessment focuses on data use, data sharing and data security.
Data privacy is challenging and complex, and we're dedicated to continuously improving the processes to safeguard user privacy on our platform. Thank you for partnering with us as we continue to build a safer, more sustainable platform.
First seen at developers.facebook.com
Resources for Completing App Store Data Practice Questionnaires for Apps That Include the Facebook or Audience Network SDK
Resources for Completing App Store Data Practice Questionnaires for Apps That Include the Facebook or Audience Network SDK
First seen at developers.facebook.com