Clegg on its face: Facebook turns to former UK deputy PM to fend off damaging headlines …
Facebook has hit back at a series of reports in the Wall Street Journal as it tries to counter a week of damaging headlines which lifted the lid on the inner workings of the social media biz.
The WSJ alleged Facebook Inc knows, "in acute detail, that its platforms are riddled with flaws that cause harm, often in ways only the company fully understands."
Its investigation included articles claiming that researchers inside Facebook-owned Instagram had found the photo-sharing platform was harmful to a "sizable percentage" of young people, especially teenage girls, but "played down the app's negative effects."
Elsewhere, the paper quoted insiders as claiming a change to Facebook's algorithm in 2018 – designed to improve the platform by building on people's relationships with family and friends – had the opposite effect.
Another WSJ accusation in the series pointed to instances where staff had reported concerns about human trafficking and incitement to violence, and contained claims the company's response had been "in many instances…inadequate or nothing at all."
Plus, there are revelations of a programme – called "cross check" or "XCheck" – that shines a light on a "secret elite that's exempt" from many of the platform's rules that have to be obeyed by ordinary people.
In its introduction to its explosive series of files, the WSJ said: "The documents offer perhaps the clearest picture thus far of how broadly Facebook's problems are known inside the company, up to the chief executive himself."
Now, the social media giant has hit back, claiming that while it is "absolutely legitimate for us to be held to account," the stories contained "deliberate mischaracterizations of what we are trying to do, and conferred egregiously false motives to Facebook's leadership and employees."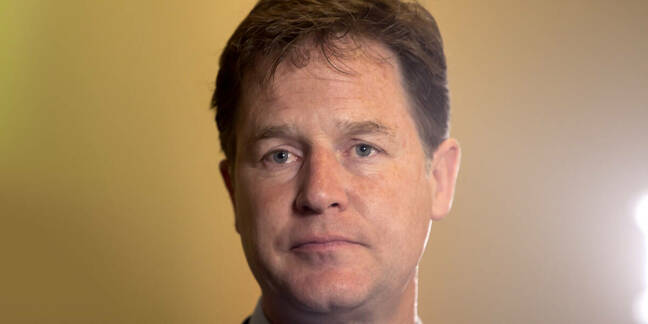 Facebook hype man Nick Clegg
Coming to its defence was former UK Liberal Democrat leader Nick Clegg, who became the country's deputy prime minister in 2010 after his party accepted a coalition deal with the Conservatives. While in the coalition, Clegg backed both spending cuts and a rise in further education tuition fees (which he'd formerly been against while in an opposition government), setting off a big drop in left-wing Lib Dem members and voters. He resigned after the 2015 general election and became a lobbyist and PR man for Facebook just over three years later.
Writing in the company's blog over the weekend, Clegg, whose job title at Facebook is vice president of Global Affairs, wrote: "At the heart of this series is an allegation that is just plain false: that Facebook conducts research and then systematically and willfully ignores it if the findings are inconvenient for the company.
"This impugns the motives and hard work of thousands of researchers, policy experts and engineers at Facebook who strive to improve the quality of our products, and to understand their wider (positive and negative) impact.
"It's a claim which could only be made by cherry-picking selective quotes from individual pieces of leaked material in a way that presents complex and nuanced issues as if there is only ever one right answer," he wrote.
Clegg continued: "Facebook understands the significant responsibility that comes with operating a global platform.
"We take it seriously, and we don't shy away from scrutiny and criticism," he said.
US lawmakers 'in touch with Facebook whistleblower'
Last week, the US Senate's Commerce, Science, and Transportation Subcommittee on Consumer Protection, Product Safety, and Data Security reacted quickly to the reports, announcing it would take a further look at concerns regarding the social media platform.
In a strongly worded statement, US senators Richard Blumenthal (D) and Marsha Blackburn (R), Chair and Ranking Member of the Committee, said: "It is clear that Facebook is incapable of holding itself accountable."
They added: "The Wall Street Journal's reporting reveals Facebook's leadership to be focused on a growth-at-all-costs mindset that valued profits over the health and lives of children and teens.
"We are in touch with a Facebook whistleblower and will use every resource at our disposal to investigate what Facebook knew and when they knew it – including seeking further documents and pursuing witness testimony. The Wall Street Journal's blockbuster reporting may only be the tip of the iceberg."
Their comments follow months of public scrutiny about the potential damage social media can have on the wellbeing of young people.
In the UK, there's little doubt the events in the US will be watched with interest. Nadine Dorries, the new minister in charge of the Department for Digital, Culture, Media and Sport (DCMS), wrote recently about her concerns about the pressures young people face from social media.
Meanwhile John Edwards, the incoming head of the UK's data watchdog, has "gone on the record" to say he will be fair and impartial in his dealings with tech companies despite once describing Facebook as "morally bankrupt pathological liars." ®
Facebook Messenger Is Launching a Split Payments Feature for Users to Quickly Share Expenses
Meta has announced the arrival of a new Split Payments feature in Facebook Messenger. This feature, as the name suggests, will let you calculate and split expenses with others right from Facebook Messenger. This feature essentially looks to bring an easier method to share the cost of bills and expenses — for example, splitting a dinner bill with friends. Using this new Split Payment feature, Facebook Messenger users will be able to split bills evenly or modify the contribution for each individual, including their own.
The company took to its blog post to announce the new Split Payment feature in Facebook Messenger. 9to5Mac reports that this new bill splitting feature is still in beta and will be exclusive to US users at first. The rollout will begin early next week. As mentioned, it will help users share the cost of bills, expenses, and payments. This feature is especially useful for those who share an apartment and need to split the monthly rent and other expenses with their mates. It could also come handy at a group dinner with many people.
With Split Payments, users can add the number of people the expense needs to be divided with and, by default, the amount entered will be divided in equal parts. A user can also modify each person's contribution including their own. To use Split Payments, click the Get Started button in a group chat or the Payments Hub in Messenger. Users can modify the contribution in the Split Payments option and send a notification to all the users who need to make payments. After entering a personalised message and confirming your Facebook Pay details, the request will be sent and viewable in the group chat thread.
Once someone has made the payment, you can mark their transaction as 'completed'. The Split Payment feature will automatically take into account your share as well and calculate the amount owed accordingly.
---
For the latest tech news and reviews, follow Gadgets 360 on Twitter, Facebook, and Google News. For the latest videos on gadgets and tech, subscribe to our YouTube channel.
Tasneem Akolawala is a Senior Reporter for Gadgets 360. Her reporting expertise encompasses smartphones, wearables, apps, social media, and the overall tech industry. She reports out of Mumbai, and also writes about the ups and downs in the Indian telecom sector. Tasneem can be reached on Twitter at @MuteRiot, and leads, tips, and releases can be sent to tasneema@ndtv.com.
Facebook Owner Meta Launches New Platform, Safety Hub to Protect Women in India
Meta (formerly Facebook) on Thursday announced a slew of steps to protect woman users on its platform, including the launch of StopNCII.org in India that aims to combat the spread of non-consensual intimate images (NCII).
Meta has also launched the Women's Safety Hub, which will be available in Hindi and 11 other Indian languages, that will enable more women users in India to access information about tools and resources that can help them make the most of their social media experience, while staying safe online.
This initiative by Meta will ensure women do not face a language barrier in accessing information Karuna Nain, director (global safety policy) at Meta Platforms, told reporters here.
"Safety is an integral part of Meta's commitment to building and offering a safe online experience across the platforms and over the years the company has introduced several industry leading initiatives to protect users online.
"Furthering our effort to bolster the safety of users, we are bringing in a number of initiatives to ensure online safety of women on our platforms," she added.
StopNCII.org is a platform that aims to combat the spread of non-consensual intimate images (NCII).
"It gives victims control. People can come to this platform proactively, hash their intimate videos and images, share their hashes back with the platform and participating companies," Nain said.
She explained that the platform doesn't receive any photos and videos, and instead what they get is the hash or unique digital fingerprint/unique identifier that tells the company that this is a known piece of content that is violating. "We can proactively keep a lookout for that content on our platforms and once it"s uploaded, our review team check what"s really going on and take appropriate action if it violates our policies," she added.
In partnership with UK Revenge Porn Helpline, StopNCII.org builds on Meta's NCII Pilot, an emergency programme that allows potential victims to proactively hash their intimate images so they can"t be proliferated on its platforms.
The first-of-its-kind platform, has partnered with global organisations to support the victims of NCII. In India, the platform has partnered with organisations such as Social Media Matters, Centre for Social Research, and Red Dot Foundation.
Nain added that the company is hopeful that this becomes an industrywide initiative, so that victims can just come to this one central place to get help and support and not have to go to each and every tech platform, one by one to get help and support.
Also, Bishakha Datta (executive editor of Point of View) and Jyoti Vadehra from Centre for Social Research are the first Indian members in Meta"s Global Women"s Safety Expert Advisors. The group comprises 12 other non-profit leaders, activists, and academic experts from different parts of the world and consults Meta in the development of new policies, products and programmes to better support women on its apps.
"We are confident that with our ever-growing safety measures, women will be able to enjoy a social experience which will enable them to learn, engage and grow without any challenges.
"India is an important market for us and bringing Bishakha and Jyoti onboard to our Women"s Safety Expert Advisory Group will go a long way in further enhancing our efforts to make our platforms safer for women in India," Nain said.
---
Facebook Adds New Trend Insights in Creator Studio, Which Could Help Shape Your Posting Strategy
Facebook's looking to provide more content insight within Creator Studio with the rollout of a new 'Inspiration Hub' element, which highlights trending content and hashtags within categories related to your business Page.
As you can see in these screenshots, posted by social media expert Matt Navarra, when it becomes available to you, you'll be able to access the new Inspiration Hub from the Home tab in Creator Studio.
At the right side of the screen, you can see the first of the new insights, with trending hashtags and videos from the last 24 hours, posted by Pages similar to yours, displayed above a 'See more' prompt.
When you tap through to the new hub, you'll have a range of additional filters to check out trending content from across Facebook, including Page category, content type, region, and more.
That could be hugely valuable in learning what Facebook users are responding to, and what people within your target market are engaging with in the app.
The Hub also includes insights into trending hashtags, within your chosen timeframe, which may further assist in tapping into trending discussions.
How valuable hashtags are on Facebook is still up for debate, but you'll also note that you can filter the displayed results by platform, so you can additionally display Instagram hashtag trends as well, which could be very valuable in maximizing your reach.
Much of this type of info has been available within CrowdTangle, Facebook's analytics platform for journalists, for some time, but not everyone can access CrowdTangle data, which could make this an even more valuable proposition for many marketers.
Of course, overall performance really relates to your own creative, and thinking through the action that you want your audience to take when reading your posts. But in terms of detecting new content trends, including hashtag usage, caption length, videos versus image posts, and more, there's a lot that could be gleaned from these tools and filters.
It's a significant analytics addition – we've asked Facebook for more info on the rollout of the new option, and whether it's already beyond test mode, etc. We'll update this post if/when we hear back.