Students Are Damaging School Bathrooms For Attention On TikTok | Public Radio Tulsa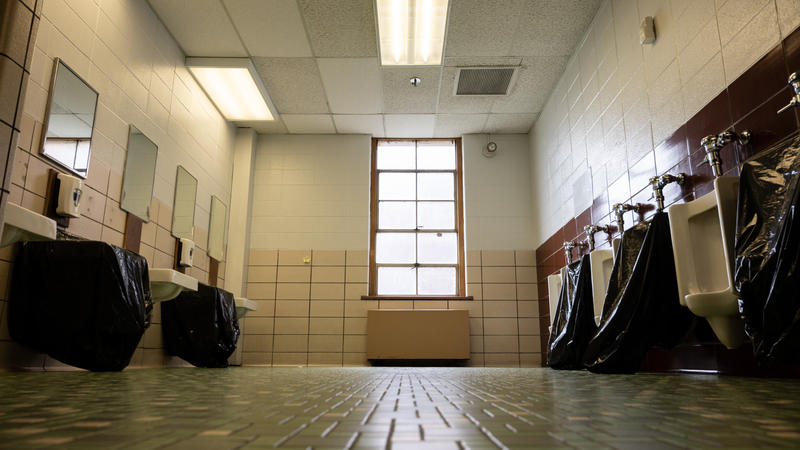 Students are destroying or stealing items at their schools, often in the school bathrooms, in what school administrators and police are blaming on a TikTok trend.
Reports have emerged from across the country: a stolen soap dispenser and damaged sink in Florida; intentionally clogged toilets and mirrors and soap dispensers ripped from walls in California; destruction and red dye staining the bathrooms and a teacher's belongings stolen in Arkansas; ceiling tiles and partitions destroyed in Tennessee.
Aubrey Chancellor, the executive director of communications for the North East Independent School District in San Antonio, Texas, says schools there have experienced similar damage.
"It's certainly very, very frustrating for administrators, for custodians, teachers, other students, maintenance staff," she tells Weekend Edition. "When this type of thing happens, not only do the custodians and the maintenance workers have to stop whatever they actually should be doing. They have to then come and clean up and that sort of thing. It's also frustrating for the students because those restrooms then need to be shut down."
Students have already faced school disciplinary measures and criminal charges.
Administrators and law enforcement are blaming the damage on a TikTok trend involving the hashtag "deviouslick" or "deviouslicks." Students are said to be destroying or stealing school property for attention on social media.
A "lick" is now a slang for theft.
TikTok says it is removing content with the hashtag and redirecting the search results to its community standards. "We expect our community to stay safe and create responsibly, and we do not allow content that promotes or enables criminal activities," a TikTok spokesperson said in a statement.
Even so, NPR was easily able to find school vandalism videos by making small changes to the lettering. One video showed someone with a bottle of red liquid spraying it all over a toilet and wall in a bathroom stall.
Jacqueline Nesi, a professor at Brown University who studies adolescents and social media, says teenagers are more likely than others to engage in risky behaviors for social approval.
"The goal is not to have the thing that you've stolen from the school. I think the goal is really to have what seems like approval of your peers online, and that's a really powerful incentive for teens," she tells Weekend Edition.
She says this is an example of a fad that tends to come and go quickly.
Schools and police urged parents to talk to their teenagers about the criminal charges they could face for participating, including a possible felony.
"Kids, just know that if you get caught doing the challenge, your phone will probably be seized as evidence and it may take a long time to get it returned, if ever. If you are in schools or at sporting events, know we will be keeping an extra eye out for this," the West Des Moines Police Department in Iowa wrote.
"So please, don't. Just. Don't."
Emma Peaslee contributed reporting.

Copyright 2021 NPR. To see more, visit https://www.npr.org.
Chinese version of TikTok limits use of app by those under 14 | Reuters
BEIJING, Sept 18 (Reuters) – Chinese short video app Douyin, the Chinese version of TikTok, said on Saturday that all of its authenticated users below the age of 14 will now access the app in a "youth mode", in its push to shield the young from inappropriate content.
In the youth mode, under-14 users can only access the app for up to 40 minutes a day, and only between 6 a.m. and 10 p.m., Douyin, owned by Beijing-based ByteDance, said in a statement.
The measure to protect the young was the most stringent in the history of the platform, Douyin said.
Chinese regulators have tightened their grip over the internet this year, policing it for violations of core socialist values. Authorities have particularly called for minors to be better protected from online dangers including "blind" and "chaotic" worship of internet celebrities.
Popular social messaging app WeChat, owned by Tencent (0700.HK), also has a "youth mode", which when turned on, limits young users' access to some games and functionalities such as payments or the ability to find nearby friends.
Reporting by Ryan Woo; editing by Richard Pullin
Our Standards: The Thomson Reuters Trust Principles.
Students at multiple Bay Area schools vandalizing bathrooms after TikTok challenge – ABC7 …
A TikTok bathroom challenge trend is taking shape at several Bay Area schools.
The trend involves kids vandalizing bathrooms in their school. The damage done is so bad, that many bathrooms may soon be off limits if they aren't already.
RELATED: Security warning out for TikTok users baring all in silhouette challenge
Pictures retrieved by ABC7 News show a school bathroom stall in a Bay Area middle school, vandalized with toilet paper rolled all over the floor and dropped in the toilet. Sadly school staff in multiple districts say this is part of an online TikTok bathroom challenge trend.
"The kids are destroying the bathrooms, the soap dispensers, they're destroying stuff. They're putting tissues and soap dispensers in the toilet," says Dawnette Brenner who is a middle school instructor along the Peninsula.
Her thoughts are echoed by students like Emily Rosales, who goes to Abbott Middle School in San Mateo. She says bathrooms there have also been vandalized.
"My teachers keep saying they might close them because it's getting worse and worse so we might just have to go to the office if we need to go use the restroom," says Rosales.
VIDEO: 'Outlet challenge' could cause fire or serious injury, fire investigators warn
This isn't just happening in middle schools. High schools, and even elementary schools have their custodians working extra hours, as is the case at Independent Elementary School in Castro Valley.
"I don't think a lot of them realize at the elementary school level that they are vandalizing, they just think they're doing something funny because they saw it on Tiktok," says Paula Merrigan who teaches at Independent.
One picture we obtained shows a replacement soap dispenser where the previous one was ripped off the wall. Another picture shows a toilet that was covered in ketchup. We also know of cases in San Ramon and in Dublin at Wells Middle School, where many bathrooms are now closed.
RELATED: Milk crate challenge: Why dangerous stunts go viral
We reached out to TikTok to see if any action has been taken against users posting bathroom challenge videos, but have yet to hear back.
Brenner is hopeful that parents will talk to their kids like she talked to her class this week.
"I had conversation and I made it personal, I said 'hey if this was happening and your father or uncle or brother had to clean this up how would you feel?'" said Brenner. She says the next day two students confessed to one of three incidents her school has dealt with in the last two weeks.
Copyright © 2021 KGO-TV. All Rights Reserved.
Do dogs eat for free at In-N-Out? A viral TikTok video has people wondering | YourCentralValley.com
FRESNO, Calif. (YourCentralValley.com) — A viral video on the social media platform TikTok is raising the eyebrows of pet lovers everywhere and begging the question, "Can dogs eat for free at In-N-Out?"
In a viral video with nearly 500,000 likes on TikTok, Daily Paws tells of a "secret dog menu" at fast-food giant In-N-Out.
"Next time you go through this fast-food restaurant all you have to do is ask for [a pup patty,]" says Daily Paws.
The viral video shows TikTok sensation and overall popular pupper Hige in line at the burger joint, and a lucky recipient of the pup patty. The treat is described as a "simple, unsalted, broiled hamburger." But according to Daily Paws, the price can't be beaten.
"The best thing about the secret dog menus is that they're free," says Daily Paws.
Is the pup patty a myth? Is there such thing as a free lunch (even if it's for our furry friends?)
The answer is yes and no. We went to a local In-N-Out with "investigative pupporter" Appa, and he was — shall we say — hangry.
After waiting in line for the popular lunch spot we asked the friendly In-N-Out employee about the pup patty. Here's what we found out —
The pup patty is indeed an unsalted patty, and it is purportedly only for good doggos, although we couldn't confirm this with representatives from the hamburger chain. Unfortunately, there is no such thing as a free lunch, not even for Appa.
The pup patty will cost you $1.
Also questionable is the "secret" part of the secret dog menu. Our In-N-Out attendant told us that approximately 90% or four out of five patrons that make their way through the restaurant's drive-thru line will order their furbaby the delicious treat.
That's a lot of pup patties!
But what if your pupper always wants the best? What if an unsalted, broiled beef patty doesn't quite match the high standards of your distinguished doggo? In-N-Out has a suggestion for that as well, and it's not just for the dogs!
Enter the "Flying Dutchman."
The Flying Dutchman is described as two patties stuck together with two melty slices of cheese. Our In-N-Out server told us that this burger is also a popular choice with the K9 crowd. It's enough to make more than a dog's mouth water. This treat is available for your dog's favorite human as well!
Of course, the Flying Dutchman also comes with a heavier price tag, coming in at $2.10 for the treat.
You might want to bring some water for your fuzzy friend, as it will be good for a doggo who partakes in the pup patty or the Flying Dutchman to have something to wash down the burger.
'Investigative pupporter' Appa had nothing but nice things to say about the treat.
"Two paws up. More please," said Appa via his translator, Gabe Salazar.
So now you know not only can your furry friend share a nice car ride with you, but he can also enjoy a burger from the same restaurant. Is there anywhere else with 'secret' dog menus?
Starbucks offers a popular pupper product. The 'puppuccino' is a nice treat for any doggo that needs a jolt to wake up in the morning. The 'puppuccino' is whipped cream in a small cup. It's always fun to watch a lucky K9 slurp down a 'puppuccino.'
Additionally, Dairy Queen offers a 'pup cup,' which is described as a bit of soft-served ice cream topped with a treat. You should definitely make sure that your doggo doesn't have a problem with milk before getting him this one though.
Will you be picking up a pup patty for your best friend? How about a Flying Dutchman? Do you know of any other 'secret' dog menus at fast-food restaurants that we should know about?