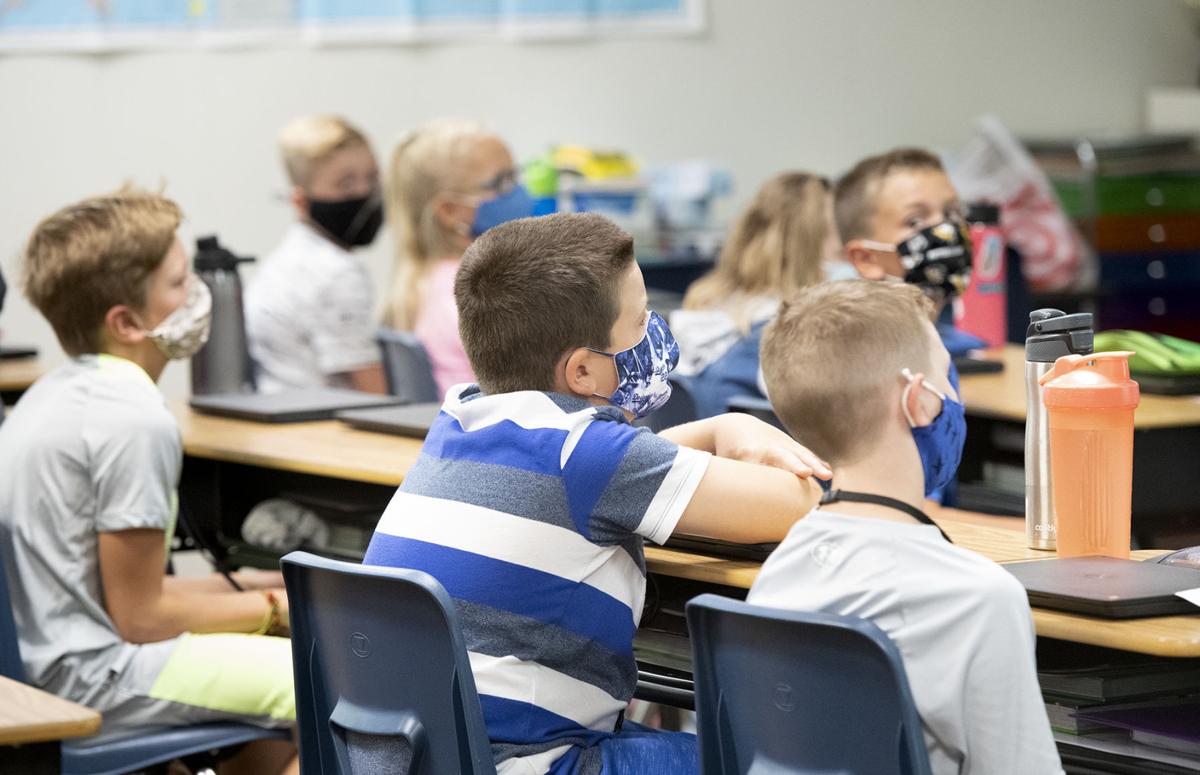 The controversy over Lincoln Public Schools' mask requirement for students through sixth grade moved from the boardroom to social media, where anti-maskers promised to continue protesting and school board members vowed not to be intimidated.
"My biggest concern right now is that the controversy has evolved from a sharing of ideas to intimidation and threats," said school board member Don Mayhew, who posted a screenshot from one of the speakers at this week's board meeting.
The poster said he was fighting back and urged other opponents to take a stand.
"It's not going to be an easy fight," the post said. "It's not going to be a fight without casualties in the process. What are your children worth? What is their health worth to you? Their education?"
The post came from Stephen Lucchino, who said in his post that opponents were to gather at a meeting Friday at Madsen's, whose owner sued the city over its mask mandate last year.
During Lucchino's testimony at this week's board meeting, he held up a picture from school board member Kathy Danek's Facebook page, which showed a group of unmasked people, including Danek, posing for a photo at a high school reunion that was posted in June, well after the city's mask mandate had expired and the health department's risk dial had moved back to low-risk green.
A day after Lucchino's testimony, Danek posted "I will NOT be intimidated" on her Facebook page.
Sam Lyon, who led an unsuccessful recall of the mayor and four City Council members last year and who spoke at the board meeting Tuesday, said he didn't organize the Madsen's meeting and wasn't sure of the purpose, but that parents' concerns go beyond masks, though they don't believe their children should be forced to wear them.
"If I could nail it down … there's a lot of parents that feel LPS … give(s) them the opportunity to speak, and they don't really listen and they don't really care about parents," he said. "We're all just individuals who want the best for our kids.
"At the end of the day, if you're in LPS you feel alone, trapped and out of options."
His message, he said, is that parents can home-school their children and there's a large community to help them.
Although nearly all those who spoke about masks at recent board meetings opposed them, Mayhew said the phone calls and emails board members have received have been about evenly split between people who oppose the mask mandate and those who want it to include older children, too.
LPS Superintendent Steve Joel said officials have been made aware that some parents may plan to protest on the first day of school and will make plans to deal with that if it happens.
LPS sent a message to Maxey Elementary School parents Friday, saying it had heard from parents concerned about social media posts and will provide "additional support" Monday morning.
A Facebook post from another person said "there will be hundreds of students, if not thousands" who will refuse to wear masks next week.
LPS revised its back-to-school plans to require masks for its youngest students after the Lincoln-Lancaster County Health Department sent a letter that says all schools "shall require" masks for unvaccinated students and those ages 2-12 in indoor settings. 
Joel urged parents to work with LPS, even if they don't agree with the decision about masks.
"I understand this is a very emotional topic for some, but I also ask that parents work with us so that we can reverse the numbers (of COVID-19 cases in the community), keep our kids in school and make sure they're as safe as possible. There's no need for people to be disrespectful."
He said officials listened to all parents, but decided to err on the side of safety and hope the mask mandate will be temporary.
Volatile school board meetings and the anger of protesters is a national dynamic now, he said, and that's reflected in Nebraska. Anti-mask protesters have come to several Omaha-area school board meetings, and a recent state education board meeting on the proposed health education standards was full of loud, raucous protesters.
But, Joel said, hospitalizations are on the rise in Nebraska and more children nationally are getting infected with COVID-19.
School officials didn't want kids to have to wear masks, he said, but they also want kids to be safe and don't want them to lose more academic ground if they must quarantine. 
There is still some ability to enroll in the district's remote-learning school, which is open to students in elementary and middle school.
Mayhew said the district will do its best to work with families in enforcing the mandate. He's got a lot of confidence in parents and staff to create a safe and positive environment for kids coming back to school.
"However they're feeling, I hope they remember Monday is about the kids," he said.
Top Journal Star photos for August
Top Journal Star photos for August
Top Journal Star photos for August
Top Journal Star photos for August
Top Journal Star photos for August
Top Journal Star photos for August
Top Journal Star photos for August
Top Journal Star photos for August
Top Journal Star photos for August
Top Journal Star photos for August
Top Journal Star photos for August
Top Journal Star photos for August
Top Journal Star photos for August
Reach the writer at 402-473-7226 or mreist@journalstar.com.
On Twitter @LJSreist
Get our local education coverage delivered directly to your inbox.