BJP leader Babul Supriyo quits politics, says 'Alvida' in his Facebook post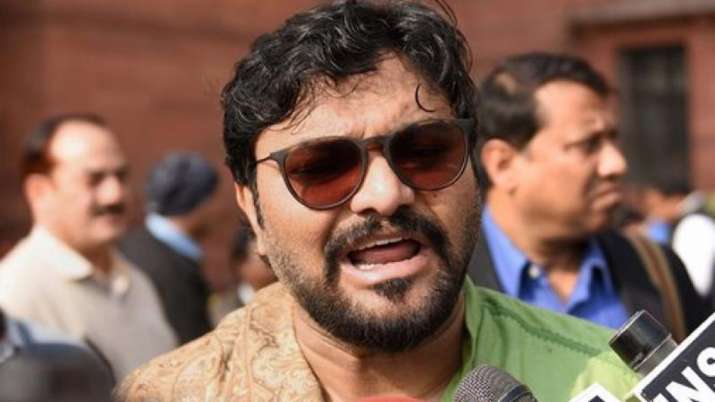 BJP leader from West Bengal, Babul Supriyo, has hinted at quitting active politics. Calling himself a team player, the MP from Asansol in his Facebook post said that one doesn't have to be in politics to do social work. "If you want to do social work, you can do it without being in politics," he wrote.
Clearing the air that he may join any other party, mainly the Trinamool Congresswhich arch-rival of the BJP in WestBengal, the banker-turned-singer-turned-politician said, "Alvida. Am not going to any other party – TMC, Congress, CPIM, nowhere. I am confirming that nobody has called me. I am going nowhere. I am a one-team player! Have always supported one team #MohunBagan – Have been with only one party – BJP West Bengal. That's it!!"
Notably, Supriyo was among the 12 ministers who were dropped from Prime Minister Narendra Modi's cabinet on July 7 as part of a rejig. His exclusion was almost certain after he lost to the Trinamool Congress's Aroop Biswas in the April-May West Bengal assembly elections.
I am going..
Goodbye…
Heard everyone's words – Father, (Mother) wife, daughter, two dear friends.. After hearing everything, I say that I am not going to any other party – #TMC, #Congress, #CPIM, nowhere – Confirming, someone me Didn't call, I am also not going anywhere  I am a one Team Player! Have always supported one team #MohunBagan – Have done only party BJP West Bengal!! That's it!!

I am going…

'Stayed for some time'.. Keeped some mind and broke some.. Somewhere I may have made you happy with my work, somewhere I am disappointed | You will not evaluate 

I'm saying after answering all the questions that arise in ' my ' mind.. I'm saying it in my own way..

I am going… 

If you want to do social work, you can do it without being in politics – let's organize myself a little first and then…

In the past few days, I have taken the pledge to leave politics to Hon 'ble Amit Shah and Hon' ble Naddaji again and again and again and again and again and again and again and again and again and again and again and again and I am grateful to them that they have inspired me in many ways |

I'll never forget their love and so I can't show them the same thing again  especially when I've decided what ' my me ' wants to do a long time ago || so same again Somewhere when I go to repeat the word, they might think I'm ' Bargaining ' for a ' position ' | And when it's not true, they don't want the ' doubt ' to be out of their mind – even for a moment |

I pray they don't misunderstand me, forgive me |

I won't say anything special anymore – now ' you will say I will listen ' – during the day, ' in the evening ' 

But I have to answer a question because it's pertinent! Question will be arised why did I leave politics? Does he have anything to do with the departure of ministry? Yes there is – some must have! Don't want to worry so if she answers the question it will be correct-it will give me peace too |

Big difference between 2014 and 2019 |

Then I was the only one in the BJP ticket (With due respect to Ahluwaliaji – GJM was BJP's ally in the Darjeeling seat) but today BJP is the main opposition party in Bengal. Today many new Bright young Turkish leaders in the party are as old as they are There are witty leaders too. Needless to say the party under their leadership will go a long way from here. No hesitation to say that not having a single person in the party today is a big deal yet it is clear and accepting that the right decision will be mine. Strong, strong faith!

Another thing.. there were some issues with state leadership before the election – it may be but some of them were coming publicly | Somewhere I'm responsible for that (posted a Facebook post that falls into the level of party chaos) again somewhere else Leaders are also very responsible, though I don't want to go on who is responsible – but the party's disagreement and disagreement of senior leaders was harming, even in ' ground zero ', it was not helping the morale of party workers in any way. ' Rocket Science ' Knowledge is not required | At this moment it is totally unpredictable so I am moving away by giving infinite gratitude and love to the people of Asansol |

I don't agree that I went somewhere – I was with ' myself ' – so going back somewhere today I won't say anything |

Many new ministers haven't got government houses yet so I'll leave my house within a month (as soon as possible – maybe before that) |

No, I won't take it anymore |

In the sky, had a small conversation with Swami Ramdevji on a flight. Didn't like it at all when I realized that BJP is taking Bengal very seriously, will fight with power but probably not expecting any seat. Felt like, that Bengali Shyamaprasad Mukherjee, Atal Bihari Vajpayee so much How can that Bengali who respects, loves, won't win BJP in a single seat!!! Especially when whole India decided before voting that their deserving successor, Narendra Modi will be the next PM of India, why would Bengal think differently | The challenge was supposed to be taken as a Bengali at that time, so I heard everyone but did what I felt – without fearing uncertainty, I did what I thought was right, with 'heart-soul' |
I did the same in 1992 while leaving the job of Standard Chartered Bank and fleeing to Mumbai, today I did the same!!!

I am going..

Yes, some words are left..

Maybe will ever say..

I am not there today or I am saying..

I am going..
ALSO READ: 'Asked to resign', says 'sad' Babul Supriyo; wishes Modi's new team
Introducing Facebook Graph API v18.0 and Marketing API v18.0
Today, we are releasing Facebook Graph API v18.0 and Marketing API v18.0. As part of this release, we are highlighting changes below that we believe are relevant to parts of our developer community. These changes include announcements, product updates, and notifications on deprecations that we believe are relevant to your application(s)' integration with our platform.
For a complete list of all changes and their details, please visit our changelog.
General Updates
Consolidation of Audience Location Status Options for Location Targeting
As previously announced in May 2023, we have consolidated Audience Location Status to our current default option of "People living in or recently in this location" when choosing the type of audience to reach within their Location Targeting selections. This update reflects a consolidation of other previously available options and removal of our "People traveling in this location" option.
We are making this change as part of our ongoing efforts to deliver more value to businesses, simplify our ads system, and streamline our targeting options in order to increase performance efficiency and remove options that have low usage.
This update will apply to new or duplicated campaigns. Existing campaigns created prior to launch will not be entered in this new experience unless they are in draft mode or duplicated.
Add "add_security_recommendation" and "code_expiration_minutes" to WA Message Templates API
Earlier this year, we released WhatsApp's authentication solution which enabled creating and sending authentication templates with native buttons and preset authentication messages. With the release of Graph API v18, we're making improvements to the retrieval of authentication templates, making the end-to-end authentication template process easier for BSPs and businesses.
With Graph API v18, BSPs and businesses can have better visibility into preset authentication message template content after creation. Specifically, payloads will return preset content configuration options, in addition to the text used by WhatsApp. This improvement can enable BSPs and businesses to build "edit" UIs for authentication templates that can be constructed on top of the API.
Note that errors may occur when upgrading to Graph API v18 if BSPs or businesses are taking the entire response from the GET request and providing it back to the POST request to update templates. To resolve, the body/header/footer text fields should be dropped before passing back into the API.
Re-launching dev docs and changelogs for creating Call Ads
Facebook Reels Placement for Call Ads
Meta is releasing the ability to deliver Call Ads through the Facebook Reels platform. Call ads allow users to call businesses in the moment of consideration when they view an ad, and help businesses drive more complex discussions with interested users. This is an opportunity for businesses to advertise with call ads based on peoples' real-time behavior on Facebook. Under the Ad set Level within Ads Manager, businesses can choose to add "Facebook Reels" Under the Placements section.
Re-Launching Call Ads via API
On September 12, 2023, we're providing updated guidance on how to create Call Ads via the API. We are introducing documentation solely for Call Ads, so that 3P developers can more easily create Call Ads' campaigns and know how to view insights about their ongoing call ad campaigns, including call-related metrics. In the future, we also plan to support Call Add-ons via our API platform. Developers should have access to the general permissions necessary to create general ads in order to create Call Ads via the API platform.

Please refer to developer documentation for additional information.
Deprecations & Breaking Changes
Graph API changes for user granular permission feature
We are updating two graph API endpoints for WhatsAppBusinessAccount. These endpoints are as follows:
Retrieve message templates associated with WhatsAppBusiness Account
Retrieve phone numbers associated with WhatsAppBusiness Account
With v18, we are rolling out a new feature "user granular permission". All existing users who are already added to WhatsAppBusinessAccount will be backfilled and will continue to have access (no impact).
The admin has the flexibility to change these permissions. If the admin changes the permission and removes access to view message templates or phone numbers for one of their users, that specific user will start getting an error message saying you do not have permission to view message templates or phone numbers on all versions v18 and older.
Deprecate legacy metrics naming for IG Media and User Insights
Starting on September 12, Instagram will remove duplicative and legacy, insights metrics from the Instagram Graph API in order to share a single source of metrics to our developers.
This new upgrade reduces any confusion as well as increases the reliability and quality of our reporting.
After 90 days of this launch (i.e. December 11, 2023), we will remove all these duplicative and legacy insights metrics from the Instagram Graph API on all versions in order to be more consistent with the Instagram app.
We appreciate all the feedback that we've received from our developer community, and look forward to continuing to work together.
Please review the media insights and user insights developer documentation to learn more.
Deprecate all Facebook Wi-Fi v1 and Facebook Wi-Fi v2 endpoints
Facebook Wi-Fi was designed to improve the experience of connecting to Wi-Fi hotspots at businesses. It allowed a merchant's customers to get free Wi-Fi simply by checking in on Facebook. It also allowed merchants to control who could use their Wi-Fi and for how long, and integrated with ads to enable targeting to customers who had used the merchant's Wi-Fi. This product was deprecated on June 12, 2023. As the partner notice period has ended, all endpoints used by Facebook Wi-Fi v1 and Facebook Wi-Fi v2 have been deprecated and removed.
API Version Deprecations:
As part of Facebook's versioning schedule for Graph API and Marketing API, please note the upcoming deprecations:
Graph API
September 14, 2023: Graph API v11.0 will be deprecated and removed from the platform
February 8, 2024: Graph API v12.0 will be deprecated and removed from the platform
May 28, 2024: Graph API v13.0 will be deprecated and removed from the platform
Marketing API
September 20, 2023: Marketing API v14.0 will be deprecated and removed from the platform
September 20, 2023: Marketing API v15.0 will be deprecated and removed from the platform
February 06, 2024: Marketing API v16.0 will be deprecated and removed from the platform
To avoid disruption to your business, we recommend migrating all calls to the latest API version that launched today.
Facebook Platform SDK
As part of our 2-year deprecation schedule for Platform SDKs, please note the upcoming deprecations and sunsets:
October 2023: Facebook Platform SDK v11.0 or below will be sunset
February 2024: Facebook Platform SDK v12.0 or below will be sunset
First seen at developers.facebook.com
Allowing Users to Promote Stories as Ads (via Marketing API)
Before today (August 28, 2023), advertisers could not promote images and/or videos used in Instagram Stories as ads via the Instagram Marketing API. This process created unwanted friction for our partners and their customers.
After consistently hearing about this pain point from our developer community, we have removed this unwanted friction for advertisers and now allow users to seamlessly promote their image and/or video media used in Instagram Stories as ads via the Instagram Marketing API as of August 28, 2023.
We appreciate all the feedback received from our developer community, and hope to continue improving your experience.
Please review the developer documentation to learn more.
First seen at developers.facebook.com
Launching second release of Facebook Reels API: An enterprise solution for desktop and web publishers
We're excited to announce that the second release of FB Reels API is now publicly available for third-party developers. FB Reels API enables users of third-party platforms to share Reels directly to public Facebook Pages and the New Pages Experience.
FB Reels API has grown significantly since the first release in September 2022. The new version of the APIs now support custom thumbnails, automatic music tagging, tagging collaborators, longer format of reels and better error handling.
FB Reels API will also support scheduling and draft capability to allow creators to take advantage of tools provided either by Meta or by our partners. Based on the feedback we received from our partners, we'll now provide additional audio insights via the Audio Recommendations API and reels performance metrics via the Insights API.
Our goal in the next couple of releases is to continue to make it easier for creators to develop quality content by adding features like early copyright detection and A/B testing. We're also excited to start working on enhanced creation features like Video clipping- so stay tuned to hear more about those features in the future.
Call-to-Action
If you are a developer interested in integrating with the Facebook Reels API, please refer to the Developer Documents for more info.
Not sure if this product is for you? Check out our entire suite of sharing offerings.
Tune in to Product @scale event to learn more about FB Video APIs and hear from some of our customers.
First seen at developers.facebook.com