BJP leader Babul Supriyo quits politics, says 'Alvida' in his Facebook post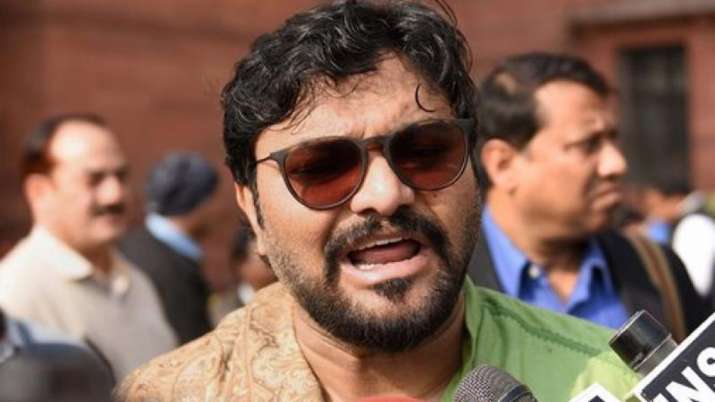 BJP leader from West Bengal, Babul Supriyo, has hinted at quitting active politics. Calling himself a team player, the MP from Asansol in his Facebook post said that one doesn't have to be in politics to do social work. "If you want to do social work, you can do it without being in politics," he wrote.
Clearing the air that he may join any other party, mainly the Trinamool Congresswhich arch-rival of the BJP in WestBengal, the banker-turned-singer-turned-politician said, "Alvida. Am not going to any other party – TMC, Congress, CPIM, nowhere. I am confirming that nobody has called me. I am going nowhere. I am a one-team player! Have always supported one team #MohunBagan – Have been with only one party – BJP West Bengal. That's it!!"
Notably, Supriyo was among the 12 ministers who were dropped from Prime Minister Narendra Modi's cabinet on July 7 as part of a rejig. His exclusion was almost certain after he lost to the Trinamool Congress's Aroop Biswas in the April-May West Bengal assembly elections.
I am going..
Goodbye…
Heard everyone's words – Father, (Mother) wife, daughter, two dear friends.. After hearing everything, I say that I am not going to any other party – #TMC, #Congress, #CPIM, nowhere – Confirming, someone me Didn't call, I am also not going anywhere  I am a one Team Player! Have always supported one team #MohunBagan – Have done only party BJP West Bengal!! That's it!!

I am going…

'Stayed for some time'.. Keeped some mind and broke some.. Somewhere I may have made you happy with my work, somewhere I am disappointed | You will not evaluate 

I'm saying after answering all the questions that arise in ' my ' mind.. I'm saying it in my own way..

I am going… 

If you want to do social work, you can do it without being in politics – let's organize myself a little first and then…

In the past few days, I have taken the pledge to leave politics to Hon 'ble Amit Shah and Hon' ble Naddaji again and again and again and again and again and again and again and again and again and again and again and again and I am grateful to them that they have inspired me in many ways |

I'll never forget their love and so I can't show them the same thing again  especially when I've decided what ' my me ' wants to do a long time ago || so same again Somewhere when I go to repeat the word, they might think I'm ' Bargaining ' for a ' position ' | And when it's not true, they don't want the ' doubt ' to be out of their mind – even for a moment |

I pray they don't misunderstand me, forgive me |

I won't say anything special anymore – now ' you will say I will listen ' – during the day, ' in the evening ' 

But I have to answer a question because it's pertinent! Question will be arised why did I leave politics? Does he have anything to do with the departure of ministry? Yes there is – some must have! Don't want to worry so if she answers the question it will be correct-it will give me peace too |

Big difference between 2014 and 2019 |

Then I was the only one in the BJP ticket (With due respect to Ahluwaliaji – GJM was BJP's ally in the Darjeeling seat) but today BJP is the main opposition party in Bengal. Today many new Bright young Turkish leaders in the party are as old as they are There are witty leaders too. Needless to say the party under their leadership will go a long way from here. No hesitation to say that not having a single person in the party today is a big deal yet it is clear and accepting that the right decision will be mine. Strong, strong faith!

Another thing.. there were some issues with state leadership before the election – it may be but some of them were coming publicly | Somewhere I'm responsible for that (posted a Facebook post that falls into the level of party chaos) again somewhere else Leaders are also very responsible, though I don't want to go on who is responsible – but the party's disagreement and disagreement of senior leaders was harming, even in ' ground zero ', it was not helping the morale of party workers in any way. ' Rocket Science ' Knowledge is not required | At this moment it is totally unpredictable so I am moving away by giving infinite gratitude and love to the people of Asansol |

I don't agree that I went somewhere – I was with ' myself ' – so going back somewhere today I won't say anything |

Many new ministers haven't got government houses yet so I'll leave my house within a month (as soon as possible – maybe before that) |

No, I won't take it anymore |

In the sky, had a small conversation with Swami Ramdevji on a flight. Didn't like it at all when I realized that BJP is taking Bengal very seriously, will fight with power but probably not expecting any seat. Felt like, that Bengali Shyamaprasad Mukherjee, Atal Bihari Vajpayee so much How can that Bengali who respects, loves, won't win BJP in a single seat!!! Especially when whole India decided before voting that their deserving successor, Narendra Modi will be the next PM of India, why would Bengal think differently | The challenge was supposed to be taken as a Bengali at that time, so I heard everyone but did what I felt – without fearing uncertainty, I did what I thought was right, with 'heart-soul' |
I did the same in 1992 while leaving the job of Standard Chartered Bank and fleeing to Mumbai, today I did the same!!!

I am going..

Yes, some words are left..

Maybe will ever say..

I am not there today or I am saying..

I am going..
ALSO READ: 'Asked to resign', says 'sad' Babul Supriyo; wishes Modi's new team
Facebook-Meta Earns the 'Worst Company of 2021' Title in This Survey
Facebook parent Meta has been named the Worst Company of the Year (2021) by Yahoo Finance respondents. According to the publication, an "open-ended" survey was published on Yahoo Finance on December 4 and 5, where 1,541 respondents participated. Facebook received 8 percent of the write-in vote, but respondents were seemingly mad about the Robinhood trading app as well. Electric truck startup Nikola, which was named last year's worst company by the same publication also faced respondents ire.
Yahoo Finance notes, "Facebook has had its share of controversies this year." Starting in January, Meta-owned WhatsApp got caught up in a huge controversy after the messaging app announced a new privacy policy (Terms of Service). WhatsApp said it would collect user information and share it with third-party apps for a better user experience. However, the app gave users no choice but later made modifications to the policy under pressure. Similarly, the company was under more scrutiny after whistleblower and former Facebook employee Frances Haugen leaked a series of internal documents showing the company's problematic practices. It was revealed that Meta-owned Instagram had a negative impact on teenage girls, but the company did almost nothing to rectify the problem.
Yahoo Finance even highlights, "At the same time, some critics, including conservatives, say Facebook over-policed the platform's speech and stifled their voices." Critics also blame Facebook and other social media platforms for not curbing hate speech that led to Capitol Building riots.
However, around 30 percent of Yahoo Finance readers said that Facebook or Meta could redeem itself. One respondent suggested that the company could issue a formal apology for negligence and donate a sizable amount of its profits to a foundation to help reverse its harm.
On the other hand, respondents chose Microsoft as the Company of the Year (2021). The Satya Nadella-led company touched the trillion-mark this year and introduced notable upgrades. The most notable is the Windows 11 OS update that succeeds Windows 10.
Facebook pays 1.7 Cr fine to Russia after failing to delete content Moscow deems illegal
In the latest legal tussle with Russia over controversial social media regulation laws, Facebook paid 17 million roubles (Rs 1.7 Crore) for failing to remove content deemed illegal by Moscow. With a threat of potential larger fines looming, Facebook parent company Meta, owned by Mark Zuckerberg, is scheduled to face court next week over repeated violations of Russian legislation on content, Interfax News Agency reported. As per the latest updates, the social media giant could be fined a percentage of its annual revenue.
In October, Moscow sent state bailiffs to enforce the collection of 17 million roubles. Meanwhile, as per Interfax report citing a federal bailiffs' database, on Sunday, there were more enforcement proceedings against the company. Apart from the popular social media app, Telegram has also paid 15 million roubles in fines for failing to comply with the Russian social media legislations that came into force in 2016.
Facebook pays $53k to Russia for refusing controversial social media laws
It is pertinent to mention that Facebook has locked horns with Moscow earlier in November, resulting in it paying 4 million roubles ($53,000) over its refusal to adhere to Russian data localisation laws, the Moscow Times reported. The Moscow court on November 25 had said that Facebook paid the fine levied in February, following which all proceedings against the US-based social media giant. The payment comes against the litigation filed against the company in 2018, alongside Twitter. The tech companies were also forced to pay an additional 3000 rubles ($40) for failing to comply with user data sharing rules as per the law. The Russian authorities have also previously blocked LinkedIn, owned by Microsoft, for failing to abide by the laws.
Russian social media laws
As per Moscow Times, under the Russian social media regulation laws, all foreign technology companies are required to store data related to Russian customers and users on servers located in Russia. Additionally, the Russian tech companies will also have to share encryption data with the federal authorities as well as record user calls, messages and civil society group conversation records. The apparatus is said to be a severe breach of privacy rights and unfettered back-door access to personal data that could be used to harass Kremlin critics.
Facebook Messenger Is Launching a Split Payments Feature for Users to Quickly Share Expenses
Meta has announced the arrival of a new Split Payments feature in Facebook Messenger. This feature, as the name suggests, will let you calculate and split expenses with others right from Facebook Messenger. This feature essentially looks to bring an easier method to share the cost of bills and expenses — for example, splitting a dinner bill with friends. Using this new Split Payment feature, Facebook Messenger users will be able to split bills evenly or modify the contribution for each individual, including their own.
The company took to its blog post to announce the new Split Payment feature in Facebook Messenger. 9to5Mac reports that this new bill splitting feature is still in beta and will be exclusive to US users at first. The rollout will begin early next week. As mentioned, it will help users share the cost of bills, expenses, and payments. This feature is especially useful for those who share an apartment and need to split the monthly rent and other expenses with their mates. It could also come handy at a group dinner with many people.
With Split Payments, users can add the number of people the expense needs to be divided with and, by default, the amount entered will be divided in equal parts. A user can also modify each person's contribution including their own. To use Split Payments, click the Get Started button in a group chat or the Payments Hub in Messenger. Users can modify the contribution in the Split Payments option and send a notification to all the users who need to make payments. After entering a personalised message and confirming your Facebook Pay details, the request will be sent and viewable in the group chat thread.
Once someone has made the payment, you can mark their transaction as 'completed'. The Split Payment feature will automatically take into account your share as well and calculate the amount owed accordingly.
---
For the latest tech news and reviews, follow Gadgets 360 on Twitter, Facebook, and Google News. For the latest videos on gadgets and tech, subscribe to our YouTube channel.
Tasneem Akolawala is a Senior Reporter for Gadgets 360. Her reporting expertise encompasses smartphones, wearables, apps, social media, and the overall tech industry. She reports out of Mumbai, and also writes about the ups and downs in the Indian telecom sector. Tasneem can be reached on Twitter at @MuteRiot, and leads, tips, and releases can be sent to tasneema@ndtv.com.