'You big whiner!' Twitter again takes aim at wrong Kevin McCarthy
'You big whiner!' Twitter again takes aim at wrong Kevin McCarthy
Every so often the Twitter universe comes down hard on FOX 5's Kevin McCarthy – but for all the wrong reasons! See — for years, online users have confused our Kevin – with House GOP leader Kevin McCarthy.
WASHINGTON – Every so often the Twitter universe comes down hard on FOX 5's Kevin McCarthy – but for all the wrong reasons! See — for years, online users have confused our Kevin – with House GOP leader Kevin McCarthy.
Yesterday, when the GOP's McCarthy was in the news – our Kevin took some heat! But our guy always takes it in stride – and turns the hate into a chance to leave a movie recommendation or two!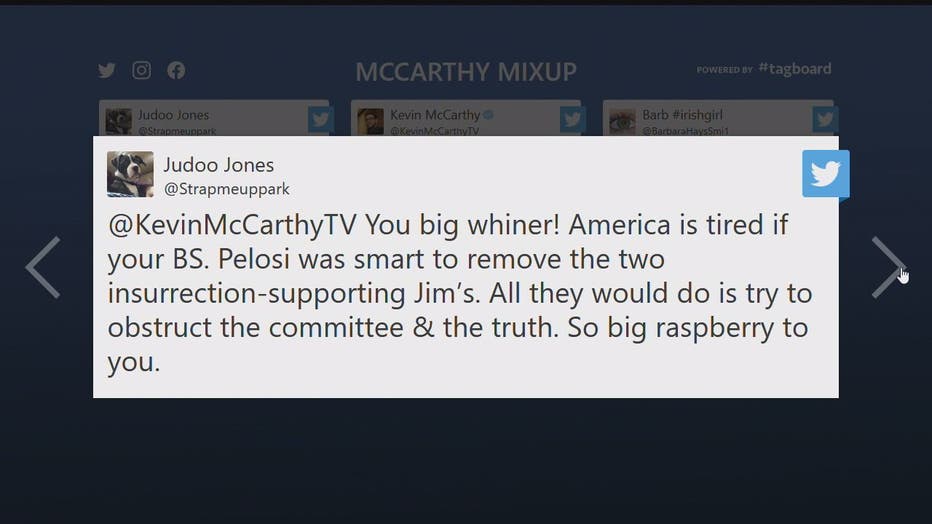 "You big whiner! America is tired if your BS," one Twitter user wrote our Kevin. "Pelosi was smart to remove the two insurrection-supporting Jim's. All they would do is try to obstruct the committee & the truth. So big raspberry to you."
"Wait, is this because I like Shyamalan's THE VILLAGE?" our FOX 5's Kevin replied.
TWITTER STILL CONFUSING FOX 5'S KEVIN MCCARTHY FOR HOUSE MINORITY LEADER
"Kevin McCarthy TV IS CRYING," another Twitter user wrote. "Buckle up buttercup you got some explaining to do! Speaker Pelosi SUBPOENA McCarthy."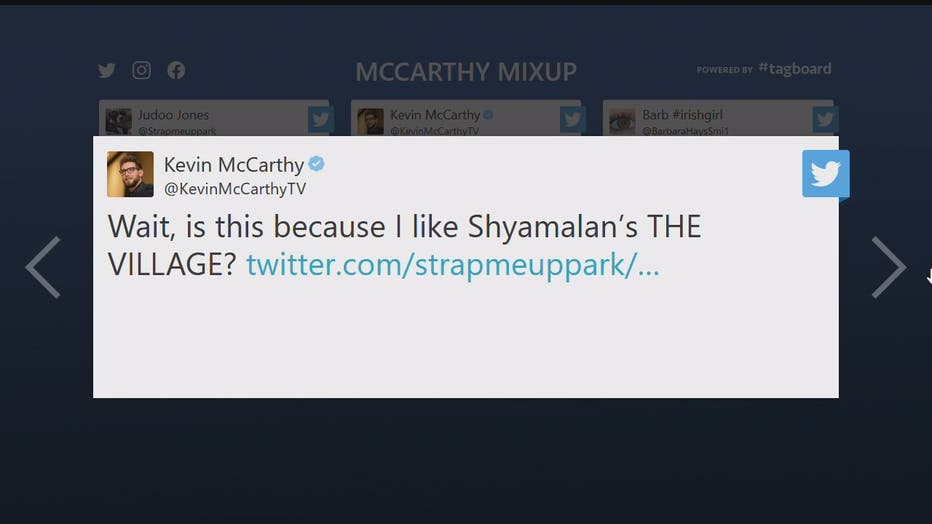 "Wait, is this because I cry at the end of TERMINATOR 2 every single time?" our Kevin wrote back! "I mean, listen, when he puts his thumb up, I lose it. Not going to apologize for that."
No hard feelings, Kevin says to his online haters! Just remember — the next time you're ready to lash out and make your bureaucratic feelings known — @KevinMcCarthyTV is for our movie reviewer extraordinaire and @GOPLeader is for the politician!
Twitter likely to roll out 'Reactions' feature soon
After unveiling several features this year, micro-blogging site Twitter is reportedly readying new features, including Reactions, Downvotes and Sorted Replies for iOS users.
According to reverse engineer Nima Owji, the Reactions feature, which started being tested a couple of months ago, is set to launch soon, reports 9To5Mac.
With four new reactions, "tears of joy," "thinking face," "clapping hands" and "crying face," this feature is designed to give users the ability to better show how conversations make them feel and to give users "a better understanding of how their Tweets are received".
Citing the reverse engineer, the report also mentioned that the micro-blogging site is now able to store data about the downvotes feature, which is another indicator that this function will be released sooner rather than later.
The report also notes that the company changed the downvote position as well. It has even added a new tab explaining how downvotes work.
This month, the company has rolled out its in-app tipping feature to all Android users above the age of 18, following the iOS launch in September.
Twitter said the "Tips" feature is geared toward users looking to get a little financial support from their followers through Cash App, PayPal, Venmo and Patreon directly through the app.
Elon Musk has sold more than half of the Tesla stock that Twitter informed him.
Tesla shares have fallen 10% since Musk conducted a Tweet poll about the sale. They dropped more than 17% within the first few days following the Nov.
Twitter Investigating Bug Causing Unexpected Logouts on iOS 15
Twitter Support
has acknowledged
a bug causing unexpected account logouts on
iOS 15
, promising that its teams are working on a fix and that it'll keep users updated on when it's resolved.
Posts on Twitter over the last several hours have shown users experiencing the bug, with some sharing frustrations that the app is requiring them to log back into Twitter upon every app launch. While some of the reports lack the specificity that the bug is happening on iOS devices, it seems likely to be the case following the acknowledgment from Twitter itself.
Hey @Twitter can you please make it so I don't have to sign in every other freaking day? I never log out of my account yet I keep having to sign in. Thanks
— blueyosh (@hotorc97) November 24, 2021
WHY IS TWITTER LOGGING ME OUT OF ALL OF MY ACCS???? I HAVE 8 TWITTER ACCS AND DO YOU KNOW HOW HAED TO LOG IN ALL OF THEM???????? IVE BEEN DOING IT 2 TIME ALREADY SINCE OCTOBER
— kyle (@leeknowonIyfans) November 24, 2021
I almost got a heart attack when I tried to get in my Twitter and it wanted me to log in?? I never logged out 😭😩😭
— Enny Does It All❤ (@Queen_Enny19) November 24, 2021
Users impacted by the bug are advised to ensure they're running the latest Twitter version from the App Store and monitor the company's support account for updates.