Wimbledon 2021: 'The whole world is smiling for Ash Barty,' Twitter reacts to Australian's landmark …
Here's how Twitter reacted to Ashleigh Barty's landmark Wimbledon women's singles title!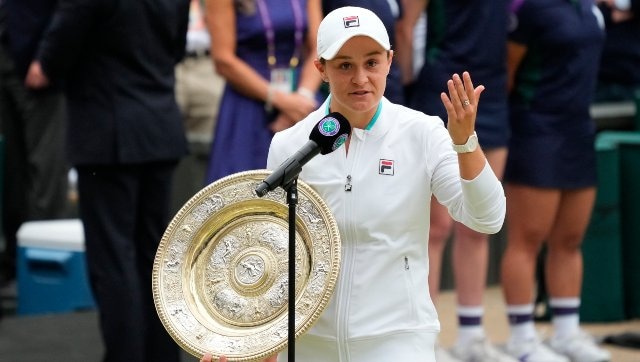 Ashleigh Barty pictured with the Wimbledon trophy. AP
Top-ranked Ash Barty won her first Wimbledon title by beating Karolina Pliskova in three sets.
Barty used a fast start to seize the momentum against a shaky Pliskova and then overcame a wobble of her own to win 6-3, 6-7 (4), 6-3.
The eighth-seeded Pliskova didn't win a single point in the first three games and then double-faulted on break point to hand Barty a 4-0 lead.
Barty served for the match at 6-5 in the second set but made several forehand errors to let Pliskova back in the match. The Australian then took a 3-0 lead in the third set and held serve the rest of the way.
It is Barty's second Grand Slam title. She also won the 2019 French Open.
It was Pliskova's second Grand Slam final. She was runner-up at the 2016 US Open.
Here's how Twitter reacted to Barty's Wimbledon win:
Twitter was flooded with congratulatory messages for the Australian
Could not be happier for you @ashbarty – huge congratulations on your @Wimbledon title and enjoy every second pic.twitter.com/LqX4zYEjYh

— Simona Halep (@Simona_Halep) July 10, 2021
It was only a matter of time https://t.co/khX6FjzHKl

— Katie Boulter (@katiecboulter) July 10, 2021
Congrats @ashbarty! So happy for you #Wimbledon

— Madison Keys (@Madison_Keys) July 10, 2021
Feels like the whole world is smiling for Ash Barty ❤️

— Somdev Devvarman (@SomdevD) July 10, 2021
A fair few people stressed on how important this was for Australian tennis fans
So happy for you @ashbarty, your dream comes true and what a fight. Congratulations on your Wimbledon victory, I hope you and your team celebrate well along with your many fans around the world and back in Australia.

— Rod Laver (@rodlaver) July 10, 2021
Congratulations to @ashbarty, the first Australian woman to win a #Wimbledon singles title since Evonne Goolagong Cawley in 1980! #BartyParty https://t.co/2IHzQOf6Z3

— Billie Jean King (@BillieJeanKing) July 10, 2021
This is a moment that EVERY Aussie tennis player dreams of. A massive massive congrats to @ashbarty on giving all the young kids in Australia a vision of what their future could be!!! @Wimbledon champion pic.twitter.com/7KMyZ7WnbK

— Rennae Stubbs OLY (@rennaestubbs) July 10, 2021
Karolina Pliskova's excellent run in the tournament did not go unnoticed
Congratulations @ashbarty – a truly special moment and so well deserved. There is really nothing like that feeling

Congrats to Karolina on an incredible tournament too @Wimbledon | #Wimbledon

— Petra Kvitova (@Petra_Kvitova) July 10, 2021
Huge congrats to @KaPliskova on a great two weeks as well. Tough match today.

— Rennae Stubbs OLY (@rennaestubbs) July 10, 2021
Congratulations, @ashbarty! You are always joy to watch on court! 👏🏻

Well done to Karolina on a great tournament, too. https://t.co/P3vLIK1Rs3

— Barbora Strycova (@BaraStrycova) July 10, 2021
With inputs from AP.
Twitter Admits Policy 'Errors' After Far-Right Abuse Its New Rules of Posting Pictures
Twitter's new picture permission policy was aimed at combating online abuse, but US activists and researchers said Friday that far-right backers have employed it to protect themselves from scrutiny and to harass opponents.
Even the social network admitted the rollout of the rules, which say anyone can ask Twitter to take down images of themselves posted without their consent, was marred by malicious reports and its teams' own errors.
It was just the kind of trouble anti-racism advocates worried was coming after the policy was announced this week.
Their concerns were quickly validated, with anti-extremism researcher Kristofer Goldsmith tweeting a screenshot of a far-right call-to-action circulating on Telegram: "Due to the new privacy policy at Twitter, things now unexpectedly work more in our favor."
"Anyone with a Twitter account should be reporting doxxing posts from the following accounts," the message said, with a list of dozens of Twitter handles.
Gwen Snyder, an organizer and researcher in Philadelphia, said her account was blocked this week after a report to Twitter about a series of 2019 photos she said showed a local political candidate at a march organized by extreme-right group Proud Boys.
Rather than go through an appeal with Twitter she opted to delete the images and alert others to what was happening.
"Twitter moving to eliminate (my) work from their platform is incredibly dangerous and is going to enable and embolden fascists," she told AFP.
In announcing the privacy policy on Tuesday, Twitter noted that "sharing personal media, such as images or videos, can potentially violate a person's privacy, and may lead to emotional or physical harm."
But the rules don't apply to "public figures or individuals when media and accompanying Tweets are shared in the public interest or add value to public discourse."
By Friday, Twitter noted the roll out had been rough: "We became aware of a significant amount of coordinated and malicious reports, and unfortunately, our enforcement teams made several errors."
"We've corrected those errors and are undergoing an internal review to make certain that this policy is used as intended," the firm added.
Jack Dorsey Post Twitter Is Chasing His Crypto, Fintech Dream
At a packed Miami conference in June, Jack Dorsey, mused in front of thousands of attendees about where his real passion lay: "If I weren't at Square or Twitter, I'd be working on Bitcoin."
On Monday, Dorsey made good on one part of that, announcing he would leave Twitter for the second time, handing the CEO position to a 10-year veteran at the firm. The 45-year-old entrepreneur, who is often described as an enigma with varied interests from meditation to yoga to fashion design, plans to pursue his passion which include focusing on running Square and doing more philanthropic work, according to a source familiar with his plan.
Well before the surprise news, Dorsey had laid the groundwork for his next chapter, seeding both companies with cryptocurrency-related projects.
Underlying Dorsey's broader vision is the principle of "decentralisation," or the idea that technology and finance should not be concentrated among a handful of gatekeepers, as it is now, but should, instead, be steered by the hands of the many, either people or entities.
The concept has played out at Square, which has built a division devoted to working on projects and awarding grants with the aim of growing Bitcoin's popularity globally. Bitcoin price in India stood at Rs. 44.52 lakh as of 12:50pm IST on December 1.
Dorsey has been a longtime proponent of Bitcoin, and the appeal is that the cryptocurrency will allow for private and secure transactions with the value of Bitcoin unrelated to any government.
The idea has also underpinned new projects at Twitter, where Dorsey tapped a top lieutenant – and now the company's new CEO Parag Agrawal – to oversee a team that is attempting to construct a decentralised social media protocol, which will allow different social platforms to connect with one another, similar to the way email providers operate.
The project called Bluesky will aim to allow users control over the types of content they see online, removing the "burden" on companies like Twitter to enforce a global policy to fight abuse or misleading information, Dorsey said in 2019 when he announced Bluesky.
Bitcoin has also figured prominently at both of his companies. Square became one of the first public companies to own Bitcoin assets on its balance sheet, having invested $220 million (roughly Rs. 1,650 crore) in the cryptocurrency.
In August, Square created a new business unit called TBD to focus on Bitcoin. The company is also planning to build a hardware wallet for Bitcoin, a Bitcoin mining system, as well as a decentralised Bitcoin exchange.
Twitter allows users to tip their favourite content creators with Bitcoin and has been testing integrations with non-fungible tokens (NFTs), a type of digital asset that allows people to collect unique digital art.
Analysts see the transition as a positive signal for Square, the fintech platform he co-founded in 2009. Square's core Cash App, after a bull run in its share in 2020, has experienced slower growth in the most recent quarter. It is also trying to digest the $29 billion (roughly Rs. 2,17,240 crore) acquisition of Buy Now Pay Later provider Afterpay, its largest acquisition ever.
But these ambitions will not pay off until years from now, analysts cautioned.
"The blockchain platform they're trying to develop is great but also fraught with technical challenges and difficult to scale for consumers. I think he'll focus more on Square and crypto will be part of that," said Christopher Brendler, an analyst at DA Davidson.
© Thomson Reuters 2021
---
Interested in cryptocurrency? We discuss all things crypto with WazirX CEO Nischal Shetty and WeekendInvesting founder Alok Jain on Orbital, the Gadgets 360 podcast. Orbital is available on Apple Podcasts, Google Podcasts, Spotify, Amazon Music and wherever you get your podcasts.
Cryptocurrency is an unregulated digital currency, not a legal tender and subject to market risks. The information provided in the article is not intended to be and does not constitute financial advice, trading advice or any other advice or recommendation of any sort offered or endorsed by NDTV. NDTV shall not be responsible for any loss arising from any investment based on any perceived recommendation, forecast or any other information contained in the article.
(This story has not been edited by NDTV staff and is auto-generated from a syndicated feed.)
Twitter Bans Sharing Personal Photos, Videos of Other People Without Consent
Twitter launched new rules Tuesday blocking users from sharing private images of other people without their consent, in a tightening of the network's policy just a day after it changed CEOs.
Under the new rules, people who are not public figures can ask Twitter to take down pictures or video of them that they report were posted without permission.
Beginning today, we will not allow the sharing of private media, such as images or videos of private individuals without their consent. Publishing people's private info is also prohibited under the policy, as is threatening or incentivizing others to do so.https://t.co/7EXvXdwegG

— Twitter Safety (@TwitterSafety) November 30, 2021
Twitter said this policy does not apply to "public figures or individuals when media and accompanying tweet text are shared in the public interest or add value to public discourse."
"We will always try to assess the context in which the content is shared and, in such cases, we may allow the images or videos to remain on the service," the company added.
The right of Internet users to appeal to platforms when images or data about them are posted by third parties, especially for malicious purposes, has been debated for years.
Twitter already prohibited the publication of private information such as a person's phone number or address, but there are "growing concerns" about the use of content to "harass, intimidate, and reveal the identities of individuals," Twitter said.
The company noted a "disproportionate effect on women, activists, dissidents, and members of minority communities."
High-profile examples of online harassment include the barrages of racist, sexist,and homophobic abuse on Twitch, the world's biggest video game streaming site.
But instances of harassment abound, and victims must often wage lengthy fights to see hurtful, insulting or illegally produced images of themselves removed from the online platforms.
Some Twitter users pushed the company to clarify exactly how the tightened policy would work.
"Does this mean that if I take a picture of, say, a concert in Central Park, I need the permission of everyone in it? We diminish the sense of the public to the detriment of the public," tweeted Jeff Jarvis, a journalism professor at the City University of New York.
The change came the day after Twitter co-founder Jack Dorsey announced he was leaving the company, and handed CEO duties to company executive Parag Agrawal.
The platform, like other social media networks, has struggled against bullying, misinformation, and hate-fuelled content.
---