Drama characters communicate with fans using SNS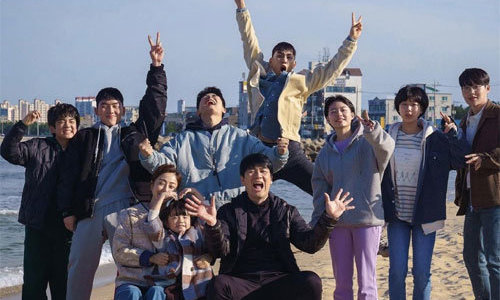 This writer was watching "Rocket Boys," a popular series on SBS TV on June 7. The drama presented scenes of badminton team members taking group photo at Ttangkkeut (southern tip of the Korean Peninsula) Village in Haenam County, South Jeolla Province in the closing part of that episode. The moment I thought to myself that I wished to see the pitchers taken with their mobile phones there, a number of photos were uploaded on Instagram. They were posted on the Instagram account of Park Yoon-dam (Actor Son Sang-yeon), the coach for Haenam Seo Middle School and an Instagram addict in the show. When I witnessed posts uploaded soon after the scenes aired on TV, I thought as if there was a genuine character named "Yoon-dam" in the real world.
The posts looked as if they were actually written by Yoon-dam, which made the character sound all the more genuine. The same talking style of Yoon-dam, who using Jeolla provincial dialect in the show, was used in the posts, and photos of middle school students' daily routines and scenery from countryside in the area are uploaded even at times when the show is not aired. As a fan of the drama writes a critical comment, saying "Ban Yoon-dam, how come you are not at school at this hour?" Yoon-dam replies "recess time," sending laughter to fans.
"We hoped to make as if the middle school badminton team actually exits not just in the TV show, and thereby make fans more immersed in the show," said a staff member of the SBS contents promotion team, who is managing Ban Yoon-dam's Instagram account.
Social media posts that look as if they are managed by drama characters are helping TV dramas communicate more broadly and deeply with fans. Previously, watchers of soap operas would create fans' accounts and uploaded still shots from the show. Now actors and producers are running social media channels by themselves to increase the intensity of communications with fans.
beborn@donga.com
LinkedIn Makes its 20 Most Popular LinkedIn Learning Courses Freely Available Throughout August
Looking to up your skills for a job change or career advancement in the second half of the year?
This will help – today, LinkedIn has published its listing of the 20 most popular LinkedIn Learning courses over the first half of 2022. In addition to this, LinkedIn's also making each of these courses free to access till the end of the month – so now may well be the best time to jump in and brush up on the latest, rising skills in your industry.
As per LinkedIn:
"As the Great Reshuffle slows and the job market cools, professionals are getting more serious about skill building. The pandemic accelerated change across industries, and as a result, skills to do a job today have changed even compared to a few years ago. Professionals are responding by learning new skills to future-proof their careers and meet the moment."
LinkedIn says that over seven million people have undertaken these 20 courses this year, covering everything from improved communication, project management, coding, strategic thinking and more.
Here are the top 20 LinkedIn Learning courses right now, which you can access via the relevant links:
If you've been thinking about upskilling, now may be the time – or maybe it's just worth taking some of the programming courses, for example, so that you have a better understanding of how to communicate between departments on projects.
Or you could take an Agile course. If, you know, you don't trust your own management ability.
The courses are available for free till August 31st via the above links.
Instagram Is Rolling Out Reels Replies, And Will Be Testing A New Feature Which Informs …
Instagram has added a few more social features to the platform, with Reels Replies being rolled out. Along with the Replies, anew feature is being tested that shows when two users are active together in the same chat.
Reels has been performing much better than perhaps even Instagram ever anticipated. The TikTok-inspired new video format (which officially claims to have absolutely no relation to the former) had some trouble really finding its footing initially. However, Reels has grown massively and while it may not be a source of the most direct competition to TikTok, it is indeed a worthy alternative.
Reels has grown to the point that it has a massive creator program attached to it, and the video format has even been migrated to Facebook with the goal of generating further user interest there. Naturally, with such a successful virtual goldmine on its hands, Instagram has been hard at work developing new features and interface updates for Reels, integrating it more and more seamlessly into the rest of the social media platform. Features such as Reels Replies are a major part of such attempts at integration.
Reels Visual Replies are essentially just what they sound like: A Reel that is being used to reply to someone. It's a feature that's been seen frequently across TikTok as well. Reel Replies essentially take a user's comments, and reply to them in video format. The comment will then show up within the Reel itself as a text-box, taking up some amount of space, and showing both the user who issued said comment along with the text. The text-box is apparently adjustable, with users having the ability to move it around and change its size depending on where it obstructs one's Reel the least.
Overall, it's a fun addition to the Reels format, even if the credit should be going to TikTok first. At any rate, it's an example of Instagram really utilizing Reels' social media capabilities, outside of just serving it up as a form of entertainment.
Speaking of social media capabilities, a new feature might help alleviate one of the most common frustrations encountered across all such platforms. Isn't it annoying when you see that a friend's online, but isn't replying to your chat? Sure, they've probably just put their phone down to run a quick errand, but there's no way for you to know, right? Well, there sort of is now! Instagram is beta testing a new feature via which if both users are active within a chat, the platform will display that accordingly. It's a work-around, sure, and one that's currently being tested for usefulness, but it's still a very nice, and even fresh, addition to the social media game.
Now, the active status will only appear when you are both active at the same time.#Instagram #instgramnewfeature@MattNavarra @instagram @alex193a pic.twitter.com/2chGZP9hr4

— Yash Joshi  (@MeYashjoshi) December 10, 2021
Read next: Instagram Plans On Allowing Users To Return To Its Old Chronologically Sorted News Feed
5 apps for scheduling Instagram posts on iPhone and Android
Alright, we get it. You're an Instagram Nostradamus.
You know exactly what you want to post and when you're gonna want to post it. Maybe there's a meme or comment you want to make that you know will be totally relevant for a future moment or event. Or it could be that you're an influencer and you want to make sure you keep a steady stream of content coming, so you want to schedule posts for times when you know you won't be active (or won't have internet access).
You'll be happy to know there are apps that are specialized for just such situations. So listen up, InstaNostradamuses…Instagrostra…Instadam…Insta…uh…you guys (we'll workshop it. No we won't. We'll probably just abandon that effort completely. You're welcome) — these are the Instagram-post-scheduling apps for you.
While all of the iPhone apps below are free to download, they all have some in-app purchases.
We'll start with "official partner" of Instagram, itself, Planoly — an Instaplanner that uses a grid to let you plan, schedule, and publish posts (as well as Reels) on Instagram. The app also lets you see post metrics and analytics so you can make sure your post didn't flop.
Planoly is available for iOS on the Apple App Store and the Google Play store for Android.
Credit: buffer / app store
Buffer is another Instagram post scheduler that helps you plan your posts and analyze feedback once they're published. Use a calendar view to drag and drop posts into days/time slots for easy scheduling.
Buffer is available for iOS on the Apple App Store and the Google Play store for Android.
Credit: preview / app store
Preview offers typical post-scheduling tools and analytics along with a few helpful extras. Get caption ideas, recommendations for hashtags, and more.
Preview is available for iOS on the Apple App Store and the Google Play store for Android.
Credit: content office / app store
An Instagram post scheduler with a visual boost, Content Office allows users to plan and schedule Instagram posts while learning "marketing and visual guides to grow your brand on Instagram." Like aesthetics and using visuals to create cohesive themes? Maybe this is the Instaplanner for you.
Content Office is available for iOS on the Apple App Store.
Credit: plann / apple store
You'll never guess what "Plann" lets you do…
Aside from scheduling posts, get content ideas and recommendations, as well as strategy tips to ensure you're maximizing your Instagram engagement. Ever wonder when the best time to post something is? Plann can offer you some help with that.
Plann is available for iOS on the Apple App Store and the Google Play store for Android.