Who is Billie Barker in Ragnarok? Explore the age, Instagram and roles of Signy actress
Ragnarok introduces Signy in season 2 but what do we know about the actress who plays her, Billie Barker? Explore her age, Instagram and previous roles.
Season 2 of Ragnarok arrived on Netflix on May 27th, 2021 and continues the story of Magne Seier on his journey to become the Norse god Thor.
On top of that, season 2 also welcomes a number of new cast additions, one of them being Billie Barker who takes on the role of Signy.
But just what do we know about Billie Barker and her character?
Ragnarok season 2 on Netflix
Season 2 of Ragnarok thundered its way onto Netflix on May 27th, 2021.
After the events of season 1, which saw Magne emerge as the embodiment of the Norse god Thor, season 2 sees Magne continue the fight against Jutul Industries and the family of giants that run the corporation.
However, Magne's ongoing quest will not be an easy one as he'll need to enlist the help of several followers to take on the Jutul behemoths.
Signy in Ragnarok season 2
Signy is introduced in episode 1 of Ragnarok season 2 and is shown to be a friend of Iman.
The new arrival in Ragnarok, played by Billie Barker, is an activist and reveals that she saw Laurits' speech against Jutul at the end of season 1.
She appears regularly throughout season 2 and towards to the end of the season is found studying at one of Edda's takeaway restaurant where she spends some time with Magne and appears to know more about him than she lets on.
While their meetings are only brief, there are hints of a romantic connection between her and Magne throughout season 2.
Bille Barker: Age, Instagram and previous roles
Taking on the role of Signy in Ragnarok season 2 is Norwegian actress Billie Barker.
Born in Oslo on October 11th, 1998, Billie is 22 years old at the time of writing according to CelebsWeek.
Billie is the daughter of Norwegian actress Petronella Barker whose first acting role came in the 1985 film I na kamnyakh rastut derevya as a character named Signy, the same name as Billie's character in Ragnarok.
As well as Ragnarok, Billie Barker has five acting credits to her name according to IMDb, including a host of short film roles and an appearance in the Norwegian series Nach.
With a prominent Netflix role now on her acting CV, we're sure it won't be long before we see Billie Barker back on our screens.
Like many actors in the modern industry, Billie is highly active on social media, most notably Instagram where she currently has a following of just under 8,000.
Season 2 of Ragnarok is available to stream now on Netflix after releasing on May 27th, 2021.
In other news, Who is Billie Barker in Ragnarok? Explore the age, Instagram and roles of Signy actress
Social media platforms launch new protective measures for Tokyo Olympians
Instagram, via its owner Facebook, has launched new measures to keep Olympians heading to the Tokyo games safe online.
Athletes can now have dedicated "athlete accounts", keeping their personal life and sporting life separate, and "hidden words" for direct messages, which automatically filters out words, phrases and emojis that are deemed offensive.
The new safety features were shown to potential Olympians – including New Zealand athletes – at an online forum hosted by Facebook last week.
RNZ
RNZ's podcast The Detail: Changes to your Facebook's news feed have sparked questions about the company's algorithm.
New Zealand and Australia have been part of the "first wave" of countries to receive the "hidden words" roll out, Joyee Biswas, Facebook's Asia Pacific head of sports partnerships, said.
The social media session followed a special report by Stuff that found social media is "100 per cent" contributing to anxiety, fatigue and body image issues athletes are dealing with.
READ MORE:
* How social media is taking a toll on elite athletes
* Tokyo Games: Olympic mixed messages with safe sex from a distance
* NZOC keeping close eye on fresh state of emergency in Tokyo

Biswas said the social media platforms take abuse directed at athletes "and indeed anyone incredibly seriously" and such abuse is against their guidelines.
While the social media platforms do allow "more critical commentary of public figures… like athletes", the platforms are removing "severe attacks" against them.
Between January and March 2021 it removed more than 33 million pieces of "hate speech" globally, with more than 93 per cent "removed before anyone reported it to us", Biswas said.
Action is taken against the person who sends the abuse. That can include preventing them from using direct messaging or disable the abuser's account.
Amongst the fatigue being reported by athletes, is the pressure to post on social media. At last week's session, Facebook recommended athletes post "one touch point" per day while at the Olympics.
Ashley Abbott, New Zealand Olympic Committee's communications director said there is no expectation from the NZOC on the Olympians to engage with social media.
"Athletes can choose to post as much or as little as they like, all we ask of them is to make sure they work with their team or coach to ensure it doesn't impede on performance, or their wellbeing," she said.
She said social media has led to athletes being connected with fans, but also carries "significant risks."
"Emotional and performance pressures can be heightened and athletes may be exposed to online abuse," she said.
"…we highlight the benefits of social media, but also how to think more carefully about how managing the impact of posts, and what to do if you see, or experience cyber-bullying."
Stuff
Get Latest Data On Social Networking Industry 2021. Major Players – Facebook, Instagram, Google …
DataIntelo published a new report entitled, "International Social Networking market" is an exceptional market study that provides the hottest detailed info and extensive analysis of this market. It offers a comprehensive summary of the market with in depth insights on essential aspects such as the present market situation, possible dimensions, quantity, and dynamics of this market. This study report produces a comprehensive evaluation of the COVID-19 pandemic and its effect on the present market and assesses the potential results of the market throughout the forecast period, 2021 – 2028.
Some of the key players included in the report:
Facebook
Instagram
Google
LinkedIn
Twitter
Tencent
Pinterest
Tumblr
This report provides a thorough view concerning the competitive landscape of this Social Networking Market and carries a wide description of functionality by a number of the key Global players finishing on the market. It offers a listing of newest upgrades of several business plans including Units, and collaborations embraced from these significant international players. The report Provides a very clear picture seeing R&D investment in key players and Adoption of advanced technologies to expand their customer base and enlarge the Present competitive place. Information concerning the position, reach of expansion, and chances of new Entrants or players on the market.
Get Free Exclusive Sample Report: https://dataintelo.com/request-sample/?reportId=85323
The report provides a comprehensive analysis of these market segments and sub-segments using a transparent explanation of that segment is predicted to dominate the market throughout the forecast period.
To aid clients in coming informed decision regarding their enterprise investment strategies and strategies of this market, the report gives a extensive details concerning the operation of regional markets and competitions analysis. The report analyses the newest profiles and development of the significant international players competing on the market to know their rankings and expansion capability.
Segments Insight:
The global Social Networking market is divided into :
Mobile Applications
Digital Platforms
The report includes Key insights concerning segments and sub-segments of this market. It covers a comprehensive information concerning the operation and market evaluation of each segment together with the anticipated CAGR including a variety of sub-segments of this market throughout the forecast period. Also, the report provides insight about key driving variables which help expand the segment in addition to significant challenges that may hamper the development of segments during the projected period to comprehend the crystal-clear image of the total expansion extent of this market.
Buy the Complete Report: https://dataintelo.com/checkout/?reportId=85323
Applications
The global Social Networking market is categorized into
Public Sector
BFSI
Telecom and Media
Retail/Wholesale
Other
The report lists a wide selection of applications of Social Networking and addresses the significant businesses that broadly use the product due to their respective applications. A detailed explanation is given in the report concerning the regions of applications describing where the item is embraced by key businesses to leverage their company portfolio. Additionally, it supplies information about variables that help enlarge market range of a number of the essential applications, their earnings share of every application, and also their segment parameters to comprehend that an entire sense of this segment.
Regional Analysis
The global Social Networking market is classified as
Asia Pacific
Europe
North America
Latin America
Middle East & Africa
This study moreover, the report contains a wide evaluation of that sub-regions and states within a region, which can be predicted to control the regional market throughout the forecast period. The report offers vital information regarding socioeconomic and political aspects which could help determine the overall functionality and expansion rate of their various regional markets. A special chapter is booked from the report for its COVID-19 outbreak and its effects on the regional market and further clarifies how this outbreak is projected to affect consumers' behaviour of this Social Networking market in the next several years. The report also focuses on elaborating the functions and impacts of their current regional commerce regulations and federal policies & policies which may either boost or interfere with the regional market growth.
For any enquiry: https://dataintelo.com/enquiry-before-buying/?reportId=85323
Some Major TOC Points:
Chapter 1. Report Overview
Chapter 2. Global Growth Trends
Chapter 3. Market Share by Key Players
Chapter 4. Breakdown Data by Type and Application
Chapter 5. Market by End Users/Application
Chapter 6. COVID-19 Outbreak: Social Networking Industry Impact
Chapter 7. Opportunity Analysis in Covid-19 Crisis
Chapter 8. Market Driving Force
And Many More…
Reason To Buy:
Strong analysis methodology with essential analysis including Porter's Five Investigation and SWOT analysis.
Extensive analysis of aggressive commerce regulations and rules of many government agencies both internationally and regionally from the report to incorporate a wide picture of this market's potential.
Supplying crucial opportunities for market expansion throughout the forecast period.
Analysis of a Huge historic Information about market behaviour, functionality, and creation from players.
True and factual statistics consisting of a succinct graphical representations, tables, and statistics of this market in the report.
Contact Info:
Name: Alex Mathews
Address: 500 East E Street, Ontario,
CA 91764, United States.
Phone No: USA: +1 909 414 1393
Email:[email protected]
Website:https://dataintelo.com
Perk Biscuits rocks social media with 'Perk Rising Star Challenge'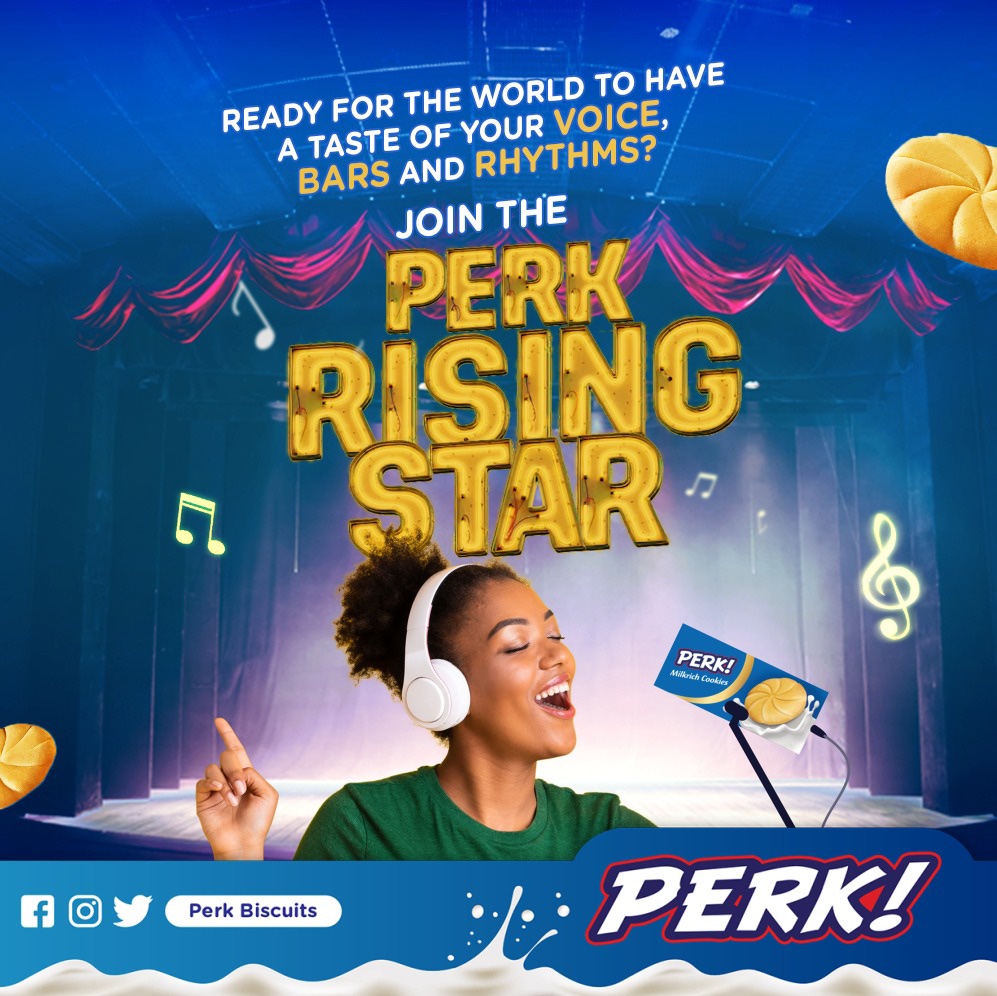 Olam's NutrifoodsPerk Biscuit has announced the launch of the 'Perk Rising Star Challenge', an exciting promotional campaign designed to unearth hidden talents and creativity among young consumers.
An entirely digital music competition, the contest is currently making waves on all social media platforms (Facebook, Twitter, Instagram etc.) and will run until June 28.
At the end of the competition, 10 of the best entries will be selected based on their performances regarding their level of creativity and talent displayed.
According to officials at Perk Biscuit, collectively, the finalists will be rewarded ¢12,000 in cash and gift items, including Bluetooth headsets, Perk products, and airtime.
Kabuki Owusu Atakorah, Category Manager of Perk Biscuits, said, "As a youth-oriented brand, we have decided to engage with this segment of our consumer group and offer them an exciting opportunity to unearth their creativity and talents and, in doing so, reward their efforts with attractive cash prizes and amazing gift items. This exciting competition is open to all legal residents and or Ghanaians aged 18 and above."
"This campaign is built on Perk Biscuit's brand positioning as a 'Mood Uplifter' – that will bring a lot of energy and vitality to millions of Ghanaians and offer our target audience an opportunity to have some fun, showcase their musical skills and win some amazing prizes," Mrs Atakorah added.
The Perk Rising Star challenge is currently running on Facebook, Twitter, and Instagram. All entries are expected to tag the Perk Biscuits page and use the official hashtag #Perkrisingstar to qualify.
To participate in the 'Perk Rising Star Challenge', consumers are required to download any of the four optional rhythmic beats using by clicking on this link and sing along for a maximum of one minute using their lyrics or the Perk song lyrics.
They then must video record their performance for a maximum of one minute, using a packet of Perk biscuit as their microphone.
Participants must then upload their video clips to their Facebook, Twitter or Instagram pages and include/use their lyrics as their post's caption (in any language of their choice) and tag their entry to the Perk Biscuit official page hashtag, #Perkrisingstar.
"A lot has been happening in recent times, and as an optimistic brand, we want to spread positivity, lift spirits, and give our target audience something to smile about as well as offer our consumer's ideas to perk up their day at home and anywhere because that is what the Perk brand stands for.," Mrs Atakorah observed.