10 facts about Americans and Facebook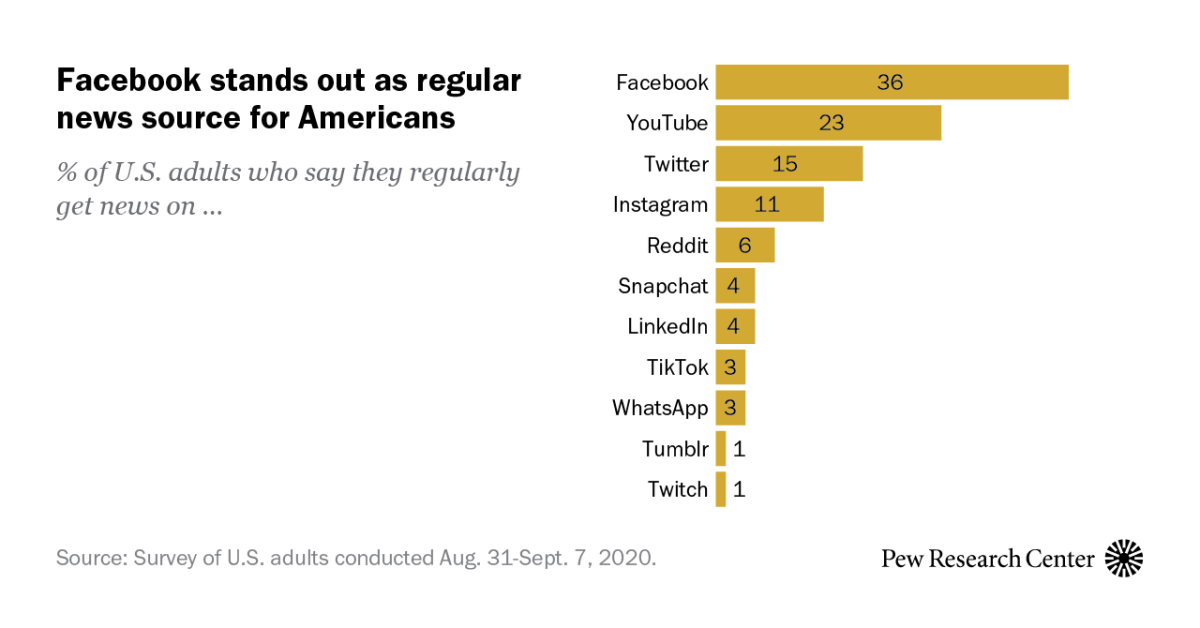 Facebook, the social media giant that was founded in 2004 and now boasts more than 2.8 billion monthly users worldwide, is a regular focus of scrutiny in the United States and abroad.
Some lawmakers in the U.S. have argued that the platform is too powerful and should be broken up, and in late 2020 the federal government and 46 states (as well as the District of Columbia and Guam) sued the company for alleged antitrust violations. Facebook's decision to suspend the account of former President Donald Trump in early 2021 has fueled additional debate. Many Republicans have accused the platform and other social media sites of censoring conservative viewpoints, even as many Democrats in Congress urge it to do more to address misinformation, hate speech and content that could incite violence.
Here are 10 facts about Americans and Facebook, based on Pew Research Center surveys in recent years.
Social media, and Facebook in particular, have become ubiquitous in American life. This analysis uses data from several Pew Research Center surveys to provide insights into who uses Facebook and their experiences with the platform.
All of the polls referenced here – including each survey's mode, field dates and sample size – are available through the links in this analysis.
Around seven-in-ten U.S. adults (69%) say they ever use Facebook, according to an early 2021 phone survey. There has been no statistically significant change in the share of adults who use the platform since 2016.
With the exception of YouTube – the video-sharing site used by 81% of adults – no other major online platform comes close to Facebook in terms of usage. Four-in-ten adults report using Instagram, while around three-in-ten use Pinterest (31%) and LinkedIn (28%). A quarter of adults or fewer use Snapchat, Twitter, WhatsApp, TikTok, Reddit and Nextdoor. Facebook owns Instagram and WhatsApp.
Among U.S. adults who use Facebook, seven-in-ten say they visit the site daily, including around half (49%) who do so several times a day. By comparison, 59% of both Snapchat and Instagram users say they visit these platforms at least daily, as do 54% of YouTube users and 46% of Twitter users.
Facebook is broadly popular among all demographic groups, though some adults are more likely to use it than others. Around three-quarters of U.S. women (77%) use the platform, compared with 61% of men. There are differences by education level, too: About three-quarters (73%) of adults with a college degree or more use Facebook, compared with 64% of those who have a high school diploma or less.
Americans ages 65 and older are the least likely age group to use Facebook, with half saying they do so. But that still represents a 30 percentage point increase since August 2012, when just 20% reported using it.
There are partisan differences in the use of many social media platforms, but not Facebook. Around seven-in-ten Democrats and Democratic-leaning independents (72%) use Facebook, as do 69% of Republicans and GOP leaners. Democrats are considerably more likely than Republicans to use many other social media platforms, especially Instagram (49% vs. 30%), Twitter (32% vs. 17%) and WhatsApp (30% vs. 16%).
As of 2018, Facebook was used by around half of America's teens, but it no longer dominated the teen social media landscape as it once did, according to a survey of U.S. teens in March and April that year. At the time, 51% of those ages 13 to 17 said they use Facebook, down from 71% in a 2014-2015 survey.
The top social media sites among teens in 2018 included YouTube (used by 85% of teens), Instagram (72%) and Snapchat (69%). In the 2014-2015 survey, Facebook was the only platform used by a clear majority of teens.
Teens in lower-income households are more likely than those in higher-income households to use Facebook, according to the spring 2018 survey. Seven-in-ten teens living in households earning less than $30,000 a year said they use Facebook, compared with 36% of those whose annual family income was $75,000 or more. For other social media platforms, use among teens did not vary much by demographic factors.
About a third of U.S. adults (36%) say they regularly get news from Facebook, according to a survey in August and September 2020. The share of U.S. adults who get news through Facebook is higher than the shares who regularly get news through YouTube (23%), Twitter (15%), Instagram (11%) and other platforms.
Among adults who get news from Facebook, women are much more likely to do so than men (63% vs. 35%), as are White Americans (60%) when compared with those who are Hispanic (18%), Black (13%) or Asian (5%).
Far more Americans distrust than trust Facebook as a source for political and election news, according to a survey in October and November 2019. Around six-in-ten adults (59%) said they distrust the platform as a place to get this kind of news, while only 15% said they trust it. Another 19% said they neither trust nor distrust it. Democrats and Republicans alike were much more likely to distrust than trust Facebook for political and election news.
As of late 2018, around three-quarters of Facebook users were not aware that the site lists their traits and interests for advertisers. Facebook allows its users to find out how the site's algorithm has categorized their personal traits and interests for advertisers: This information can be accessed via the platform's "ad preferences" page. But 74% of adult Facebook users in the U.S. were not aware that the site collects this information about them until they were directed to this page, a Pew Research Center study conducted in September and October 2018 found.
The fact that the company maintains a list of users' traits and interests makes many users uncomfortable. Once directed to their ad preferences page, around half of adult Facebook users (51%) said they were not comfortable with Facebook maintaining this kind of list, according to the same 2018 study. And while a majority of users (59%) said the categories produced by Facebook reflected their real-life interests, around a quarter (27%) said these classifications were not very or not at all accurate.
Note: This is an update of a post originally published on April 10, 2018.
How a Sacramento 'Buy Nothing' Facebook group helped a community thrive in 2020
That is why Kali Williams started the "Buy Nothing Midtown Sacramento and Beyond" group on Facebook, which will celebrate its fifth anniversary in …

Read More
Twitter testing ads on Fleets to catch up to Snap, Facebook
Twitter Inc (TWTR.N) said Tuesday it will begin testing ads on its disappearing posts feature called Fleets, as it works to offer more options for advertisers.
The social media company previously said it set a goal of doubling its annual revenue by 2023 from last year's levels, which it plans to achieve in part by selling ads on more parts of its site and mobile app.
Fleet ads will be the first on Twitter that appear full screen on phones, the company said. Advertisers generally like full-screen ads because they capture the user's attention.
The new offering is part of Twitter's aim to catch up to larger social media platforms like Facebook Inc (FB.O)
and Snap Inc (SNAP.N), which have long offered a "Stories" posts feature that disappears after 24 hours and is monetized with ads.
Brands that create Fleet ads can also use a feature that would direct a user to the company's website or other web destination if they swipe up on the ad.
Our Standards: The Thomson Reuters Trust Principles.
WebXR: A Contributor's Story with Soham Parekh
The "Contributor's Story" series is intended to provide a face and voice to our major open source contributors and community members, an overview of the projects they are working on, and the successes and challenges contributors face when developing.
In this blog post, we will be talking to Soham, a WebXR contributor working on creating immersive AR/VR examples using WebXR media layers through the Major League Hacking (MLH) Fellowship.
"I have discovered that the best way to get better at software development is to not only practice it but to use it to solve real world problems."
Tell us a little bit about yourself and your current experience in the MLH Fellowship.
I am a software developer, currently in my final year, creating open source projects and writing about software development, competitive coding, machine learning, cybersecurity and information security awareness. I am also the founder of and lead maintainer at Devstation, a not-for-profit organisation with an aim to encourage startups and organisations to adopt open source tech.
I spent most of my day turning coffee to code primarily written in Golang, Rust, Python or JavaScript. My life goal is to make the web a better, safer place for humans. For this, I am actively involved in Natural Language Processing, particularly in the applications of social graphs and graph neural networks to problems in social computing like web ethics, identification of hate speech, etc. I also am of the opinion that the most disastrous invention of the human-kind is pineapple as a pizza topping.
The first time I got to know about the MLH Fellowship was through a previous fellow who worked with Jest as a part of his fellowship. A few months back, I had created a feature request for a Jest-plugin for Puppeteer for introducing a video recording for the tests. Knowing that I can contribute to the fellowship in exciting frameworks like Jest that solve real-world problems is something that really caught my attention.
Where did you first learn about open source? How did you get started using/contributing?
I came into contact with open source through the speech-to-code engine called Dragonfly. Since then, I have been an active contributor to the Cloud Native Computing Foundation since the past few years. However, my first formal introduction to open-source was in a program similar to MLH Fellowship called Google Summer of Code. There I worked with Wikimedia Foundation as a part of the Release Engineering Team and absolutely fell in love with the open source community.
Describe the project you are currently working on.
For the fellowship, I am working with Zhixiang Teoh on creating immersive AR, VR examples on the web that incorporate the WebXR layers specification, particularly with the WebXR media layers. The WebXR media layers specification makes creating and interacting with the video layers in a virtual environment not only performant but also crisper, reducing the dependence on CPU and leveraging the GPU in a rather efficient fashion.
We have particularly focused our attention on achieving these implementations through an existing library like Three.js that makes interfacing with the browser's WebGL and WebXR API relatively simple by abstracting it away through helper classes and functions. Our goals for the fellowship particularly were to create examples that indicate how multiple media layers with different 3D characteristics (equi-rectangular, quad or cylindrical) can be created and attach controller interactions with them such as fluid resizing, a toolbar for video play/pause and playback as well as moving the layers in the virtual 3D space.
How did you initially go about tackling the issue?
We were lucky to have some reference implementations that the previous fellows had worked on, but the existing code wasn't really the best way to do it. The code examples were in the form of a single file that made traversing to the code rather convoluted.
Our first step was to migrate the existing code examples to be modular and use as many abstractions provided by Three.js as possible so that the future viewers of the code have an easier time following it. We also made the code well-commented and added support for "snowpack" to leverage support for ES Modules.
What roadblocks or problems have you faced thus far in your contribution?
One of the major roadblocks we've had so far in our contribution is that the WebXR Layers are a relatively new feature recently added to the WebXR world. WebXR itself is particularly new in its field and while browser-support for immersive experiences on the Web has been on a steady rise, a lot of the things required a thorough understanding on our part on other areas of the WebXR API spec itself. This was rather challenging since the spec was intended to serve as a reference to the browser implementers. The process, however, was very exciting since it got as familiar with a lot of the things that work under the hood of a browser that make an immersive experience on the web achievable.
What is the current status of development?
As the fellowship nears its close, we have achieved most of the deliverables with a well-commented code. Currently we are working to make the existing code more refined, filtering out potential bugs, adding documentation for caveats and work around that we have incorporated and making the code more performant in places where we can.
What have you learned about the project, development, or open source thus far?
The last time I worked with Three.js was two years ago with a primary aim to learn it while constructing my personal website. Since peeking into Three.js implementation of native WebGL and WebXR APIs became a recurring trend, working with WebXR as a part of the fellowship gave me a chance to explore Three.js a lot more in depth. I now feel confident to contribute to Three.js and the Immersive Web community and feel ready to dive deep into complicated codebases.
There is one key experience that I particularly value a lot as the fellowship comes to a close and that is getting to know and work with Teoh. I have a tendency to over engineer, and Teoh was always helpful in keeping me track without spending too much time on refining a feature and taking breaks when necessary. I've learnt that quick pair programming sessions are a great way to work on complicated tasks and a great way to get to know your fellow developers.
Overall, contributing to open source and knowing that our examples will serve as a reference for future implementations of the layer specification fills me with a sense of satisfaction.
What advice would you give future contributors to the open source project?
WebXR looks quite more intimidating than it actually is. I think the best way to approach it is to first read the MDN Web Docs on the WebXR specification and then read the official WebXR API spec. The official WebXR specification is meant for browser tormentors. This makes it easy to get lost. The idea is to use this specification only to understand the corresponding documentation on MDN in more detail.
Three.js does a wonderful job of working with WebGL. Using the abstractions provided by Three.js has really helped us to work with WebGL and WebXR APIs with relative ease. 1
We discovered another such framework called A-frame halfway into the fellowship. A-frame makes working with immersive experiences on the web simpler and I highly recommend future contributors take a look at it.
We'd like to thank Soham for their continuous contributions to the Facebook Open Source ecosystem. You can follow Soham's work through his Website, GitHub, and LinkedIn.
If you'd like to learn more about Facebook Open Source, follow us on Twitter, Facebook, and YouTube for relevant updates, and check out the WebXR website for how to get started. Also, we recently sponsored Open Web Docs, where we hope to do our part to continue the MDN tradition of providing quality web documentation on a variety of technologies, including XR.