Twitter is rolling its eyes at a bill proposing to make it mandatory for children to get married at 18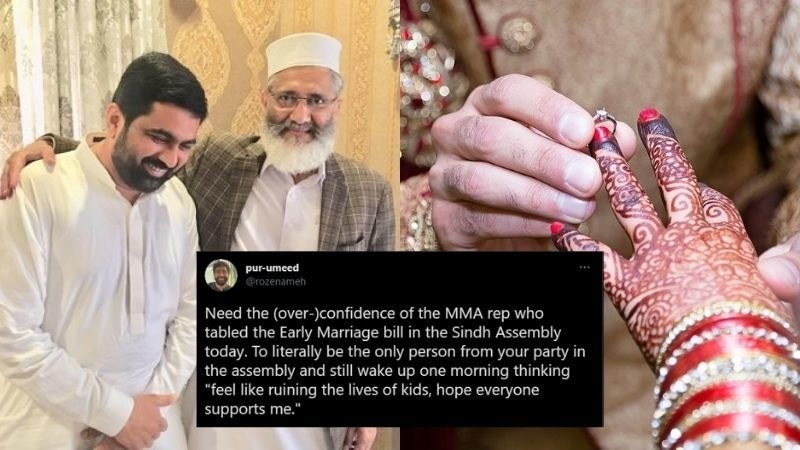 A draft of the "Sindh Compulsory Marriage Act, 2021" was submitted to the Sindh secretariat on Wednesday, and seeks to address "societal ills, child rapes, immoral activities and crime" by making it mandatory for children over 18 to marry.
Under the proposed bill, parents will be required "submit an undertaking with justified reason of delay before the deputy commissioner of the district" if their children are not married, and upon failing to do so, they would have to pay a fine of Rs500 each. The bill also wants to put a ban on dowry and establish standard operating procedures (SOPs) for weddings. The draft was submitted by MMA MPA Syed Abdul Rasheed, who argued that this would help fight "competition" and motivate people to organise simpler weddings.
Rasheed also announced the submission of the draft on his Twitter account.
In a video, Rasheed claimed that the obstacles in the way of marriages nowadays, like unemployment and high costs, were a direct "result of distancing from Islamic teachings." He spoke about unemployment causing delay in marriages, saying the problem was "society's tendency towards competition", which had "spoiled a lot of legal and correct ways".
As soon as the news of the proposed bill broke on to the social media, users called it "ridiculous" and "disgusting".
Journalist and filmmaker Munizae Jahangir also took note of the news, calling it "amusing."
A user replied to her tweet saying he believes such bills intentionally attempt to undermine the assemblies. Calling it pathetic, he said it exemplified the disconnect between those in the assemblies and those on the streets.
Other users had similar opinions.
Politician and activist Jibran Nasir, who is very actively fighting against forced marriages of minority girls in the province, expressed his disappointment at the sort of things being discussed in our assemblies. He felt the bill was only for Muslims, as Hindu and Christian girls are forced to marry at a younger age.
This user dismissed the bill, saying it does not even effectively address the problem it apparently seeks to solve.
While the internet went into a frenzy, several different recreations of the news went viral. Some claimed the bill was passed, others claiming it was backed by the government. This was all false information — the truth is that only a draft has been submitted and there is little chance of it being passed. Some users felt it was important to highlight this in the midst of all rumours and memes.
Bakhtawar Bhutto Zardari also took to Twitter to steer the PPP out of this mess and said the bill will be "bulldozed" by the party.
It is important to highlight at this stage that Rasheed is the only member of his party in the Sindh Assembly. The speaker of the assembly has the right to not even allow the bill to be presented in the assembly. If it is allowed to be presented, it has to be voted and receive a majority vote to be passed and made into a law. Since Rasheed is from the MMA, it is unlikely he will receive the support he needs to pass the bill.
This user used it to mock the reality of being in Pakistan, where 18 year olds are not able to register themselves for Covid-19 vaccines with the government but should apparently be married off immediately.
This user thinks the government should be trying to do the opposite.
Others just couldn't fathom the sort of thought and reasoning that would lead to such a bill being drafted. It is ridiculous to expect teenagers to get married so early.
This user was quick to highlight that the biggest culprit under the bill was PPP Chairman Bilawal Bhutto Zardari, who is well over 18 and not married (good for him).
The province already has laws in place to tackle the problematic phenomenon of child marriages, such as "The Sindh Child Marriage Restraint Bill, 2013", which makes it illegal for children under the age of 18 to marry. If an adult marries a minor, they are subject to "rigorous imprisonment which may extend to two years, and a fine which may extend to Rs200,000 or both." Those that facilitate child marriages, and the parents/guardians of the children are liable to the same punishment.
So in the colossally unlikely chance that the MMA MPA's bill was passed, Sindh would have a law criminalising marriages under the age of 18 and criminalising people who don't get married over 18. Thankfully, we have enough faith in our assembly members to strike this bill down.
For the respected MPA who drafted the bill, we only have this to say: read the room. Marriage isn't something that should be forced upon people. People should marry when they want to and not due to some arbitrary deadline set by you. There is so much more to life than marriage and shackling a child — because at 18 you are still very much a child — when their foray into adulthood has just begun is cruel. Let children be children and decide for themselves what they want to do and when they want to get married.
We hope the MPA is taking a close look at the reactions to his proposed bill on Twitter and will make better use of his time in the assembly in the future.
Harsh Goenka Lists How to 'Enjoy Pleasures of Zen Life', Twitter Reacts – News18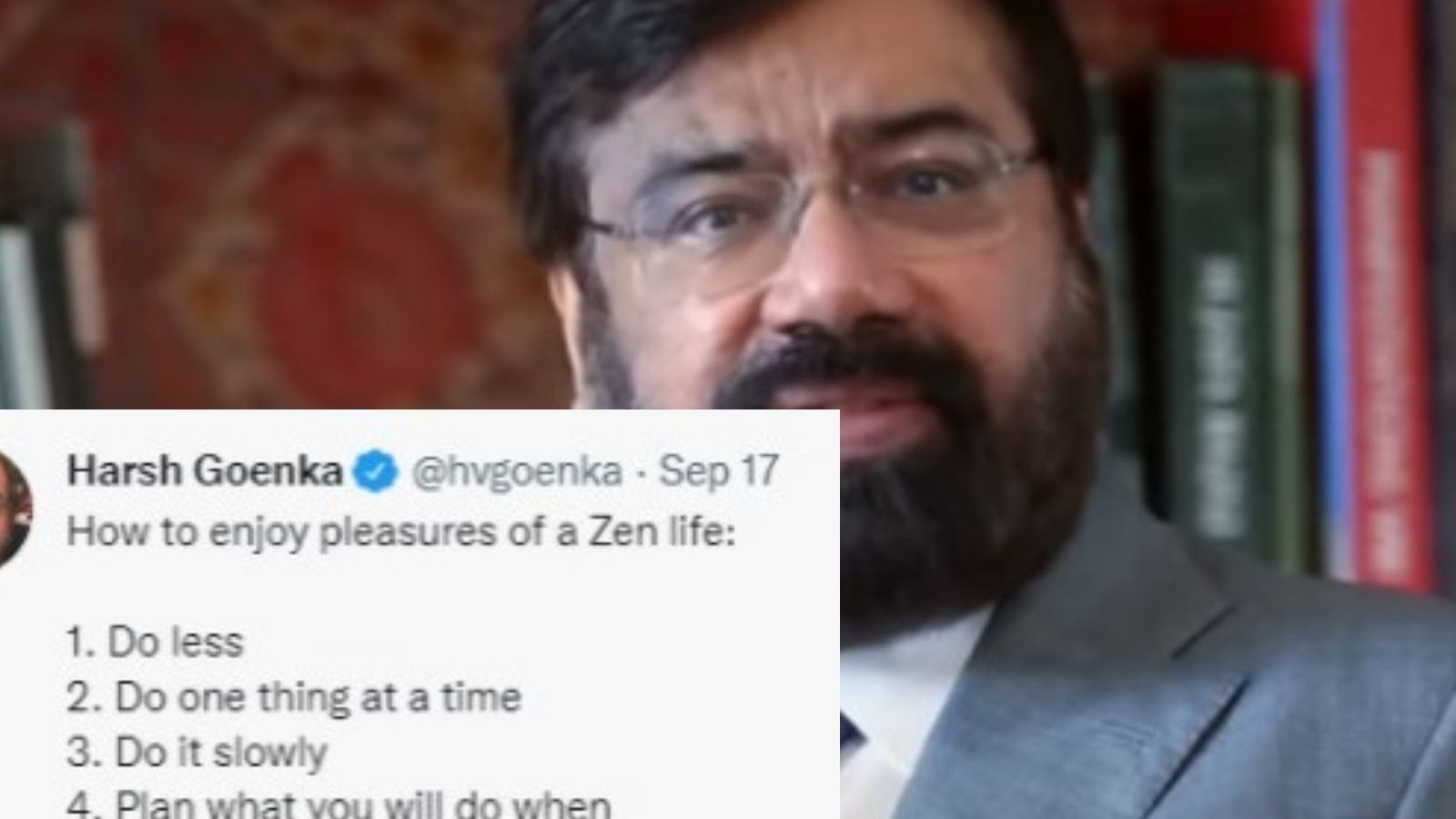 Harsh Goenka shared 10 golden rules for anybody who wants to lead a Zen life and spend every moment of life with ease and pleasure. (Image: twitter)
The tweet, apart from being informational and guiding, also hints that Goenka also follows a set of Zen rules to attain calm and stability.
Last Updated:

September 18, 2021, 15:19 IST

FOLLOW US ON:
It is now well-established that Harsh Goenka is a Twitterati. His streak of tweets never fails to catch netizens' attention. From hilarious to motivational, from mind-bending to heartwarming -Goenka's tweets have touched every category. Besides being an avid social media user, Goenka also handles a gigantic empire, the Ram Prasad Goenka Group. Yet, despite having so much on his plate, he still manages to play all his roles right.
And the secret behind this smooth journey of his might be the Zen lifestyle. Recently, he shared 10 golden rules for anybody who wants to lead a Zen life and spend every moment of life with ease and pleasure. The tweet, apart from being informational and guiding, also hints that Goenka also follows a set of Zen rules to attain calm and stability.
Harsh, in the tweet, wrote, "How to enjoy pleasures of a Zen life," and mentions ten short and crisp rules – Do less, Meditate, Do it slowly, Live simply, among others – that will lead to the attainment of pleasure.
Here is the tweet:
The tweet struck a chord with a lot of people who are on the path to find the balance between order and chaos. Many shared their learnings and wisdom while replying to the tweet.
One user stated how controlling desires also leads to Zen life, to which Goenka replied with a smiling emoji.
Another user shared a hilarious topical meme saying, "I had to share."
Goenka has 1.6 million followers on Twitter, and all those followers never have to face disappointment as the entrepreneur's Twitter game is always on point. Recently, his tweet ensured pread like wildfire where he shared a screenshot of a message from an employee's wife asking for the resumption of her husband's work from the office. In the caption, Goenka wrote, "Don't know how to respond to her."
If you do not follow Goenka yet, you have to do it now since he doesn't just write but shares amazing video content too. Moreover, life advice such as this is an added bonus.
Read all the Latest News, Breaking News and Coronavirus News here
Twitter Experiments with New Visual Editor, Which Would Incorporate Fleets Tools | Social …
An article from

Maybe, you don't have to totally say goodbye to Twitter's Fleets option after all.
In announcing the retirement of its Stories-like Fleets tool last month, Twitter noted that it would be taking the lessons that it had learned from Fleets and applying them to new areas of development.
Now, we're getting a first glimpse of what those new elements could be, with app researcher Alessandro Paluzzi uncovering this in-development feature, which would essentially enable you to utilize all of the Fleets features in a new visual editor process for your regular tweets.
As you can see here, the new process would enable you to add 'stickers, text, crops and more' to your uploaded videos and images, then attach them to your tweets, potentially giving them more presence and creative flair in the feed.
Paluzzi also notes that new editor also enables you to upload a straight text visual, with a colored background – so essentially, you would have more functionality for your tweet uploads, with all the Fleets tools being merged across to this new editor.
Will anybody care?
I mean, Fleets didn't see massive take-up, so it's not like they're saving the key features from a previously popular addition. But Twitter CEO Jack Dorsey did note that Fleets had sparked more activity from a broader range of users, and with full-screen visual platforms like TikTok changing user habits, maybe, by providing more options like this in tweets, it could facilitate new usage.
And the tools have already been developed, Twitter already has the Fleets framework done. Given this, incorporating these elements would mean that all of the Fleets development time doesn't entirely end up going to waste.
And even if no one uses them, they'll be there as additions if you want – so in some ways, it seems like a fairly logical addition, to at least see if people might use it.
Twitter could also look to add more to the visual editor, with the company acquiring Stories template app Chroma Stories last year.
It doesn't seem like Twitter got around to incorporating the full Chroma functionality into Fleets – so maybe, by providing another visual tool, it can keep building new options to enhance tweets, and facilitate more engagement.
There's no official word on the project as yet, but again, it seems like it could make sense, at least as an experiment with the existing Fleets tools.
Follow

Andrew Hutchinson

on

Twitter

Tampa Police in Twitter beef with the Times – Yahoo News
The Tampa Police Department claims reporters didn't tell the whole story after the Tampa Bay Times published an investigation into the department.
The investigation: Journalists Chris O'Donnell and Ian Hodgson reported that a TPD program started under former police chief and current mayor Jane Castor urged landlords to evict hundreds of mostly Black tenants after arrests.
But families still lost their homes even after charges were dropped.

The story opens with a family who lost their home after a 16-year-old stole $4.44 in change, a glove, a flashlight, a hoodie and wireless headphones.

The program, meant to target "documented violent offenders, gang members or career criminals" led to the eviction of those with misdemeanors even if charges didn't stick.
Get market news worthy of your time with Axios Markets. Subscribe for free.
The other side: TPD's Twitter account has been replying to the Times and O'Donnell's tweets about the article with videos they say tell a different story.
In the department's videos, two Robles Park residents describe the neighborhood as having "glass everywhere, shootings, fights, a lot of drug dealers," before the program.

Now, one resident said, "It's like a new day. The dealers are gone. Thank you, TPD. … Thank you Tampa Housing Authority."
Selene's thought bubble: Police departments don't usually clap back to journalists on social media, especially not to go out of the way to get citizens to speak.
Police may be trying to show the positive effects of their program, but it also makes them seem intimidated by the Times' report.
Like this article? Get more from Axios and subscribe to Axios Markets for free.