Facebook lifts ban on posts claiming Covid-19 was man-made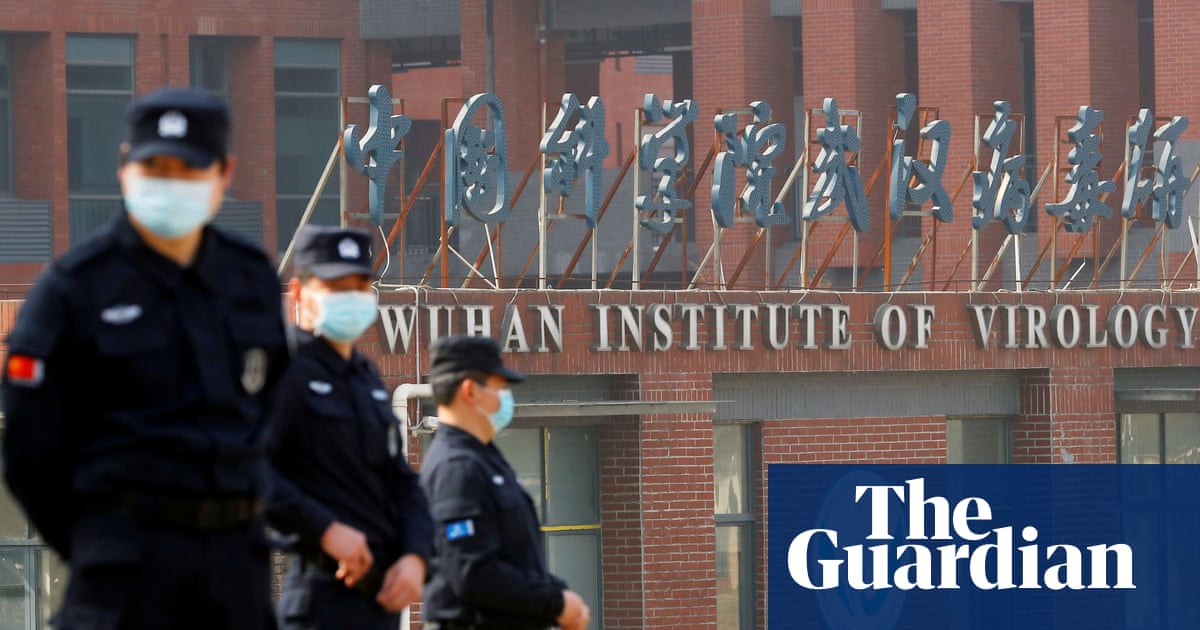 Facebook has lifted a ban on posts claiming Covid-19 was man-made, following a resurgence of interest in the "lab leak" theory of the disease's onset.
The social network says its new policy comes "in light of ongoing investigations into the origin".
In February, Facebook explicitly banned the claim, as part of a broad policy update aimed at "removing more false claims about Covid-19 and vaccines". In a public statement at the time, it said: "Following consultations with leading health organizations, including the World Health Organization (WHO), we are expanding the list of false claims we will remove to include additional debunked claims about the coronavirus and vaccines."
Anyone posting claims that Covid-19 was "man-made or manufactured" could have seen their posts removed or restricted, and repeatedly sharing the allegation could have led to a ban from the site entirely.
On Wednesday, the company said: "In light of ongoing investigations into the origin of Covid-19 and in consultation with public health experts, we will no longer remove the claim that Covid-19 is man-made from our apps. We're continuing to work with health experts to keep pace with the evolving nature of the pandemic and regularly update our policies as new facts and trends emerge."
The change follows a Wall Street Journal report that US intelligence sources believe there is some evidence to warrant further investigation of the "lab leak" theory. According to the newspaper, three staff members at the Wuhan Institute for Virology sought hospital treatment for flu-like symptoms in November 2019. Others have criticised the reporting, noting that it still relies on circumstantial evidence and speculation.
Facebook is keen to ensure that a change in one rule doesn't lead to a free-for-all for Covid misinformation. On the same day that it lifted the ban on lab-leak theories, it tightened up restrictions on users who "repeatedly share misinformation on Facebook".
Under the new rules, individual Facebook users who repeatedly share content that has been rated false will have all their posts suppressed, even ones that have not been – or have yet to be – rated false. Additionally, users who like a page that has repeatedly shared false information will now be given a pop-up notice, warning them of the posting history.
"Whether it's false or misleading content about Covid-19 and vaccines, climate change, elections or other topics, we're making sure fewer people see misinformation on our apps," Facebook said in a statement.
The company has come under fire this year for its failure to act on misinformation "superspreaders": individual users with hundreds of thousands, or millions, of followers who regularly post false claims about Covid-19.
How to prepare your Facebook account for your digital afterlife
Today, our online lives are where we share a lot of private and personal information, especially on social media platforms where we share many of our thoughts, post photos and videos over the time we have spent online. Among these social media platforms, Facebook is the most used social media service today. A lot of us, our friends and our family members have a Facebook account. We post and share everything from our private photos to a personal message via Facebook.
But have you wondered what happens to your Facebook account and the information (like posts, comments, photos, videos, etc.) that you have created and accumulated on the service after your time?
■ What will happen to my account?
■ Who can access your profiles?
■ Who will own your account and data?
■ How to manage it when such a time comes?
Facebook has added features to your account so that you can decide what happens to your account when such a time arises. Follow the steps given below to set it up and ensure that the information in your Facebook accounts is handed over to someone else safely or managed according to your choice.
Setting up Facebook's legacy contact:
In the case of Facebook, you can choose to memorialise your account and hand over the control to a 'Legacy contact' of your choice or altogether delete your profile after your time.
Step 1: To set up your legacy contact, you can visit the 'Settings & privacy' option under your profile and select the 'Memorialisation settings' under 'General Account settings'. You can also sign in to your account and visit https://www.facebook.com/settings to access this setting.
Step 2: Now, you can choose a legacy contact in this setting by searching for and adding a friend from your account as your legacy contact. Do note that, once memorialised, the legacy contact can only moderate the posts on your page and not post on your behalf.
Step 3: The following setting is to choose whether to allow your legacy contact to download all your data that you have created or shared on your Facebook account like posts, photos, videos etc.
Step 4: The final setting on this page could be considered an alternative to choosing a legacy contact. This setting is to delete your complete Facebook account once you pass away. Facebook needs to be informed about your death and requires verifying it with valid documentation to activate this feature. The company will delete all your information on Facebook on completion of this process.
To know more about these settings, you can visit the FAQ page on legacy contact.
Subscribe to Mint Newsletters
* Enter a valid email
* Thank you for subscribing to our newsletter.
Never miss a story! Stay connected and informed with Mint.
Download
our App Now!!

Big EU lawsuit against Facebook morphs into 3-year 'partnership' with complainants
Press play to listen to this article
Three years ago, a group of EU consumer agencies launched a multi-country lawsuit against Facebook, accusing the social media giant of having illegally harvested the data of millions of users.
More than 300,000 angry Facebook users positioned themselves behind the collective action suit, which promised to award them individual monetary damages if the company was found guilty of wrongdoing.
On Friday, those lawsuits quietly morphed into a brand new partnership with Facebook.
Euroconsumers, the umbrella organization behind the Spanish, Italian, Belgian and Portuguese lawsuits, announced they were entering a partnership with the company focused on the "safety and privacy" of Facebook users.
The move comes after POLITICO reported that Euroconsumers had settled its lawsuit with Facebook at the end of April — and highlights the fact that collective action lawsuits rarely make it over the finish line in Europe, sheltering companies from the type of action that can produce crippling damages in U.S. courts while leaving consumers with little recourse.
Originally, Euroconsumers had told people who joined the case it would seek compensation of €200 for every Facebook user whose data was mishandled.
In the end, though, there will be no court decision, no admission of wrongdoing by Facebook and no direct payment from the company to consumers as a result of the settlement, according to Euroconsumers.
Instead, the consumer groups and Facebook said they were forming a joint committee focused on three priorities: sustainability, digital empowerment and fighting scams. The issue of privacy — which was the explicit focus of the lawsuit — is the "umbrella" under which the thee priorities fall.
As for the consumers, they are being promised a vague consolation prize.
The four consumer groups said they would commit to "reward" consumers who joined the original lawsuit with "a package to help consumers be safe online" — but no hard cash.
Asked whether Facebook had paid money to Euroconsumers in the settlement, the group declined to comment. POLITICO reached out to Facebook, but the company didn't give an immediate response apart from the press release.
Meanwhile, the committee isn't committed to producing any specific results.
"There are specific initiatives in the making, but there will also be a consumer reporting channel. We will able to report problems that emerge, like feedback from our members," said Els Bruggeman, head of policy at Euroconsumers.
A spokesperson for the group said: "It's the moment to try to influence the reasoning from companies who are managed far away."
Legally speaking, though, the heat is off Facebook.
The consumer groups will evaluate their collaboration in three years.
"An agreement for one year would be too short. Three years is long enough to be able to evaluate. There will be a lot of changes in the digital world in that period," added the spokesperson.
In the meantime, a change in legislation may give future collective action lawsuits in Europe more teeth: A directive finalized late last year could lead to bigger pan-European collective redress cases.
Want more analysis from POLITICO? POLITICO Pro is our premium intelligence service for professionals. From financial services to trade, technology, cybersecurity and more, Pro delivers real time intelligence, deep insight and breaking scoops you need to keep one step ahead. Email [email protected] to request a complimentary trial.
Russian watchdog demands that Facebook delete post insulting WWII veterans
MOSCOW, May 29. /TASS/. Russia's Federal Service for Supervision of Communications, Information Technology, and Mass Media (Roskomnadzor) demanded that US company Facebook delete an Instagram post that insults the memory of World War II veterans, the watchdog said on its website on Friday.
"Roskomnadzor has sent a letter to Facebook Inc top management, demanding that content insulting the memory of World War II veterans be deleted," the watchdog said. "The governmental agency found the unlawful post on the Instagram social network, owned by Facebook."
According to Roskomnadzor, publication of clearly offensive information that insults Russia's military glory and memorable dates, or desecrates military glory symbols, or offends WWII veterans constitutes a criminal offense in Russia and is subject to criminal proscution.