Facebook must do more to fight climate change denial, campaigners say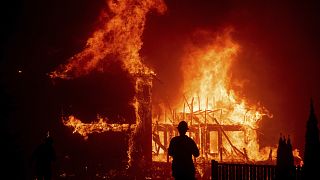 A home burns as a wildfire called the Camp Fire rages through Paradise, Calif.

  –  
Copyright 
Noah Berger/Noah Berger
A campaign group has accused Facebook of systematically spreading climate change denial.
Stop Funding Heat, a campaign group that aims to counter online climate denial and misinformation, says the social media giant is directly spreading climate denial on their advertising platforms.
"Facebook is taking money in many occasions for content that is out and about climate denial." Sean Buchan, a researcher for Stop Funding Heat told The Cube, Euronews' social media newsdesk.
"This is how their entire business model works, they take money from advertisers to put in between what we call organic posts on the platform."
The group's 40-page study claims that there is no mention of climate misinformation in any of Facebook's public policies and that existing policies are ineffective.
Facebook told Euronews that its Climate Science Information Center includes information from leading organisations that reaches 100,000 people per day.
The company also employs third-party fact-checkers to review and rate content.
"When they [third party fact-checkers] rate this content as false, we add a warning label and reduce its distribution so fewer people see it. We also take action against Pages, Groups, and accounts that continue to share false claims about climate science," a Facebook spokesperson said.
But Stop Funding Heat said that the Climate Science Information Center does not go far enough.
"It does not really follow the climate communication science as it should. It says you need to inoculate people to myths that you see but the Information Center doesn't really connect people to the myth they saw and then inoculate against that," Buchan said.
"Our recommendations for Facebook are number one, stop taking money for climate denial on its platform as soon as possible. Number two, update its community and advertising guidelines standards to include climate change misinformation."
"We would also like Facebook to be more open with the extent of climate change misinformation on their platform…and how much is being stopped."
2021 is set to be the most challenging year yet for climate change misinformation according to Stop Funding Heat.
Introducing an Update to the Data Protection Assessment
Over the coming year, some apps with access to certain types of user data on our platforms will be required to complete the annual Data Protection Assessment. We have made a number of improvements to this process since our launch last year, when we introduced our first iteration of the assessment.
The updated Data Protection Assessment will include a new developer experience that is enhanced through streamlined communications, direct support, and clear status updates. Today, we're sharing what you can expect from these new updates and how you can best prepare for completing this important privacy requirement if your app is within scope.
If your app is in scope for the Data Protection Assessment, and you're an app admin, you'll receive an email and a message in your app's Alert Inbox when it's time to complete the annual assessment. You and your team of experts will then have 60 calendar days to complete the assessment. We've built a new platform that enhances the user experience of completing the Data Protection Assessment. These updates to the platform are based on learnings over the past year from our partnership with the developer community. When completing the assessment, you can expect:
Streamlined communication: All communications and required actions will be through the My Apps page. You'll be notified of pending communications requiring your response via your Alerts Inbox, email, and notifications in the My Apps page.

Note: Other programs may still communicate with you through the App Contact Email.

Available support: Ability to engage with Meta teams via the Support tool to seek clarification on the questions within the Data Protection Assessment prior to submission and help with any requests for more info, or to resolve violations.

Note: To access this feature, you will need to add the app and app admins to your Business Manager. Please refer to those links for step-by-step guides.

Clear status updates: Easy to understand status and timeline indicators throughout the process in the App Dashboard, App Settings, and My Apps page.
Straightforward reviewer follow-ups: Streamlined experience for any follow-ups from our reviewers, all via developers.facebook.com.
We've included a brief video that provides a walkthrough of the experience you'll have with the Data Protection Assessment:
Something Went Wrong
We're having trouble playing this video.
The Data Protection Assessment elevates the importance of data security and helps gain the trust of the billions of people who use our products and services around the world. That's why we are committed to providing a seamless experience for our partners as you complete this important privacy requirement.
Here is what you can do now to prepare for the assessment:
Make sure you are reachable: Update your developer or business account contact email and notification settings.
Review the questions in the Data Protection Assessment and engage with your teams on how best to answer these questions. You may have to enlist the help of your legal and information security points of contact to answer some parts of the assessment.
Review Meta Platform Terms and our Developer Policies.
We know that when people choose to share their data, we're able to work with the developer community to safely deliver rich and relevant experiences that create value for people and businesses. It's a privilege we share when people grant us access to their data, and it's imperative that we protect that data in order to maintain and build upon their trust. This is why the Data Protection Assessment focuses on data use, data sharing and data security.
Data privacy is challenging and complex, and we're dedicated to continuously improving the processes to safeguard user privacy on our platform. Thank you for partnering with us as we continue to build a safer, more sustainable platform.
First seen at developers.facebook.com
Resources for Completing App Store Data Practice Questionnaires for Apps That Include the Facebook or Audience Network SDK
Resources for Completing App Store Data Practice Questionnaires for Apps That Include the Facebook or Audience Network SDK
First seen at developers.facebook.com
Resources for Completing App Store Data Practice Questionnaires for Apps That Include the Facebook or Audience Network SDK
Updated July 18: Developers and advertising partners may be required to share information on their app's privacy practices in third party app stores, such as Google Play and the Apple App Store, including the functionality of SDKs provided by Meta. To help make it easier for you to complete these requirements, we have consolidated information that explains our data collection practices for the Facebook and Audience Network SDKs.
Facebook SDK
To provide functionality within the Facebook SDK, we may receive and process certain contact, location, identifier, and device information associated with Facebook users and their use of your application. The information we receive depends on what SDK features 3rd party applications use and we have structured the document below according to these features.
App Ads, Facebook Analytics, & App Events
Facebook App Events allow you to measure the performance of your app using Facebook Analytics, measure conversions associated with Facebook ads, and build audiences to acquire new users as well as re-engage existing users. There are a number of different ways your app can use app events to keep track of when people take specific actions such as installing your app or completing a purchase.
With Facebook SDK, there are app events that are automatically logged (app installs, app launches, and in-app purchases) and collected for Facebook Analytics unless you disable automatic event logging. Developers determine what events to send to Facebook from a list of standard events, or via a custom event.
When developers send Facebook custom events, these events could include data types outside of standard events. Developers control sending these events to Facebook either directly via application code or in Events Manager for codeless app events. Developers can review their code and Events Manager to determine which data types they are sending to Facebook. It's the developer's responsibility to ensure this is reflected in their application's privacy policy.
Advanced Matching
Developers may also send us additional user contact information in code, or via the Events Manager. Advanced matching functionality may use the following data, if sent:
email address, name, phone number, physical address (city, state or province, zip or postal code and country), gender, and date of birth.
Facebook Login
There are two scenarios for applications that use Facebook Login via the Facebook SDK: Authenticated Sign Up or Sign In, and User Data Access via Permissions. For authentication, a unique, app-specific identifier tied to a user's Facebook Account enables the user to sign in to your app. For Data Access, a user must explicitly grant your app permission to access data.
Note: Since Facebook Login is part of the Facebook SDK, we may collect other information referenced here when you use Facebook Login, depending on your settings.
Device Information
We may also receive and process the following information if your app is integrated with the Facebook SDK:
Device identifiers;
Device attributes, such as device model and screen dimensions, CPU core, storage size, SDK version, OS and app versions, and app package name; and
Networking information, such as the name of the mobile operator or ISP, language, time zone, and IP address.
Audience Network SDK
We may receive and process the following information when you use the Audience Network SDK to integrate Audience Network ads in your app:
Device identifiers;
Device attributes, such as device model and screen dimensions, operating system, mediation platform and SDK versions; and
Ad performance information, such as impressions, clicks, placement, and viewability.
First seen at developers.facebook.com