Instagram blogger shows followers things to do in Dallas
DALLAS — When it comes to things to do in Dallas, you always want to be informed. That's why Courtney Stensland loves running her Instagram, @stensinthecity, a blog that showcases Dallas hotspots. 
"One day I was laying in bed probably at midnight and I was like I'm gonna start it," Stensland said. "Vulnerability 2019, I have to do it." 
For her, a weekend looks like capturing pics, videos and scenery of the attraction she loves and wants to share with her social media community. 
"People don't understand how hard it is because you're not only going to the restaurant and not caring what people think," Stensland continued, "you're editing photos and videos when you're supposed to be in the moment, especially if it's something happening right then. You're doing all this stuff propel don't see. This is not only my full-time job, but not my only side hustle." 
With a degree in public relations from the University of Oklahoma (OU), Stensland has a full-time job in addition to other side hustles beyond her social blog. This makes any amount of free time, weekends and evenings, jam-packed with grabbing content for her social. 
While her days are busy doing try on hauls, visiting restaurants and showcasing the biggest Dallas events, her priority is to help the Dallas community.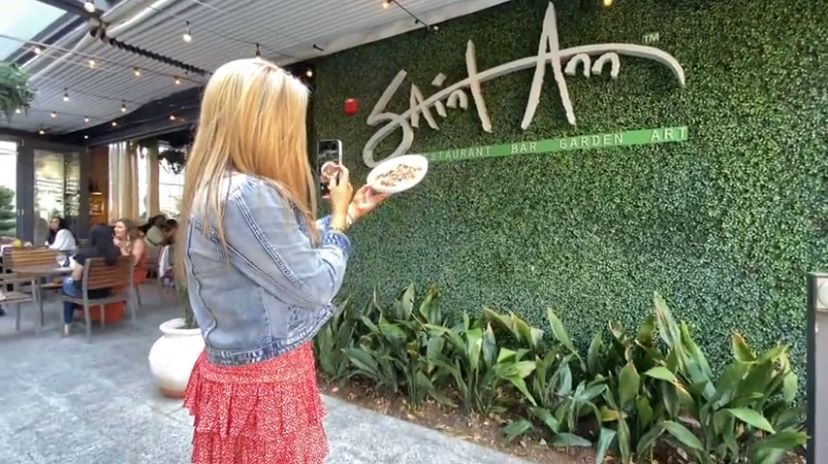 Stensland takes photo to share to Instagram. (Spectrum News 1/Robin Richardson)
"Being from Dallas, I feel a lot of people who don't live here aren't from here. So, I really wanted to give people a genuine vibe of the city," Stensland said. 
But it's much more than just posting fun things to do. She strives to build a community with a goal of looking out and loving others. Stensland's priority is to educate and promote safety. During COVID, she was quick with updates of locations open for testing with a goal of keeping Dallas residents safe. 
"I was just posting COVID testing sites. I just thought this was so important because I wanted a one stop shop to find information and there wasn't a place available anywhere else," said Stensland.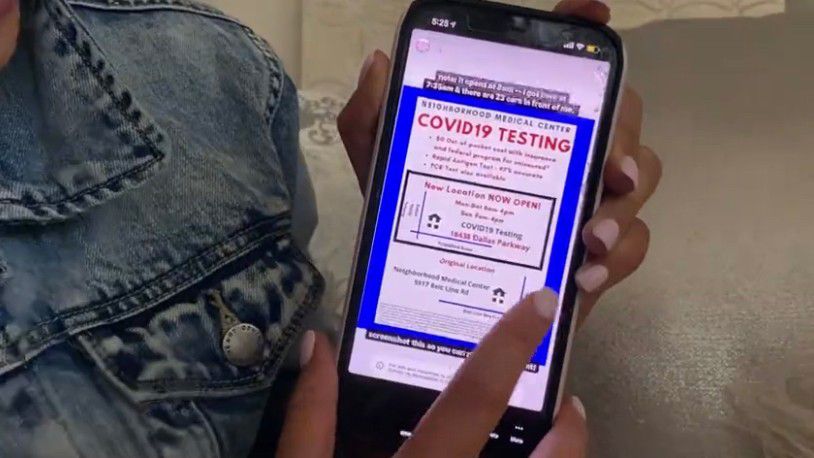 Stensland shared COVID-19 testing sites in Dallas to her Instagram. (Spectrum News 1/Robin Richardson)
She's been running her blog for over two years and has plans to do much more — with a continued goal to create, explore and bring joy to the people of Dallas. 
Social Media Market Latest Advancements and Growing Business Opportunities 2021 to 2022 …
Global Social Media Market report includes current market scenario and offers a comprehensive analysis on Social Media industry, standing on the readers' perspective, delivering detailed market data and understanding insights. It comprises inclusive important points that significantly affect the growth of the market at a global level. It analyzes the present scenario along with future trends in the market. The report is made after pin-point research and exhaustive investigation of the market development in different sectors that requires theoretical analysis, technology-based ideas, and its validity.
Get a Sample Copy of the Report:
https://www.marketinsightsreports.com/reports/03261159678/social-media-global-market-report-2019-including-advertisement-subscription-covering-facebook-youtube-instagram-twitter-linkedin/inquiry?source=MW&Mode=SD48
Scope of the Report:
Markets Covered: Advertisement, Subscription
Companies Mentioned: Facebook, Youtube, Instagram, Twitter, LinkedIn
Countries: Brazil, China, France, Germany, India, Italy, Japan, Spain, Russia, UK, USA and Australia.
Regions: Asia-Pacific, Western Europe, Eastern Europe, North America, South America, Middle East And Africa
Browse the report description and TOC:
https://www.marketinsightsreports.com/reports/03261159678/social-media-global-market-report-2019-including-advertisement-subscription-covering-facebook-youtube-instagram-twitter-linkedin?source=MW&Mode=SD48
The social media market consists of sales by entities (organizations, sole traders or partnerships) that enable customers to interact, create and share content and information. Social media enables users to share pictures, video and audio files. This market includes revenues from sales from advertisement and other services offered on social media platforms.
Highlights of Social Media Market Report:
-Market dynamics, Social Media economy manufacturing, opportunities on the total pricing of this top manufacturer and improvement trend analysis;
-Social Media industry players at the general regional industry and economy synopsis;
-Deep analysis of the most significant market players included by Worldwide Social Media Market study report;
-Understand more about the market plans that are increasingly now being adopted by leading Social Media businesses;
-Evaluation of this market character, namely market development drivers, essential challengers, inhibitors, and chances;
-Strategically profile the key players and comprehensively analyze their growth strategies.
Key Takeaways:
-An extensive analysis of the Social Media market trends and shares from 2017 to 2023 to identify market opportunities and analyze industry developments.
-Comprehensive analysis with respect to investments and price trends that impact the outlook of the Global Social Media market between 2020 and 2023.
Asia Pacific was the largest region in the global social media market, accounting for 48% of the market in 2018. North America was the second largest region accounting for 32% of the global social media market. South America was the smallest region in the global social media market.
Inquire for Discount:
https://www.marketinsightsreports.com/reports/03261159678/social-media-global-market-report-2019-including-advertisement-subscription-covering-facebook-youtube-instagram-twitter-linkedin/discount?source=MW&Mode=SD48
Companies in the social media market have been heavily investing in the online video market such as digital hangouts. Digital hangouts include apps that let the user video chat with multiple people simultaneously and possibly engage in a number of activities such as watching movies or shopping together. A number of apps have started offering this service and has attracted a large user base. For instance, Google launched Hangouts Meet, a digital hangout platform for businesses. Hangouts Meet gives the users an option to participate in video meetings with their colleagues. Hangouts Meet allows the user to create and share links to videoconferences that other users can join without creating accounts or installing plugins.
Reasons to Purchase:
-Gain a truly global perspective with the most comprehensive report available on this market covering 50+ geographies.
-Create regional and country strategies on the basis of local data and analysis.
-Identify growth segments for investment.
-Outperform competitors using forecast data and the drivers and trends shaping the market.
-Understand customers based on the latest market research findings.
-Benchmark performance against key competitors.
-Utilize the relationships between key data sets for superior strategizing.
-Suitable for supporting your internal and external presentations with reliable high quality data and analysis
-Report will be updated with the latest data and delivered to you within 3-5 working days of order.
We Also Offer Customization on report based on specific client Requirement:
– Free country Level analysis for any 5 countries of your choice.
– Free Competitive analysis of any 5 key market players.
– Free 40 analyst hours to cover any other data point.
About Us:
MarketInsightsReports provides syndicated market research on industry verticals including Healthcare, Information and Communication Technology (ICT), Technology and Media, Chemicals, Materials, Energy, Heavy Industry, etc. MarketInsightsReports provides global and regional market intelligence coverage, a 360-degree market view which includes statistical forecasts, competitive landscape, detailed segmentation, key trends, and strategic recommendations.
Contact Us:
Irfan Tamboli (Head of Sales) – Market Insights Reports
Phone: + 1704 266 3234 | +91-750-707-8687
sales@marketinsightsreports.com | irfan@marketinsightsreports.com
Instagram experiencing 'global technical issue' of disappearing stories
TORONTO —
Instagram is experiencing a global issue with users uploading and viewing stories following reports that stories were mysteriously disappearing from users' feeds.
A number of users from various countries took to other social media platforms on Thursday to report that their stories had vanished from the popular social media app.
"We know that some people are experiencing issues uploading and viewing stories," an official Instagram account tweeted Thursday afternoon. "This is a widespread global technical issue not related to any particular topic and we're fixing it right now. We'll provide an update as soon as we can."
Instagram Stories are images and videos on the app that typically disappear after 24 hours.
We know that some people are experiencing issues uploading and viewing stories. This is a widespread global technical issue not related to any particular topic and we're fixing it right now. We'll provide an update as soon as we can.

— Instagram Comms (@InstagramComms) May 6, 2021
Why following more female athletes could help young girls have a more positive social media …
In the age of social media, young girls are arguably more impressionable now than they have ever been before, largely thanks to constant internet access and the wide variety of content at their fingertips.
But recent research has highlighted the dangers of social media, and the negative impact it can have on the minds and self-esteem of young people.
In late 2020, Canadian company Edelman Data & Intelligence conducted a local survey in partnership with the Dove Self-Esteem Project, in which they spoke with 503 girls aged between 10 and 17.
Loading
They found that by the age of 13, 80 per cent of girls had downloaded a filter or used an app to distort the way they looked in photos, while 67 per cent tried to change or hide at least one feature before posting a photo of themselves.
During an already difficult transition from tween to teenager and primary school to high school, these girls are facing an uphill battle when it comes to expectations about their appearance and body shape, often comparing their lives to celebrities and famous personalities whose popularity, behaviour and looks are all validated by mass follows and likes.
Following more realistic role models can help
Another study conducted by Harvard University in 2017, in which 588 students at a public high school in the United States were surveyed, found that teenagers who were making negative comparisons between themselves and others online would find it helpful to be given regular reminders that people only typically post their life highlights.
But Australian social media expert Edwin Smith told the ABC that users can take a couple of steps further to take better control of the type of content they are exposed to in the first place.
"For all its flaws, social media and Instagram in particular use algorithms from trends in the way you use the app to work out what you want to see," he said.
"So you can positively impact your feed by being strategic about whose posts you engage with, because the more likes and engagement you have with a particular account, the more you'll see from them in your feed.
"On one hand, there seems to be a growing trend of people doing this and gravitating towards more authentic accounts, but there have also been developments in social technology that go against that and encourage people to use filters on Instagram stories that make their skin flawless or lips bigger."
Female athletes could be the place to start
NSW Swifts co-captain and Aussie Diamonds squad member Maddy Proud has a strong link to this age group, given netball is one of the country's most popular team sports.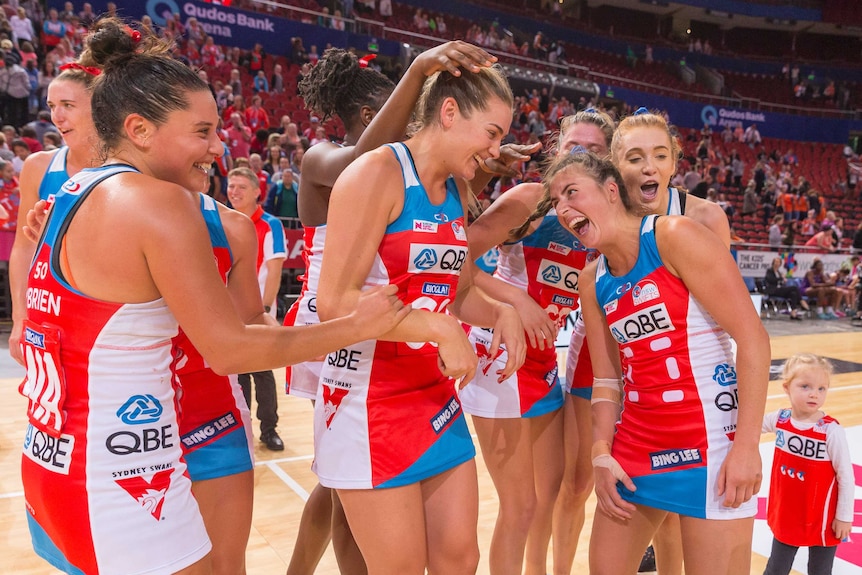 As an athlete and author of children's book Grace on the Court, she has built a following of close to 21,000 people on Instagram, and regularly interacts with young girls online and after matches on game day.
Now 27, Proud told the ABC there was a stark contrast in the way she and her peers used social media while growing up.
"It was so different back then, I didn't even have a phone until I was in high school," she said.
"I definitely see that side of things and when you see how much time young kids are spending on these online platforms now, it's scary.
"The only comparisons I had when I was young was talking to friends about what they did on the weekend, but social media has expanded the influence that young kids get way outside immediate friends and family."
During her 10 years playing at the top of her sport, Proud has received plenty of positive comments from parents about her leadership and role-model-like qualities.
Loading
But even she admits that she too has felt the pressure to portray a perfect version of herself online.
"Thanks to the speed and reach of the internet, we're much more knowledgeable about what is happening around the world and that can lead to incredible learnings and opportunities," she said.
"But if it gets into the wrong person's hands too early in life, and they aren't experienced enough to know what is real and what is fake, there are dangers of going down some deep rabbit holes when it comes to comparison.
"And as a netballer with a profile, once you get a few followers you can get caught up thinking, now is this the photo I really want to post, does something not look right?
"But I'm loving the recent trends that show Instagram vs reality and we have so many great people around us in netball and sport that you learn to only worry about the people's opinions that actually matter."
What makes them good role models?
Besides being well-rounded people that balance study and a career in sport, Proud believes female athletes — and in her case, netballers — provide a more balanced overview of life.
Dealing with failures and setbacks like match losses and injuries in the public eye, and embracing them as new challenges and learning experiences.
She believes sport also showcases examples of a range of body shapes and sizes, with a stronger emphasis on the importance of a healthy lifestyle.
Loading
"When it comes to body shape, we are strong and not necessarily women that are petite or that have curves in all the right places, because what we do is focus on making our bodies as functional as they can be so that they can work at their best," she said.
"Even just seeing that we do lift weights and put effort into our fitness shifts the focus from physical appearance to playing sport with your mates and your well-being.
"When you're playing sport, there are a lot of photos that fly around of you with very unattractive facial expressions, because you're not focused on looking good, you're giving everything you have in the moment to play well.
"If you have a look at mine, I'm sure in every single photo I'm sticking my tongue out or doing something ridiculous … so we are showcasing something online that is very real and that although everybody has flaws, we're not going to let it stop us doing what we love."