Social Media Has Become The Go-To Place For SOS Pleas For COVID-Affected Families And …
The healthcare system is collapsing while COVID positive patients struggle to get access to hospital beds, plasma donors, oxygen, medicines etc. During a difficult time like this, social media has proven to be a saviour to those in need. 
India is reporting 3 lakh+ cases in a single day, even though many believe that the real number is much higher. This has led to a call for help on Twitter and Instagram where social media influencers as well as the common user are pitching in as much as they can to help out. 
#Covidemergency2021, #SOSCOV21, #Oxygencylinders, #IndiaNeedsOxygen are the trending topics on Twitter. Similarly, Instagram stories of almost all users are splattered with requests like "#Urgent: Need Plasma Donors", "Help! ICU Bed wanted", "Need Remdesivir injections urgently, patient critical!" 

— Sonaksha (@sonakshaiyengar) April 24, 2021
It is almost surprising to see a post on these social media platforms that do not talk about the above-mentioned things. 
Social media influencers are dedicating all their minutes to helping out COVID-affected families/patients. They have made online groups, asked for volunteers to confirm the legitimacy of sources for oxygen, hospital beds, plasma donors etc and are constantly working towards making the situation lighter on everyone. This is not their job; it comes from a place of goodwill.
There are even those who are providing on-ground relief and support by ensuring that supplies reach people in need. Some are helping dispatch ambulances, bringing oxygen cylinders and physically arranging plasma donation drives. 
Aside from providing medical help, these goodhearted people are also helping out those who are isolated at home by providing them with home-cooked food, groceries and even offering to walk the dogs of patients who are either admitted in hospitals or in-home quarantine. 
These faceless strangers have become the saviour of the nation. 
Deblina Halder, a professional writer from Kolkata responded to a query on social media that was seeking an ambulance for a patient. "Incidentally, there are three ambulances at the local club in my locality in Thakurpukur. When I saw that one of my friend's father was in dire need of an ambulance, I went and requested the club. Within 45 minutes, the ambulance reached my friend's house," she says. 
Madhish Parikh, an Ahmedabad-based youth activist, told Times of India, "One also needs to verify the information carefully. So, we decided it was our priority to verify each message. We also use relevant hashtags to reach out to the right people for help. We have been able to reach a stage where the maximum turnaround time for responding to a request is 30 minutes."

Digital content creator Kusha Kapila also shared, "This social media activism was born purely out of desperation and helplessness. More than calling it a movement, it's a cry for help and people who have the mental bandwidth are trying to help each other."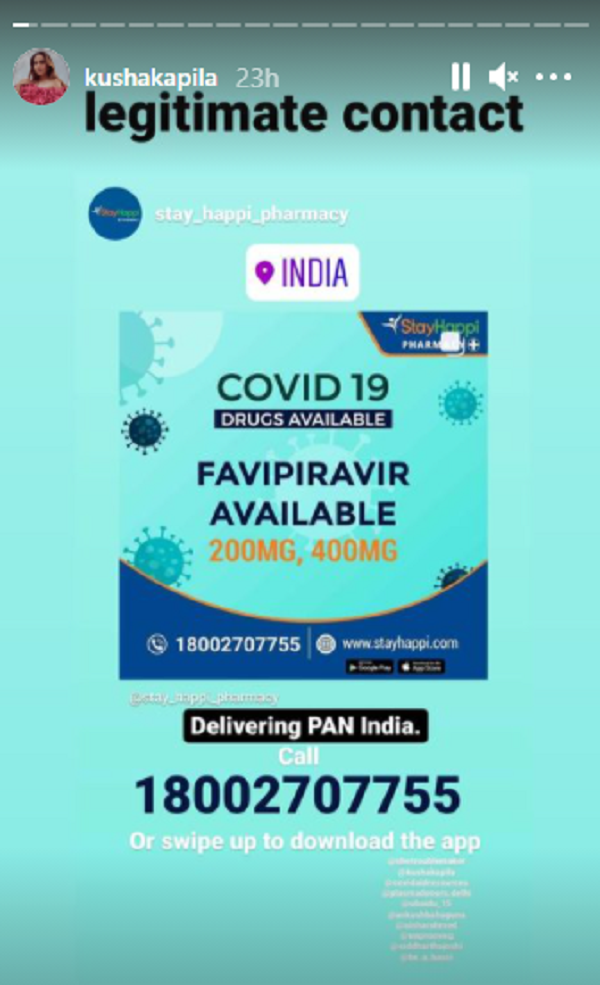 Instagram
Let's bow down to these heroes.
Instagram Is Rolling Out Reels Replies, And Will Be Testing A New Feature Which Informs …
Instagram has added a few more social features to the platform, with Reels Replies being rolled out. Along with the Replies, anew feature is being tested that shows when two users are active together in the same chat.
Reels has been performing much better than perhaps even Instagram ever anticipated. The TikTok-inspired new video format (which officially claims to have absolutely no relation to the former) had some trouble really finding its footing initially. However, Reels has grown massively and while it may not be a source of the most direct competition to TikTok, it is indeed a worthy alternative.
Reels has grown to the point that it has a massive creator program attached to it, and the video format has even been migrated to Facebook with the goal of generating further user interest there. Naturally, with such a successful virtual goldmine on its hands, Instagram has been hard at work developing new features and interface updates for Reels, integrating it more and more seamlessly into the rest of the social media platform. Features such as Reels Replies are a major part of such attempts at integration.
Reels Visual Replies are essentially just what they sound like: A Reel that is being used to reply to someone. It's a feature that's been seen frequently across TikTok as well. Reel Replies essentially take a user's comments, and reply to them in video format. The comment will then show up within the Reel itself as a text-box, taking up some amount of space, and showing both the user who issued said comment along with the text. The text-box is apparently adjustable, with users having the ability to move it around and change its size depending on where it obstructs one's Reel the least.
Overall, it's a fun addition to the Reels format, even if the credit should be going to TikTok first. At any rate, it's an example of Instagram really utilizing Reels' social media capabilities, outside of just serving it up as a form of entertainment.
Speaking of social media capabilities, a new feature might help alleviate one of the most common frustrations encountered across all such platforms. Isn't it annoying when you see that a friend's online, but isn't replying to your chat? Sure, they've probably just put their phone down to run a quick errand, but there's no way for you to know, right? Well, there sort of is now! Instagram is beta testing a new feature via which if both users are active within a chat, the platform will display that accordingly. It's a work-around, sure, and one that's currently being tested for usefulness, but it's still a very nice, and even fresh, addition to the social media game.
Now, the active status will only appear when you are both active at the same time.#Instagram #instgramnewfeature@MattNavarra @instagram @alex193a pic.twitter.com/2chGZP9hr4

— Yash Joshi  (@MeYashjoshi) December 10, 2021
Read next: Instagram Plans On Allowing Users To Return To Its Old Chronologically Sorted News Feed
5 apps for scheduling Instagram posts on iPhone and Android
Alright, we get it. You're an Instagram Nostradamus.
You know exactly what you want to post and when you're gonna want to post it. Maybe there's a meme or comment you want to make that you know will be totally relevant for a future moment or event. Or it could be that you're an influencer and you want to make sure you keep a steady stream of content coming, so you want to schedule posts for times when you know you won't be active (or won't have internet access).
You'll be happy to know there are apps that are specialized for just such situations. So listen up, InstaNostradamuses…Instagrostra…Instadam…Insta…uh…you guys (we'll workshop it. No we won't. We'll probably just abandon that effort completely. You're welcome) — these are the Instagram-post-scheduling apps for you.
While all of the iPhone apps below are free to download, they all have some in-app purchases.
We'll start with "official partner" of Instagram, itself, Planoly — an Instaplanner that uses a grid to let you plan, schedule, and publish posts (as well as Reels) on Instagram. The app also lets you see post metrics and analytics so you can make sure your post didn't flop.
Planoly is available for iOS on the Apple App Store and the Google Play store for Android.
Credit: buffer / app store
Buffer is another Instagram post scheduler that helps you plan your posts and analyze feedback once they're published. Use a calendar view to drag and drop posts into days/time slots for easy scheduling.
Buffer is available for iOS on the Apple App Store and the Google Play store for Android.
Credit: preview / app store
Preview offers typical post-scheduling tools and analytics along with a few helpful extras. Get caption ideas, recommendations for hashtags, and more.
Preview is available for iOS on the Apple App Store and the Google Play store for Android.
Credit: content office / app store
An Instagram post scheduler with a visual boost, Content Office allows users to plan and schedule Instagram posts while learning "marketing and visual guides to grow your brand on Instagram." Like aesthetics and using visuals to create cohesive themes? Maybe this is the Instaplanner for you.
Content Office is available for iOS on the Apple App Store.
Credit: plann / apple store
You'll never guess what "Plann" lets you do…
Aside from scheduling posts, get content ideas and recommendations, as well as strategy tips to ensure you're maximizing your Instagram engagement. Ever wonder when the best time to post something is? Plann can offer you some help with that.
Plann is available for iOS on the Apple App Store and the Google Play store for Android.
Social networking websites launch features to encourage users to get boosters
Facebook Instagram and TikTok are launching new features to encourage people to get their coronavirus booster jabs.
From Friday, users will be able to update their profiles with frames or stickers to show that they have had their top-up jab or aim to when they become eligible.
It follows on from people previously being able to show they have had their first and second jabs on certain social networking websites and apps.
TikTok also held a "grab a jab" event in London earlier this year.
I urge everyone who is eligible – don't delay, get your vaccine or top up jab today to protect yourself and your loved ones
More than 16 million booster vaccines have now been given across the UK.
People who are aged 40 and above and received their second dose of their vaccine at least six months ago are currently eligible to have their booster.
A new campaign advert is also being launched on Friday, which shows how Covid-19 can build up in enclosed spaces and how to prevent that from happening.
Vaccines minister Maggie Throup said:  "Getting your booster is one of the most important things you can do to protect yourself and your family this winter.
"It is fantastic to see some of the biggest household names further back the phenomenal vaccine rollout, allowing their users to proudly display that they have played their part in helping us build a wall of defence across the country.
"I urge everyone who is eligible – don't delay, get your vaccine or top-up jab today to protect yourself and your loved ones."