GOP lawmakers react to Twitter, Facebook recent content removal decisions
Republican members of Congress are again sounding the alarm on Big Tech after recent content removal decisions by Facebook and Twitter.
Twitter on Thursday permanently suspended Project Veritas founder James O'Keefe over alleged use of "fake accounts," and Facebook has barred users from sharing another New York Post story regarding Black Lives Matter (BLM) co-founder Patrisse Khan-Cullors' property acquisitions for violating its "privacy and personal information" policy.
The decisions come after a senior Biden administration official said Thursday that the intelligence community only had "low to moderate" confidence in last summer's reports of Russia placing bounties on the heads of U.S. soldiers, meaning it is unproven and possibly untrue, after social media platforms allowed users to share this story without pause.
"Right now I think Americans need to understand they should treat the news on Facebook and Twitter with healthy skepticism," Rep. Jim Banks, R-Ind., told Fox News. "It shouldn't be viewed as an accurate reflection of reality."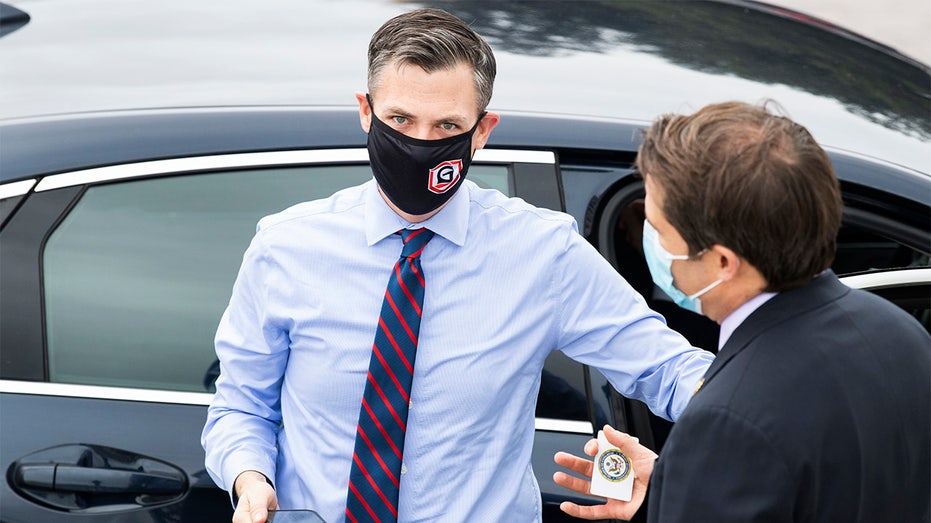 UNITED STATES – DECEMBER 4: Reps. Jim Banks, R-Ind., left, and Seth Moulton, D-Mass., are seen at the House steps of the Capitol during votes on Friday, December 4, 2020. (Photo By Tom Williams/CQ-Roll Call, Inc via Getty Images)
He added that Big Tech companies are "an arm of the Democratic Party" and "dangerous because their influence on political discourse is unmatched in American history and because they lie and claim to be [platforms that don't] make editorial decisions."
FACEBOOK EXEC RECORDED SAYING COMPANY 'TOO POWERFUL,' SHOULD BE BROKEN UP AND ZUCKERBERG REMOVED AS CEO
"Justice Clarence Thomas, I think, has the right answer for dealing with Big Tech censorship, which is to treat them like common carriers like AT&T and other telecommunications companies and prohibit them from discriminating based on viewpoint," Banks continued. "The Republican Study Committee is the largest conservative caucus on Capitol Hill, and we've made fighting Big Tech censorship a key issue this Congress. I can tell you that RSC certainly sees Big Tech as one of the leading threats to freedom in the U.S."
Rep. Andy Barr, R-Ky., told Fox News he thinks Big Teach is "drunk on power."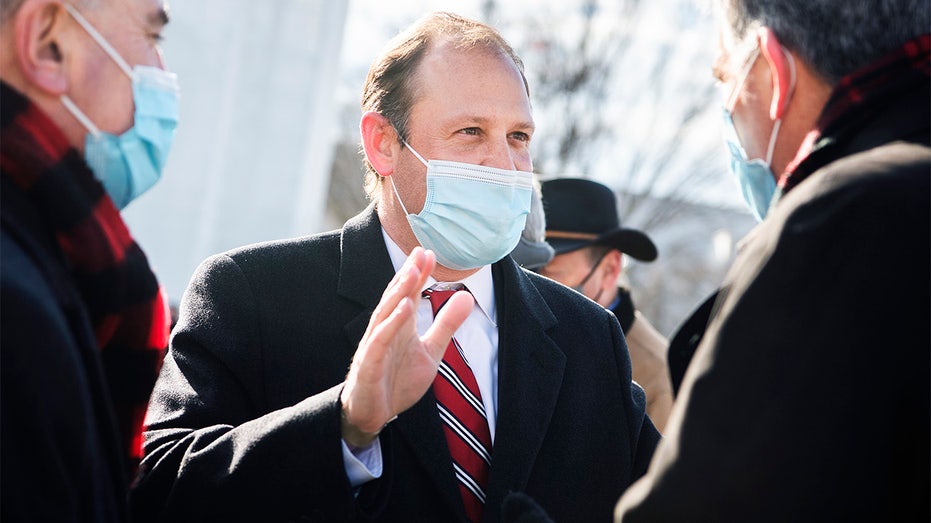 Rep. Andy Barr, R-Ky., attends the inauguration before Joe Biden was sworn in as the 46th president of the United States on the West Front of the U.S. Capitol on Wednesday, January 20, 2021. (Photo By Tom Williams/CQ-Roll Call, Inc via Getty Images)
"These same companies that are suppressing factual information damaging to the Democrat agenda, politicians and activists have notoriously allowed their platforms to be used by terrorist organizations to spread propaganda, fundraise and even recruit for their cause," he said. "That is why I introduced legislation to ban terrorist social media accounts and start holding big tech accountable."
BLM SAYS REPORTS ABOUT CO-FOUNDERS PRICEY PROPERTIES PART OF 'TRADITION OF TERROR BY WHITE SUPREMACISTS'
Rep. Ken Buck, R-Colo., added that the latest instances of content decisions from Facebook and Twitter are more examples "of the Big Tech monopolies censoring conservatives and silencing viewpoints they disagree with."
"Time and time again, Facebook and Twitter have shown blatant disrespect for our freedom of speech and have manipulated the dissemination of public information. I will be taking action to stop this monopolistic behavior," he said.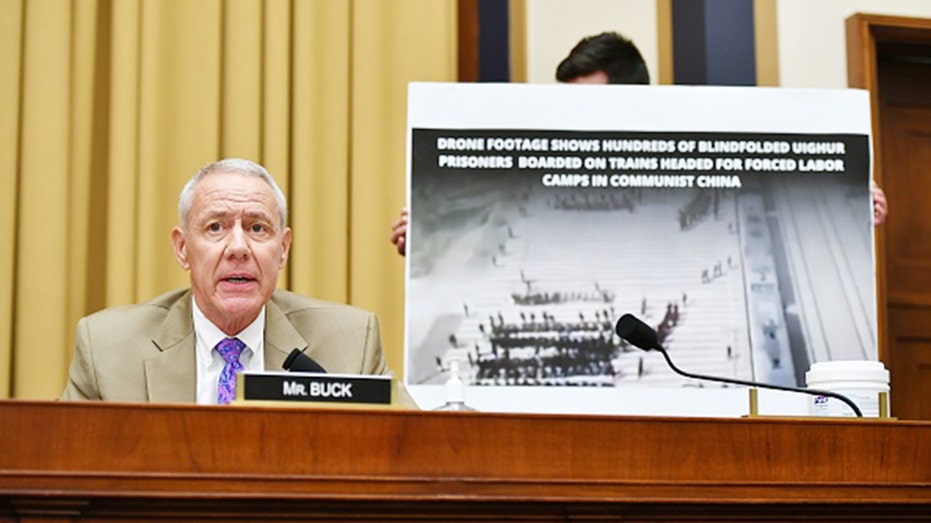 Rep Ken Buck, R-CO, speaks during the House Judiciary Subcommittee on Antitrust, Commercial and Administrative Law hearing on "Online Platforms and Market Power." (Photo by MANDEL NGAN/POOL/AFP via Getty Images)
A Twitter spokesperson told Fox News on Thursday that O'Keefe was "permanently suspended for violating the Twitter rules on platform manipulation and spam."
"As outlined in our policy on platform manipulation and spam, 'You can't mislead others on Twitter by operating fake accounts,' and 'you can't artificially amplify or disrupt conversations through the use of multiple accounts.'"
O'Keefe categorically denied Twitter's assertions, demanding the social media giant point to the "fake accounts" and insisting that the claims amount to "libel." 
TWITTER ACCUSED OF PROTECTING CNN AFTER TECH GIANT BANS JAMES O'KEEFE: 'THEY'RE ALL ON THE SAME TEAM'
"I am suing Twitter for defamation because they said, I, James O'Keefe, 'operated fake accounts.' This is false, this is defamatory, and they will pay," the Project Veritas founder said in a statement to Fox News. "Section 230 may have protected them before, but it will not protect them from me. The complaint will be filed Monday."
O'Keefe was referencing Section 230 of the 1996 Communications Decency Act, which gives liability protections to internet platforms and social media sites that allow third-party users to publish content on their websites. Lawmakers have highlighted the provision over the past year or so in relation to instances of Big Teach companies removing conservative users or posts from their platforms, arguing that Section 230 should be revised to give more powers to users.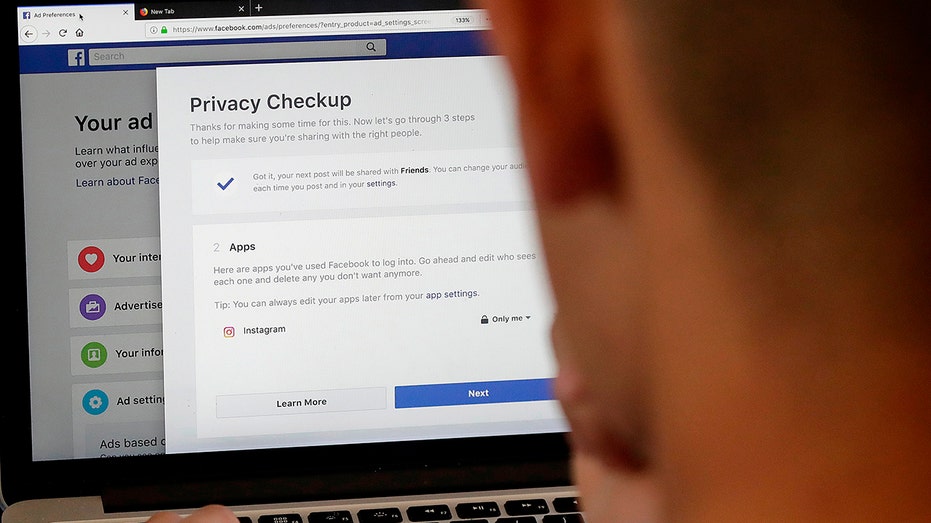 A man poses for photos in front of a computer showing Facebook ad preferences pages in San Francisco. (AP Photo/Jeff Chiu, File)
Facebook told Fox News on Thursday that it barred the New York Post's report on BLM's Khan-Cullors' properties from being shared on the platform for violating its "privacy and personal information policy."
Sen. Josh Hawley, R-Mo., tweeted about Facebook's decision on Thursday, referencing an instance in October of 2020 when Facebook and Twitter took unprecedented action by restricting sharing of the Post's explosive reporting on President Biden's son, Hunter, and his laptop, which contained emails showing his questionable business dealings overseas while his father served as vice president. 
CLICK HERE TO GET FOX BUSINESS ON THE GO
Twitter cited its "hacked materials" policy, and Facebook said its independent fact-checkers were reviewing the post. They also permanently suspended the Post's account for weeks.
Twitter later reversed course on its decision to bar users from sharing the story and block the Post from accessing its account, with founder Jack Dorsey calling it a "total mistake."
The platform also locked the account of sports journalist Jason Whitlock last week after he criticized Khan-Cullors.
CLICK HERE TO READ MORE ON FOX BUSINESS
"She's with her people!" Whitlock wrote sarcastically alongside a link for a story from celebrity blog site Dirt.com  about Cullors' purchase. Despite the story not including an address and despite other news outlets' reporting on Cullors' new home, Whitlock was told Friday he had violated Twitter's rules against publishing private information."
Twitter later reversed the decision, claiming it was made in error. 
Fox News' Joseph A. Wulfson contributed to this report.
Elon Musk Says He'll Pay $11 Billion in Taxes in 2021 But Twitter Wants 'Proof'
Elon Musk took to Twitter to clarify once and for all that he will be paying a whopping $11 billion as taxes this year.
If the number of times Elon Musk could count when someone has asked him to pay the full taxes, he would be a very rich..wait, never mind. The Tesla boss is rich beyond any private individual has been in history, reports said.
Musk has increasingly been facing criticism from many politicians and many others who insist he has not been paying taxes as compared to the profits his companies have been making. On Sunday, the SpaceX CEO took to Twitter to share that he will be paying a whopping $11 billion as taxes.
For those wondering, I will pay over $11 billion in taxes this year— Elon Musk (@elonmusk) December 20, 2021
But some of the questions did not stop. One person tweeted how they needed to see Musk's tax returns while yet another asked how much percentage was that of his total income.
A few were, however scathing of the government who thought they will add that amount to their pockets rather than using it for some proper development.
Wow that's enough to give each person in the world almost $2 million but instead the government will just stick it in their pockets— greg (@greg16676935420) December 20, 2021
Why not $200 billion? Asking for a Senator— litquidity (@litcapital) December 20, 2021
Earlier this week, Democratic US Senator Elizabeth Warren has tweeted to say that Musk should pay taxes and stop "freeloading off everyone else" after Time magazine named him its "person of the year".
In response, Musk shot four tweets in which he said that the senator reminded him of a friend's angry mom who yelled at everybody. He tweeted, ""And if you opened your eyes for 2 seconds, you would realize I will pay more taxes than any American in history this year." "Don't spend it all at once … oh wait you did already."
He added further, "You remind me of when I was a kid and my friend's angry Mom would just randomly yell at everyone for no reason."
Musk responded by saying that he "will pay more taxes than any American in history this year". This Twitter exchange left netizens divided as even though many supported Warren and agreed that Musk should pay more taxes, others felt that he was already doing enough.
Musk's Tesla is worth about $1 trillion. Over the last few weeks, he has sold nearly $14 billion worth of Tesla shares.
The Tesla boss has been pushing for his colonize Mars agenda for years now, and has made it very clear in some occasions that he would rather spend the money on putting humanity on the red planet, than pay his taxes. "My plan," the SpaceX founder tweeted about his fortune, "is to use the money to get humanity to Mars and preserve the light of consciousness."
Twitter Admits Policy 'Errors' After Far-Right Abuse Its New Rules of Posting Pictures
Twitter's new picture permission policy was aimed at combating online abuse, but US activists and researchers said Friday that far-right backers have employed it to protect themselves from scrutiny and to harass opponents.
Even the social network admitted the rollout of the rules, which say anyone can ask Twitter to take down images of themselves posted without their consent, was marred by malicious reports and its teams' own errors.
It was just the kind of trouble anti-racism advocates worried was coming after the policy was announced this week.
Their concerns were quickly validated, with anti-extremism researcher Kristofer Goldsmith tweeting a screenshot of a far-right call-to-action circulating on Telegram: "Due to the new privacy policy at Twitter, things now unexpectedly work more in our favor."
"Anyone with a Twitter account should be reporting doxxing posts from the following accounts," the message said, with a list of dozens of Twitter handles.
Gwen Snyder, an organizer and researcher in Philadelphia, said her account was blocked this week after a report to Twitter about a series of 2019 photos she said showed a local political candidate at a march organized by extreme-right group Proud Boys.
Rather than go through an appeal with Twitter she opted to delete the images and alert others to what was happening.
"Twitter moving to eliminate (my) work from their platform is incredibly dangerous and is going to enable and embolden fascists," she told AFP.
In announcing the privacy policy on Tuesday, Twitter noted that "sharing personal media, such as images or videos, can potentially violate a person's privacy, and may lead to emotional or physical harm."
But the rules don't apply to "public figures or individuals when media and accompanying Tweets are shared in the public interest or add value to public discourse."
By Friday, Twitter noted the roll out had been rough: "We became aware of a significant amount of coordinated and malicious reports, and unfortunately, our enforcement teams made several errors."
"We've corrected those errors and are undergoing an internal review to make certain that this policy is used as intended," the firm added.
Jack Dorsey Post Twitter Is Chasing His Crypto, Fintech Dream
At a packed Miami conference in June, Jack Dorsey, mused in front of thousands of attendees about where his real passion lay: "If I weren't at Square or Twitter, I'd be working on Bitcoin."
On Monday, Dorsey made good on one part of that, announcing he would leave Twitter for the second time, handing the CEO position to a 10-year veteran at the firm. The 45-year-old entrepreneur, who is often described as an enigma with varied interests from meditation to yoga to fashion design, plans to pursue his passion which include focusing on running Square and doing more philanthropic work, according to a source familiar with his plan.
Well before the surprise news, Dorsey had laid the groundwork for his next chapter, seeding both companies with cryptocurrency-related projects.
Underlying Dorsey's broader vision is the principle of "decentralisation," or the idea that technology and finance should not be concentrated among a handful of gatekeepers, as it is now, but should, instead, be steered by the hands of the many, either people or entities.
The concept has played out at Square, which has built a division devoted to working on projects and awarding grants with the aim of growing Bitcoin's popularity globally. Bitcoin price in India stood at Rs. 44.52 lakh as of 12:50pm IST on December 1.
Dorsey has been a longtime proponent of Bitcoin, and the appeal is that the cryptocurrency will allow for private and secure transactions with the value of Bitcoin unrelated to any government.
The idea has also underpinned new projects at Twitter, where Dorsey tapped a top lieutenant – and now the company's new CEO Parag Agrawal – to oversee a team that is attempting to construct a decentralised social media protocol, which will allow different social platforms to connect with one another, similar to the way email providers operate.
The project called Bluesky will aim to allow users control over the types of content they see online, removing the "burden" on companies like Twitter to enforce a global policy to fight abuse or misleading information, Dorsey said in 2019 when he announced Bluesky.
Bitcoin has also figured prominently at both of his companies. Square became one of the first public companies to own Bitcoin assets on its balance sheet, having invested $220 million (roughly Rs. 1,650 crore) in the cryptocurrency.
In August, Square created a new business unit called TBD to focus on Bitcoin. The company is also planning to build a hardware wallet for Bitcoin, a Bitcoin mining system, as well as a decentralised Bitcoin exchange.
Twitter allows users to tip their favourite content creators with Bitcoin and has been testing integrations with non-fungible tokens (NFTs), a type of digital asset that allows people to collect unique digital art.
Analysts see the transition as a positive signal for Square, the fintech platform he co-founded in 2009. Square's core Cash App, after a bull run in its share in 2020, has experienced slower growth in the most recent quarter. It is also trying to digest the $29 billion (roughly Rs. 2,17,240 crore) acquisition of Buy Now Pay Later provider Afterpay, its largest acquisition ever.
But these ambitions will not pay off until years from now, analysts cautioned.
"The blockchain platform they're trying to develop is great but also fraught with technical challenges and difficult to scale for consumers. I think he'll focus more on Square and crypto will be part of that," said Christopher Brendler, an analyst at DA Davidson.
© Thomson Reuters 2021
---
Interested in cryptocurrency? We discuss all things crypto with WazirX CEO Nischal Shetty and WeekendInvesting founder Alok Jain on Orbital, the Gadgets 360 podcast. Orbital is available on Apple Podcasts, Google Podcasts, Spotify, Amazon Music and wherever you get your podcasts.
Cryptocurrency is an unregulated digital currency, not a legal tender and subject to market risks. The information provided in the article is not intended to be and does not constitute financial advice, trading advice or any other advice or recommendation of any sort offered or endorsed by NDTV. NDTV shall not be responsible for any loss arising from any investment based on any perceived recommendation, forecast or any other information contained in the article.
(This story has not been edited by NDTV staff and is auto-generated from a syndicated feed.)