GOP lawmakers react to Twitter, Facebook recent content removal decisions
Republican members of Congress are again sounding the alarm on Big Tech after recent content removal decisions by Facebook and Twitter.
Twitter on Thursday permanently suspended Project Veritas founder James O'Keefe over alleged use of "fake accounts," and Facebook has barred users from sharing another New York Post story regarding Black Lives Matter (BLM) co-founder Patrisse Khan-Cullors' property acquisitions for violating its "privacy and personal information" policy.
The decisions come after a senior Biden administration official said Thursday that the intelligence community only had "low to moderate" confidence in last summer's reports of Russia placing bounties on the heads of U.S. soldiers, meaning it is unproven and possibly untrue, after social media platforms allowed users to share this story without pause.
"Right now I think Americans need to understand they should treat the news on Facebook and Twitter with healthy skepticism," Rep. Jim Banks, R-Ind., told Fox News. "It shouldn't be viewed as an accurate reflection of reality."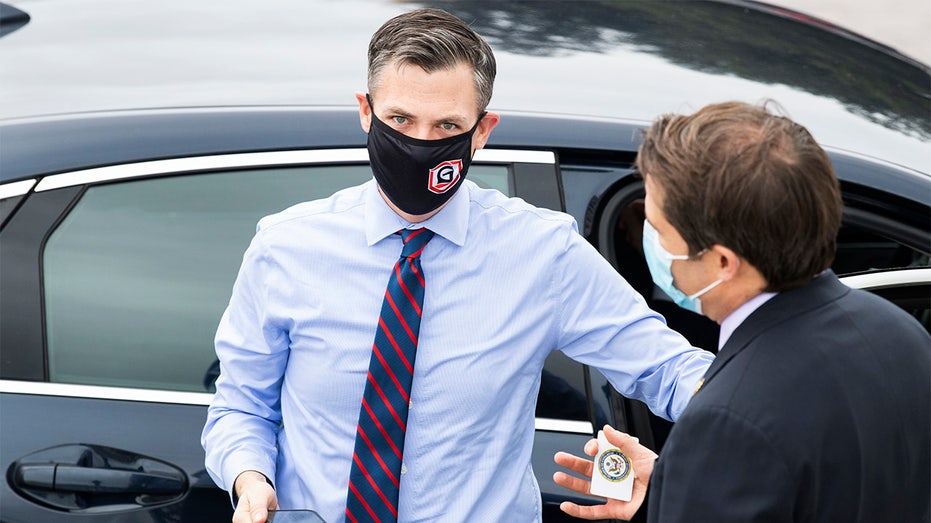 UNITED STATES – DECEMBER 4: Reps. Jim Banks, R-Ind., left, and Seth Moulton, D-Mass., are seen at the House steps of the Capitol during votes on Friday, December 4, 2020. (Photo By Tom Williams/CQ-Roll Call, Inc via Getty Images)
He added that Big Tech companies are "an arm of the Democratic Party" and "dangerous because their influence on political discourse is unmatched in American history and because they lie and claim to be [platforms that don't] make editorial decisions."
FACEBOOK EXEC RECORDED SAYING COMPANY 'TOO POWERFUL,' SHOULD BE BROKEN UP AND ZUCKERBERG REMOVED AS CEO
"Justice Clarence Thomas, I think, has the right answer for dealing with Big Tech censorship, which is to treat them like common carriers like AT&T and other telecommunications companies and prohibit them from discriminating based on viewpoint," Banks continued. "The Republican Study Committee is the largest conservative caucus on Capitol Hill, and we've made fighting Big Tech censorship a key issue this Congress. I can tell you that RSC certainly sees Big Tech as one of the leading threats to freedom in the U.S."
Rep. Andy Barr, R-Ky., told Fox News he thinks Big Teach is "drunk on power."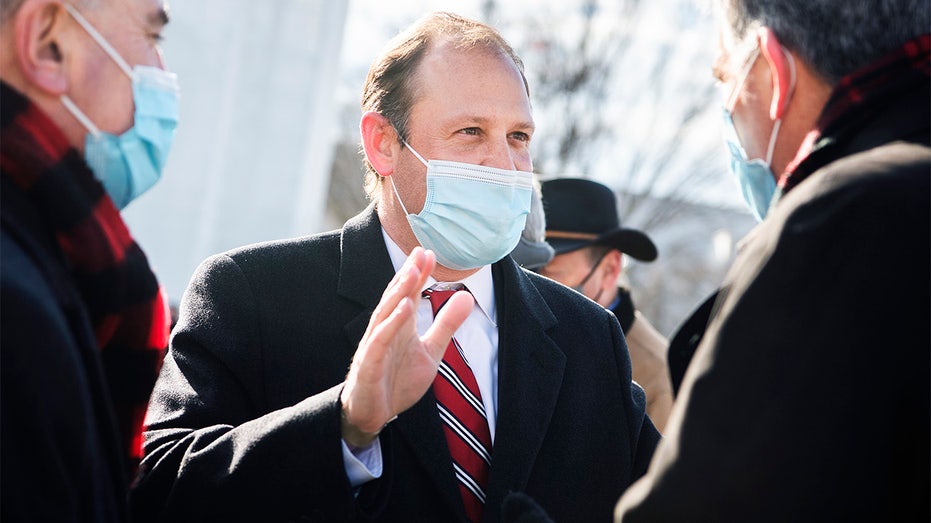 Rep. Andy Barr, R-Ky., attends the inauguration before Joe Biden was sworn in as the 46th president of the United States on the West Front of the U.S. Capitol on Wednesday, January 20, 2021. (Photo By Tom Williams/CQ-Roll Call, Inc via Getty Images)
"These same companies that are suppressing factual information damaging to the Democrat agenda, politicians and activists have notoriously allowed their platforms to be used by terrorist organizations to spread propaganda, fundraise and even recruit for their cause," he said. "That is why I introduced legislation to ban terrorist social media accounts and start holding big tech accountable."
BLM SAYS REPORTS ABOUT CO-FOUNDERS PRICEY PROPERTIES PART OF 'TRADITION OF TERROR BY WHITE SUPREMACISTS'
Rep. Ken Buck, R-Colo., added that the latest instances of content decisions from Facebook and Twitter are more examples "of the Big Tech monopolies censoring conservatives and silencing viewpoints they disagree with."
"Time and time again, Facebook and Twitter have shown blatant disrespect for our freedom of speech and have manipulated the dissemination of public information. I will be taking action to stop this monopolistic behavior," he said.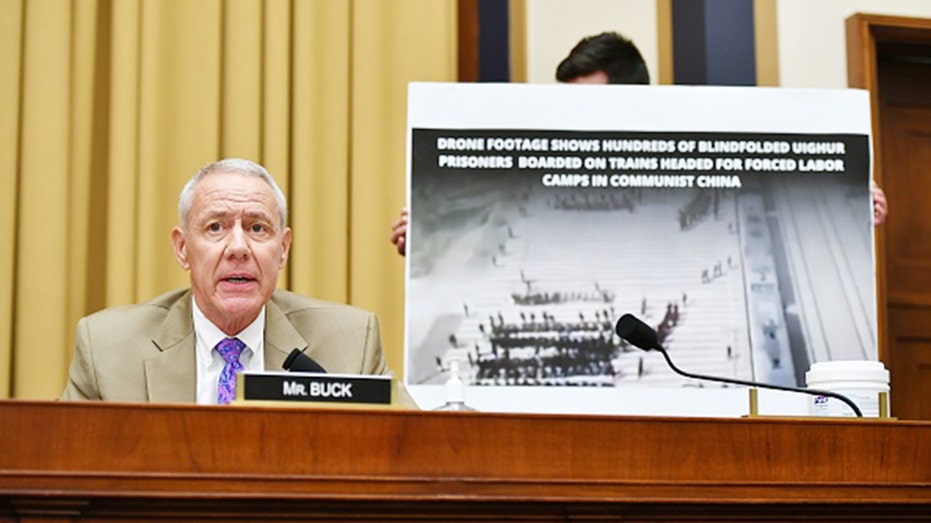 Rep Ken Buck, R-CO, speaks during the House Judiciary Subcommittee on Antitrust, Commercial and Administrative Law hearing on "Online Platforms and Market Power." (Photo by MANDEL NGAN/POOL/AFP via Getty Images)
A Twitter spokesperson told Fox News on Thursday that O'Keefe was "permanently suspended for violating the Twitter rules on platform manipulation and spam."
"As outlined in our policy on platform manipulation and spam, 'You can't mislead others on Twitter by operating fake accounts,' and 'you can't artificially amplify or disrupt conversations through the use of multiple accounts.'"
O'Keefe categorically denied Twitter's assertions, demanding the social media giant point to the "fake accounts" and insisting that the claims amount to "libel." 
TWITTER ACCUSED OF PROTECTING CNN AFTER TECH GIANT BANS JAMES O'KEEFE: 'THEY'RE ALL ON THE SAME TEAM'
"I am suing Twitter for defamation because they said, I, James O'Keefe, 'operated fake accounts.' This is false, this is defamatory, and they will pay," the Project Veritas founder said in a statement to Fox News. "Section 230 may have protected them before, but it will not protect them from me. The complaint will be filed Monday."
O'Keefe was referencing Section 230 of the 1996 Communications Decency Act, which gives liability protections to internet platforms and social media sites that allow third-party users to publish content on their websites. Lawmakers have highlighted the provision over the past year or so in relation to instances of Big Teach companies removing conservative users or posts from their platforms, arguing that Section 230 should be revised to give more powers to users.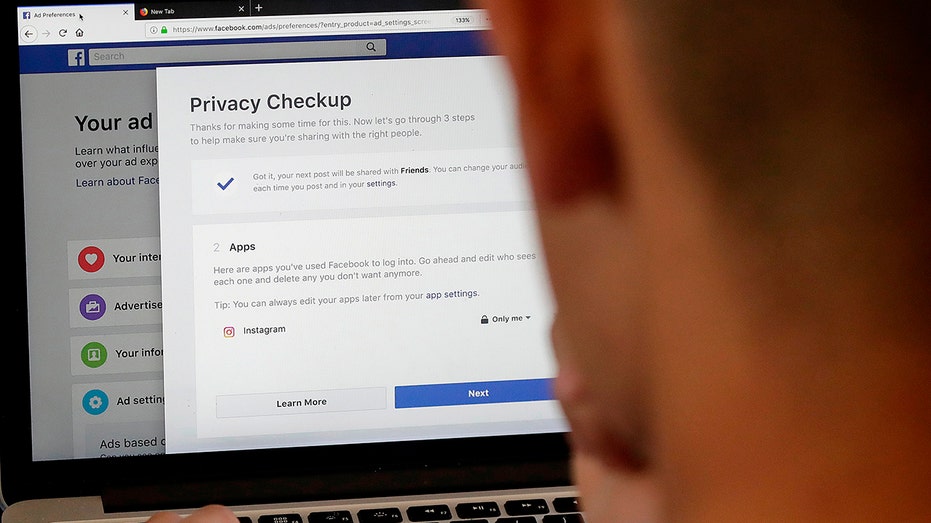 A man poses for photos in front of a computer showing Facebook ad preferences pages in San Francisco. (AP Photo/Jeff Chiu, File)
Facebook told Fox News on Thursday that it barred the New York Post's report on BLM's Khan-Cullors' properties from being shared on the platform for violating its "privacy and personal information policy."
Sen. Josh Hawley, R-Mo., tweeted about Facebook's decision on Thursday, referencing an instance in October of 2020 when Facebook and Twitter took unprecedented action by restricting sharing of the Post's explosive reporting on President Biden's son, Hunter, and his laptop, which contained emails showing his questionable business dealings overseas while his father served as vice president. 
CLICK HERE TO GET FOX BUSINESS ON THE GO
Twitter cited its "hacked materials" policy, and Facebook said its independent fact-checkers were reviewing the post. They also permanently suspended the Post's account for weeks.
Twitter later reversed course on its decision to bar users from sharing the story and block the Post from accessing its account, with founder Jack Dorsey calling it a "total mistake."
The platform also locked the account of sports journalist Jason Whitlock last week after he criticized Khan-Cullors.
CLICK HERE TO READ MORE ON FOX BUSINESS
"She's with her people!" Whitlock wrote sarcastically alongside a link for a story from celebrity blog site Dirt.com  about Cullors' purchase. Despite the story not including an address and despite other news outlets' reporting on Cullors' new home, Whitlock was told Friday he had violated Twitter's rules against publishing private information."
Twitter later reversed the decision, claiming it was made in error. 
Fox News' Joseph A. Wulfson contributed to this report.
Meet the Developers – Linux Kernel Team (David Vernet)
Credit: Larry Ewing (lewing@isc.tamu.edu) and The GIMP for the original design of Tux the penguin.
Intro
For today's interview, we have David Vernet, a core systems engineer on the Kernel team at Meta. He works on the BPF (Berkeley Packet Filter) and the Linux kernel scheduler. This series highlights Meta Software Engineers who contribute to the Linux kernel. The Meta Linux Kernel team works with the broader Linux community to add new features to the kernel and makes sure that the kernel works well in Meta production data centers. Engineers on the team work with peers in the industry to make the kernel better for Meta's workloads and to make Linux better for everyone.
Tell us about yourself.
I'm a systems engineer who's spent a good chunk of his career in the kernel space, and some time in the user-space as well working on a microkernel. Right now, I'm focusing most of my time on BPF and the Linux kernel scheduler.
I started my career as a web developer after getting a degree in math. After going to grad school, I realized that I was happiest when hacking on low-level systems and figuring out how computers work.
As a kernel developer at Meta, what does your typical day look like?
I'm not a maintainer of any subsystems in the kernel, so my typical day is filled with almost exclusively coding and engineering. That being said, participating in the upstream Linux kernel community is one of the coolest parts of being on the kernel team, so I still spend some time reading over upstream discussions. A typical day goes something like this:
Read over some of the discussions taking place on various upstream lists, such as BPF and mm. I usually spend about 30-60 minutes or so per day on this, though it depends on the day.

Hack on the project that I'm working on. Lately, that's adding a user-space ringbuffer map type to BPF.

Work on drafting an article for lwn.net.
What have you been excited about or incredibly proud of lately?
I recently submitted a patch-set to enable a new map type in BPF. This allows user-space to publish messages to BPF programs in the kernel over the ringbuffer. This map type is exciting because it sets the stage to enable frameworks for user-space to drive logic in BPF programs in a performant way.
Is there something especially exciting about being a kernel developer at a company like Meta?
The Meta kernel team has a strong upstream-first culture. Bug fixes that we find in our Meta kernel, and features that we'd like to add, are almost always first submitted to the upstream kernel, and then they are backported to our internal kernel.
Do you have a favorite part of the kernel dev life cycle?
I enjoy architecting and designing APIs. Kernel code can never crash and needs to be able to run forever. I find it gratifying to architect systems in the kernel that make it easy to reason about correctness and robustness and provide intuitive APIs that make it easy for other parts of the kernel to use your code.
I also enjoy iterating with the upstream community. It's great that your patches have a whole community of people looking at them to help you find bugs in your code and suggest improvements that you may never have considered on your own. A lot of people find this process to be cumbersome, but I find that it's a small price to pay for what you get out of it.
Tell us a bit about the topic you presented at the Linux Plumbers Conference this year.
We presented the live patch feature in the Linux kernel, describing how we have utilized it at Meta and how our hyper-scale has shown some unique challenges with the feature.
What are some of the misconceptions about kernel or open source software development that you have encountered in your career?
The biggest misconception is that it's an exclusive, invite-only club to contribute to the Linux kernel. You certainly must understand operating systems to be an effective contributor and be ready to receive constructive criticism when there is scope for improvement in your code. Still, the community always welcomes people who come in with an open mind and want to contribute.
What resources are helpful in getting started in kernel development?
There is a lot of information out there that people have written on how to get integrated into the Linux kernel community. I wrote a blog post on how to get plugged into Linux kernel upstream mailing list discussions, and another on how to submit your first patch. There is also a video on writing and submitting your first Linux kernel patch from Greg Kroah-Hartman.
In terms of resources to learn about the kernel itself, there are many resources and books, such as:
Where can people find you and follow your work?
I have a blog where I talk about my experiences as a systems engineer: https://www.bytelab.codes/. I publish articles that range from topics that are totally newcomer friendly to more advanced topics that discuss kernel code in more detail. Feel free to check it out and let me know if there's anything you'd like me to discuss.
To learn more about Meta Open Source, visit our open source site, subscribe to our YouTube channel, or follow us on Twitter, Facebook and LinkedIn.
First seen at developers.facebook.com
Get started with WhatsApp Business Platform in Minutes with Postman
Our collaboration brings tools you already use to WhatsApp Business Platforms APIs
Postman is a best-in-class API platform used by 20M developers worldwide. Using Postman simplifies each step of the API lifecycle and streamlines collaboration.
Postman's strong platform and broad adoption in the developer community made deciding to work with Postman to deliver a robust developer experience an easy decision for our WhatsApp Business Platform product team.
What Postman means for your WhatsApp projects
The benefits of this collaboration for developers are clear – you can easily leverage Postman's platform with your Meta projects to onboard, collaborate, and contribute towards documentation and best practices as you build out your integrations.
Fast Onboarding
The WhatsApp team is able to offer, via Postman, an API collection that pre-fills environment variables and walks you through your initial test requests – helping developers dive right in to using the Cloud API. Our product managers show you how easy it is to get started with Postman in this session from Conversations:
Foster Collaboration
The public Postman workspace fosters collaboration – allowing environments, collections, and documentation augmentation to happen in one place.
Enhance Documentation
Postman's API documentation tools augment our own documentation and allows developers to contribute directly to the community's shared knowledge, building a strong reference library for all developers and encouraging new, innovative use cases.
The Results
Working with Postman from the beginning helps create a developer-friendly experience for the WhatsApp Business Platform – allowing you to get started quickly, build community, and share knowledge.
Want to know more about our partnership with Postman? Check out their case study, follow along with the video above, or dive right into the Postman Workspace for the WhatsApp Business Platform.
1. https://www.postman.com/state-of-api/
First seen at developers.facebook.com
Summer of open source: building more efficient AI with PyTorch
Note: Special thanks to Less Wright, Partner Engineer, Meta AI, for review of and additional insights into the post.
This post on creating efficient artificial intelligence (AI) is the second in the "Summer of open source" series. This series aims to provide a handful of useful resources and learning content in areas where open source projects are creating impact across Meta and beyond. Follow along as we explore other areas where Meta Open Source is moving the industry forward by sharing innovative, scalable tools.
PyTorch: from foundational technology to foundation
Since its initial release in 2016, PyTorch has been widely used in the deep learning community, and its roots in research are now consistently expanding for use in production scenarios. In an exciting time for machine learning (ML) and artificial intelligence (AI), where novel methods and use cases for AI models continue to expand, PyTorch has reached the next chapter in its history as it moves to the newly established, independent PyTorch Foundation under the Linux Foundation umbrella. The foundation is made up of a diverse governing board including representatives from AMD, Amazon Web Services, Google Cloud, Microsoft Azure and Nvidia, and the board is intended to expand over time. The mission includes driving adoption of AI tooling through vendor-neutral projects and making open source tools, libraries and other components accessible to everyone. The move to the foundation will also enable PyTorch and its open source community to continue to accelerate the path from prototyping to production for AI and ML.
Streamlining AI processes with Meta open source
PyTorch is a great example of the power of open source. As one of the early open source deep learning frameworks, PyTorch has allowed people from across disciplines to experiment with deep learning and apply their work in wide-ranging fields. PyTorch supports everything from experiments in search applications to autonomous vehicle development to ground-penetrating radar, and these are only a few of its more recent applications. Pairing a versatile library of AI tools with the open source community unlocks the ability to quickly iterate on and adapt technology at scale for many different uses.
As AI is being implemented more broadly, models are trending up in size to tackle more complex problems, but this also means that the resources needed to train these models have increased substantially. Fortunately, many folks in the developer community have recognized the need for models to use fewer resources—both from a practical and environmental standpoint. This post will explore why quantization and other types of model compression can be a catalyst for efficient AI.
Establishing a baseline for using PyTorch
Most of this post explores some intermediate and advanced features of PyTorch. If you are a beginner that is looking to get started, or an expert that is currently using another library, it's easiest to get started with some basics. Check out the beginner's guide to PyTorch, which includes an introduction to a complete ML workflow using the Fashion MNIST dataset.
Here are some other resources that you might check out if you're new to PyTorch:
Quantization: Applying time-tested techniques to AI
There are many pathways to making AI more efficient. Codesigning hardware and software to optimize for AI can be highly effective, but bespoke hardware-software solutions take considerable time and resources to develop. Creating faster and smaller architectures is another path to efficiency, but many of these architectures suffer from accuracy loss when compared to larger models, at least for the time being. A simpler approach is to find ways of reducing the resources that are needed to train and serve existing models. In PyTorch, one way to do that is through model compression using quantization.
Quantization is a mathematical technique that has been used to create lossy digital music files and convert analog signals to digital ones. By executing mathematical calculations with reduced precision, quantization allows for significantly higher performance on many hardware platforms. So why use quantization to make AI more efficient? Results show that in certain cases, using this relatively simple technique can result in dramatic speedups (2-4 times) for model inference.
The parameters that make up a deep learning model are typically decimal numbers in floating point (FP) precision; each parameter requires either 16 bits or 32 bits of memory. When using quantization, numbers are often converted to INT4 or INT8, which occupy only 4 or 8 bits. This reduces how much memory models require. Additionally, chip manufacturers include special arithmetic that makes operations using integers faster than using decimals.
There are 3 methods of quantization that can be used for training models: dynamic, static and quantize-aware training (QAT). A brief overview of the benefits and weaknesses is described in the table below. To learn how to implement each of these in your AI workflows, read the Practical Quantization in PyTorch blog post.
Quantization Method

Benefits

Weaknesses

Easy to use with only one API call
More robust to distribution drift resulting in slightly higher accuracy
Works well for long short-term memory (LSTM) and Transformer models

Additional overhead in every forward pass

Faster inference than dynamic quantization by eliminating overhead

May need regular recalibration for distribution drift

Quantize-Aware Training (QAT)

Higher accuracy than static quantization
Faster inference than dynamic

High computational cost
Additional features for speeding up your AI workflow
Quantization isn't the only way to make PyTorch-powered AI more efficient. Features are updated regularly, and below are a few other ways that PyTorch can improve AI workflows:
Unlocking new potential in PyTorch
Novel methods for accelerating AI workflows are regularly explored on the PyTorch blog. It's a great place to keep up with techniques like the recent BetterTransformer, which increases speedup and throughput in Transformer models by up to 2 times for common execution scenarios. If you're interested in learning how to implement specific features in PyTorch, the recipes page allows you to search by categories like model optimization, distributed training and interpretability. This post is only a sampling of how tools like PyTorch are moving open source and AI forward.
To stay up to date with the latest in Meta Open Source for artificial intelligence and machine learning, visit our open source site, subscribe to our YouTube channel, or follow us on Facebook, Twitter and LinkedIn.
First seen at developers.facebook.com