Peterborough pandemic puppy recreates famous art on her Instagram account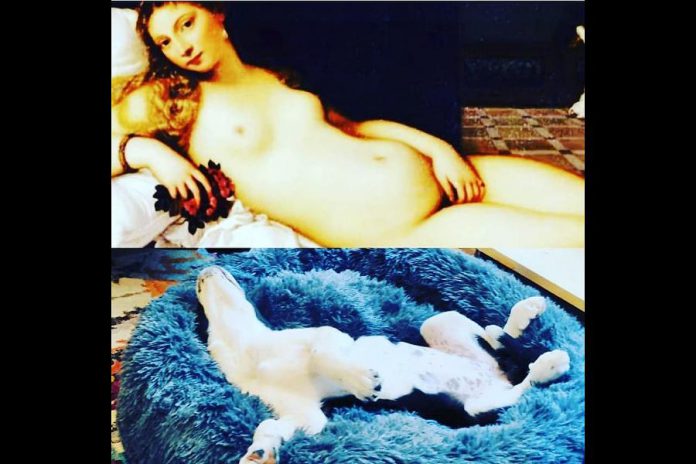 When Peterborough writer and small business owner Michelle Berry first announced she would be taking home a new puppy, she alerted her Hunter Street Books Facebook following they would be seeing more "puppy and book photos".
Now, a couple of months later, her three-month-old puppy named Maybe — an Australian shepherd, collie, and lab mix — has an Instagram account of her own, where Berry shares photos of the puppy resembling famous works of art.
The idea to pair Maybe's photos with the works of art they resemble came about after Berry initially posted a portrait of Maybe on the store's social media accounts, captioning it 'Maybe, by Picasso'.
Advertisement – story continues below
"I got such a funny response from people because you can't tell where her arms and legs are — she looks like a Picasso painting," Berry recalls. "I didn't put any connecting pictures on, like I did later on. I did a few more and then slowly started adding the pictures I was referencing to the posts."
"I was doing it for my kids, really, especially my daughter Abby because she's in art history," she adds. "And then people responded so nicely through Instagram and Facebook."
Although she still shares these photos on her bookstore's social media accounts, Berry recently created an Instagram account @maybe21art dedicated to the Maybe photos.
The account bio, which says Maybe "loves art and books and has a good sense of humor," highlights what makes the project special: the combination of Maybe's cuteness and fun personality with Berry's clever humour and artistic eye.
As the accomplished author of three books of short stories and six novels, Berry's photos demonstrate her talent for storytelling.
"A lot of people were seeing me as an author with it and thinking they could become a kids' book or something," Berry explains. "It is a great way to introduce people to art. Even myself — I'm learning about new artists."
Advertisement – story continues below
Maybe's pictures are a natural extension of the fun, comedic content Berry typically shares on the Hunter Street Books social media platforms.
"I have a lot of customers who like following my Facebook page because it's not just about books," says Berry.
However, Berry shares that it has been challenging during COVID_19 to find content to share that hit the marks as funny, lighthearted, book or art-related, and non-divisive.
"I didn't want to hurt anybody, and I knew some people were going through such a hard time," Berry says. "Some things were just not funny anymore."
By sharing photos of Maybe looking like art, Berry can again post content that will be a positive break on her follower's social media feeds during a time when the internet can feel like a sad and controversial space.
"It is really important to see something that is funny and cute and makes you feel happy," Berry notes. "People say to me, 'I look forward to my Maybe picture every day.'"
Advertisement – story continues below
According to Berry, circulation of the photos has even helped acquire some new customers for her store. Hunter Street Books is now a fully online local bookstore, since Berry closed the retail location in March of 2020.
Through the online store at hunterstreetbooks.com, customers can place book orders that Michelle personally delivers in her electric car to Peterborough's addresses free of charge. Customers can also pick up their orders at META4 Gallery on Hunter Street in downtown Peterborough, which offers curbside pickup during the existing provincial stay-at-home order.
Berry offers 10 per cent off on in-stock books — which now live on bookshelves in a room of Berry's home.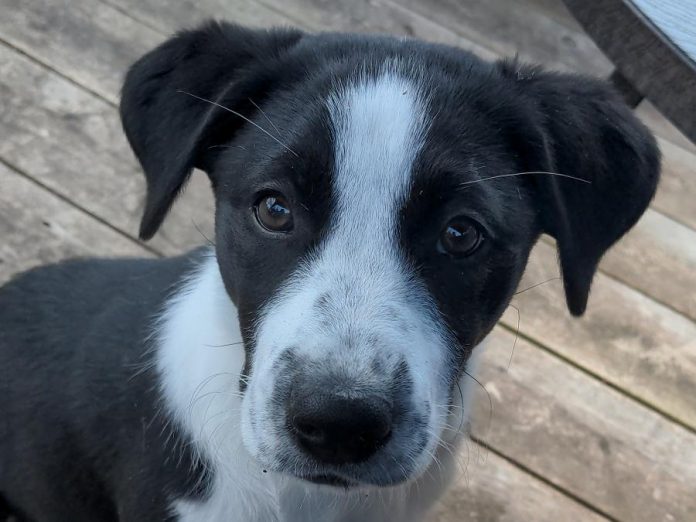 "There are about 900 books and about 10 bookshelves from the store, so I can deliver that stuff pretty quickly," Berry says. "Or customers can order books they've heard about. I can order in and they have to wait for it (to arrive). With COVID, it's hard to predict the timing, but it usually takes about a week, maybe 10 days at most."
All orders must be pre-paid through the website, which offers VISA, MasterCard, and e-transfer as payment options.
While she has a blast doing it, matching Maybe's photos with art is a time-consuming task for Berry, who is already busy running her bookstore entirely on her own.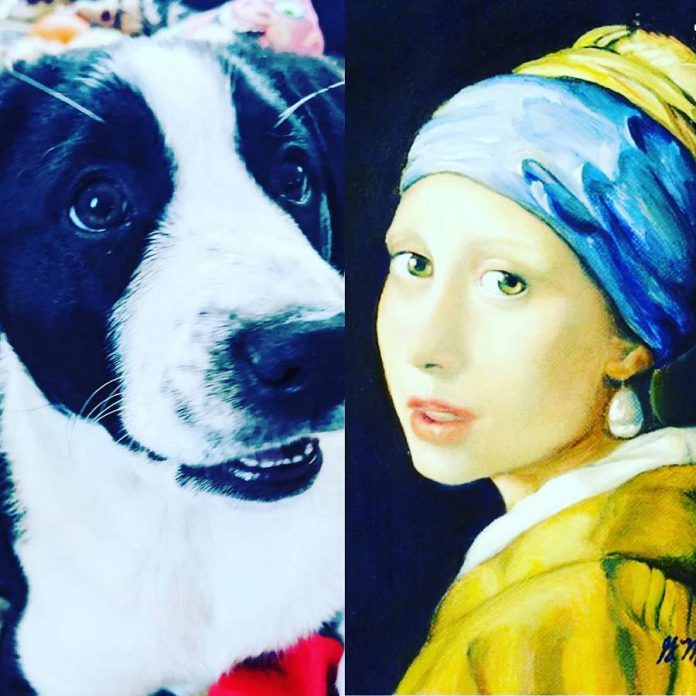 "I don't take the pictures of Maybe first," says Berry. "I look through my pictures and then find the art that goes with it. Sometimes it takes about an hour."
Berry's time is well spent since viewers find comic relief in seeing Maybe's human qualities brought out through the visual comparisons. For instance, one photo of Maybe bears a resemblance to Vermeer's "Girl With a Pearl Earring", since Maybe's lips and mouth placement are identical to the woman in the painting.
From Berry's description, it seems the photos are as much a snapshot of Maybe's fun personality as they are of Berry's creative and artistic one.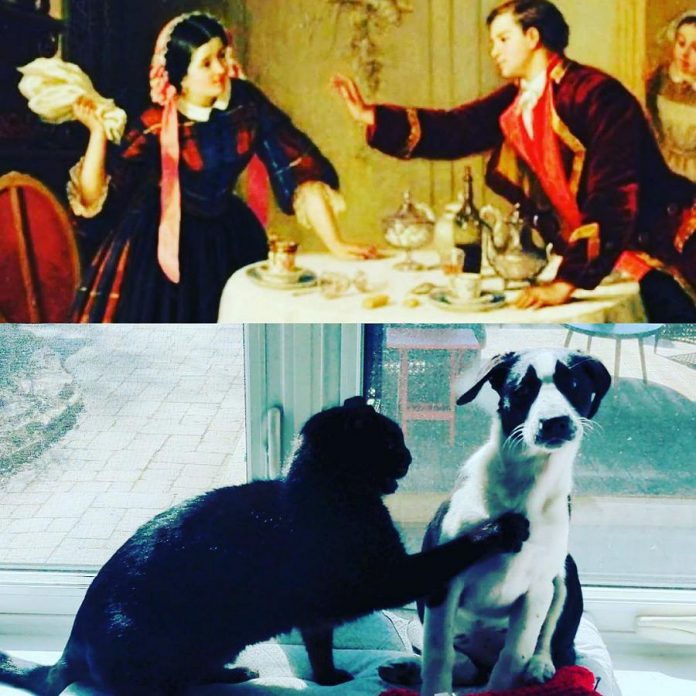 "She wins your heart in a second," Berry laughs.
"She abuses our poor 19-year-old cat Max," she add, jokingly. "She wants to play. She never bites him or anything like that. Max is trying to enjoy the rest of his life which might not be very long, and this puppy comes in and drives him crazy."
Berry and her husband Stuart Baird decided to adopt Maybe after losing their first dog Buddy a few months prior.
Advertisement – story continues below
"I'd only had one dog in my life and it was Buddy, and I was never going to get another one," Berry recalls, in explaining Maybe's name. "I kept saying to Stu 'Maybe we should get a dog.' At one point, he looks at me and says, 'Maybe!' (as a name), which was perfect because we love Arrested Development." (Maeby Fünke is the granddaughter of the Bluth family in the cult TV sitcom).
As for adding the care of a new puppy to her busy schedule, Berry notes she is glad to have her husband's help and that she's happy they're not doing it during her busy season at Christmas.
"She is my box-opener," says Berry. "I'll undo a box and lay it flat, and she spends hours ripping apart the cardboard. She doesn't eat the cardboard; she just throws it on the floor."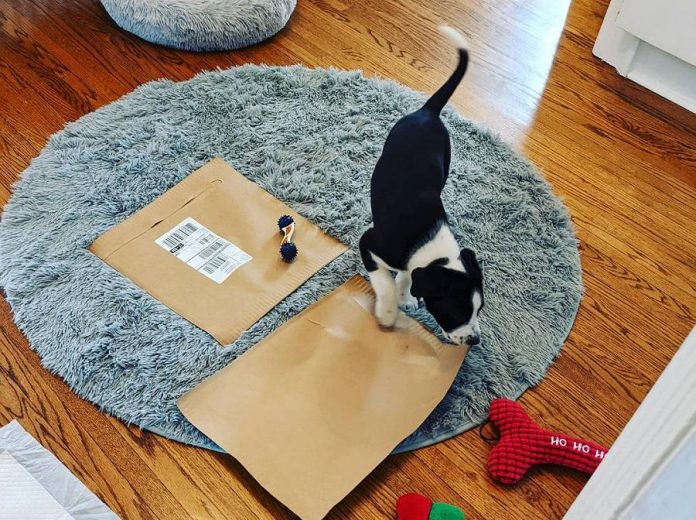 Another project Berry has been working on while raising her new puppy is preparing to release her novel Everything Turns Away at the end of this summer. Berry wrote the novel in 2006, but Berry has spent the past few years editing it to prepare for publication.
Berry teases the novel as a literary thriller about two couples who get tangled in an incident right around September 11th, 2001. While the book is not about 9/11, Berry says it is, in a sense, about how individuals interpret the news.
"I had finished it (in 2006), and we'd tried to sell it with my agent," Berry says, explaining the delay in publication. "Everyone liked it, but everyone kept saying that it was too close to 9/11. I put it away for 11 years and then pulled it out a couple of years ago and showed it to my editor. He said, 'This is fantastic, let's publish this.'"
This novel, like Berry's past publications, will be sold anywhere that sells books —including, of course, Hunter Street Books.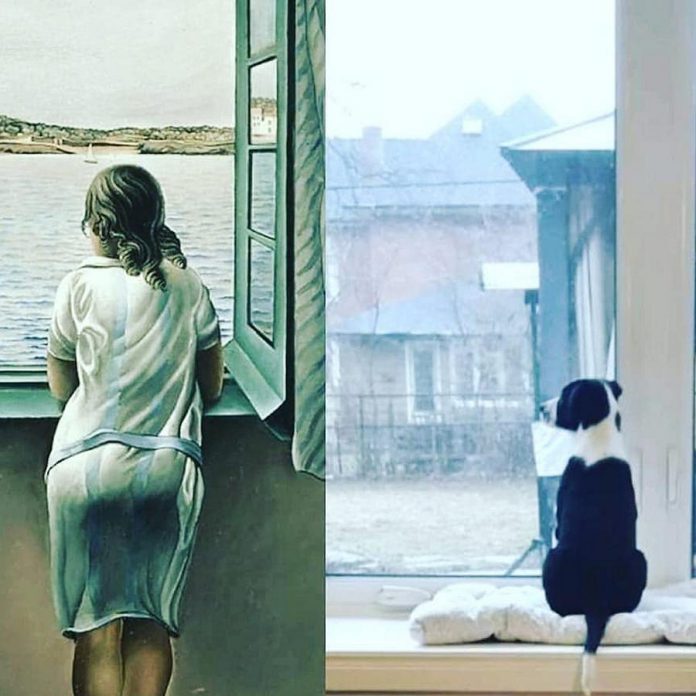 To stay updated on Berry's upcoming book and other Hunter Street Books content, you can follow Hunter Street Books on Facebook and Instagram.
Visit the Hunter Street Books website at hunterstreetbooks.com to learn more about the local online bookstore and to place an order.
Books orders can be picked up at META4 Gallery, located at 164 Hunter Street West in Peterborough.
To add Maybe looking like art to your Instagram feed, you can follow @maybe21art.
LinkedIn Makes its 20 Most Popular LinkedIn Learning Courses Freely Available Throughout August
Looking to up your skills for a job change or career advancement in the second half of the year?
This will help – today, LinkedIn has published its listing of the 20 most popular LinkedIn Learning courses over the first half of 2022. In addition to this, LinkedIn's also making each of these courses free to access till the end of the month – so now may well be the best time to jump in and brush up on the latest, rising skills in your industry.
As per LinkedIn:
"As the Great Reshuffle slows and the job market cools, professionals are getting more serious about skill building. The pandemic accelerated change across industries, and as a result, skills to do a job today have changed even compared to a few years ago. Professionals are responding by learning new skills to future-proof their careers and meet the moment."
LinkedIn says that over seven million people have undertaken these 20 courses this year, covering everything from improved communication, project management, coding, strategic thinking and more.
Here are the top 20 LinkedIn Learning courses right now, which you can access via the relevant links:
If you've been thinking about upskilling, now may be the time – or maybe it's just worth taking some of the programming courses, for example, so that you have a better understanding of how to communicate between departments on projects.
Or you could take an Agile course. If, you know, you don't trust your own management ability.
The courses are available for free till August 31st via the above links.
Instagram Is Rolling Out Reels Replies, And Will Be Testing A New Feature Which Informs …
Instagram has added a few more social features to the platform, with Reels Replies being rolled out. Along with the Replies, anew feature is being tested that shows when two users are active together in the same chat.
Reels has been performing much better than perhaps even Instagram ever anticipated. The TikTok-inspired new video format (which officially claims to have absolutely no relation to the former) had some trouble really finding its footing initially. However, Reels has grown massively and while it may not be a source of the most direct competition to TikTok, it is indeed a worthy alternative.
Reels has grown to the point that it has a massive creator program attached to it, and the video format has even been migrated to Facebook with the goal of generating further user interest there. Naturally, with such a successful virtual goldmine on its hands, Instagram has been hard at work developing new features and interface updates for Reels, integrating it more and more seamlessly into the rest of the social media platform. Features such as Reels Replies are a major part of such attempts at integration.
Reels Visual Replies are essentially just what they sound like: A Reel that is being used to reply to someone. It's a feature that's been seen frequently across TikTok as well. Reel Replies essentially take a user's comments, and reply to them in video format. The comment will then show up within the Reel itself as a text-box, taking up some amount of space, and showing both the user who issued said comment along with the text. The text-box is apparently adjustable, with users having the ability to move it around and change its size depending on where it obstructs one's Reel the least.
Overall, it's a fun addition to the Reels format, even if the credit should be going to TikTok first. At any rate, it's an example of Instagram really utilizing Reels' social media capabilities, outside of just serving it up as a form of entertainment.
Speaking of social media capabilities, a new feature might help alleviate one of the most common frustrations encountered across all such platforms. Isn't it annoying when you see that a friend's online, but isn't replying to your chat? Sure, they've probably just put their phone down to run a quick errand, but there's no way for you to know, right? Well, there sort of is now! Instagram is beta testing a new feature via which if both users are active within a chat, the platform will display that accordingly. It's a work-around, sure, and one that's currently being tested for usefulness, but it's still a very nice, and even fresh, addition to the social media game.
Now, the active status will only appear when you are both active at the same time.#Instagram #instgramnewfeature@MattNavarra @instagram @alex193a pic.twitter.com/2chGZP9hr4

— Yash Joshi  (@MeYashjoshi) December 10, 2021
Read next: Instagram Plans On Allowing Users To Return To Its Old Chronologically Sorted News Feed
5 apps for scheduling Instagram posts on iPhone and Android
Alright, we get it. You're an Instagram Nostradamus.
You know exactly what you want to post and when you're gonna want to post it. Maybe there's a meme or comment you want to make that you know will be totally relevant for a future moment or event. Or it could be that you're an influencer and you want to make sure you keep a steady stream of content coming, so you want to schedule posts for times when you know you won't be active (or won't have internet access).
You'll be happy to know there are apps that are specialized for just such situations. So listen up, InstaNostradamuses…Instagrostra…Instadam…Insta…uh…you guys (we'll workshop it. No we won't. We'll probably just abandon that effort completely. You're welcome) — these are the Instagram-post-scheduling apps for you.
While all of the iPhone apps below are free to download, they all have some in-app purchases.
We'll start with "official partner" of Instagram, itself, Planoly — an Instaplanner that uses a grid to let you plan, schedule, and publish posts (as well as Reels) on Instagram. The app also lets you see post metrics and analytics so you can make sure your post didn't flop.
Planoly is available for iOS on the Apple App Store and the Google Play store for Android.
Credit: buffer / app store
Buffer is another Instagram post scheduler that helps you plan your posts and analyze feedback once they're published. Use a calendar view to drag and drop posts into days/time slots for easy scheduling.
Buffer is available for iOS on the Apple App Store and the Google Play store for Android.
Credit: preview / app store
Preview offers typical post-scheduling tools and analytics along with a few helpful extras. Get caption ideas, recommendations for hashtags, and more.
Preview is available for iOS on the Apple App Store and the Google Play store for Android.
Credit: content office / app store
An Instagram post scheduler with a visual boost, Content Office allows users to plan and schedule Instagram posts while learning "marketing and visual guides to grow your brand on Instagram." Like aesthetics and using visuals to create cohesive themes? Maybe this is the Instaplanner for you.
Content Office is available for iOS on the Apple App Store.
Credit: plann / apple store
You'll never guess what "Plann" lets you do…
Aside from scheduling posts, get content ideas and recommendations, as well as strategy tips to ensure you're maximizing your Instagram engagement. Ever wonder when the best time to post something is? Plann can offer you some help with that.
Plann is available for iOS on the Apple App Store and the Google Play store for Android.