TikTok Trends: How to Leverage Trending Content for Business : Social Media Examiner
Do you want more exposure on TikTok? Wondering how to tap into trending TikTok content?
In this article, you'll discover three ways to identify trending TikTok content and learn how to leverage trends to promote your business on TikTok.
Why Businesses Should Consider TikTok
The number-one reason anyone gets on TikTok is for the organic reach. No other platform offers that amount of visibility, which is particularly attractive to businesses.
The possibility of virality is exciting and can be life-changing. You're probably familiar with the hugely popular video of TikTok user Doggface on his skateboard, chilling to Fleetwood Mac. He took a swig of cranberry juice, looked at the camera, lip-synced the lyrics, and went viral. TikTok loves real, authentic moments like that.
As a business on TikTok, though, you don't need to go viral or have hundreds of thousands of followers to be successful. You just need the right followers. As with marketing on Instagram, you don't need 10K followers and the Swipe-Up feature to make money. You just need to attract your ideal followers. The same applies to TikTok.
Let's be honest, the algorithms on Facebook, Instagram, and Twitter aren't designed to give you exposure. You're lucky to have a small percentage of your followers ever see the content you post and the shelf life of content on these platforms is mere hours. But on TikTok, it's totally different.
TikTok has publicly stated that your content has a shelf life of 90 days. You can have videos on the For You page (the main feed on TikTok) that are months old and still get comments, engagement, and followers from them.
The latest stats show that TikTok has approximately 80 million U.S. users. In the past year due to the pandemic, the platform's demographics have shifted, so if you're wondering if your target audience is on TikTok, they are. While the largest demographic age group is still 10 to 20 years, all ages are on the app.
You'll also find a wide variety of communities on TikTok, ranging from moms, cosplayers, video gamers, and anime lovers to health and fitness, finance, book, and gardening-centric groups. Every community is there.
How Leveraging TikTok Trends Can Help You Get More Exposure
TikTok is an app built on trends. As a business, leveraging trends allows you to show your personality, take advantage of the fun and entertaining side of the app, and get more exposure.
A trend is a common theme or music that's in a video that people will repeat and generally put their own spin on. Trends are popular and fun, and it's okay to do your own version of them. It's not considered copying someone's content like it would be on another platform.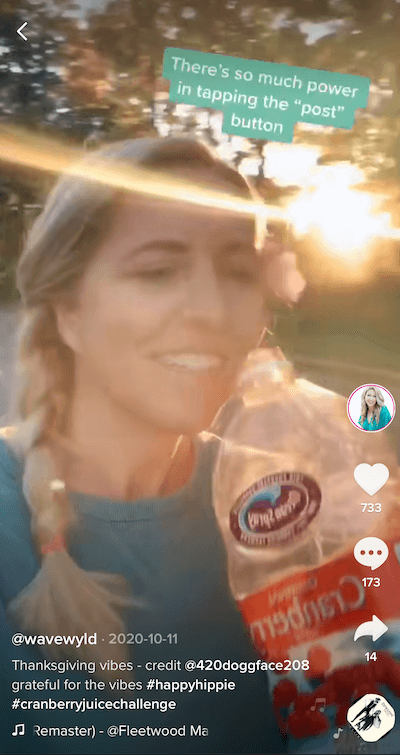 TikTok isn't just about showcasing your products or services, packaging videos, and showing the behind-the-scenes of your business. You need to relax a bit to connect with your audience. Having fun with TikTok trends shows people you don't take yourself too seriously, which is a hallmark of the culture.
The best trends for businesses are the ones you can work into your niche. For example, one recent TikTok trend is the lean back trend. To create a video around this trend, you face the camera, look up, reach out your hand toward the camera, and lip-sync the lyrics. In the text, you say something about a situation or a problem.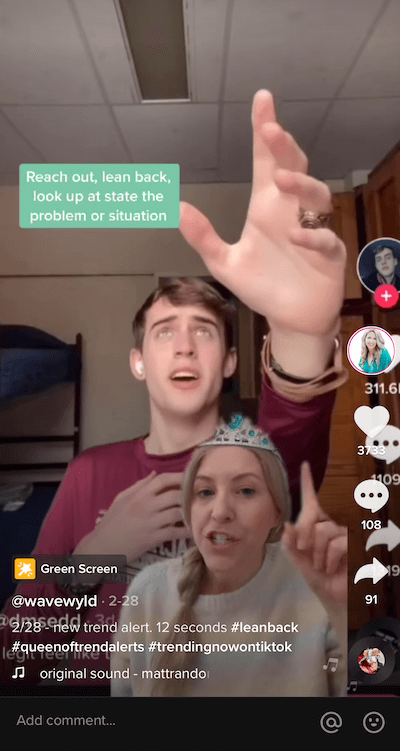 Then cut to a side view of you leaning back, similar to a limbo style of movement. In the text, you reveal a punchline of how you overcame that problem or share something that didn't let you get down. Any business—fitness, wellness, skincare, content creators, influencers, artists, and more—can incorporate a trend like this into their niche.
The TikTok algorithm doesn't really curate trends. Instead, it shows users a mix of popular and less-popular videos in their feed that are curated to the type of content they engage with. So if you keep your trend video within your niche and put your own spin on it, you can get the right kind of eyeballs.
If you create a video based on a trend and people haven't seen that trend before, they'll watch it. And watch time is an important factor for your video performance. People need to watch your videos all the way to the end.
Trends are the fastest way for you to get more exposure on the platform but you'll need to jump on those trends early if your goal is growth. Here's how to find trends on TikTok and create a video based on a trend.
#1: Look for TikTok Trends Around Current Events
The first type of trend on TikTok is hot topics. These are trends based on popular current events. The day after the Super Bowl, there was a flood of posts of people reenacting the performance by the artist The Weeknd. When there was inclement weather in Texas this winter, many videos about that went viral.
To incorporate a hot topic into your TikTok marketing, you need to tie it to your brand, mission, or values. For example, on Inauguration Day, there were a lot of posts about celebrating the historic moment of the first female and person of color vice president. So if your business is about empowering women or has a target audience of women, you could easily take that hot topic and share some commentary on it.
#2: Check the Discover Page for TikTok Trends
Another type of TikTok trend is what you see on the Discover page. These are the curated trends that TikTok updates daily. They include trending hashtags, sounds, effects, and branded trends that businesses pay to have featured. For each of those trends, you can see how many videos have been made using that trend.
To access the Discover page, tap on the magnifying glass icon at the bottom of the screen.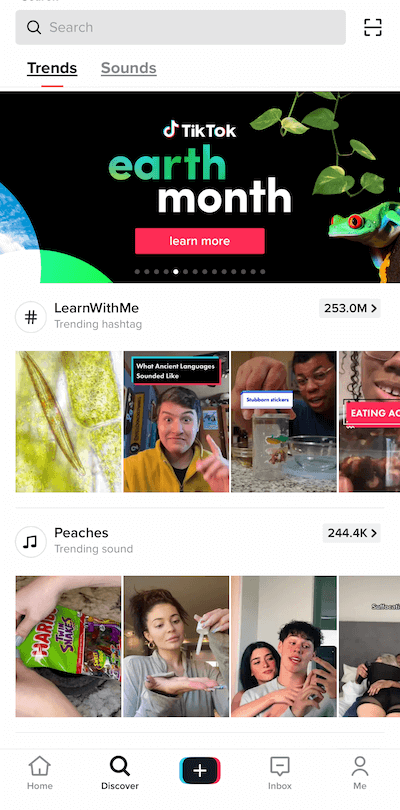 Bear in mind that once a trend hits the Discover page, it's already so popular and saturated that it probably won't last longer than 3-4 more days. People are generally starting to get tired of watching videos based on the trends you see on this page, especially if they know what the punchline is or how the video's going to end.
Social Media Marketing Society (Ongoing Online Training)
Want to gain more marketing confidence and accelerate your career? Is your mission to bring in more revenue, attract better leads, or increase exposure for your company or clients? The Social Media Marketing Society is the ultimate resource for marketers—a place where you can discover new marketing ideas, improve your results, get support, and become indispensable. Join thousands of your peers and receive ongoing training, support from pros, and access to a community of supportive marketers who understand your struggle.
While the trends on the Discover page don't have a lot of staying power, they're a great way to show your followers your personality, have a little fun, and participate in the culture of the app.
#3: Spot Up-and-Coming TikTok Trends
The third type of TikTok trend is up-and-coming trends. They might have only a few thousand videos based on them but have the potential to be really popular. As you might imagine, these trends are a little trickier to find but have the biggest potential for growth.
One of the challenges with trends on TikTok is that they don't last long. They used to last about 7-10 days but now it's more like 3-5 days before people get tired of seeing them on their For You page and just scroll past them. So you want to jump on these trends early before they hit the Discover page and become too saturated.
How do you spot an early trend?
Here's the secret. Everyone's For You page is curated based on the type of content they watch and engage with. So if you engage mainly with small business TikTok, your feed will reflect that. To spot early trends, you need to see a wider variety of content than just your niche.
The solution is to create a second empty TikTok account where you don't engage with anything, follow anyone, or post anything. Just use it to scroll on the For You page. You'll see different music, dances, and content creators that you wouldn't see on your main account.
Scroll quickly through the feed and look for any repeating patterns with music, actions, or text in the video. If you hear a sound you haven't heard before or see someone lip-syncing something that seems to have a theme, tap on the sound at the bottom of the video. This takes you to a page that lists the number of videos using that sound. You can see the original date and other videos using that sound ranked by popularity.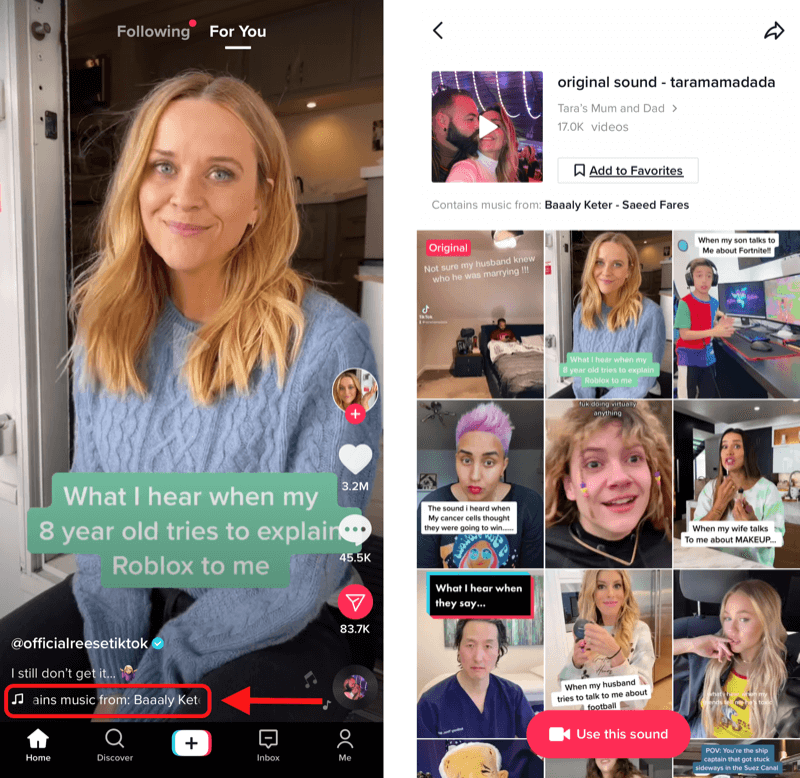 When Wave is looking for trends, she'll use the data on this page to determine whether something might become popular. She's looking for something that's less than a week old and has been used in a decent amount of videos.
If the original date of the video is more than a week or two ago, that's too old. If the sound has been used in 100,000+ videos, it's probably past its sell-by date. But if it has 2,000 or 3,000 videos, it has the potential to get more popular in the next day or so.
If Wave sees a sound with potential, she'll take a screenshot of the page and start tracking it. Sometimes, a certain sound will grow overnight by 3,000 videos, which tells her that people are liking it and it has the potential to go bigger.
Once you find a trend that could work for your account, the next step is to create your own TikTok video for that trend.
#4: Create a Video Based on a TikTok Trend
To get the best results from a trend video, you need to make it fit into your niche and brand and put your own stamp on it.
Don't create trends where you just copy something, like a dance or lip sync to an audio because those trends rarely hit the Discover page. Nobody wants to watch you copy something, especially if they've seen it numerous times and know how it ends. You have to make it unique to you to find success.
For instance, one recent trend was called "everything you ever want," which used a song from the movie The Greatest Showman. You'd lip-sync the lyrics but in the text, you'd share something you personally struggled with and overcame and leave it on an inspirational note. That was a perfect trend to make your own because you shared your story.
Another recent trend was the "I'm Bad" TikTok challenge with the Michael Jackson song "I'm Bad." You'd do a bit of a dance, and then freeze the video and transition to a black and white photo of you doing the typical Michael Jackson move where you stand on your toes. Rather than simply mimicking the dance, you want to make it something unique to you.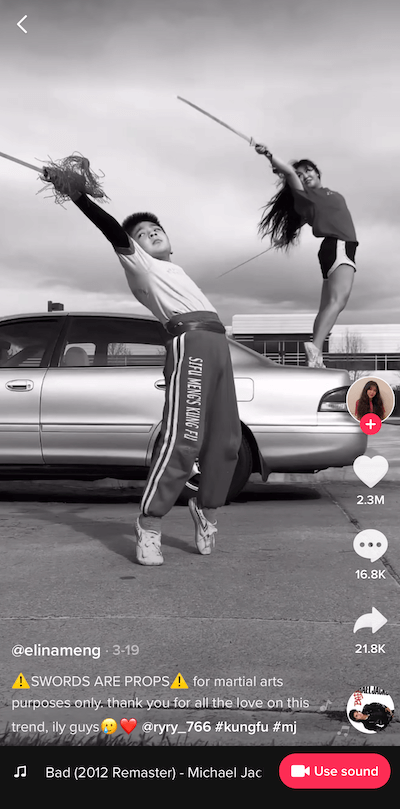 How long it will take to create a trend video depends on what's involved in the trend. If it's a point-of-view joke, you might be able to do it in 5 minutes. But other trends require more time.
Let's say you want to create a video based on The Fresh Prince of Bel-Air trend. To participate in this trend, you need to show a day in your life in 14 seconds, which is the length of the sound (the theme song). If you have lots of photos on hand that you could stitch together, it probably wouldn't take long to create a video. But if you need to collect more video and photos, it might take you a day to make it.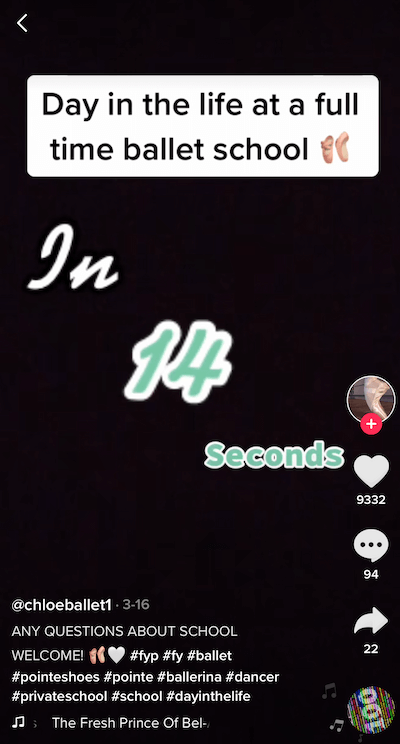 Keep in mind that there's no rule that says that you can only do a trend once. If your first video doesn't perform as well as you'd hoped, try another version of it. Brainstorm other ideas and make multiple versions. Some people do a trend 10 times and maybe one will hit and go viral.
Generally, the reasons that trend videos flop is if you jump on the trend too late, don't put your own spin on it, or don't do it well. Some trends require clean transitions, or if they require the using an effect, you have to be good at using that effect.
If your trend video doesn't work, should you delete it? Absolutely not. Wave doesn't recommend deleting videos because there are rumors that the algorithm doesn't like it when you delete your videos. It's like telling TikTok that you don't believe in your content. So if that's true, you don't want to risk getting an unhealthy account status from deleting videos.
As a final thought, remember that you don't have to do every trend that shows up on the Discover page. Just choose trends that you have ideas for, can align with your brand, and are fun. Trends should only make up about 10% of your content. The rest of your TikTok content should be offering value and building trust and authority.
Wave Wyld is a TikTok expert who's known as the "Queen of Trend Alerts." She helps entrepreneurs get leads and make money by developing a loyal community on TikTok. She also offers group coaching and courses focused on TikTok. Connect with Wave on TikTok and check out her Facebook group, TikTok for Entrepreneurs, which includes a free course.
Other Notes From This Episode
What do you think? Are you inspired to make a trend video for your TikTok account? Share your thoughts in the comments below.
TikTok Expands Creator Tipping and Video Gifts, Providing More Monetization and Marketing Options
TikTok continues to expand its creator monetization tools with the addition of video tipping and virtual gifts for regular uploads, in addition to live-streams in the app.
To be clear, live tipping and digital gifts have been available for selected live-stream creators via its Creator Next program since last year. This new expansion brings the same functionality to regular TikTok videos, which will add another way for users to generate direct income from their TikTok videos.
As you can see in these screenshots, shared by social media expert Matt Navarra (via Dan Schenker), to be eligible for the new Creator Next program, users will need to have at least 1,000 followers, and will need to have generated more than 1,000 video views in the previous 30 days.
Though TikTok does note that these requirements vary by region – TechCrunch has reported that creators need to have at least 100k followers to qualify in some cases.
As explained by TikTok:
"The new Tips feature allows people to directly show gratitude to creators for their content, much like recognizing exceptional service or giving a standing ovation. As is standard for tipping in person, with Tips creators will receive 100% of the tip value."
Tip payments will be processed by Stripe, with creators required to sign up to manage their earnings in the app.
"With Video Gifts, also available today, creators can now collect Diamonds not only by going LIVE but also by posting videos. This also gives people an all-new way to interact and engage with content they love."
That will provide expanded capacity to generate real money from posting, without having to go live, which will open new doors to many TikTok creators.
In addition to this, TikTok's also lowering the threshold for those who can list their profiles in its Creator Marketplace brand collaboration platform, which enables businesses to find TikTok influencers to partner with on in-app campaigns.
Up till now, creators have required 100k followers to qualify for these listings, but now, TikTok is reducing that number to 10k, which will further expand available opportunities for both users and brands.
That could make it much easier to find relevant creators to partner with, in a lot more niches, which will add more considerations into your TikTok posting and engagement process.
As noted, these are the latest in TikTok's broader efforts to provide comparable monetization opportunities, in order to keep its top stars posting to the platform, as opposed to drifting off to YouTube or Instagram instead, which have more established monetization systems.
The advantage that other apps have in this respect is that longer videos can include pre-roll and mid-roll ads, facilitating direct monetization, which TikTok can't utilize given the shorter nature of its clips. As such, it needs to look to alternate funding methods, which will also include eCommerce listings, with direct product displays now the primary source of income for the Chinese version of the app.
The platform's continued growth facilitates even more opportunities in this respect, with more brands looking to tap into the various opportunities of the platform, and partner with creators to maximize their presence.
How popular, and valuable, direct tipping and gifting can be is more variable, as some dedicated fan bases will pay, while others will see no reason to donate for what they can already access for free.
But even so, it adds more opportunity, and the lower thresholds for monetization will see many more opportunities across the board in the app.
Shorter Videos Are In Demand. Here's How Different Social Media Platforms Are Reacting.
Opinions expressed by Entrepreneur contributors are their own.
With TikTok and Instagram Reels slowly conquering social media marketing, there's no mistake: Short videos are in demand.
The average length for most, if not all, business videos is only six minutes long. And that number is set to decrease as consumers look for shorter videos.
With that in mind, why are short videos in demand? What platforms are implementing short-form videos the best? And most importantly, how can they benefit your business?
TikTok – Changing consumerism, one video at a time
Where shorter videos are concerned, TikTok has always led the industry. What started as a merger with Musical.ly quickly became one of the world's most powerful social media platforms. And what made it so famous? The same concept that made Vine viral short videos.
TikTok has over 1 billion active users, twice as many as Snapchat and Pinterest. For reference, Twitter only has 397 million users. With such a massive user-base, the only thing keeping the platform alive are the 15-second-long videos.
But why are short videos so popular? Simple – people don't have time on their hands. When they open apps like TikTok and Instagram, they're more likely to spend time watching shorter videos.  And businesses are already catching up.
The impact of Instagram Reels
With the invention of Stories by Snapchat, other platforms like Instagram caught up on short videos. Instagram Reels presents adults and young users with a more straightforward way to tell others about their day. It employs quick photos and videos that are only available for 24 hours instead of being permanently posted. Now engagement is encouraged, especially after Instagram included the "Swipe" option. This has allowed e-commerce sites to both advertise their products and make instant messaging easier.
Youtube has joined the bandwagon
While YouTube is more or less a platform for long-form videos, its recent update offers shorter vertical videos. Known as YouTube Shorts, the feature allows creators to engage with their audience in under 60 seconds.
But YouTube has another trick up its sleeve, and this one is mainly towards advertisers. It is "YouTube TrueView" and is the primary advertising technology for YouTube. Through this, advertisers can promote long or short videos, with some being skippable after five seconds.
However, since most people are unlikely to click on longer ads, YouTube now offers 6-second non-skippable ads. The clickthrough rate for shorter 15 and 30-second ads is around 70%, a whopping number for any business.
It's time to say goodbye to IGTV
With Instagram's IGTV coming off as less captivating than its Reels and video posts, it has decided to remove IGTV. Instead, it has a separate section for videos. These videos will appear on a person's profile and can be viewed from the Instagram app.
The change they made here is that videos posted to the Instagram feed can be up to 60 minutes long. The exact reason for doing this is not confirmed. But it seems like Instagram wants a seamless platform where short and long videos co-exist.
This makes long videos more accessible to users using the Instagram app. And it helps promote video tutorials that people typically do not consume on social media apps.
Another significant change is that Instagram videos that are longer can be monetized, a feature not available on Reels. This significantly shifts the focus towards creators who don't sell a service and want to gain cash through Instagram.
Does this mean long-form videos are out of the picture?
With short-form videos becoming more popular among consumers, will long-form videos die out? While it's highly recommended for any business to create videos as short as possible, the answer isn't that black and white.
While short-form videos will drive traffic from new users, long-form videos are better for brand loyalty. Shorter videos will get more engagement and show up on new users' feeds. But longer videos will be the backbone of your business.
Of course, that depends on what service you're offering. Ecommerce companies will want to direct their attention towards short-form videos and ads. However, long-form videos are better suited for when you want to go in-depth about product details. That is, of course, only after you've grabbed the user's attention with a short-form video.
Companies that offer webinars will benefit from longer videos. And so will companies that post interviews. However, promos and how-to videos should remain under a minute or two, depending on how long the tutorial needs to be.
Essentially, ask yourself two questions:
First, can the video content be summarized in a short-form video?
Do you want to merely catch the attention of the consumer or develop brand loyalty?
The correct formula is neither short nor long, but a mix of both.
What this all means for an entrepreneur
Short-form videos hold substantial market value, especially for new businesses. Take the example of the Dollar Shave Club. What started as a viral video on YouTube grew to become a behemoth of a brand.
And that's not where the examples end. There are countless success stories like this one that prove the value of short videos.
Short videos have a higher clickthrough rate, and for entrepreneurs, that's all you need. Short videos are of particular interest to people with ecommerce businesses. For example, 84% of people say they are more compelled to buy a product by watching a video. And the statistics keep on showing a friendlier short-video market.
There is no doubt that short-form videos are gradually creeping up the graph. And while long-form videos are great for information and brand loyalty, shorter videos are better for PR.
This begs one last question: Are videos beneficial for you? The answer is – yes!
How to Make a TikTok Video: Beginners Start Here
Let's face it, TikTok is the moment.
And with 1 billion monthly active users, it's time to join the action and get your brand out there to a wider audience!
Want to learn how to make a TikTok Video but don't know where to start? Don't sweat it! We broke down all the steps and tools you'll need to make a viral-worthy first video and make sure your debut is anything but cringe.
Download the full Social Trends report to get an in-depth analysis of the data you need to prioritize and plan your social strategy in 2022.
How to create a TikTok account
First things first, you'll need to create a TikTok account.
There are different ways to sign up for one: you can use your phone number, email address or social media account. Here's how to do it using your phone number.
1. Download TikTok from Google Play or the App Store.
2. Open the TikTok App on your iPhone or Android.
3. Click the "Me" or "Profile" icon at the bottom-right of your screen.
4. Choose a method to sign up (we're choosing "use phone or email")
5. Enter your birth date and phone number (make sure this is accurate because it's how you'll retrieve passwords and confirm your account).
6. Enter the 6-digit code sent to that phone number (see, told ya!)
7. You did it! Celebrate by scrolling TikTok for too many hours.
How to make a TikTok video
Here's how to get started on your very first TikTok video. Luckily for you, it's way easier than learning this TikTok Shuffle dance.
1. Hit the + sign at the bottom of your screen.
2. You can upload photos and videos from your phone's library or make a video directly using the TikTok camera.
3. If recording directly, hit the Record button at the bottom of the screen. Hit it again when you're done recording. The default video mode is "Quick" which is for 15 second videos but you can switch it to "Camera" for more editing options and longer videos (15s, 60s and 3 mins), or "Templates" to create a specific style of video.
4. Tap the check mark when you're done shooting all your footage.
5. Make any edits or changes on the post page. All your edits are on the right sidebar of the screen. Also, add music or sounds by hitting "Add sound" at the top of the screen.
6. Post that video and share it everywhere! Make sure to include a description with some hashtags so it finds its way to your audience.
How to make a TikTok with multiple videos
Instead of taking one long video, why not capture shorter videos and edit them together to make your TikTok video? Here's how to do that (and you don't need a film degree).
1. Hit that "+" sign to start your video
2. You can either shoot multiple videos directly by hitting that record button after each clip, building up your video with different shots. Or, you can hit the "Upload" button next to the record button and add multiple videos and photos you have stored on your phone.
3. Select all your media and tap Next.
4. You can now sync sound across your videos and make adjustments (or try "Auto sync" which will do the syncing up for you.)
5. Hit Next when done. You'll be brought to a preview screen where you can further add sounds, more effects, text, and stickers.
6. Tap Next when you're done editing your video and proceed to the Post screen.
7. Remember to throw in a description and some hashtags and bingo-bango-bongo you're the Steven Spielberg of TikTok!
5 things to know before creating your first TikTok
TikTok style is less polished than other types of video
Don't worry about being too precious with your videos. On TikTok, videos are meant to be candid, and natural—and they should show off your personality. Things like perfect edits, smooth transitions or flawless lighting shouldn't get in the way of your idea and your own charisma.
Sure, there are lots of editing options, effects and filters to choose from (what the heck is the difference between B3 and G4 filters anyways?) but the real star is you —or, at least all 6 of these friends belting out Lady Gaga for the #caughtinabadromance challenge at this bachelorette. If that's not candid, I don't know what is.
You don't have to dance
Good news! You don't have to spend 2 hours trying to perfect the LaLisa dance tutorial to make sure your video stands out (unless you want to, then no judgment over here!).
There are so many different ways to engage your followers that don't involve you popping and locking in your living room in front of a ring light (but again, no judgement if you do, except maybe from your pet and their adorable judging eyes).
You also don't have to attempt whatever this is.
Hashtags can help more people see your post
It's no secret a good hashtag can go a long way on TikTok. Strategic use of hashtags will help people find your videos who don't already follow you, and maybe even see it on their For You Page (FYP).
Find the best hashtags to grow your views and help get your content recognized by the algorithm. You worked so hard on it, might as well show it off to as many people as possible.
The right song can go a long way
Attaching a trending song to your video or audio from a popular TikTok video can help it get seen by more people. This app has a big music following (lots of new songs are intentionally promoted through the app to help them climb the music charts) so lassoing your video to one of these shooting stars is only going to help you get on more FYP and in front of new audiences.
Your greatest asset is you
Don't overthink it, just come up with a simple idea and let your personality shine through. The sense of intimacy and community that TikTok brings is why people love this app—it feels personal.
Even if you're doing a TikTok challenge or trend that's popular, the thing that will make you stand out is your unique take on it. It's not about gimmicks but about putting your best self out there. Nothing should feel too staged or self-aware (that's cringe territory). Pretend your audience are your good friends and approach it with that energy!