NMSP's first TikTok video goes viral
Friday, April 2nd, 2021 at 11:02pm
About a month ago, the New Mexico State Police started a TikTok account. Last week, the agency debuted its first video, which is of a female officer getting ready for work.
The video of Byanca Castro, a patrol officer based out of Las Vegas has been viewed more than 400,000 times.
New Mexico State Police recently debuted its first TikTok video, one of officer Byanca Castro getting ready for work. (Source: New Mexico State Police's Tiktok Page)
NMSP Deputy Chief Carolyn Huynh told the Sun-News that the purpose of the agency's TikTok account is to show the community what it's like to be an NMSP officer and to encourage people to apply for the academies.
Huynh said they plan on posting one new video to TikTok each week. The popular social media app hosts videos under one minute long.
"It's just going to be the different lives of a State Police officer. They're going to show an officer going to handle a call, dealing with different types of situations – because we want the communities to know what it is we actually do, and to just humanize the officer as well, that we're not just these stern individuals that you can't approach," she said.
Police officers, Huynh said, are very approachable. They're human, like everyone else, and that's something they really want the community to understand, she said.
Many NMSP officers have embraced the idea of producing these videos, she said.
"It's been very positive," Huynh said of the reaction so far. "We're getting a lot (of good feedback from officers). It's about time that we deal with the times, that we 'get with the program,' because it really is – it's this young day and age, and they expect to see us out there. They want a voice for us, so this was essentially a voice for State Police officers."
Aside from TikTok, NMSP has accounts on Facebook, Instagram and Twitter. They'll also soon have a new website.
Huynh said watching their TikTok video grow an audience has been fun.
"Just overnight, we had almost 100,000 views and it's currently up over 420,000 views and we have over … 40,000 likes. It's definitely amazing. It's definitely a milestone for us," she said.
The idea to create the TikTok account came from NMSP's community engagement recruiting group, whose responsibility is to come up with creative ideas based on NMSP objectives.
"One of the sergeants came up with it, and one of the objectives is we definitely want to recruit more qualified females," she said. "So that's why he took it upon himself to show a female police officer getting ready."
The "Better Than Revenge" TikTok Trend, Explained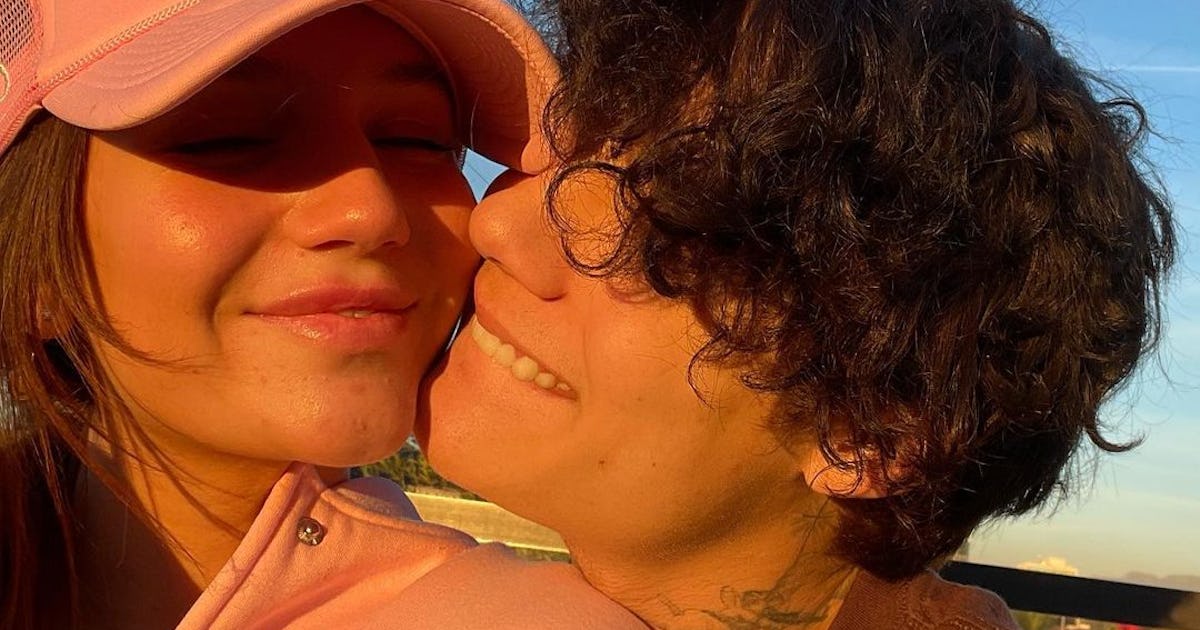 Coming at us all the way from the depths of your 2010 CD collection is Taylor Swift's song "Better Than Revenge," which is currently spinning in the background of the new Better Than Revenge TikTok videos. It's all part of some juicy, juicy social media drama, so if you're in the mood, strap in.
As you probably know, Swift's iconic lyrics go, "The story starts when it was hot and it was summer. And, I had it all. I had him right there where I wanted him. She came along, got him alone, and let's hear the applause. She took him faster than you could say sabotage."
Just like the song, the trend focuses on backstabbing and women who steal each other's boyfriends. You typically see a montage of a happy couple in the videos, hugging, kissing, and smiling. And then, right as the lyric about sabotage drops, that's when it becomes clear their story doesn't end well.
At that point, the montage switches to photos of the poster's now-ex with another woman. (Or it shows evidence that she was, in some way, involved in the breakup.) One of these videos sparked a Twitter debate between TikTokers Mads Lewis, Nessa Barrett, and Jaden Hossler after Lewis posted her own version.
According to Seventeen, the video showed images of Lewis's relationship with Hossler before Barrett allegedly "took him faster than you can say sabotage." She later deleted the video, calling it "immature," but it had already made its way into the forever-files of the internet.
TikToker Indiana Massara shared a "Revenge" video as well, but hers is a little more ambiguous. The caption reads, "The way I could end them all with this challenge," but she doesn't say much else or explain who the "them" might be.
Massara's fans have speculated that she's alluding to her rumored ex-boyfriend Blake Gray and his new girlfriend Amelie Zilber. Did Zilber take Gray faster than you can say sabotage? The world may never know.
The trend gets shadier and shadier the deeper you go into the hashtag. And all it takes is one look at the comments section to see how many people love it, with some saying they're all about "Messy TikTok."
Again, as Lewis noted, it's not the most mature way to call attention to an ex. In this instance, the confusion between her and Barrett — which went deeper than this particular TikTok video, according to Seventeen — appears to have caused Barrett and her boyfriend, Josh Richards, to go their separate ways.
But what else do you expect from lyrics that pit women against each other? "Better Than Revenge" is allegedly about actress Camille Belle, who dated Swift's ex Joe Jonas in 2008. At the time, Swift was called out for slut-shaming due to the lyrics, "She's not a saint, and she's not what you think […] She's better known for the things that she does on the mattress."
Years later, in 2014, Swift did admit she'd gone overboard. She told The Guardian, "I was 18 when I wrote that. That's the age you are when you think someone can actually take your boyfriend. Then you grow up and realize no one can take someone from you if they don't want to leave."
It's precisely why you might want to stick to other versions of the trend, which feature dogs and babies "stealing" people away. Because if a puppy wants to stab you in the back and take your partner, they totally can — and they will.
How to make a TikTok Duet (on Instagram, too)
If you're on TikTok — or have seen TikTok videos reposted elsewhere — you've likely seen a Duet. Sometimes TikTok creators film videos specifically designed for other users on the app to add to. They can range from dances to singing songs or lip-syncing songs to viral challenges to blind reacts and more. 
Along with features like Stitch, TikTok Duets are another way for creators to interact with each other and for new TikTok-ers to get their foot in the "influencer door." 
Read more: How to use TikTok: Make videos, go live, gain followers and maybe get famous
How to duet a video on TikTok
1. Download the TikTok app and make an account if you haven't already.
2. Open the app and find a video you want to duet with. Sometimes creators will make videos specifically for someone to duet with. You might stumble across one in your main For You or Following feeds, but you can also search hashtags like #Duet, #DuetChallenge or #DuetWithMe. The video doesn't have to be originally filmed to duet, though. 
3. Optional tip: Once you find a video, depending on what it is, you might want to "rehearse" a few times before recording. Don't worry though, it's not a one-take-only situation. 
4. After you find a video, tap the three-dot More icon in the bottom right of the video. 
5. Choose Duet (if Duet isn't available, that means the creator turned it off in their own settings).
6. Start recording. 
7. When you've finished, add any special effects or edits and tap the checkmark. You can also add a few more effects after tapping the checkmark.
8. Tap Next after you've edited the video.
9. Before you publish, you can adjust your settings — allow or disallow comments, decide who can view the video and if others can duet or stitch with your video and add a description and additional hashtags.
10. Tap Post (or you can save to drafts for more editing).
Now you're one step closer to TikTok fame (or at least a fun post for your own friends and followers). 
Don't use TikTok? Try Instagram's Remix feature for duets
If you don't have a TikTok account, social media app Instagram has its own take on the short video tool called Instagram Reels (here's how to use Reels), as well as a new Duet-style feature called Remix. With the latest version of the app, you'll be able to find Reels between Search and Instagram Shopping tabs at the bottom of the screen. 
Here's how to Remix an Instagram Reel
1. Open the Instagram app. Download and make an account if you haven't already.
2. Open the Reels tab and find a Reel you want to remix. 
3. Tap the three-dot More icon on your chosen Reel.
4. If Remix is available for you, choose the option Remix This Reel. 
5. From there, the interface works the same as making a Reel — the Reel you're remixing will just be in the shot. Start filming and you can add music, edits and stickers. 
6. Tap next to watch and finalize any edits. Like TikTok, you can record and edit as much as you want. 
7. Tap next again, write in a caption, tag people and choose to add it as a Reel or to your Instagram Stories.
8. Tap Share or Save Draft.
For more TikTok tips and Instagram instructions, check out our tips on how to use TikTok and what might happen if Instagram for kids becomes a reality.
Discover the latest apps: Be the first to know about the hottest new apps with the CNET Apps Today newsletter.

Now playing:
Watch this:

The dream of Oculus VR: Five years later


11:59

TikTok Trends: How to Leverage Trending Content for Business : Social Media Examiner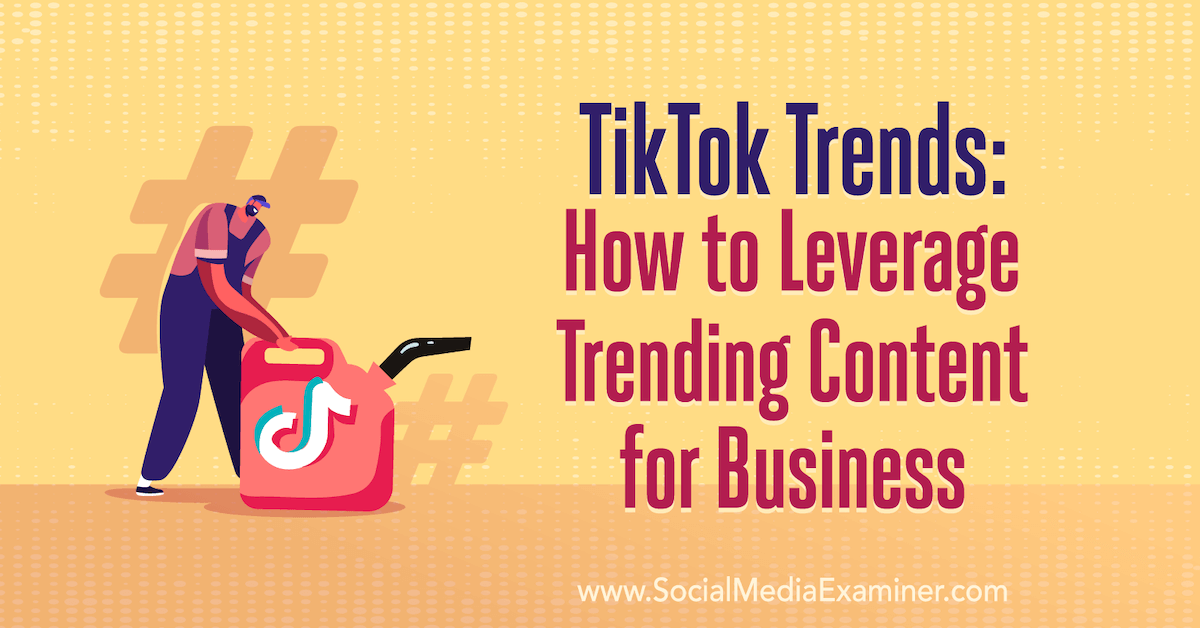 Do you want more exposure on TikTok? Wondering how to tap into trending TikTok content?
In this article, you'll discover three ways to identify trending TikTok content and learn how to leverage trends to promote your business on TikTok.
Why Businesses Should Consider TikTok
The number-one reason anyone gets on TikTok is for the organic reach. No other platform offers that amount of visibility, which is particularly attractive to businesses.
The possibility of virality is exciting and can be life-changing. You're probably familiar with the hugely popular video of TikTok user Doggface on his skateboard, chilling to Fleetwood Mac. He took a swig of cranberry juice, looked at the camera, lip-synced the lyrics, and went viral. TikTok loves real, authentic moments like that.
As a business on TikTok, though, you don't need to go viral or have hundreds of thousands of followers to be successful. You just need the right followers. As with marketing on Instagram, you don't need 10K followers and the Swipe-Up feature to make money. You just need to attract your ideal followers. The same applies to TikTok.
Let's be honest, the algorithms on Facebook, Instagram, and Twitter aren't designed to give you exposure. You're lucky to have a small percentage of your followers ever see the content you post and the shelf life of content on these platforms is mere hours. But on TikTok, it's totally different.
TikTok has publicly stated that your content has a shelf life of 90 days. You can have videos on the For You page (the main feed on TikTok) that are months old and still get comments, engagement, and followers from them.
The latest stats show that TikTok has approximately 80 million U.S. users. In the past year due to the pandemic, the platform's demographics have shifted, so if you're wondering if your target audience is on TikTok, they are. While the largest demographic age group is still 10 to 20 years, all ages are on the app.
You'll also find a wide variety of communities on TikTok, ranging from moms, cosplayers, video gamers, and anime lovers to health and fitness, finance, book, and gardening-centric groups. Every community is there.
How Leveraging TikTok Trends Can Help You Get More Exposure
TikTok is an app built on trends. As a business, leveraging trends allows you to show your personality, take advantage of the fun and entertaining side of the app, and get more exposure.
A trend is a common theme or music that's in a video that people will repeat and generally put their own spin on. Trends are popular and fun, and it's okay to do your own version of them. It's not considered copying someone's content like it would be on another platform.
TikTok isn't just about showcasing your products or services, packaging videos, and showing the behind-the-scenes of your business. You need to relax a bit to connect with your audience. Having fun with TikTok trends shows people you don't take yourself too seriously, which is a hallmark of the culture.
The best trends for businesses are the ones you can work into your niche. For example, one recent TikTok trend is the lean back trend. To create a video around this trend, you face the camera, look up, reach out your hand toward the camera, and lip-sync the lyrics. In the text, you say something about a situation or a problem.
Then cut to a side view of you leaning back, similar to a limbo style of movement. In the text, you reveal a punchline of how you overcame that problem or share something that didn't let you get down. Any business—fitness, wellness, skincare, content creators, influencers, artists, and more—can incorporate a trend like this into their niche.
The TikTok algorithm doesn't really curate trends. Instead, it shows users a mix of popular and less-popular videos in their feed that are curated to the type of content they engage with. So if you keep your trend video within your niche and put your own spin on it, you can get the right kind of eyeballs.
If you create a video based on a trend and people haven't seen that trend before, they'll watch it. And watch time is an important factor for your video performance. People need to watch your videos all the way to the end.
Trends are the fastest way for you to get more exposure on the platform but you'll need to jump on those trends early if your goal is growth. Here's how to find trends on TikTok and create a video based on a trend.
#1: Look for TikTok Trends Around Current Events
The first type of trend on TikTok is hot topics. These are trends based on popular current events. The day after the Super Bowl, there was a flood of posts of people reenacting the performance by the artist The Weeknd. When there was inclement weather in Texas this winter, many videos about that went viral.
To incorporate a hot topic into your TikTok marketing, you need to tie it to your brand, mission, or values. For example, on Inauguration Day, there were a lot of posts about celebrating the historic moment of the first female and person of color vice president. So if your business is about empowering women or has a target audience of women, you could easily take that hot topic and share some commentary on it.
#2: Check the Discover Page for TikTok Trends
Another type of TikTok trend is what you see on the Discover page. These are the curated trends that TikTok updates daily. They include trending hashtags, sounds, effects, and branded trends that businesses pay to have featured. For each of those trends, you can see how many videos have been made using that trend.
To access the Discover page, tap on the magnifying glass icon at the bottom of the screen.
Bear in mind that once a trend hits the Discover page, it's already so popular and saturated that it probably won't last longer than 3-4 more days. People are generally starting to get tired of watching videos based on the trends you see on this page, especially if they know what the punchline is or how the video's going to end.
Social Media Marketing Society (Ongoing Online Training)
Want to gain more marketing confidence and accelerate your career? Is your mission to bring in more revenue, attract better leads, or increase exposure for your company or clients? The Social Media Marketing Society is the ultimate resource for marketers—a place where you can discover new marketing ideas, improve your results, get support, and become indispensable. Join thousands of your peers and receive ongoing training, support from pros, and access to a community of supportive marketers who understand your struggle.
While the trends on the Discover page don't have a lot of staying power, they're a great way to show your followers your personality, have a little fun, and participate in the culture of the app.
#3: Spot Up-and-Coming TikTok Trends
The third type of TikTok trend is up-and-coming trends. They might have only a few thousand videos based on them but have the potential to be really popular. As you might imagine, these trends are a little trickier to find but have the biggest potential for growth.
One of the challenges with trends on TikTok is that they don't last long. They used to last about 7-10 days but now it's more like 3-5 days before people get tired of seeing them on their For You page and just scroll past them. So you want to jump on these trends early before they hit the Discover page and become too saturated.
How do you spot an early trend?
Here's the secret. Everyone's For You page is curated based on the type of content they watch and engage with. So if you engage mainly with small business TikTok, your feed will reflect that. To spot early trends, you need to see a wider variety of content than just your niche.
The solution is to create a second empty TikTok account where you don't engage with anything, follow anyone, or post anything. Just use it to scroll on the For You page. You'll see different music, dances, and content creators that you wouldn't see on your main account.
Scroll quickly through the feed and look for any repeating patterns with music, actions, or text in the video. If you hear a sound you haven't heard before or see someone lip-syncing something that seems to have a theme, tap on the sound at the bottom of the video. This takes you to a page that lists the number of videos using that sound. You can see the original date and other videos using that sound ranked by popularity.
When Wave is looking for trends, she'll use the data on this page to determine whether something might become popular. She's looking for something that's less than a week old and has been used in a decent amount of videos.
If the original date of the video is more than a week or two ago, that's too old. If the sound has been used in 100,000+ videos, it's probably past its sell-by date. But if it has 2,000 or 3,000 videos, it has the potential to get more popular in the next day or so.
If Wave sees a sound with potential, she'll take a screenshot of the page and start tracking it. Sometimes, a certain sound will grow overnight by 3,000 videos, which tells her that people are liking it and it has the potential to go bigger.
Once you find a trend that could work for your account, the next step is to create your own TikTok video for that trend.
#4: Create a Video Based on a TikTok Trend
To get the best results from a trend video, you need to make it fit into your niche and brand and put your own stamp on it.
Don't create trends where you just copy something, like a dance or lip sync to an audio because those trends rarely hit the Discover page. Nobody wants to watch you copy something, especially if they've seen it numerous times and know how it ends. You have to make it unique to you to find success.
For instance, one recent trend was called "everything you ever want," which used a song from the movie The Greatest Showman. You'd lip-sync the lyrics but in the text, you'd share something you personally struggled with and overcame and leave it on an inspirational note. That was a perfect trend to make your own because you shared your story.
Another recent trend was the "I'm Bad" TikTok challenge with the Michael Jackson song "I'm Bad." You'd do a bit of a dance, and then freeze the video and transition to a black and white photo of you doing the typical Michael Jackson move where you stand on your toes. Rather than simply mimicking the dance, you want to make it something unique to you.
How long it will take to create a trend video depends on what's involved in the trend. If it's a point-of-view joke, you might be able to do it in 5 minutes. But other trends require more time.
Let's say you want to create a video based on The Fresh Prince of Bel-Air trend. To participate in this trend, you need to show a day in your life in 14 seconds, which is the length of the sound (the theme song). If you have lots of photos on hand that you could stitch together, it probably wouldn't take long to create a video. But if you need to collect more video and photos, it might take you a day to make it.
Keep in mind that there's no rule that says that you can only do a trend once. If your first video doesn't perform as well as you'd hoped, try another version of it. Brainstorm other ideas and make multiple versions. Some people do a trend 10 times and maybe one will hit and go viral.
Generally, the reasons that trend videos flop is if you jump on the trend too late, don't put your own spin on it, or don't do it well. Some trends require clean transitions, or if they require the using an effect, you have to be good at using that effect.
If your trend video doesn't work, should you delete it? Absolutely not. Wave doesn't recommend deleting videos because there are rumors that the algorithm doesn't like it when you delete your videos. It's like telling TikTok that you don't believe in your content. So if that's true, you don't want to risk getting an unhealthy account status from deleting videos.
As a final thought, remember that you don't have to do every trend that shows up on the Discover page. Just choose trends that you have ideas for, can align with your brand, and are fun. Trends should only make up about 10% of your content. The rest of your TikTok content should be offering value and building trust and authority.
Wave Wyld is a TikTok expert who's known as the "Queen of Trend Alerts." She helps entrepreneurs get leads and make money by developing a loyal community on TikTok. She also offers group coaching and courses focused on TikTok. Connect with Wave on TikTok and check out her Facebook group, TikTok for Entrepreneurs, which includes a free course.
Other Notes From This Episode
What do you think? Are you inspired to make a trend video for your TikTok account? Share your thoughts in the comments below.