Opinion: Facebook, gold and select SPACs fit into this uncertain stock-market environment
Here are questions I've received from MarketWatch readers over the past couple of weeks.
Question: Big Tech — Apple, Amazon, Facebook and Google (Alphabet) — are off their highs by 17%, 15%, 6% and 5%, respectively. I hear that portfolio rotation, higher interest rates, etc., are hurting these stocks. I know you like Facebook. Do you feel the others will get hurt badly going forward or will there be only modest pullbacks?
Answer: I know it's apparently common knowledge among the talking heads that "higher interest rates are bad for tech stocks," but I don't understand that logic at all. Is anybody out there really selling their tech stocks because they want to buy Treasuries that are still only yielding 1.5%-ish. I mean, other than the people who are saying that on TV and those who are listening to them, I don't think anybody really sits around shifting allocation strategies because Treasuries went down a little bit in the last few weeks.
So maybe there has been a self-fulfilling rotation out of tech stocks and into "reopening/value" stocks, but I'm not sure that will last. I mean, remember that I also do a lot of work on valuation, and I try to buy what I call our Revolutionary tech stocks when they are good "values."
Anyway, if we are in a pullback (or even a burgeoning bear market) phase of the market, then I don't think most tech stocks will be fine. There could, and most likely would be, 5%-15% potential downside in even the biggies that you mention.
Q: With the recent rotation pullbacks, what are your top five stocks at these levels?
A: Last week, I'd answered it this way: "Favorite stocks at this moment, though I'm not pounding the table on any of them right now, would probably be: Facebook
FB,
+1.54%,
Vector Acquisition/Rocket Labs
VACQ,
-1.77%,
Holicity
HOL,
+2.99%,
SPDR Gold Shares
GLD,
+0.28%,
Taiwan Semiconductor 
TSM,
+5.53%,
in that order." This week, I'd answer it the same way.
Q: It sounds like the space revolution you write about is like your picks of Apple at 20 cents or Tesla at $50. Is this accurate?
A: I hope so, but it's a much riskier bet because these companies are still startups and valuations are going to be a while before they make "sense" for a lot of people.
Q: How long could a bear market last? Do you foresee a rotation out of tech as a real threat to our positions? When will you sell DELL as it goes to expiration on our calls?
A: A bear market can last 10 years or more. In this day and age, I'd expect the markets would overcorrect to the downside in a matter of months because we live in a day of Kurzweil rate of change. Yes, a rotation out of tech and into "reopening/value" stocks could mean that tech stocks underperform for a little while, but longer-term valuation-minded Revolution Investing in secular growth industries will probably continue to outperform all other approaches.
I've trimmed some DELL
DELL,
+3.49%
calls along the way as they've tripled and quadrupled in value, but I still hold some April and July Dell calls that are also up like that already.
Q: Cathie Wood (of ARK Investment Management) recently suggested that Chinese tech could outperform in the markets moving forward. What's your read on it? And if you agree, what percentage of your portfolio would you think is a reasonable allocation to it?
A: No way do I think an even more corrupt system of technology and government in an outright communist regime in China will ever outperform over the long term. I've always said that I don't want to bet very much on the companies that are able to succeed in that system. Nothing's changed, has it?
Q: Does gold look like it can squeeze the shorts big time? It's been quiet and congested for several months now.
A: I don't know if there's enough shorts in gold to squeeze, but it does look to me like gold is a relatively safe place to have some money right now.
Q: Any thoughts on the WeWork merger? (See story here.)
A: I can't believe that company still exists. No thanks on the stock for me.
I leave you with a picture of antelope in a dust storm I took from the car last week. It reminds me of us during this current market environment. (There are no filters on this shot):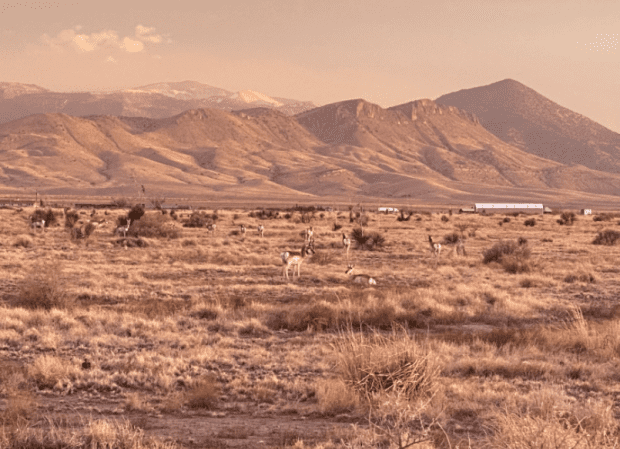 Cody Willard is a columnist for MarketWatch and editor of the Revolution Investing newsletter. Willard or his investment firm may own, or plan to own, securities mentioned in this column. 
Enabling developers to create innovative AIs on Messenger and WhatsApp
Every week over 1 billion people connect with businesses on our messaging apps. Many of these conversations are made possible by the thousands of developers who build innovative and engaging experiences on Messenger, Instagram and WhatsApp.
Since opening access to our Llama family of large language models, we've seen lots of momentum and innovation with more than 30 million downloads to date. As our messaging services continue to evolve, we believe the technology from Llama and other generative AI models have the potential to enhance business messaging through more natural, conversational experiences.
At Connect Meta announced that developers will be able to build third-party AIs – a term we use to refer to our generative AI-powered assistants – for our messaging services.
We're making it easy for any developer to get started, so we're simplifying the developer onboarding process and providing access to APIs for AIs that make it possible to build new conversational experiences within our messaging apps.
All developers will be able to access the new onboarding experience and features on Messenger in the coming weeks. For WhatsApp, we'll be opening a Beta program in November – if you're interested in participating please sign up to the waitlist here to learn more.
We'll keep everyone updated as we make these tools available to more developers later this year. We look forward to your feedback and seeing what you create.
First seen at developers.facebook.com
Introducing Facebook Graph API v18.0 and Marketing API v18.0
Today, we are releasing Facebook Graph API v18.0 and Marketing API v18.0. As part of this release, we are highlighting changes below that we believe are relevant to parts of our developer community. These changes include announcements, product updates, and notifications on deprecations that we believe are relevant to your application(s)' integration with our platform.
For a complete list of all changes and their details, please visit our changelog.
General Updates
Consolidation of Audience Location Status Options for Location Targeting
As previously announced in May 2023, we have consolidated Audience Location Status to our current default option of "People living in or recently in this location" when choosing the type of audience to reach within their Location Targeting selections. This update reflects a consolidation of other previously available options and removal of our "People traveling in this location" option.
We are making this change as part of our ongoing efforts to deliver more value to businesses, simplify our ads system, and streamline our targeting options in order to increase performance efficiency and remove options that have low usage.
This update will apply to new or duplicated campaigns. Existing campaigns created prior to launch will not be entered in this new experience unless they are in draft mode or duplicated.
Add "add_security_recommendation" and "code_expiration_minutes" to WA Message Templates API
Earlier this year, we released WhatsApp's authentication solution which enabled creating and sending authentication templates with native buttons and preset authentication messages. With the release of Graph API v18, we're making improvements to the retrieval of authentication templates, making the end-to-end authentication template process easier for BSPs and businesses.
With Graph API v18, BSPs and businesses can have better visibility into preset authentication message template content after creation. Specifically, payloads will return preset content configuration options, in addition to the text used by WhatsApp. This improvement can enable BSPs and businesses to build "edit" UIs for authentication templates that can be constructed on top of the API.
Note that errors may occur when upgrading to Graph API v18 if BSPs or businesses are taking the entire response from the GET request and providing it back to the POST request to update templates. To resolve, the body/header/footer text fields should be dropped before passing back into the API.
Re-launching dev docs and changelogs for creating Call Ads
Facebook Reels Placement for Call Ads
Meta is releasing the ability to deliver Call Ads through the Facebook Reels platform. Call ads allow users to call businesses in the moment of consideration when they view an ad, and help businesses drive more complex discussions with interested users. This is an opportunity for businesses to advertise with call ads based on peoples' real-time behavior on Facebook. Under the Ad set Level within Ads Manager, businesses can choose to add "Facebook Reels" Under the Placements section.
Re-Launching Call Ads via API
On September 12, 2023, we're providing updated guidance on how to create Call Ads via the API. We are introducing documentation solely for Call Ads, so that 3P developers can more easily create Call Ads' campaigns and know how to view insights about their ongoing call ad campaigns, including call-related metrics. In the future, we also plan to support Call Add-ons via our API platform. Developers should have access to the general permissions necessary to create general ads in order to create Call Ads via the API platform.

Please refer to developer documentation for additional information.
Deprecations & Breaking Changes
Graph API changes for user granular permission feature
We are updating two graph API endpoints for WhatsAppBusinessAccount. These endpoints are as follows:
Retrieve message templates associated with WhatsAppBusiness Account
Retrieve phone numbers associated with WhatsAppBusiness Account
With v18, we are rolling out a new feature "user granular permission". All existing users who are already added to WhatsAppBusinessAccount will be backfilled and will continue to have access (no impact).
The admin has the flexibility to change these permissions. If the admin changes the permission and removes access to view message templates or phone numbers for one of their users, that specific user will start getting an error message saying you do not have permission to view message templates or phone numbers on all versions v18 and older.
Deprecate legacy metrics naming for IG Media and User Insights
Starting on September 12, Instagram will remove duplicative and legacy, insights metrics from the Instagram Graph API in order to share a single source of metrics to our developers.
This new upgrade reduces any confusion as well as increases the reliability and quality of our reporting.
After 90 days of this launch (i.e. December 11, 2023), we will remove all these duplicative and legacy insights metrics from the Instagram Graph API on all versions in order to be more consistent with the Instagram app.
We appreciate all the feedback that we've received from our developer community, and look forward to continuing to work together.
Please review the media insights and user insights developer documentation to learn more.
Deprecate all Facebook Wi-Fi v1 and Facebook Wi-Fi v2 endpoints
Facebook Wi-Fi was designed to improve the experience of connecting to Wi-Fi hotspots at businesses. It allowed a merchant's customers to get free Wi-Fi simply by checking in on Facebook. It also allowed merchants to control who could use their Wi-Fi and for how long, and integrated with ads to enable targeting to customers who had used the merchant's Wi-Fi. This product was deprecated on June 12, 2023. As the partner notice period has ended, all endpoints used by Facebook Wi-Fi v1 and Facebook Wi-Fi v2 have been deprecated and removed.
API Version Deprecations:
As part of Facebook's versioning schedule for Graph API and Marketing API, please note the upcoming deprecations:
Graph API
September 14, 2023: Graph API v11.0 will be deprecated and removed from the platform
February 8, 2024: Graph API v12.0 will be deprecated and removed from the platform
May 28, 2024: Graph API v13.0 will be deprecated and removed from the platform
Marketing API
September 20, 2023: Marketing API v14.0 will be deprecated and removed from the platform
September 20, 2023: Marketing API v15.0 will be deprecated and removed from the platform
February 06, 2024: Marketing API v16.0 will be deprecated and removed from the platform
To avoid disruption to your business, we recommend migrating all calls to the latest API version that launched today.
Facebook Platform SDK
As part of our 2-year deprecation schedule for Platform SDKs, please note the upcoming deprecations and sunsets:
October 2023: Facebook Platform SDK v11.0 or below will be sunset
February 2024: Facebook Platform SDK v12.0 or below will be sunset
First seen at developers.facebook.com
Allowing Users to Promote Stories as Ads (via Marketing API)
Before today (August 28, 2023), advertisers could not promote images and/or videos used in Instagram Stories as ads via the Instagram Marketing API. This process created unwanted friction for our partners and their customers.
After consistently hearing about this pain point from our developer community, we have removed this unwanted friction for advertisers and now allow users to seamlessly promote their image and/or video media used in Instagram Stories as ads via the Instagram Marketing API as of August 28, 2023.
We appreciate all the feedback received from our developer community, and hope to continue improving your experience.
Please review the developer documentation to learn more.
First seen at developers.facebook.com