TikTok users are posting videos promoting restaurants and stores during the pandemic. And it's …
"I thought that this TikTok thing is the real deal if avid watchers of DDD came here because of TikTok, and not because of our DDD episode," Burke said.
Instead of dance routines and lip-syncing, a few TikTok enthusiasts are posting videos promoting restaurants and stores to try to help them through the COVID-19 pandemic.
"I want to support small businesses, and Boston businesses," said Michelle Rodriguez, the creator of last summer's In a Pickle video. "Right now, because small businesses are struggling, my pages are a good way for people to remember to go to local places."
She's heard from restaurant managers and owners that she's been driving new customers to try them, said Rodriguez, a teacher who also works at an ice cream shop. "And that means the world to me," Rodriguez said.
Burke, of In a Pickle, even reached out to her about making a video for another restaurant he owns.
Rebecca Jackson also noticed business picking up at the restaurant she manages, Citrus & Salt on Berkeley Street. More and more people started coming in, Jackson said, especially on the weekends and for brunch. Many recorded their own videos of their food or headed to the ladies' room to take selfies in front of the famous mirror stenciled "I didn't text you, Tequila did."
It wasn't until she heard from a journalist that Jackson learned the restaurant had been the subject of a TikTok video by Rodriguez.
Brenna Klaproth, a Boston College student and TikTok user, went to Citrus & Salt after seeing Rodriguez's TikTok. She and her roommates keep a list of places they want to visit after seeing them on the app.
"TikTok recommendations are becoming a bigger factor in helping us plan our weekends," says Klaproth. Other users' positive comments on the TikToks persuade her to go to these places, too.
Girlfriends Boston, another TikTok account, is also trying to draw attention to businesses that have been struggling in the pandemic.
May DeAlmeida and Ana Baptista started Girlfriends in 2018 as an alternative to what they call clique-y meetups planned by more established bloggers. They wanted to make these events accessible to regular people, DeAlmeida and Baptista said.
Soon they realized that people online liked their recommendations of restaurants and stores. After their first TikTok about a restaurant — Los Amigos Taqueria — did well, they said, they saw an opportunity to help other businesses.
"The idea behind the TikTok, more so for us than getting followers and stuff like that, is to help those businesses who are struggling through the pandemic and those businesses who are not well known," Baptista said. "Secret hidden gems kind of stuff."
DeAlmeida said that because these businesses are small and local, many aren't active on social media and might not be aware of the attention because of TikToks.
"A lot of these businesses don't even have a clue that they're blowing up somewhere and then they're getting this influx and they don't know where it's coming from," said DeAlmeida.
DeAlmeida and Baptista see an opportunity to expand their brand to help all kinds of people, communities and businesses.
"We really want to broaden it and not be so focused on just food because we're not foodies," said Baptista, "We're really just here to help new people in Boston."
SoWa Vintage, a Boston-based vintage shop, has also benefited from the TikTok trend.
A video tour of the store posted by TikTok user @leah_magss late in the summer has since gotten more than 410,000 views and nearly 70,000 likes.
The viral video was instrumental in boosting business right when they needed it most, according to SoWa Vintage Market owners Stephanie Pernice and John Warren.
"For a small business closed for almost four months during COVID, the TikTok crowd was a blessing because it really helped out a number of small businesses who, you know, we still pay rent," said Pernice.
Pernice has also noticed a change in the demographics of customers, which she attributes to the TikTok trend.
"We did see a shift to a younger audience. . . . I think a lot of people found out about us because of the TikTok video," Pernice said.
Warren said he's thrilled that more young customers are coming in who are interested in the SoWa Vintage Market's eclectic inventory. He was especially touched to bond with a new crowd of young people who share his love of old books.
"It's like magic. It's just such a really cool feeling to connect with that generation, things that I really hold close to my heart," he said. "You can see it's close to their heart, too, which is really special."
TikTok, Hong Kong and More US-China Flashpoints: QuickTake
TikTok, Hong Kong and More U.S.-China Flashpoints: QuickTake. BEIJING, CHINA – JULY 09: A Chinese woman adjusts the Chinese flag before the …

Read More
Shelby Sherritt: the Ballarat cancer survivor who became a TikTok pottery queen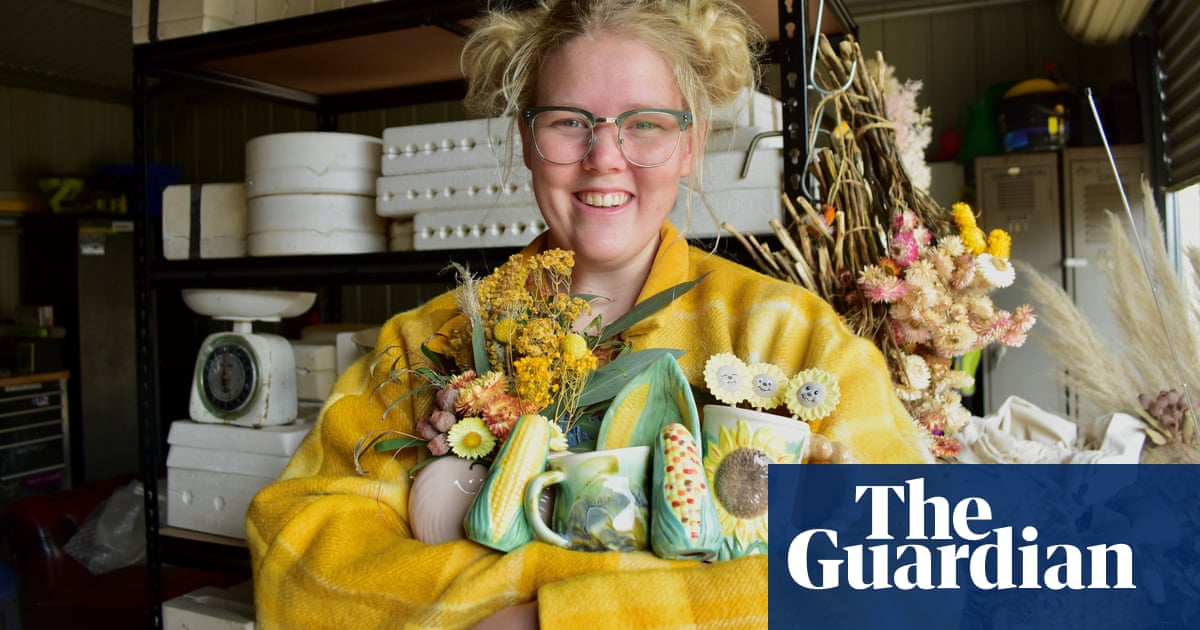 For years, Shelby Sherritt was known as the "cancer girl".
"All my friends were like 'Oh, she's going through treatments' or 'That's the girl from high school that got cancer'," she says.
"For so long I thought that my narrative was going to be 'the 20-year-old cancer survivor', that's who she is."
Sherritt had been featured in videos about young people going through cancer, she had written about her story, and she always assumed if she became well known it would be for that.
Now hundreds of thousands of people are following her online, but much to her surprise it has nothing to do with cancer. Instead, Sherritt has become internet famous for reviving the 70s craze of slip casting pottery.
"It's now become, 'Oh she's the artist,' it's about my pottery, and I find that so empowering," she says with a laugh.
Sherritt has gained half a million followers on TikTok by hosting a wildly successful series from her Ballarat art shed, where every week she makes a new piece from a giant pile of mystery slip casting moulds she got free from a man on Gumtree.
In the one-minute videos, she walks to her giant pile of plaster moulds, picks one, and pours in watery clay or "slip". Once it's dried she reveals the model, usually a kitsch 70s mug or garden gnome. Sherritt then paints it in her signature colourful style.
The comments section shows many are looking forward to these videos every week, describing them as a little gift to break the mundanity of lockdowns across the world.
"It's been absolutely mind-blowing. Actually, I think the biggest surprise has been the reminiscing because slip casting was so massive in the 70s and 80s," she says.
"There were so many people commenting that they used to do it with their grandpa, lots of people going, 'I have this piece', 'I've seen this piece in the shop'… I think it's about the mystery, the moulds are so elusive on the outside, people are just like 'oooh what could actually be in that'."
Her videos now regularly top a million views, something Sherritt says she could have never imagined when her life was focused solely on surviving.
"I didn't expect five years ago to be where I am today," she says.
When Sherritt was 20 she came down with what felt like run-of-the-mill appendicitis.
"I was on holiday in Perth and I just could not get out of bed, I was in that much pain. And then we went to a doctor … and it turns out they caught it just before it burst, but by the time I went into surgery, it had ruptured," she says.
During the surgery her doctors discovered she was suffering from a rare form of appendiceal and bowel cancer, and when her appendix burst it potentially spread cancerous mucus all through her body. They told her they had removed 30cm of bowel on the spot, and the doctors spoke in a serious, quiet tone that filled Sherritt with fear.
"They didn't know how those sort of rare cancers react, let alone in a young person. So there was a bit of guesswork … The scary part was them not knowing," she says.
At the time Sherritt was just months away from enlisting in the navy, something that was now impossible.
"I pretty much thought, 'what am I going to do with my life?' and had this whole crisis because I obviously had to put my life on pause," she says.
"I couldn't work, I couldn't study, I had to just do the treatment."
The cancer was shocking but what was more surprising for Sherritt was the sheer boredom that comes with it.
"It was a lot of time at home, not doing much, trying to get through the six months of treatment … It was just like Covid-19 lockdown but instead of everyone being in the same situation you're watching your friends as they go out and socialise without you," she says.
"I was just so sick of just sitting around, I felt like I was wasting away."
In the deepest pits of her boredom, Sherritt says she gravitated towards her old art equipment that had been gathering dust, painting, drawing, and even sculpting from her bed.
"I just fell back into art … I got out all my frustration, happiness, anger in the clay," she says.
"My original work started off as Australiana pieces. So koalas, echidnas, possums, paying homage to the bushland."
As Sherritt's treatments went on her pottery got better and better, and after the chemotherapy and more surgeries beat the cancerous cells back she started selling her work, and wondered if maybe this was her new path.
At the start of 2020 Sherritt was able to make pottery her full-time job, and with her extra hours began uploading videos to TikTok to promote her business.
"My first video went viral and I suddenly was like, 'oh I get why are you using this. It's really good to promote your work and what you're doing'."
Her views rapidly grew when she began the slip-casting series, and the bump in sales meant she was well and truly making enough money to live off.
"I'm so happy just doing what I'm doing for the moment and just making sure that I take it in."
When Sherritt first went into remission the doctors told her if her cancer was going to come back, the chances are it would be in the first five years.
But on 18 January this year, Sherritt finally completed that long and nerve-racking countdown, totally cancer-free.
"For me reaching that five-year point, I was just like, 'wow, that section of my life is sort of done'," she says.
"I'm really proud of myself, at how far I've come, from being so lost and confused and thinking 'why me?', to now being like, 'wow, my life is so cool'. I would never have dreamed or thought that I would be in this position five years ago. It was almost like life had its purpose for me and I was just waiting to fulfil it and find what that path was," she says.
Sherritt says she is now ready to say goodbye to the "cancer girl" label once and for all.
"The cancer definitely inspired me to grow, but now the pottery itself that's my narrative … I feel really, really fulfilled now that I'm on this path."
New Zealand's Six60 to Stream TikTok's First Stadium Concert

5:51 PM PST 2/26/2021

by


Dave Brooks, Billboard

The band will make history Saturday when they livestream their Hamilton concert to the world on the video-sharing platform.

With New Zealand cleared for touring and concerts by local health officials, New Zealand band Six60 has become the de facto world's last touring band. Six60 will make history Saturday when they livestream their Hamilton concert to the world on TikTok at 10:15 p.m. in New Zealand, which is 4:15 a.m. ET.
The concert can be viewed by searching Six60 on the app.
The local chart-toppers will close out their sold-out national tour in Hamilton, New Zealand, at the Claudelands Oval with a performance that will be streamed on TikTok marking the first time a live stadium concert is streamed through the popular social media platform.
Last weekend, with most concert venues closed around the world, Six60 played to a crowd of 32,000 fans, marking the biggest live music event of 2021 so far. In 2019, they were also the first New Zealand band in history to sell out the historic Western Springs Stadium, selling 50,000 tickets.
This story first appeared on Billboard.com.