9 TikTok Silhouette Challenge Videos That Serve Killer Poses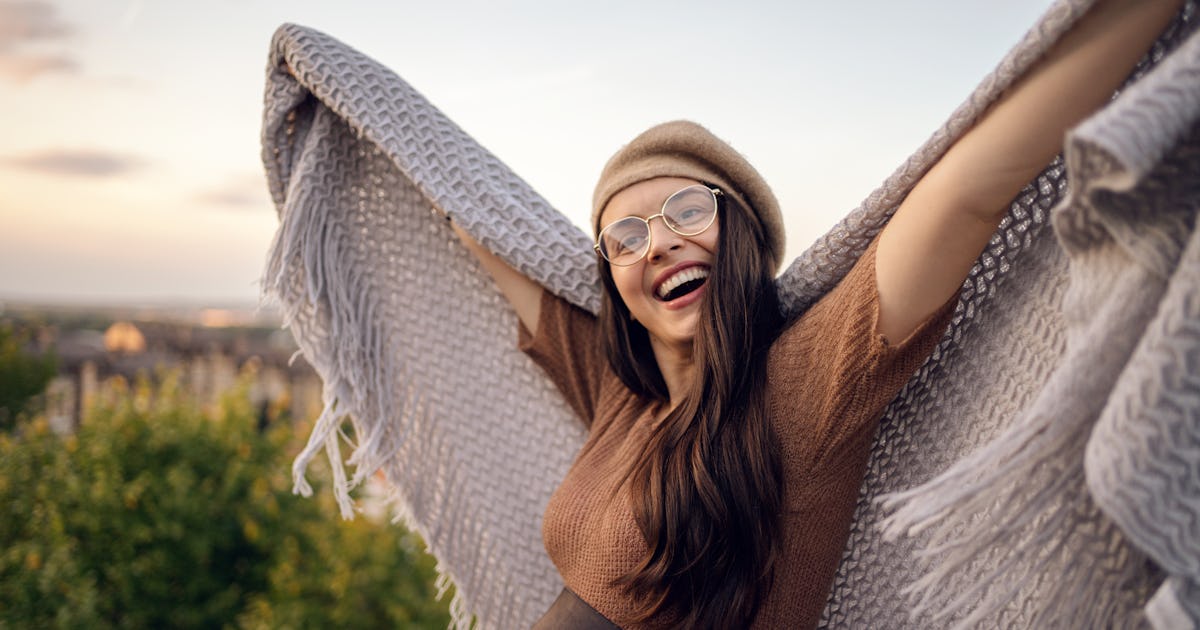 On the heels of the TikTok "Buss It" challenge and the #ClingyPet challenge comes a hot new challenge that celebrates body positivity. If you haven't seen the vids flooding your feed, you're probably wondering if the silhouette challenge is exactly like it sounds. The challenge has people showing off their silhouettes against a red backdrop in the darkness, following a pose in the light, and the results are striking. To see what all the hype is about, here are 9 TikTok silhouette challenge videos that might inspire you to hop on board the trend.
With over 183 million views as of Saturday, Jan. 30, the #silhouettechallenge showcases TikTokers posing in a doorway before you see the video switch to a hazy red background with their pitch-black silhouettes. It's unclear who started the trend, but the videos feature some body-positive, sultry vibes. Each of the videos in the challenge uses two songs. First, it begins with the regular video (non-red background) with Paul Anka's "Put Your Head On My Shoulder." Then, the mood shifts with Doja Cat's "Streets," which samples B2K's "Streets Is Callin'."
Although at first glance, the videos seem to involve a literal red light, they really don't. TikTokers are using the "Vin Rouge" filter from Snapchat to achieve the look. Most people who participate in the challenge begin with regular clothing or baggy clothing and then switch to something tighter for the silhouette.
1. This Video Is A Body Positive Nod
TikTok user @lulbabypeach took on the silhouette challenge with a sexy dance full of body-positive vibes.
2. This Video Features A Sultry Backbend
TikToker Caelyn Mckenzie (@caelynmckenziee) took on the challenge with a backbend pose.
3. This Video Celebrates Curves
With some very normal to sultry vibes in a flash, TikToker @gloryveddy showed off curves against the red background.
4. This Video Strikes An High Heeled Pose
Taking it to a level like the musical Cabaret or any show with leotards, high heels, and black tights, TikToker @lizzie..xx showed off her long legs with a striking pose.
5. This Video Looks Like A Pensive Pose From A Dance Movie
TikTok user Olivia Dolan (@oliviadeeee) struck a few poses in silhouette and the first looks like she came straight from a dance movie like the Step Up franchise.
6. This Video Has Some Mean Dance Moves
Lay Miller (@laymiller97) took part in the silhouette challenge with a pose and a fluid dance in the dark that's fire.
7. This Video Shows Off Long Hair & High Heeled Poses
TikToker Kay Bownes (@kaybownes) hopped on the trend with still shows of poses that took advantage of her long hair
8. This Video Is A Yoga Version
Twitter user @_dawnye_ got in on the challenge, posting it on the other social media platform where the silhouette challenge is also trending. Her video is a departure from the sexy vibes of the other videos, but it's mystifying to watch as she moves through yoga poses in the darkness.
9. This Video Is An Eye-Catching Transition
Sabrina Pecka (@sabrinababyyy) took the challenge fast, with a lengthier time getting her pose ready in the light before seamlessly editing the portion of her in a bodysuit in the red background.
TikTok, Hong Kong and More US-China Flashpoints: QuickTake
TikTok, Hong Kong and More U.S.-China Flashpoints: QuickTake. BEIJING, CHINA – JULY 09: A Chinese woman adjusts the Chinese flag before the …

Read More
Shelby Sherritt: the Ballarat cancer survivor who became a TikTok pottery queen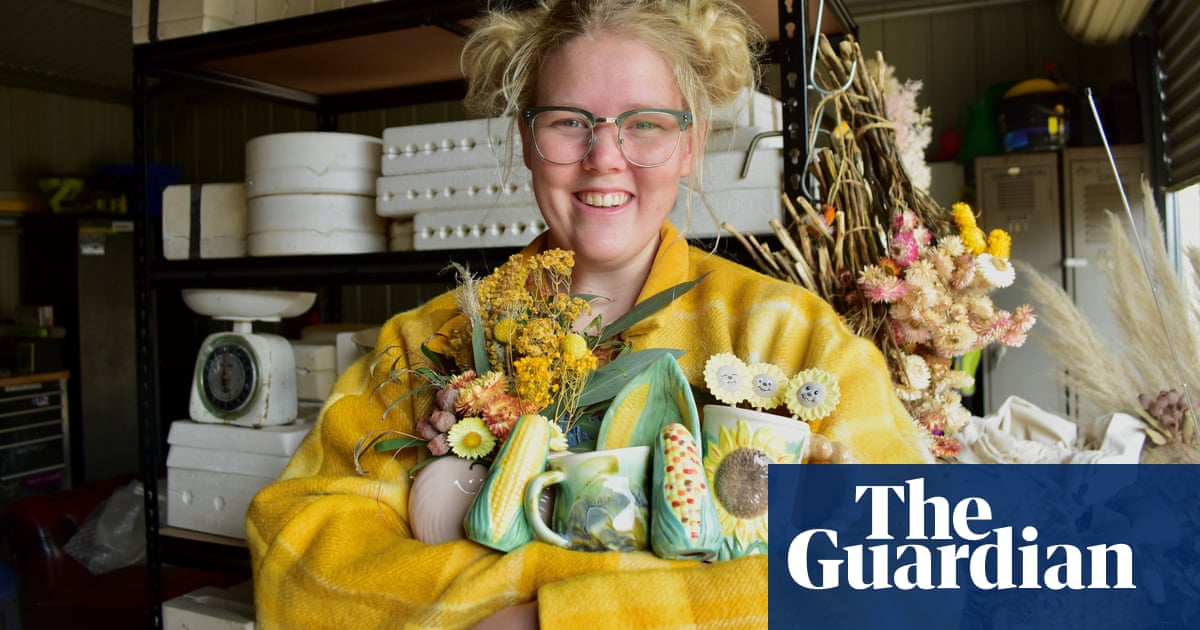 For years, Shelby Sherritt was known as the "cancer girl".
"All my friends were like 'Oh, she's going through treatments' or 'That's the girl from high school that got cancer'," she says.
"For so long I thought that my narrative was going to be 'the 20-year-old cancer survivor', that's who she is."
Sherritt had been featured in videos about young people going through cancer, she had written about her story, and she always assumed if she became well known it would be for that.
Now hundreds of thousands of people are following her online, but much to her surprise it has nothing to do with cancer. Instead, Sherritt has become internet famous for reviving the 70s craze of slip casting pottery.
"It's now become, 'Oh she's the artist,' it's about my pottery, and I find that so empowering," she says with a laugh.
Sherritt has gained half a million followers on TikTok by hosting a wildly successful series from her Ballarat art shed, where every week she makes a new piece from a giant pile of mystery slip casting moulds she got free from a man on Gumtree.
In the one-minute videos, she walks to her giant pile of plaster moulds, picks one, and pours in watery clay or "slip". Once it's dried she reveals the model, usually a kitsch 70s mug or garden gnome. Sherritt then paints it in her signature colourful style.
The comments section shows many are looking forward to these videos every week, describing them as a little gift to break the mundanity of lockdowns across the world.
"It's been absolutely mind-blowing. Actually, I think the biggest surprise has been the reminiscing because slip casting was so massive in the 70s and 80s," she says.
"There were so many people commenting that they used to do it with their grandpa, lots of people going, 'I have this piece', 'I've seen this piece in the shop'… I think it's about the mystery, the moulds are so elusive on the outside, people are just like 'oooh what could actually be in that'."
Her videos now regularly top a million views, something Sherritt says she could have never imagined when her life was focused solely on surviving.
"I didn't expect five years ago to be where I am today," she says.
When Sherritt was 20 she came down with what felt like run-of-the-mill appendicitis.
"I was on holiday in Perth and I just could not get out of bed, I was in that much pain. And then we went to a doctor … and it turns out they caught it just before it burst, but by the time I went into surgery, it had ruptured," she says.
During the surgery her doctors discovered she was suffering from a rare form of appendiceal and bowel cancer, and when her appendix burst it potentially spread cancerous mucus all through her body. They told her they had removed 30cm of bowel on the spot, and the doctors spoke in a serious, quiet tone that filled Sherritt with fear.
"They didn't know how those sort of rare cancers react, let alone in a young person. So there was a bit of guesswork … The scary part was them not knowing," she says.
At the time Sherritt was just months away from enlisting in the navy, something that was now impossible.
"I pretty much thought, 'what am I going to do with my life?' and had this whole crisis because I obviously had to put my life on pause," she says.
"I couldn't work, I couldn't study, I had to just do the treatment."
The cancer was shocking but what was more surprising for Sherritt was the sheer boredom that comes with it.
"It was a lot of time at home, not doing much, trying to get through the six months of treatment … It was just like Covid-19 lockdown but instead of everyone being in the same situation you're watching your friends as they go out and socialise without you," she says.
"I was just so sick of just sitting around, I felt like I was wasting away."
In the deepest pits of her boredom, Sherritt says she gravitated towards her old art equipment that had been gathering dust, painting, drawing, and even sculpting from her bed.
"I just fell back into art … I got out all my frustration, happiness, anger in the clay," she says.
"My original work started off as Australiana pieces. So koalas, echidnas, possums, paying homage to the bushland."
As Sherritt's treatments went on her pottery got better and better, and after the chemotherapy and more surgeries beat the cancerous cells back she started selling her work, and wondered if maybe this was her new path.
At the start of 2020 Sherritt was able to make pottery her full-time job, and with her extra hours began uploading videos to TikTok to promote her business.
"My first video went viral and I suddenly was like, 'oh I get why are you using this. It's really good to promote your work and what you're doing'."
Her views rapidly grew when she began the slip-casting series, and the bump in sales meant she was well and truly making enough money to live off.
"I'm so happy just doing what I'm doing for the moment and just making sure that I take it in."
When Sherritt first went into remission the doctors told her if her cancer was going to come back, the chances are it would be in the first five years.
But on 18 January this year, Sherritt finally completed that long and nerve-racking countdown, totally cancer-free.
"For me reaching that five-year point, I was just like, 'wow, that section of my life is sort of done'," she says.
"I'm really proud of myself, at how far I've come, from being so lost and confused and thinking 'why me?', to now being like, 'wow, my life is so cool'. I would never have dreamed or thought that I would be in this position five years ago. It was almost like life had its purpose for me and I was just waiting to fulfil it and find what that path was," she says.
Sherritt says she is now ready to say goodbye to the "cancer girl" label once and for all.
"The cancer definitely inspired me to grow, but now the pottery itself that's my narrative … I feel really, really fulfilled now that I'm on this path."
New Zealand's Six60 to Stream TikTok's First Stadium Concert

5:51 PM PST 2/26/2021

by


Dave Brooks, Billboard

The band will make history Saturday when they livestream their Hamilton concert to the world on the video-sharing platform.

With New Zealand cleared for touring and concerts by local health officials, New Zealand band Six60 has become the de facto world's last touring band. Six60 will make history Saturday when they livestream their Hamilton concert to the world on TikTok at 10:15 p.m. in New Zealand, which is 4:15 a.m. ET.
The concert can be viewed by searching Six60 on the app.
The local chart-toppers will close out their sold-out national tour in Hamilton, New Zealand, at the Claudelands Oval with a performance that will be streamed on TikTok marking the first time a live stadium concert is streamed through the popular social media platform.
Last weekend, with most concert venues closed around the world, Six60 played to a crowd of 32,000 fans, marking the biggest live music event of 2021 so far. In 2019, they were also the first New Zealand band in history to sell out the historic Western Springs Stadium, selling 50,000 tickets.
This story first appeared on Billboard.com.