Health Ministry Teams Up With Twitter to Respond to Queries Around COVID-19
The Union Health Ministry has teamed up with Twitter to launch a dedicated account to respond to Indian Twitter users' queries related to COVID-19. The new account COVID India Seve using Twitter's Twitter Seva platform, "a customised live query redressal service." People can put their queries forward by tweeting to @CovidIndiaSeva to get a response from the authorities. The account describes itself as "Official @MoHFW_INDIA Handle for COVID-19 Response" and it was created in March. Twitter said that the service will enable the government to interact effectively with the public during the ongoing COVID-19 pandemic.
People in India can tweet to the @CovidIndiaSeva to seek guidance regarding steps to take if COVID-19 symptoms occur, know more about access to healthcare services, measures implemented by the government, among many other topics. According to Twitter, people will get answers to only broader questions, meaning personal queries won't be dealt with through the new service.
Tweeting about the launch, Union Health Minister Harsh Vardhan wrote, "Experts will share authoritative public health information reg #COVIDー19 swiftly at scale, helping to build a direct channel for communication with citizens. Post your queries!"
@CovidIndiaSeva has been responding to the questions from Twitter users. NDTV journalist Akhilesh Sharma asked, "Crucial question in everyone's mind is that whether we are testing enough? What about rapid antibody based blood tests esp for COVID inflicted areas?"
Answering the question, @CovidIndiaSeva replied, "At present, 204 government labs and 86 NABL accredited private laboratory chains are involved in testing. The no. of collection centers have also been enhanced to 16,000 centers across India. We have already tested 4,05,320 people." It went on to add, "Government of India has issued advisory to start rapid antibody based blood test for COVID-19 for areas reporting clusters (containment zone) and in large migration gatherings/evacuees centers."
Twitter India has also been working with various state governments in the country to make the COVID-19 response management better. "It has also supported and enabled the Govt of Karnataka, Maharashtra, Jharkhand and Uttar Pradesh to set-up dedicated COVID-Response accounts. Govt. of Karnataka, Maharashtra," it said in a statement.
Facebook Purchases Majority Stake in Indian Internet Provider Jio for $5.7 Billion
If you wanted to know how much value Facebook sees in the emerging Indian market, this deal certainly provides some indication.
After recent reports that Facebook was looking to acquire a stake in Indian internet provider Jio, The Social Network has now confirmed that it has purchased a majority stake in the Reliance-owned venture for a massive $US5.7 billion.
As explained by Facebook:
"Today we are announcing a $5.7 billion, or INR 43,574 crore, investment in Jio Platforms Limited, part of Reliance Industries Limited, making Facebook its largest minority shareholder. The investment underscores our commitment to India, and our excitement for the dramatic transformation that Jio has spurred in the country."
Launched just three years ago, Jio has quickly become one of the top internet providers in India, with some 388 million customers in the region. Facebook's involvement will provide Jio with a whole range of new resources, while the acquisition will provide Facebook with a new way into the Indian market, which it's been looking to gain a foothold in for many years, with varying levels of success.
Most notable for Facebook will be connection to WhatsApp, the most used messaging app in the nation.
As Facebook notes:
"Over the years, Facebook has invested in India to connect people and help businesses launch and grow. WhatsApp is so ingrained in Indian life that it has become a commonly used verb across many Indian languages and dialects. Facebook brings together friends and families, but moreover, it's one of the country's biggest enablers of growth for small businesses. And Instagram has grown dramatically in India in recent years as the place where people follow their interests and passions."
Facebook will be hoping to use its newfound presence in the local market to fuel more business activity via WhatsApp, and Facebook, which will incorporate broader expansion of Indian eCommerce platforms like Meesho, which Facebook also acquired last year.
India, and its 1.4 billion citizens, is the next key battleground for the tech giants, with both Facebook and Google both working to gain a foothold in the Indian market in order to expand their audience base, provide new business tools, and build revenue-generating partnerships that will facilitate significant opportunities to expand their respective empires.
The developing region is on the cusp of hitting the next stage in tech adoption. India is now the world's second-largest smartphone market after China, while the number of internet users in the nation is expected to top 850 million by 2022. For comparison, the US is expected to reach around 300 million internet users at the same stage.
Given this, the tech company that can best position itself in the Indian market stands to win out big time as Indian users adapt to how they live and work incorporating online means.
Facebook's deal for Jio is a massive win in this respect, and while past efforts like its Free Basics program haven't been welcomed by Indian regulators, it would appear that Facebook has found a new opportunity, which will be a key element in the platform's growth strategy moving forward.
That will also, eventually, facilitate new opportunities for businesses looking to connect with the Indian market, as Facebook moves to provide more business tools.
WhatsApp Launches New 'Together at Home' Sticker Pack for Coronavirus Lockdown Chats
WhatsApp has introduced a new sticker pack called 'Together at Home'. The instant messaging giant has partnered with World Health Organisation (WHO) to create these new stickers to reflect the feelings and emotions that people across the globe are going through at the moment. These new stickers will be available in the English, Hindi, and a host of other languages. WhatsApp introduced stickers two years ago, and since then it has become an important tool of expression on the social platform.
The new sticker pack is called 'Together at Home' and it aptly reflects all the moods during this period of staying indoors. It has a sticker that shows a man with a laptop wearing pyjamas depicting the new norm of 'work from home'. WhatsApp promotes social distancing through stickers that depict an 'air high five' and 'group video calling'. There are stickers inside the pack that show a man binge-watching a series on the bed, another man doing yoga with his dog, reminding people to wash hands, people catching up in balconies, and a female snooping on neighbours using binoculars. There are stickers that celebrate medical heroes as well as personal heroes during the COVID-19 crisis.
25 WhatsApp Tricks to Help Master the Messaging App
The "Together at Home" sticker pack is available within WhatsApp, and can be downloaded for free. It is currently available in English as well as text localised for 10 languages – Arabic, French, German, Hindi, Indonesian, Italian, Portuguese, Russian, Spanish and Turkish. With this new sticker pack, WhatsApp looks to offer more ways to stay connected during the pandemic.
The company has been working on improving the WhatsApp experience recently, especially as more as more people stay and work at home. The latest beta has doubled the group calling limit from four to eight on WhatsApp, and now that it has been enabled for both Android and iOS users, the stable rollout should follow soon.
---
Is iPhone SE the ultimate 'affordable' iPhone for India? We discussed this on Orbital, our weekly technology podcast, which you can subscribe to via Apple Podcasts or RSS, download the episode, or just hit the play button below.
How Data Can Aid the Fight Against COVID-19
This post was originally published in the Washington Post.
As the world fights COVID-19 and countries develop plans to reopen their societies, it's critical to have a clear understanding of how the disease is spreading. Better data can help governments determine where to send resources such as ventilators and personal protective equipment — and eventually which areas are safe to start opening up again.
Getting accurate county-by-county data from across the US is challenging, and obtaining such focused data from across the whole world is even harder. But with a community of billions of people globally, Facebook can uniquely help researchers and health authorities get the information they need to respond to the outbreak and start planning for the recovery.
We recently started showing the Facebook community in the US an opt-in symptom survey run by health researchers at Carnegie Mellon University. The survey asked people if they have symptoms such as fevers, coughing, shortness of breath or loss of smell that are associated with COVID-19. Since experiencing symptoms is a precursor to becoming more seriously ill, this survey can help forecast how many cases hospitals will see in the days ahead and provide an early indicator of where the outbreak is growing and where the curve is being successfully flattened. The survey responses are sent to the researchers and aren't accessible to Facebook.
On Monday, the team at Carnegie Mellon is publishing its initial findings. They're getting approximately 1 million responses a week in the US, and the results are promising. They correlate with publicly available data on confirmed cases, which suggests this data can help predict where the disease will spread. They can also be used to build detailed county-by-county insights. The results indicate, for example, that in some New York City suburbs, an estimated 2 to 3% of people are experiencing COVID-19-like symptoms. Using aggregate data from Carnegie Mellon's results, Facebook produced its first report and new interactive maps, which we plan to update daily through this outbreak.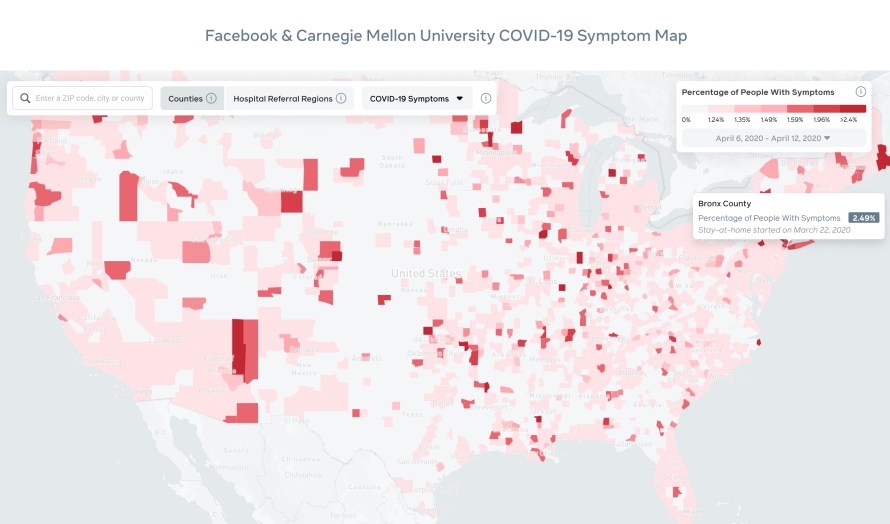 This is work that social networks are well-situated to do. By distributing surveys to large numbers of people whose identities we know, we can quickly generate enough signal to correct for biases and ensure sampling is done properly. We're partnering with faculty from the University of Maryland to expand this survey globally, and the team at Carnegie Mellon is building an application programming interface, or API, that will let researchers everywhere access the results. We're hopeful that this will help governments and public health officials around the world who might not otherwise have this kind of precise data to make decisions in the weeks and months ahead.
There are other ways data can help with the response. For example, we've released several new disease-prevention maps from our Data for Good program that show in aggregate where people are traveling and interacting between regions. Over the past few months, public health researchers have used these data sets to inform decisions across Asia, Europe and North America. Researchers in Taiwan have been able to identify the cities with the highest chance of infection; researchers in Italy are analyzing lockdown measures in relation to income inequality; and California officials are reviewing county-level data daily to steer public health messaging.
We've also partnered with researchers from New York University and the Mila research institute in Montreal, using artificial intelligence to help hospitals better predict needs for scarce resources, such as personal protective equipment and ventilators.
Data like this can unlock a lot of good. Since we're all generating data from apps and devices every day, there will likely be many more opportunities to use the aggregate data to benefit public health. But it's essential that this is done in a way that protects people's privacy and respects human rights.
It's important that organizations involved in this work commit to doing it in a way that protects people's information and that any data collected is used solely for responding to public health emergencies and for other crisis response efforts. Fighting the pandemic has required taking unprecedented measures across society, but it shouldn't mean sacrificing our privacy.
I've always believed that helping people come together as a community will help us address our greatest challenges — not just by sharing our experiences and supporting each other in crises but also by working together at scale to solve problems. The world has faced pandemics before, but this time we have a new superpower: the ability to gather and share data for good. If we use it responsibly, I'm optimistic that data can help the world respond to this health crisis and get us started on the road to recovery.
The post How Data Can Aid the Fight Against COVID-19 appeared first on About Facebook.