How Data Can Aid the Fight Against COVID-19
This post was originally published in the Washington Post.
As the world fights COVID-19 and countries develop plans to reopen their societies, it's critical to have a clear understanding of how the disease is spreading. Better data can help governments determine where to send resources such as ventilators and personal protective equipment — and eventually which areas are safe to start opening up again.
Getting accurate county-by-county data from across the US is challenging, and obtaining such focused data from across the whole world is even harder. But with a community of billions of people globally, Facebook can uniquely help researchers and health authorities get the information they need to respond to the outbreak and start planning for the recovery.
We recently started showing the Facebook community in the US an opt-in symptom survey run by health researchers at Carnegie Mellon University. The survey asked people if they have symptoms such as fevers, coughing, shortness of breath or loss of smell that are associated with COVID-19. Since experiencing symptoms is a precursor to becoming more seriously ill, this survey can help forecast how many cases hospitals will see in the days ahead and provide an early indicator of where the outbreak is growing and where the curve is being successfully flattened. The survey responses are sent to the researchers and aren't accessible to Facebook.
On Monday, the team at Carnegie Mellon is publishing its initial findings. They're getting approximately 1 million responses a week in the US, and the results are promising. They correlate with publicly available data on confirmed cases, which suggests this data can help predict where the disease will spread. They can also be used to build detailed county-by-county insights. The results indicate, for example, that in some New York City suburbs, an estimated 2 to 3% of people are experiencing COVID-19-like symptoms. Using aggregate data from Carnegie Mellon's results, Facebook produced its first report and new interactive maps, which we plan to update daily through this outbreak.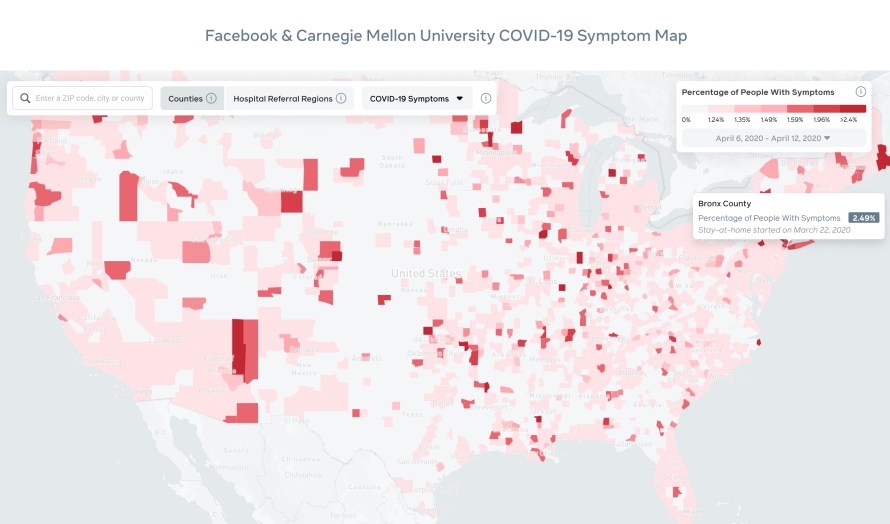 This is work that social networks are well-situated to do. By distributing surveys to large numbers of people whose identities we know, we can quickly generate enough signal to correct for biases and ensure sampling is done properly. We're partnering with faculty from the University of Maryland to expand this survey globally, and the team at Carnegie Mellon is building an application programming interface, or API, that will let researchers everywhere access the results. We're hopeful that this will help governments and public health officials around the world who might not otherwise have this kind of precise data to make decisions in the weeks and months ahead.
There are other ways data can help with the response. For example, we've released several new disease-prevention maps from our Data for Good program that show in aggregate where people are traveling and interacting between regions. Over the past few months, public health researchers have used these data sets to inform decisions across Asia, Europe and North America. Researchers in Taiwan have been able to identify the cities with the highest chance of infection; researchers in Italy are analyzing lockdown measures in relation to income inequality; and California officials are reviewing county-level data daily to steer public health messaging.
We've also partnered with researchers from New York University and the Mila research institute in Montreal, using artificial intelligence to help hospitals better predict needs for scarce resources, such as personal protective equipment and ventilators.
Data like this can unlock a lot of good. Since we're all generating data from apps and devices every day, there will likely be many more opportunities to use the aggregate data to benefit public health. But it's essential that this is done in a way that protects people's privacy and respects human rights.
It's important that organizations involved in this work commit to doing it in a way that protects people's information and that any data collected is used solely for responding to public health emergencies and for other crisis response efforts. Fighting the pandemic has required taking unprecedented measures across society, but it shouldn't mean sacrificing our privacy.
I've always believed that helping people come together as a community will help us address our greatest challenges — not just by sharing our experiences and supporting each other in crises but also by working together at scale to solve problems. The world has faced pandemics before, but this time we have a new superpower: the ability to gather and share data for good. If we use it responsibly, I'm optimistic that data can help the world respond to this health crisis and get us started on the road to recovery.
The post How Data Can Aid the Fight Against COVID-19 appeared first on About Facebook.
Preparing our Partners for iOS 14: Latest Guidance on SKAdNetwork
We're committed to supporting advertisers and publishers through Apple's requirements for iOS 14. While guidance from Apple remains limited, we are making preparations to help our partners respond to Apple's latest updates and prepare for when Apple implements additional requirements. We recognize the need for businesses to plan in advance of these changes, and are providing updated guidance as it becomes available.
Today, we're sharing the latest on our plans to update the Facebook and Audience Network SDKs to add support for the SKAdNetwork API. We expect to provide another update in November and as Apple provides more guidance.
The Facebook SDK
We will release an updated version of the Facebook SDK by early Q1 to support the upcoming iOS 14 privacy feature requirements. As previously shared in September, the new version of the Facebook SDK will provide support for Apple's SKAdNetwork API and conversion value management.
Audience Network SDK
App Install Ads
To support partners' readiness for Apple's privacy requirements for early next year, the following changes can be expected for running app install campaigns for iOS 14 users. We are still waiting for clarity from Apple if additional requirements will be version-based (iOS 14.1 or iOS 14.2 release onwards) or date-based (iOS 14.0 starting on a specific date).
Account Management

We're updating previously shared guidance to no longer require a dedicated ad account for app install ads for iOS 14. We will support the ability for advertisers to run app install campaigns for iOS 14 users from existing ad accounts. The existing ad accounts can also continue to be used for app install ads for non-iOS 14 users as well as for campaigns using any other objectives.
Due to restrictions imposed by the SKAdNetwork API, there will be a limit on how many separate ad accounts can be used to run campaigns for iOS 14 users and we expect to provide additional details in November.

Campaign Management

We will require advertisers to create standalone app install campaigns for iOS 14 users. If Apple implements date-based requirements, app install campaigns that are currently running that include OS version 14.0 will stop delivering, and will have a path to migrate to standalone iOS 14 campaigns.
Due to restrictions imposed by the SKAdNetwork API, there will be limits on the number of iOS 14 campaigns and ad sets that can be active at any given time and we expect to provide additional details in November.

Optimization

In preparation for Apple's requirements for early next year, we will support the ability to run app install campaigns optimizing for installs (MAI) and app events (AEO). Value optimization (VO) support is expected in the weeks following Apple's required implementation.
In order to run app install campaigns optimizing for installs, app events or value optimization (VO), apps must be registered to use SKAdNetwork API and have implemented the ConversionValue() bits using the Facebook SDK, a supported Mobile Measurement Partner, or manually within a specific time range (all calls to updateConversionValue happen within 24 hours of install). We will be using install and post-install event data reported from SKAdNetwork API for the purpose of measurement and optimization.

Measurement

We will support measurement for app install ads optimizing for install (MAI), app events (AEO), and value optimization (VO) for iOS 14 campaigns with some limitations. These changes are the unfortunate result of SKAdNetwork's limited capabilities.

SKAdNetwork uses its own attribution window. Due to the aggregated nature of the data that is provided by the SKAdNetwork API, we will not be able to provide 1d, 7d, or 28d click-through or view-through attribution window breakdowns.
Due to data being aggregated at the campaign level, reporting at the ad set and ad levels will be modeled.
SKAdNetwork data will not support breakdowns (age, gender, region, placement, etc.) for app install or post-install event metrics.
Due to the delay of reports from the SKAdNetwork API, events will be reported based on the time the data is returned through the SKAN API.

App Events API

Partners who use the App Events API today will be able to continue to use the App Events API. However, support for Apple's SKAdNetwork will require changes within your app. We will be providing additional implementation details in a future update.

Supporting advertisers who work with Mobile Measurement Partners

We are partnering with Mobile Measurement Partners (MMPs) to support interoperability of SKAdNetwork through either Facebook or MMP SDKs. This work is ongoing and requires further testing. We will provide an update as the solution is finalized.
We recognize that further details are required to plan for additional requirements created by iOS 14. Like the rest of the industry, we continue to prepare for Apple's changes and will provide additional updates as Apple provides more guidance, with our next update expected in November.
Previous Updates to Prepare our Partners for iOS 14:
How Our Focus on Privacy Impacts Developers
Today, we're sharing some of the changes we've made to our privacy program over the past year and examples of the new ways we're operating to ensure we protect people's privacy. At Facebook we are committed to building a safer, more sustainable platform to strengthen trust with people and continue to drive long-term value for our developers. Simply put, protecting the privacy of the people who use our products is a responsibility we share with all developers on our platform.
We've made changes to put privacy at the core of everything we do. The new Platform Terms and Developer Policies are a starting point to ensure businesses and developers clearly understand their responsibility to safeguard data and respect people's privacy when using our platform and tools.
We've also continued to refine and streamline our App Review process which will ensure consistency for all developers. This includes changes that help developers build business solutions and tools as well as have additional control over the data permissions they request and the ability to remove them when no longer needed.
Finally, we introduced Data Use Checkup, a new annual workflow to drive accountability for all Facebook platform developers. With Data Use Checkup, developers are required to review the permissions they have access to and commit that their API access and data use comply with the Facebook Platform Terms and Developer Policies in order to keep their API access.
In addition to simplifying and clarifying developer responsibilities, we're also proactively taking action against companies and individuals who abuse our platform. Earlier this month, we filed a lawsuit against two companies that used scraping to engage in an international data harvesting operation, and a few weeks ago we took action against two companies operating fake engagement services.
These improvements are intended to help create a better privacy foundation for developers and we encourage all developers to build experiences using a privacy-first approach, with principles such as data minimization as their guide.
As a reminder, developers will be required to complete Data Use Checkup within the next several months in order to maintain API access. If you have yet to go through Data Use Checkup, you'll be receiving a Developer Alert triggering an email to your app's administrators and notification in your App Dashboard, notifying you to complete the process.
To prepare for the process, make sure you've updated contact details and app administrator designation for each app within your organization. You can also learn more on the new Platform Initiatives Hub.
We know user privacy is just as important to our developer community as it is to us. Thank you for continuing to partner with us as we build a safer, more sustainable platform.
Preparing for Apple's App Store Data Disclosure Requirements
To support our developer and advertising partners with the upcoming iOS 14 App Store data disclosure requirements, we have consolidated previously released public information that explains Facebook's data collection practices for the Facebook SDK to make it easier for you as you fill out the App Store Connect questionnaire when it's released.
Facebook SDK
To provide functionality within the Facebook SDK, we may receive and process certain contact, location, identifier, and device information associated with Facebook users and their use of your application. The information we receive depends on what SDK features 3rd party applications use and we have structured the document below according to these features.
App Ads, Facebook Analytics, & App Events
Facebook App Events allow you to measure the performance of your app using Facebook Analytics, measure conversions associated with Facebook ads, and build audiences to acquire new users as well as re-engage existing users. There are a number of different ways your app can use app events to keep track of when people take specific actions such as installing your app or completing a purchase.
With Facebook SDK, there are app events that are automatically logged (app installs, app launches, and in-app purchases) and collected for Facebook Analytics unless you disable automatic event logging. Developers determine what events to send to Facebook from a list of standard events, or via a custom event.
When developers send Facebook custom events, these events could include data types outside of standard events. Developers control sending these events to Facebook either directly via application code or in Events Manager for codeless app events. Developers can review their code and Events Manager to determine which data types they are sending to Facebook. It's the developer's responsibility to ensure this is reflected in their application's privacy policy.
Advanced Matching
Developers may also send us additional user contact information in code, or via the Events Manager. Advanced matching functionality may use the following data, if sent:
email address, name, phone number, physical address (city, state or province, zip or postal code and country), gender, and date of birth.
Facebook Login
There are two scenarios for applications that use Facebook Login via the Facebook SDK: Authenticated Sign Up or Sign In, and User Data Access via Permissions. For authentication, a unique, app-specific identifier tied to a user's Facebook Account enables the user to sign in to your app. For Data Access, a user must explicitly grant your app permission to access data.
Note: Since Facebook Login is part of the Facebook SDK, we may collect other information referenced here when you use Facebook Login, depending on your settings.
Device Information
We may also receive and process the following information if your app is integrated with the Facebook SDK:
Device identifiers;
Device attributes, such as device model and screen dimensions, CPU core, storage size, SDK version, OS and app versions, and app package name; and
Networking information, such as the name of the mobile operator or ISP, language, time zone, and IP address.
Audience Network SDK
We may receive and process the following information when you use the Audience Network SDK to integrate Audience Network ads in your app:
Device identifiers;
Device attributes, such as device model and screen dimensions, operating system, mediation platform and SDK versions; and
Ad performance information, such as impressions, clicks, placement, and viewability.