Facebook Disaster Maps Help Those Affected by Australia's Bushfires
N95 respirator masks getting loaded onto an airplane bound for bushfire-affected areas of Australia.
Bushfires in Australia have killed more than 25 people, decimated Australia's wildlife, and are expected to rack up historically high damage costs of multiple billions of dollars — and they're still burning.
During and after a natural disaster, response organizations need accurate information — every minute counts in saving lives. Real-time information helps paint a more complete picture of where affected people are located, so that resources like food, water, and medical supplies can be efficiently distributed where they are needed most. We launched Facebook Disaster Maps specifically to help fill information gaps during these events. So when the Australia fires began, we quickly shared real-time maps with our more than 100 Data for Good partners. Those maps illustrate how populations are evacuating and whether they have access to cellular networks, which are helping response organizations optimize their response efforts. To help support and amplify the efforts of our community, we will also be matching up to AU$1 million in donations made to GlobalGiving and donating AU$250,000 to the Australian Red Cross.
Currently, Disaster Maps in Australia are being used by a range of national and international relief, response, and academic organizations. Direct Relief, a humanitarian aid organization focused on health and emergency response, is using these tools to analyze evacuation proceedings and has plans to distribute more than 500,000 respiratory masks to the Australian states of Victoria and New South Wales. Direct Relief first used Disaster Maps to respond to the Thomas Fire and Montecito mudslides of December 2017 and January 2018 to learn how large numbers of people behave during crisis events and to develop insights about how best to respond to medical needs.
How Facebook Disaster Maps Help
Traditional forms of data often do not provide an accurate real-time view of affected areas, which makes it extremely difficult to understand how to best direct response efforts. To combat gaps in information, Facebook Disaster Maps are generated within 24 hours of disaster striking, then refreshed daily throughout the event. The data in these maps is gathered from people using the Facebook app who have chosen to turn on Location Services and opt into a feature called Location History, which can be modified at any time under Privacy Settings. Access to this near real-time data on evacuations, displacement, and network connectivity access means disaster response agencies can act quickly and efficiently to save lives. Plus, continuously updating information allows them to respond to changing circumstances on the ground during and after the event. To assist with the bushfires, four maps have been shared: the South Coast of New South Wales; East Gippsland in Victoria; Green Wattle Creek Fire in New South Wales; and the Cudlee Creek Fire in South Australia.
Such real-time information helps responders effectively deploy resources to serve the neediest survivors and protect vulnerable populations by painting a more complete picture of where affected people are located. Disaster Maps' Facebook population density map for the bushfires clearly illustrates the quick and massive evacuation of Batemans Bay over the course of several days, from December 31 to January 3, as fire swept over the town.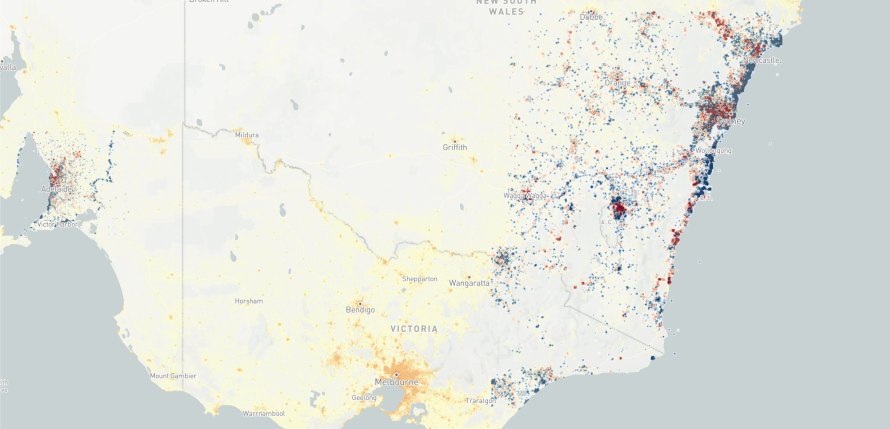 These maps allow responders to quickly get a read on how people are actually behaving during a specific emergency, rather than making assumptions or predicting behaviors based on past events. They're proving to be a remarkable tool for responders to the catastrophic Australian bushfires, the second-largest fire event ever recorded globally based on land size, which so far have destroyed more than 15 million acres, more than seven times the acreage of the shocking California fires of 2018 or last year's Amazon wildfire. At least a billion animals have been killed, wiping out multiple species of native Australian wildlife, including 30 percent of the world's koala population.
Since its inception, Facebook Data for Good has generated Disaster Maps for hundreds of natural disasters, including Hurricanes Dorian and Barry, Typhoon Tisoy in the Philippines, and the recent earthquake in Puerto Rico. In addition to guiding response efforts, universities and researchers are also using Disaster Maps to analyze how disaster-affected populations utilize social services, what prompts them to obey evacuation orders, and how social ties affect their resilience after a disaster.
More Ways to Help
As part of our efforts to assist with the bushfires, we are donating AU$250,000 to the Australian Red Cross to support relief and recovery efforts. We will also match up to AU$1 million in donations made to GlobalGiving, which will distribute the money to local nonprofits working on recovery efforts.* Donations made through our Crisis Response pages for the bushfires across New South Wales or the bushfires across Victoria and South Australia will be matched up to AU$1 million.
*Facebook waives 100 percent of fees for donations to charitable organizations. Learn more about Facebook fundraisers and crisis response.  
The post Facebook Disaster Maps Help Those Affected by Australia's Bushfires appeared first on About Facebook.
Two Billion Users — Connecting the World Privately
We are excited to share that, as of today, WhatsApp supports more than 2 billion users around the world.
Mothers and fathers can reach their loved ones no matter where they are. Brothers and sisters can share moments that matter. Coworkers can collaborate, and businesses can grow by easily connecting with their customers.
Private conversations that once were only possible face-to-face can now take place across great distances through instant chats and video calling. There are so many significant and special moments that take place over WhatsApp and we are humbled and honored to reach this milestone.
We know that the more we connect, the more we have to protect. As we conduct more of our lives online, protecting our conversations is more important than ever.
That is why every private message sent using WhatsApp is secured with end-to-end encryption by default. Strong encryption acts like an unbreakable digital lock that keeps the information you send over WhatsApp secure, helping protect you from hackers and criminals. Messages are only kept on your phone, and no one in between can read your messages or listen to your calls, not even us. Your private conversations stay between you.
Strong encryption is a necessity in modern life. We will not compromise on security because that would make people less safe. For even more protection, we work with top security experts, employ industry leading technology to stop misuse as well as provide controls and ways to report issues — without sacrificing privacy.
WhatsApp started with the goal of creating a service that is simple, reliable and private for people to use. Today we remain as committed as when we started, to help connect the world privately and to protect the personal communication of 2 billion users all over the world.
The post Two Billion Users — Connecting the World Privately appeared first on About Facebook.
Facebook, Instagram and YouTube: Government forcing companies to protect you online
Although many of the details have still to be confirmed, it's likely the new rules will apply to Facebook, Twitter, Whatsapp, Snapchat, and Instagram
We often talk about the risks you might find online and whether social media companies need to do more to make sure you don't come across inappropriate content.
Well, now media regulator Ofcom is getting new powers, to make sure companies protect both adults and children from harmful content online.
The media regulator makes sure everyone in media, including the BBC, is keeping to the rules.
Harmful content refers to things like violence, terrorism, cyber-bullying and child abuse.
The new rules will likely apply to Facebook – who also own Instagram and WhatsApp – Snapchat, Twitter, YouTube and TikTok, and will include things like comments, forums and video-sharing.
Platforms will need to ensure that illegal content is removed quickly, and may also have to "minimise the risks" of it appearing at all.
These plans have been talked about for a while now.
The idea of new rules to tackle 'online harms' was originally set out by the Department for Digital, Culture, Media and Sport in May 2018.
The government has now decided to give Ofcom these new powers following research called the 'Online Harms consultation', carried out in the UK in 2019.
Plans allowing Ofcom to take control of social media were first spoken of in August last year.
The government will officially announce these new powers for Ofcom on Wednesday 12 February.
But we won't know right away exactly what new rules will be introduced, or what will happen to tech or social media companies who break the new rules.
Children's charity the NSPCC has welcomed the news. It says trusting companies to keep children safe online has failed.
"Too many times social media companies have said: 'We don't like the idea of children being abused on our sites, we'll do something, leave it to us,'" said chief executive Peter Wanless.
"Thirteen self-regulatory attempts to keep children safe online have failed.
The UK government's Digital Secretary, Baroness Nicky Morgan said: "There are many platforms who ideally would not have wanted regulation, but I think that's changing."
"I think they understand now that actually regulation is coming."
In many countries, social media platforms are allowed to regulate themselves, as long as they stick to local laws on illegal material.
But some, including Germany and Australia, have introduced strict rules to force social media platforms do more to protect users online.
In Australia, social media companies have to pay big fines and bosses can even be sent to prison if they break the rules.
For more information and tips about staying safe online, go to BBC Own It, and find out how to make the internet a better place for all of us.
Facebook Launches Digital Literacy Programme for Women in UP
In a bid to provide digital literacy training to 1,00,000 women across seven states, Facebook on Tuesday launched its 'We Think Digital' programme in partnership with the National Commission for Women (NCW) and Cyber Peace Foundation on the occasion of Safer Internet Day.
"We are focusing on trying to create digital leadership amongst women and help them use technology for empowering themselves, enable them to make smart choices and secure from online risks. The training looks at transforming the learning process and bring about systemic change," NCW Chairperson Rekha Sharma said in a statement.
Starting from the state of Uttar Pradesh, the programme will be expanded to other states including, Assam, West Bengal, Madhya Pradesh, Gujarat, Jharkhand, and Bihar through the year.
"The Internet has become a driver for change in the current age. These training modules will open doors of equal opportunities for women of Uttar Pradesh and together with Facebook we want to equip and educate people and help make a positive impact," said Uttar Pradesh Women Welfare Minister Jai Pratap Singh.
The programme has been designed with a focus on digital literacy and citizenship, addressing issues around privacy, safety, and misinformation.
It was attended by 300 women trainees from across the state and also included workshops by the NCW and Cyber Peace Foundation.