Facebook Disaster Maps Help Those Affected by Australia's Bushfires
N95 respirator masks getting loaded onto an airplane bound for bushfire-affected areas of Australia.
Bushfires in Australia have killed more than 25 people, decimated Australia's wildlife, and are expected to rack up historically high damage costs of multiple billions of dollars — and they're still burning.
During and after a natural disaster, response organizations need accurate information — every minute counts in saving lives. Real-time information helps paint a more complete picture of where affected people are located, so that resources like food, water, and medical supplies can be efficiently distributed where they are needed most. We launched Facebook Disaster Maps specifically to help fill information gaps during these events. So when the Australia fires began, we quickly shared real-time maps with our more than 100 Data for Good partners. Those maps illustrate how populations are evacuating and whether they have access to cellular networks, which are helping response organizations optimize their response efforts. To help support and amplify the efforts of our community, we will also be matching up to AU$1 million in donations made to GlobalGiving and donating AU$250,000 to the Australian Red Cross.
Currently, Disaster Maps in Australia are being used by a range of national and international relief, response, and academic organizations. Direct Relief, a humanitarian aid organization focused on health and emergency response, is using these tools to analyze evacuation proceedings and has plans to distribute more than 500,000 respiratory masks to the Australian states of Victoria and New South Wales. Direct Relief first used Disaster Maps to respond to the Thomas Fire and Montecito mudslides of December 2017 and January 2018 to learn how large numbers of people behave during crisis events and to develop insights about how best to respond to medical needs.
How Facebook Disaster Maps Help
Traditional forms of data often do not provide an accurate real-time view of affected areas, which makes it extremely difficult to understand how to best direct response efforts. To combat gaps in information, Facebook Disaster Maps are generated within 24 hours of disaster striking, then refreshed daily throughout the event. The data in these maps is gathered from people using the Facebook app who have chosen to turn on Location Services and opt into a feature called Location History, which can be modified at any time under Privacy Settings. Access to this near real-time data on evacuations, displacement, and network connectivity access means disaster response agencies can act quickly and efficiently to save lives. Plus, continuously updating information allows them to respond to changing circumstances on the ground during and after the event. To assist with the bushfires, four maps have been shared: the South Coast of New South Wales; East Gippsland in Victoria; Green Wattle Creek Fire in New South Wales; and the Cudlee Creek Fire in South Australia.
Such real-time information helps responders effectively deploy resources to serve the neediest survivors and protect vulnerable populations by painting a more complete picture of where affected people are located. Disaster Maps' Facebook population density map for the bushfires clearly illustrates the quick and massive evacuation of Batemans Bay over the course of several days, from December 31 to January 3, as fire swept over the town.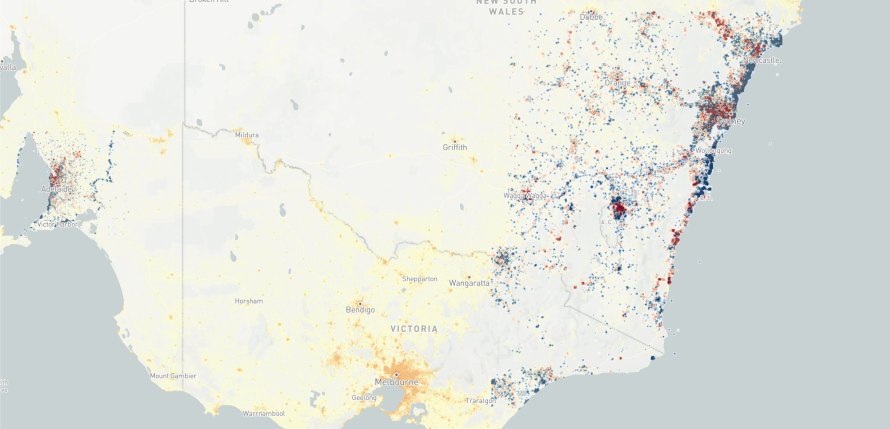 These maps allow responders to quickly get a read on how people are actually behaving during a specific emergency, rather than making assumptions or predicting behaviors based on past events. They're proving to be a remarkable tool for responders to the catastrophic Australian bushfires, the second-largest fire event ever recorded globally based on land size, which so far have destroyed more than 15 million acres, more than seven times the acreage of the shocking California fires of 2018 or last year's Amazon wildfire. At least a billion animals have been killed, wiping out multiple species of native Australian wildlife, including 30 percent of the world's koala population.
Since its inception, Facebook Data for Good has generated Disaster Maps for hundreds of natural disasters, including Hurricanes Dorian and Barry, Typhoon Tisoy in the Philippines, and the recent earthquake in Puerto Rico. In addition to guiding response efforts, universities and researchers are also using Disaster Maps to analyze how disaster-affected populations utilize social services, what prompts them to obey evacuation orders, and how social ties affect their resilience after a disaster.
More Ways to Help
As part of our efforts to assist with the bushfires, we are donating AU$250,000 to the Australian Red Cross to support relief and recovery efforts. We will also match up to AU$1 million in donations made to GlobalGiving, which will distribute the money to local nonprofits working on recovery efforts.* Donations made through our Crisis Response pages for the bushfires across New South Wales or the bushfires across Victoria and South Australia will be matched up to AU$1 million.
*Facebook waives 100 percent of fees for donations to charitable organizations. Learn more about Facebook fundraisers and crisis response.  
The post Facebook Disaster Maps Help Those Affected by Australia's Bushfires appeared first on About Facebook.
Facebook-Meta Earns the 'Worst Company of 2021' Title in This Survey
Facebook parent Meta has been named the Worst Company of the Year (2021) by Yahoo Finance respondents. According to the publication, an "open-ended" survey was published on Yahoo Finance on December 4 and 5, where 1,541 respondents participated. Facebook received 8 percent of the write-in vote, but respondents were seemingly mad about the Robinhood trading app as well. Electric truck startup Nikola, which was named last year's worst company by the same publication also faced respondents ire.
Yahoo Finance notes, "Facebook has had its share of controversies this year." Starting in January, Meta-owned WhatsApp got caught up in a huge controversy after the messaging app announced a new privacy policy (Terms of Service). WhatsApp said it would collect user information and share it with third-party apps for a better user experience. However, the app gave users no choice but later made modifications to the policy under pressure. Similarly, the company was under more scrutiny after whistleblower and former Facebook employee Frances Haugen leaked a series of internal documents showing the company's problematic practices. It was revealed that Meta-owned Instagram had a negative impact on teenage girls, but the company did almost nothing to rectify the problem.
Yahoo Finance even highlights, "At the same time, some critics, including conservatives, say Facebook over-policed the platform's speech and stifled their voices." Critics also blame Facebook and other social media platforms for not curbing hate speech that led to Capitol Building riots.
However, around 30 percent of Yahoo Finance readers said that Facebook or Meta could redeem itself. One respondent suggested that the company could issue a formal apology for negligence and donate a sizable amount of its profits to a foundation to help reverse its harm.
On the other hand, respondents chose Microsoft as the Company of the Year (2021). The Satya Nadella-led company touched the trillion-mark this year and introduced notable upgrades. The most notable is the Windows 11 OS update that succeeds Windows 10.
Facebook pays 1.7 Cr fine to Russia after failing to delete content Moscow deems illegal
In the latest legal tussle with Russia over controversial social media regulation laws, Facebook paid 17 million roubles (Rs 1.7 Crore) for failing to remove content deemed illegal by Moscow. With a threat of potential larger fines looming, Facebook parent company Meta, owned by Mark Zuckerberg, is scheduled to face court next week over repeated violations of Russian legislation on content, Interfax News Agency reported. As per the latest updates, the social media giant could be fined a percentage of its annual revenue.
In October, Moscow sent state bailiffs to enforce the collection of 17 million roubles. Meanwhile, as per Interfax report citing a federal bailiffs' database, on Sunday, there were more enforcement proceedings against the company. Apart from the popular social media app, Telegram has also paid 15 million roubles in fines for failing to comply with the Russian social media legislations that came into force in 2016.
Facebook pays $53k to Russia for refusing controversial social media laws
It is pertinent to mention that Facebook has locked horns with Moscow earlier in November, resulting in it paying 4 million roubles ($53,000) over its refusal to adhere to Russian data localisation laws, the Moscow Times reported. The Moscow court on November 25 had said that Facebook paid the fine levied in February, following which all proceedings against the US-based social media giant. The payment comes against the litigation filed against the company in 2018, alongside Twitter. The tech companies were also forced to pay an additional 3000 rubles ($40) for failing to comply with user data sharing rules as per the law. The Russian authorities have also previously blocked LinkedIn, owned by Microsoft, for failing to abide by the laws.
Russian social media laws
As per Moscow Times, under the Russian social media regulation laws, all foreign technology companies are required to store data related to Russian customers and users on servers located in Russia. Additionally, the Russian tech companies will also have to share encryption data with the federal authorities as well as record user calls, messages and civil society group conversation records. The apparatus is said to be a severe breach of privacy rights and unfettered back-door access to personal data that could be used to harass Kremlin critics.
Facebook Messenger Is Launching a Split Payments Feature for Users to Quickly Share Expenses
Meta has announced the arrival of a new Split Payments feature in Facebook Messenger. This feature, as the name suggests, will let you calculate and split expenses with others right from Facebook Messenger. This feature essentially looks to bring an easier method to share the cost of bills and expenses — for example, splitting a dinner bill with friends. Using this new Split Payment feature, Facebook Messenger users will be able to split bills evenly or modify the contribution for each individual, including their own.
The company took to its blog post to announce the new Split Payment feature in Facebook Messenger. 9to5Mac reports that this new bill splitting feature is still in beta and will be exclusive to US users at first. The rollout will begin early next week. As mentioned, it will help users share the cost of bills, expenses, and payments. This feature is especially useful for those who share an apartment and need to split the monthly rent and other expenses with their mates. It could also come handy at a group dinner with many people.
With Split Payments, users can add the number of people the expense needs to be divided with and, by default, the amount entered will be divided in equal parts. A user can also modify each person's contribution including their own. To use Split Payments, click the Get Started button in a group chat or the Payments Hub in Messenger. Users can modify the contribution in the Split Payments option and send a notification to all the users who need to make payments. After entering a personalised message and confirming your Facebook Pay details, the request will be sent and viewable in the group chat thread.
Once someone has made the payment, you can mark their transaction as 'completed'. The Split Payment feature will automatically take into account your share as well and calculate the amount owed accordingly.
---
For the latest tech news and reviews, follow Gadgets 360 on Twitter, Facebook, and Google News. For the latest videos on gadgets and tech, subscribe to our YouTube channel.
Tasneem Akolawala is a Senior Reporter for Gadgets 360. Her reporting expertise encompasses smartphones, wearables, apps, social media, and the overall tech industry. She reports out of Mumbai, and also writes about the ups and downs in the Indian telecom sector. Tasneem can be reached on Twitter at @MuteRiot, and leads, tips, and releases can be sent to tasneema@ndtv.com.