Building Sustainable Ecosystems: Innovation
In the 1600s, the concept of "innovation" was controversial. It stood for resistance, rebellion and contrarian opinions. Thankfully, the definition of innovation has evolved. One of the definitions for innovation is the desire and ambition to leverage technology to solve problems for people. As the definition of innovation has evolved, so has the approach to solving the problems at hand. Innovation is not driven by a brilliant individual or a team locked in a lab running experiments. Instead, it is driven by the global community of problem solvers that are coming together to tackle the challenges of the present. Let me share more about the role innovation plays as a critical pillar –in addition to community and education– in helping develop a healthy tech ecosystem.
We deeply believe Facebook's own growth was the result of our effort to innovate and disrupt ourselves. Our ten-year roadmap enables innovation in three distinct phases:
First, we build new technologies that can help people share and connect in new ways.
Next, we take that technology and build it into a product that billions of people can use and benefit from.
Finally, once a product is at scale, we build a full ecosystem around that for developers, businesses and partners.
I am excited about the experiences being created leveraging those products and in particular in places where the number of challenges outside the availability of sustainable solutions. Africa is one such region with incredible opportunities for both people and innovators alike. Here are some creative ways partners are leveraging our products to solve challenges across verticals with technology:
FBS is an international forex broker present in more than 190 countries with over 13 million traders and 370,000 partners. FBS receives a number of queries on a range of topics everyday. Customers contact them with sales enquiries such as quotes about rates between currencies and customer service issues. They needed a platform to unify their customer service across multiple Facebook pages and languages. A key challenge they faced was their ability to support 13 languages and efficiently route the messages to the right people in the multilingual team. Due to the nature of the business i.e., the fluctuations in foreign exchange, they needed to respond very quickly to their customer's trading and service enquiries to avoid undue losses.
They partnered with Ongair, a Kenya based Messenger platform development provider that enables businesses to manage customer interactions across multiple social channels, including Messenger, Instagram and WhatsApp. They aggregated all customer service and sales inquiries from their country specific Facebook accounts into a single platform via messenger. They also deployed a bot that understands the user's language to then respond back in the appropriate language and also hand over the conversation to an agent who speaks the same language. Prior to this, a multilingual team had to triage customer requests leading to inefficient delays in responses or incorrect assignment for resolution. Today, Ongair agents are automatically assigned tickets based on the customer languages they can speak leading to faster and more accurate responses. Through this partnership, FBS has been able to greatly increase their first response time and improve customer satisfaction.
TrepLabs is a team of young college students on a mission to make affordable medical devices. With a proof of concept in hand, their goal was to build a prototype of their first product RealDrip, a non-invasive device which makes blood transfusion and drip treatment simpler and safer by continuously monitoring the flow rate, volume administered and automating the treatment process.
As part of the Facebook Accelerator program, the engineering support and guidance they received helped create a device that leverages the IoT technology to eliminate the guesswork in setting IV flow rate, monitoring dosages and time taken as indicated on the treatment plan. In addition, GraphQL APIs' help create visual displays via mobile and web dashboard showing the flow rate in real time to keep health professionals informed about each patient's specific medical situation. Since their participation in the Facebook Accelerator program, they have developed a working prototype which has been patented. They have raised $62,778 in grant funding, have 27 clinics on a waiting list, secured ethical approval from the Nigeria Institute of Medical Research (NIMR) and are awaiting approvals for clinical trials.
And finally, Cellulant a digital payment platform from the region shared with us recently about how they have used Facebook APIs to enable micro merchants and revolutionize the try before you buy customer experience in categories like home goods, make-up and more, all serving as critical & incremental steps in helping build businesses.
The successes shared above only scratch the surface of the potential that exists. As i've shared previously, we believe in the importance of investing in all the 3 key pillars –innovation, education, community— for building a sustainable developer ecosystem. I am confident that these continued investments will spark more innovation, energize economies, create new jobs, improve communities, and drive positive social impact around the globe.
Social Shopping Is Taking Off, and Facebook Is the Biggest Beneficiary
The percentage of users shopping directly in social media apps increased 69% last year.
People are getting used to the idea of shopping on social media.

22% of consumers say they bought something directly from a social media app or website in the fourth quarter, according to a CivicScience survey. That's up from 13% in the fourth quarter of 2018.

Much of that growth seems to be driven by Facebook (NASDAQ:FB), which continues to invest in its Marketplace platform and shopping on Instagram, and is also working on a nascent mobile payments platform in WhatsApp. Instagram, in particular, with the introduction of Checkout, new features in the Explore tab, and the ever-expanding presence of "influencers," has had a big influence on shopping habits.

While other social media platforms like Snap's (NYSE:SNAP) Snapchat and Pinterest (NYSE:PINS) have tried to edge their way into consumers' shopping patterns, Facebook has been the biggest beneficiary so far.
Image source: Instagram.
The biggest effect so far
Two Facebook products have had the biggest effect on social shopping so far.
Facebook Marketplace, which is Facebook's answer to Craigslist, launched a little over three years ago, and it's now available in over 100 regions. Founder Mark Zuckerberg says Facebook sees millions of interactions between buyers and sellers every day on the platform.
Facebook is continually taking steps to improve Marketplace, from tools that help local sellers list items and buyers find them to expanding the platform to include inventory from e-commerce companies. The moves have made shopping on Facebook Marketplace a much different experience from Craigslist or other online classified advertisement sites.
Facebook's big push into shopping on Instagram may be even more noticeable. Instagram is one of the social media platforms users go to specifically to discover new products. Influencer advertising has become an entire sub-industry of digital advertising. And influencers on Instagram have more … influence … than most other social media platforms. 42% of daily Instagram users have made an influencer-based purchase, according to another CivicScience survey. That's up from 34% in 2018.
There was a noticeable increase in respondents saying they've shopped directly on social media after Facebook introduced Checkout on Instagram. Checkout enables Instagram users to seamlessly buy items they see on Instagram without navigating to a merchant's website. The product is still limited to select retailers, which means there's a lot of potential for growth as the number of participating merchants expands.
Competitors in social shopping
Facebook's biggest competitor in social shopping may be Pinterest. Many Pinterest users use the platform exclusively for discovering things to buy.
There's strong potential for Pinterest to copy Instagram Checkout. It already offers retailers Shopping Ads (as does Facebook), which provides users with details about items and then sends them to a checkout page on the retailer's website. Developing a more seamless checkout process like Instagram Checkout could help Pinterest increase the value of those ads through higher conversions and increased engagement.
Meanwhile, Snap has been trying to edge its way into social shopping by using its advanced camera and image recognition capabilities. It partnered with Amazon in 2018 to offer visual search capabilities within its app, sending users to Amazon's marketplace whenever they Snap an item they're interested in buying out in the wild. Pinterest offers a similar feature, as does Amazon's app.
Importantly, Snapchat's user base doesn't use the app to discover items they want to buy like they do on Instagram or Pinterest. As such, the company has wisely shifted to investing in areas where its users have already made a habit of opening Snapchat — consuming content and connecting with friends.
Facebook, with its massive and highly engaged user base and head start in social commerce, sits in the catbird seat when it comes to capitalizing on the growing trend of shopping directly on social media apps.
As always, management is thinking long-term. "We are optimistic on the timeframe of years, right, not driving next quarter's business," Zuckerberg said on Facebook's third quarter earnings call. And with just 23% of social media users actually shopping directly in apps like Facebook and Instagram, there's good reason to take the approach of expanding the reach of its products instead of trying to monetize them quickly.
Adam Levy owns shares of Amazon and Facebook. The Motley Fool owns shares of and recommends Amazon, Facebook, and Pinterest. The Motley Fool has a disclosure policy.
Google Surpasses Facebook in Downloads for First Time in 5 Years in Q4 2019: Sensor Tower
US-based search engine giant Google has, for the first time in five years, unseated Facebook as the top publisher of mobile apps in Q4 2019.
In the last quarter of 2019, Google amassed close to 850 million downloads compared to Facebook's nearly 800 million, analytics firm Sensor Tower revealed recently.
When it comes to overall downloads for the year, however, Google still trails behind Facebook.
While Google raked in nearly 2.3 billion downloads, Facebook gained almost 3 billion downloads over the past 12 months.
Facebook owns four out of the top five most downloaded apps worldwide, including WhatsApp, Facebook, Instagram and Messenger, that does not come as a surprise.
ByteDance-owned video sharing app TikTok was the world's second-most downloaded app in 2019.
The figures show that TikTok downloads reached an all-time high in the fourth quarter (Q4) of 2019, with nearly 220 million installs, which represented a 24 per cent increase over Q3 2019.
Sensor Tower also reports that TikTok's revenue grew by a massive 540 per cent year-on-year in Q4 2019.
Additionally, Disney+ was downloaded more than 30 million times in Q4 2019 in the US, which is more than double of its next nearest competitor, TikTok.
In terms of revenue, Disney+ grossed more than $50 million in its first 30 days, beating out other subscription video on demand (SVOD) rivals, like HBO NOW and Showtime.
Facebook Disaster Maps Help Those Affected by Australia's Bushfires
N95 respirator masks getting loaded onto an airplane bound for bushfire-affected areas of Australia.
Bushfires in Australia have killed more than 25 people, decimated Australia's wildlife, and are expected to rack up historically high damage costs of multiple billions of dollars — and they're still burning.
During and after a natural disaster, response organizations need accurate information — every minute counts in saving lives. Real-time information helps paint a more complete picture of where affected people are located, so that resources like food, water, and medical supplies can be efficiently distributed where they are needed most. We launched Facebook Disaster Maps specifically to help fill information gaps during these events. So when the Australia fires began, we quickly shared real-time maps with our more than 100 Data for Good partners. Those maps illustrate how populations are evacuating and whether they have access to cellular networks, which are helping response organizations optimize their response efforts. To help support and amplify the efforts of our community, we will also be matching up to AU$1 million in donations made to GlobalGiving and donating AU$250,000 to the Australian Red Cross.
Currently, Disaster Maps in Australia are being used by a range of national and international relief, response, and academic organizations. Direct Relief, a humanitarian aid organization focused on health and emergency response, is using these tools to analyze evacuation proceedings and has plans to distribute more than 500,000 respiratory masks to the Australian states of Victoria and New South Wales. Direct Relief first used Disaster Maps to respond to the Thomas Fire and Montecito mudslides of December 2017 and January 2018 to learn how large numbers of people behave during crisis events and to develop insights about how best to respond to medical needs.
How Facebook Disaster Maps Help
Traditional forms of data often do not provide an accurate real-time view of affected areas, which makes it extremely difficult to understand how to best direct response efforts. To combat gaps in information, Facebook Disaster Maps are generated within 24 hours of disaster striking, then refreshed daily throughout the event. The data in these maps is gathered from people using the Facebook app who have chosen to turn on Location Services and opt into a feature called Location History, which can be modified at any time under Privacy Settings. Access to this near real-time data on evacuations, displacement, and network connectivity access means disaster response agencies can act quickly and efficiently to save lives. Plus, continuously updating information allows them to respond to changing circumstances on the ground during and after the event. To assist with the bushfires, four maps have been shared: the South Coast of New South Wales; East Gippsland in Victoria; Green Wattle Creek Fire in New South Wales; and the Cudlee Creek Fire in South Australia.
Such real-time information helps responders effectively deploy resources to serve the neediest survivors and protect vulnerable populations by painting a more complete picture of where affected people are located. Disaster Maps' Facebook population density map for the bushfires clearly illustrates the quick and massive evacuation of Batemans Bay over the course of several days, from December 31 to January 3, as fire swept over the town.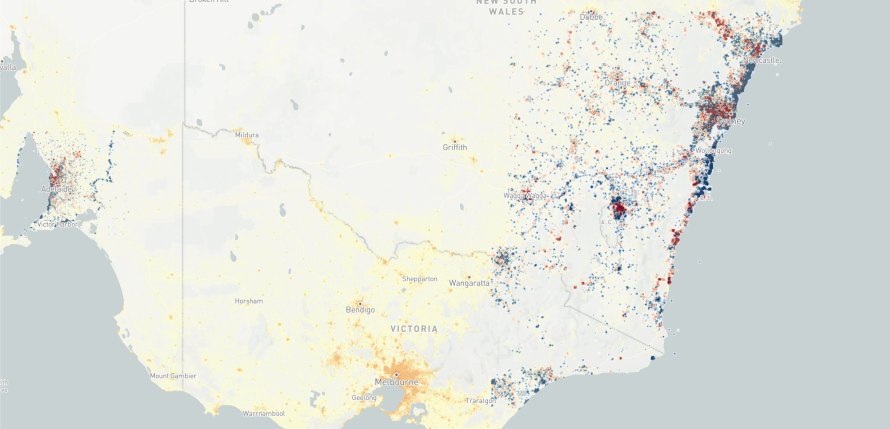 These maps allow responders to quickly get a read on how people are actually behaving during a specific emergency, rather than making assumptions or predicting behaviors based on past events. They're proving to be a remarkable tool for responders to the catastrophic Australian bushfires, the second-largest fire event ever recorded globally based on land size, which so far have destroyed more than 15 million acres, more than seven times the acreage of the shocking California fires of 2018 or last year's Amazon wildfire. At least a billion animals have been killed, wiping out multiple species of native Australian wildlife, including 30 percent of the world's koala population.
Since its inception, Facebook Data for Good has generated Disaster Maps for hundreds of natural disasters, including Hurricanes Dorian and Barry, Typhoon Tisoy in the Philippines, and the recent earthquake in Puerto Rico. In addition to guiding response efforts, universities and researchers are also using Disaster Maps to analyze how disaster-affected populations utilize social services, what prompts them to obey evacuation orders, and how social ties affect their resilience after a disaster.
More Ways to Help
As part of our efforts to assist with the bushfires, we are donating AU$250,000 to the Australian Red Cross to support relief and recovery efforts. We will also match up to AU$1 million in donations made to GlobalGiving, which will distribute the money to local nonprofits working on recovery efforts.* Donations made through our Crisis Response pages for the bushfires across New South Wales or the bushfires across Victoria and South Australia will be matched up to AU$1 million.
*Facebook waives 100 percent of fees for donations to charitable organizations. Learn more about Facebook fundraisers and crisis response.  
The post Facebook Disaster Maps Help Those Affected by Australia's Bushfires appeared first on About Facebook.