Artists attempt to pit art-stealing Twitter bots against trigger-happy corporate lawyers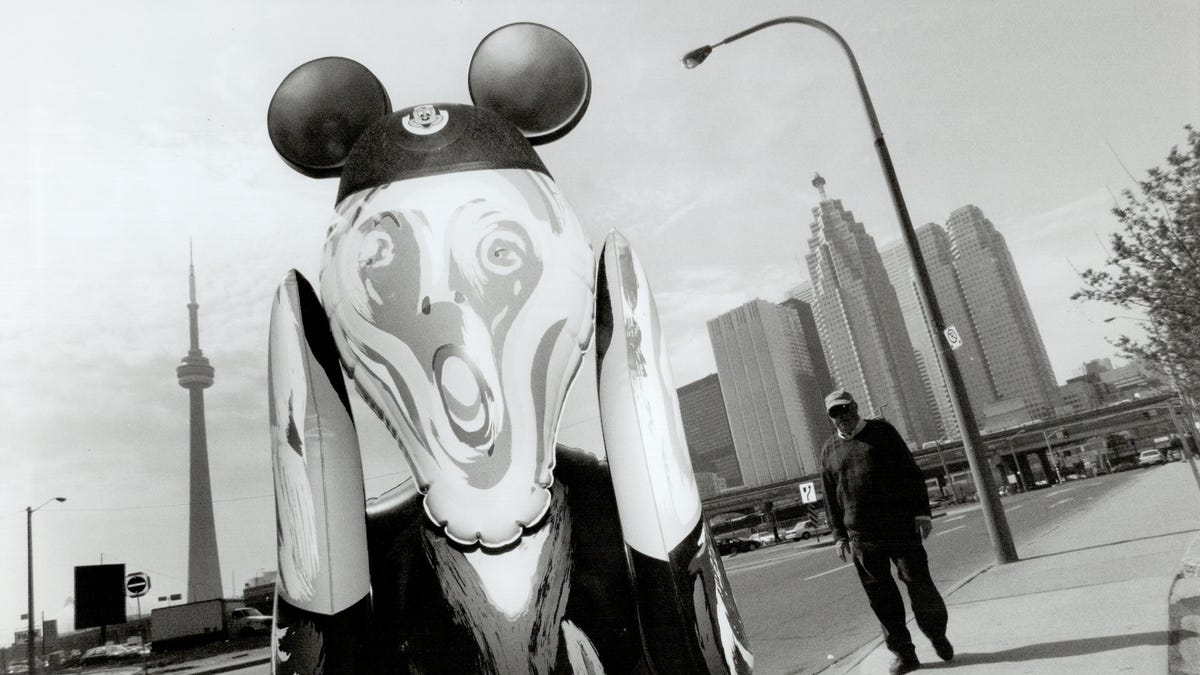 While the internet has obviously been a major boon for artists—what with the ability to show off their work to far wider audiences than humanity could have ever once dreamed—it's also been a pretty massive benefit for art thieves, too. After all: Once upon a time, stealing someone's artwork involved grappling hooks, inside men, and one of those little circle-knife things that lets you cut glass and hold it tight with a suction cup; now you just need a bot, and a decent set of Twitter keyword search terms.
Terms like "T-shirt," say, or "that would look great on a T-shirt," or anything else that might clue Twitter-trawling robots in to images they could slap on unauthorized articles of clothing (a T-shirt, possibly), which would then be purchased by unsuspecting shoppers.
But as our ancestors always used to say: Where there's an algorithm, there's a way to fuck with that algorithm for our own collective amusement. And so people on Twitter have begun encouraging these art-scraping bots to focus their interest on, well…non-traditional forms of art.
hey can y'all do me a favor and quote tweet/reply to this with something along the lines of 'I want this on a shirt', thank you pic.twitter.com/UhuGRQgU6b

— Nana (@Hannahdouken) December 3, 2019
I LOVE this artwork. Nice drawing, omg! 😍
I need this on a shirt!!!😻♥️ pic.twitter.com/0tfJY0t3xQ

— Nirbion (@Nirbion) December 4, 2019
Some, as in the first of the above images, are just outright admissions of the theft-to-come. But others go even further, attempting to pick a fight between the thieves and the rabid forces of corporate copyright law. And while it seems unlikely that any of these companies in question will actually get sued out of existence by the wrathful Disney gods—alas—it is possible that they'll be forced to tune their art-lifting algorithms to be more discriminating, and thus less widespread in their larcenous habits. (Although it also seems possible that people will buy these shirts when they do pop up on stores in order to be part of the moment, or to engage in some standard-issue internet irony, because truly, humanity is a paradoxical beast.)
We did it. We achieved something special. Tell your grandchildren that you were THERE when this happened.

Gonna mute this tweet because I'm getting WAY too many notifications, but thank you 🙏 pic.twitter.com/bkStdwOmve

— Nirbion (@Nirbion) December 4, 2019
In the meantime, always remember: Mickey Mouse smells like farts.
Health Ministry Teams Up With Twitter to Respond to Queries Around COVID-19
The Union Health Ministry has teamed up with Twitter to launch a dedicated account to respond to Indian Twitter users' queries related to COVID-19. The new account COVID India Seve using Twitter's Twitter Seva platform, "a customised live query redressal service." People can put their queries forward by tweeting to @CovidIndiaSeva to get a response from the authorities. The account describes itself as "Official @MoHFW_INDIA Handle for COVID-19 Response" and it was created in March. Twitter said that the service will enable the government to interact effectively with the public during the ongoing COVID-19 pandemic.
People in India can tweet to the @CovidIndiaSeva to seek guidance regarding steps to take if COVID-19 symptoms occur, know more about access to healthcare services, measures implemented by the government, among many other topics. According to Twitter, people will get answers to only broader questions, meaning personal queries won't be dealt with through the new service.
Tweeting about the launch, Union Health Minister Harsh Vardhan wrote, "Experts will share authoritative public health information reg #COVIDー19 swiftly at scale, helping to build a direct channel for communication with citizens. Post your queries!"
@CovidIndiaSeva has been responding to the questions from Twitter users. NDTV journalist Akhilesh Sharma asked, "Crucial question in everyone's mind is that whether we are testing enough? What about rapid antibody based blood tests esp for COVID inflicted areas?"
Answering the question, @CovidIndiaSeva replied, "At present, 204 government labs and 86 NABL accredited private laboratory chains are involved in testing. The no. of collection centers have also been enhanced to 16,000 centers across India. We have already tested 4,05,320 people." It went on to add, "Government of India has issued advisory to start rapid antibody based blood test for COVID-19 for areas reporting clusters (containment zone) and in large migration gatherings/evacuees centers."
Twitter India has also been working with various state governments in the country to make the COVID-19 response management better. "It has also supported and enabled the Govt of Karnataka, Maharashtra, Jharkhand and Uttar Pradesh to set-up dedicated COVID-Response accounts. Govt. of Karnataka, Maharashtra," it said in a statement.
Twitter Is Down for Some Users – You Are Not Alone
Twitter is down for many users across the globe. Reports are pouring from India, parts of Europe, Japan, as well as parts of the United States. We at Gadgets 360 are also facing issues when trying to access the micro-blogging platform, with some team members unable to the load the homepage, while others are unable to see their timelines or tweet. Twitter's own support handle has yet to highlight the issue, though reports continue to flood in.
As seen on Down Detector, there have been hundreds of reports from across the globe, with most reports coming on for the Twitter website, with users of the Android app also reporting issues.
The Twitter status page says all systems are operational, as of a few seconds ago. As we mentioned, users are facing different problems, with some Gadgets 360 team members not affected at all, and others unable to tweet or load their timelines. The issue may be transient. To recall, the social network experienced a major outage earlier this month.
Are you facing issues with Twitter? Let us know in the comments below.
Twitter Said to Be Planning Bitcoin Payments as Tips on Its Platform
Twitter is considering a feature that would allow users to tip one another – in Bitcoins though.
The Information reports that the micro-blogging platform is working on implementing a new payment feature to let people send money to each other.
It is not yet clear whether the Twitter tipping feature would integrate with Jack Dorsey's other company, Square, which is a financial services, merchant services aggregator, and mobile payment company based in San Francisco.
Dorsey has made absolutely no secret of his love of Bitcoin over the years.
NewsBTC has reported on the Twitter CEO opining that Bitcoin will one day be the currency of the internet and his company Square integrating cryptocurrency payments.
"Dorsey has been a major investor in the Bitcoin micropayments solution Lightning Network," said the report.
Dorsey will move to Africa for three-six months this year to "define the future".
"Sad to be leaving the continent for now. Africa will define the future (especially the bitcoin one!). Not sure where yet, but I'll be living here for 3-6 months mid-2020. Grateful I was able to experience a small part," said the Twitter CEO.
Dorsey has also hired Bitcoin developers for his payments company.
He is an advocate of digital currency bitcoin but he also says it is "not functional as a currency".