Artists attempt to pit art-stealing Twitter bots against trigger-happy corporate lawyers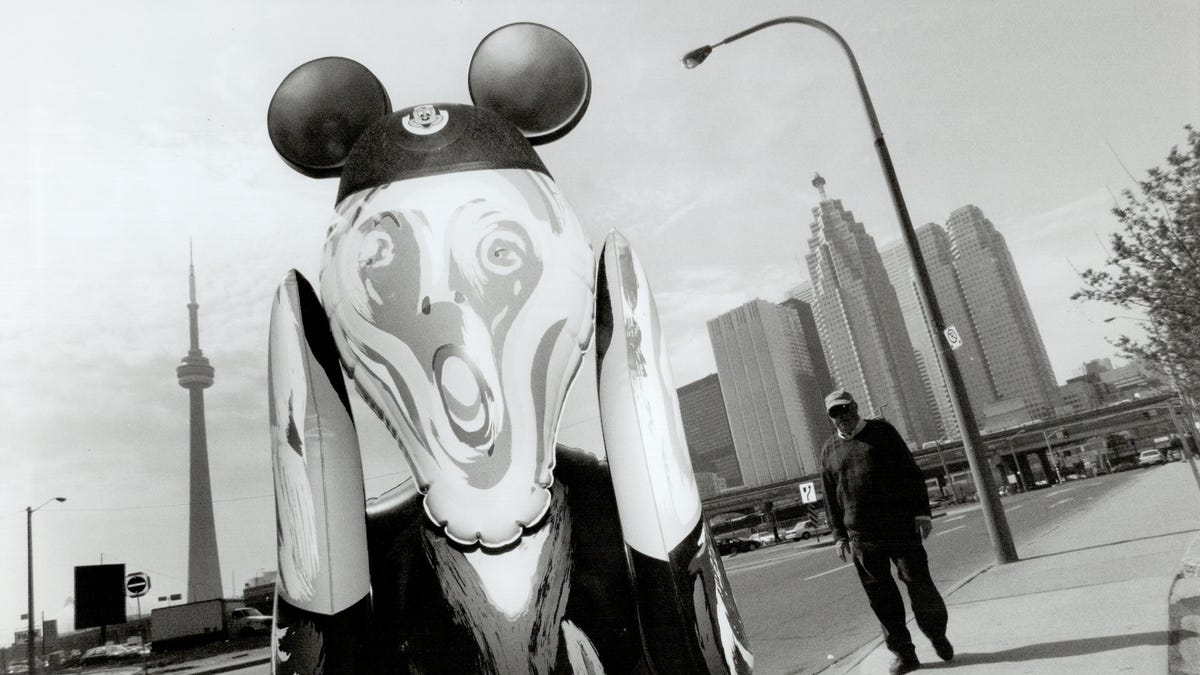 While the internet has obviously been a major boon for artists—what with the ability to show off their work to far wider audiences than humanity could have ever once dreamed—it's also been a pretty massive benefit for art thieves, too. After all: Once upon a time, stealing someone's artwork involved grappling hooks, inside men, and one of those little circle-knife things that lets you cut glass and hold it tight with a suction cup; now you just need a bot, and a decent set of Twitter keyword search terms.
Terms like "T-shirt," say, or "that would look great on a T-shirt," or anything else that might clue Twitter-trawling robots in to images they could slap on unauthorized articles of clothing (a T-shirt, possibly), which would then be purchased by unsuspecting shoppers.
But as our ancestors always used to say: Where there's an algorithm, there's a way to fuck with that algorithm for our own collective amusement. And so people on Twitter have begun encouraging these art-scraping bots to focus their interest on, well…non-traditional forms of art.
hey can y'all do me a favor and quote tweet/reply to this with something along the lines of 'I want this on a shirt', thank you pic.twitter.com/UhuGRQgU6b

— Nana (@Hannahdouken) December 3, 2019
I LOVE this artwork. Nice drawing, omg! 😍
I need this on a shirt!!!😻♥️ pic.twitter.com/0tfJY0t3xQ

— Nirbion (@Nirbion) December 4, 2019
Some, as in the first of the above images, are just outright admissions of the theft-to-come. But others go even further, attempting to pick a fight between the thieves and the rabid forces of corporate copyright law. And while it seems unlikely that any of these companies in question will actually get sued out of existence by the wrathful Disney gods—alas—it is possible that they'll be forced to tune their art-lifting algorithms to be more discriminating, and thus less widespread in their larcenous habits. (Although it also seems possible that people will buy these shirts when they do pop up on stores in order to be part of the moment, or to engage in some standard-issue internet irony, because truly, humanity is a paradoxical beast.)
We did it. We achieved something special. Tell your grandchildren that you were THERE when this happened.

Gonna mute this tweet because I'm getting WAY too many notifications, but thank you 🙏 pic.twitter.com/bkStdwOmve

— Nirbion (@Nirbion) December 4, 2019
In the meantime, always remember: Mickey Mouse smells like farts.
Twitter Said to Be Planning Bitcoin Payments as Tips on Its Platform
Twitter is considering a feature that would allow users to tip one another – in Bitcoins though.
The Information reports that the micro-blogging platform is working on implementing a new payment feature to let people send money to each other.
It is not yet clear whether the Twitter tipping feature would integrate with Jack Dorsey's other company, Square, which is a financial services, merchant services aggregator, and mobile payment company based in San Francisco.
Dorsey has made absolutely no secret of his love of Bitcoin over the years.
NewsBTC has reported on the Twitter CEO opining that Bitcoin will one day be the currency of the internet and his company Square integrating cryptocurrency payments.
"Dorsey has been a major investor in the Bitcoin micropayments solution Lightning Network," said the report.
Dorsey will move to Africa for three-six months this year to "define the future".
"Sad to be leaving the continent for now. Africa will define the future (especially the bitcoin one!). Not sure where yet, but I'll be living here for 3-6 months mid-2020. Grateful I was able to experience a small part," said the Twitter CEO.
Dorsey has also hired Bitcoin developers for his payments company.
He is an advocate of digital currency bitcoin but he also says it is "not functional as a currency".
Twitter System 'Outage' Briefly Blocked Trump Whistleblower Tweet
A tweet from US President Donald Trump that identified an intelligence analyst as the alleged whistleblower who helped spark his impeachment was temporarily blocked at the weekend, with Twitter blaming an outage that affected a number of user accounts. In recent days, Trump shared an unsubstantiated media report and a second post that appeared to name the intelligence community member.
However, the second tweet, from the president's personal account, was not visible on Saturday to all of his 68 million followers. It was visible again on Sunday afternoon, although the original account that shared the alleged whistleblower's name had been deleted.
"Due to an outage with one of our systems, tweets on account profiles were visible to some, but not others," Twitter Support said. "We're still working on fixing this and apologise for any confusion." A spokeswoman for the social media platform confirmed that the US president's account was among those affected.
The spokeswoman added that, per Twitter policy, any tweets that included private information about an individual, including the alleged whistleblower, would be in violation of its rules. Names are not considered private information, she said.
Democrats, some Republicans, and members of the US intelligence community have strongly objected to the effort to reveal the whistleblower's identify, calling it inappropriate and possibly illegal.
Mark Zaid, one of the whistleblower's lawyers, said on Twitter in early November that Republicans had "sought to expose our client's identity which could jeopardise their safety, as well as that of their family."
Other Republicans, including Senator Rand Paul and the president's son Donald Trump Jr, have previously shared links on Twitter to articles from right-wing news outlets identifying what they claimed was the likely whistleblower. However, Thursday marked the first time the president had done so, when he retweeted a link to a Washington Examiner article.
On Friday, Trump retweeted a post from a pro-Trump account that featured the same name prominently, and that has also shared photos of a person who it alleged was the whistleblower.
That retweet briefly disappeared from Trump's Twitter account on Saturday, reported the Washington Post, CNN, and other media.
© Thomson Reuters 2019
Twitter Adds Support for iPhone's Live Photos, Will Now Preserve Image Quality for Uploads on Web
Twitter announced earlier this year that it is planning on adding support for Apple's Live Photos feature on iOS devices while everyone was looking for a simple edit button for tweets. Now, four years after Apple launched the feature on iOS devices, Twitter has added support for Live Photos. The social networking giant announced the new feature for iPhone users on Wednesday. Live Photos will be converted to GIFs when they're shared on Twitter.
Apple's Live Photos feature lets iOS users capture very short videos while taking a photo. Users who tried to share Live Photos on Twitter, until now, would end up with a still photo. Users could convert their Live Photos to GIF using a third-party app and then share them on Twitter.
Twitter's support for Live Photos will now eliminate the need for using a third-party application. Users can directly share their Live Photos and they'll be automatically converted to GIFs.
To use the new feature, Twitter users need to use the company's iOS app. While posting a new tweet, users can select a Live Photo from their camera roll, select the GIF button on the left corner of the compose window, add relevant text, and that's it.
Separately, Twitter will now preserve JPEG image quality for all photo uploads on Twitter for Web. The social networking company will still compress the thumbnails that users see on their timeline. However, when users click on the thumbnail to see the full image, it'll be presented in high resolution. Twitter engineer Nolan O'Brien announced via a tweet. The company will still strip EXIF data from the images.
O'Brien further clarified that the company will continue to impose limits for images, but those will remain 'very generous'. He says users will be able to share images up to 16-megapixels which will be preserved in original quality.