Welcoming Beat Games to Facebook
The shared experiences of games are profoundly memorable ones, and for millions of people, Beat Saber was their first encounter with immersive VR gaming. Today we're announcing that Beat Games is joining us in our quest to bring VR to more people around the world. They will join Oculus Studios as an independently operated studio in Prague, continuing to create new ways for people to experience music and VR gaming. Most importantly, what the community has come to love about Beat Saber will remain intact. Beat Games will continue to ship content and updates for Beat Saber across all currently supported platforms, now with even more support from Facebook.
Beat Games' accomplishments are already impressive, but Facebook and the Beat Games team know that there is so much more that can be done across VR, games, and music. They have only scratched the surface with Beat Saber in terms of social features, new modes, music, and more. We are thrilled to join forces to see where this talented team takes VR gaming in the future.
Beat Saber is a perfect example of why VR is so exciting — VR reimagines old genres and invents new ones. The team at Beat Games made a leap forward in innovation and design with the stellar blend of game mechanics and music in Beat Saber, and yet we know that they, along with so many other devs, are just getting started.
We know the community will have questions, so we've answered a few here:
What about 360° Levels mode? And more music? And all the other stuff you've talked about doing?
Beat Games is still shipping 360° Levels mode in December, and more music is coming this year, too!
Do you plan to acquire other studios? What else are you doing to accelerate VR?
We're exploring many ways to accelerate VR, and we think next year is going to be an incredible one of VR game launches and announcements. We are thrilled to have Beat Games join our team. This is just the beginning.
Why Beat Games?
Beat Games is a strong team with proven potential across VR, games, and music. With the resources and know-how that we can offer, Beat Games will be able to accelerate, adding more music and more exciting features to Beat Saber as well as bringing the game to more people.
There's a long history of indie studios joining larger companies and being ruined. How are you going to avoid that?
I've been in the industry for a while and have seen that firsthand. However, I've also seen and been a part of some incredible success stories. The story we aim to prove over time is this: An indie studio joins forces with some like-minded allies, and together they find a way to push VR to new heights.
What does this mean for the modding community?
We understand and appreciate the value that modding brings to Beat Saber when done so legally and within our policies. We're going to do our best to preserve the value that mods bring to the Beat Saber player base. As a reminder, our most recent policy updates give more clarity to how developer mode is intended to be used, such as helping developers build their apps or for enthusiasts to explore new concepts. It is not intended for engaging in piracy or illicit modding, including mods that infringe on third-party IP rights or contain malicious code.
Are you going to be slowing down updates for non-Oculus platforms and prioritizing development for Oculus?
No, Beat Games will continue to ship content and updates for Beat Saber at the same time across all currently supported platforms.
Does this mean Beat Games will no longer be independent?
The Beat Games team will operate the same way they have to date as an independent studio, and they'll continue to work on Beat Saber across all currently supported platforms.
The post Welcoming Beat Games to Facebook appeared first on About Facebook.
Social Shopping Is Taking Off, and Facebook Is the Biggest Beneficiary
The percentage of users shopping directly in social media apps increased 69% last year.
People are getting used to the idea of shopping on social media.

22% of consumers say they bought something directly from a social media app or website in the fourth quarter, according to a CivicScience survey. That's up from 13% in the fourth quarter of 2018.

Much of that growth seems to be driven by Facebook (NASDAQ:FB), which continues to invest in its Marketplace platform and shopping on Instagram, and is also working on a nascent mobile payments platform in WhatsApp. Instagram, in particular, with the introduction of Checkout, new features in the Explore tab, and the ever-expanding presence of "influencers," has had a big influence on shopping habits.

While other social media platforms like Snap's (NYSE:SNAP) Snapchat and Pinterest (NYSE:PINS) have tried to edge their way into consumers' shopping patterns, Facebook has been the biggest beneficiary so far.
Image source: Instagram.
The biggest effect so far
Two Facebook products have had the biggest effect on social shopping so far.
Facebook Marketplace, which is Facebook's answer to Craigslist, launched a little over three years ago, and it's now available in over 100 regions. Founder Mark Zuckerberg says Facebook sees millions of interactions between buyers and sellers every day on the platform.
Facebook is continually taking steps to improve Marketplace, from tools that help local sellers list items and buyers find them to expanding the platform to include inventory from e-commerce companies. The moves have made shopping on Facebook Marketplace a much different experience from Craigslist or other online classified advertisement sites.
Facebook's big push into shopping on Instagram may be even more noticeable. Instagram is one of the social media platforms users go to specifically to discover new products. Influencer advertising has become an entire sub-industry of digital advertising. And influencers on Instagram have more … influence … than most other social media platforms. 42% of daily Instagram users have made an influencer-based purchase, according to another CivicScience survey. That's up from 34% in 2018.
There was a noticeable increase in respondents saying they've shopped directly on social media after Facebook introduced Checkout on Instagram. Checkout enables Instagram users to seamlessly buy items they see on Instagram without navigating to a merchant's website. The product is still limited to select retailers, which means there's a lot of potential for growth as the number of participating merchants expands.
Competitors in social shopping
Facebook's biggest competitor in social shopping may be Pinterest. Many Pinterest users use the platform exclusively for discovering things to buy.
There's strong potential for Pinterest to copy Instagram Checkout. It already offers retailers Shopping Ads (as does Facebook), which provides users with details about items and then sends them to a checkout page on the retailer's website. Developing a more seamless checkout process like Instagram Checkout could help Pinterest increase the value of those ads through higher conversions and increased engagement.
Meanwhile, Snap has been trying to edge its way into social shopping by using its advanced camera and image recognition capabilities. It partnered with Amazon in 2018 to offer visual search capabilities within its app, sending users to Amazon's marketplace whenever they Snap an item they're interested in buying out in the wild. Pinterest offers a similar feature, as does Amazon's app.
Importantly, Snapchat's user base doesn't use the app to discover items they want to buy like they do on Instagram or Pinterest. As such, the company has wisely shifted to investing in areas where its users have already made a habit of opening Snapchat — consuming content and connecting with friends.
Facebook, with its massive and highly engaged user base and head start in social commerce, sits in the catbird seat when it comes to capitalizing on the growing trend of shopping directly on social media apps.
As always, management is thinking long-term. "We are optimistic on the timeframe of years, right, not driving next quarter's business," Zuckerberg said on Facebook's third quarter earnings call. And with just 23% of social media users actually shopping directly in apps like Facebook and Instagram, there's good reason to take the approach of expanding the reach of its products instead of trying to monetize them quickly.
Adam Levy owns shares of Amazon and Facebook. The Motley Fool owns shares of and recommends Amazon, Facebook, and Pinterest. The Motley Fool has a disclosure policy.
Google Surpasses Facebook in Downloads for First Time in 5 Years in Q4 2019: Sensor Tower
US-based search engine giant Google has, for the first time in five years, unseated Facebook as the top publisher of mobile apps in Q4 2019.
In the last quarter of 2019, Google amassed close to 850 million downloads compared to Facebook's nearly 800 million, analytics firm Sensor Tower revealed recently.
When it comes to overall downloads for the year, however, Google still trails behind Facebook.
While Google raked in nearly 2.3 billion downloads, Facebook gained almost 3 billion downloads over the past 12 months.
Facebook owns four out of the top five most downloaded apps worldwide, including WhatsApp, Facebook, Instagram and Messenger, that does not come as a surprise.
ByteDance-owned video sharing app TikTok was the world's second-most downloaded app in 2019.
The figures show that TikTok downloads reached an all-time high in the fourth quarter (Q4) of 2019, with nearly 220 million installs, which represented a 24 per cent increase over Q3 2019.
Sensor Tower also reports that TikTok's revenue grew by a massive 540 per cent year-on-year in Q4 2019.
Additionally, Disney+ was downloaded more than 30 million times in Q4 2019 in the US, which is more than double of its next nearest competitor, TikTok.
In terms of revenue, Disney+ grossed more than $50 million in its first 30 days, beating out other subscription video on demand (SVOD) rivals, like HBO NOW and Showtime.
Facebook Disaster Maps Help Those Affected by Australia's Bushfires
N95 respirator masks getting loaded onto an airplane bound for bushfire-affected areas of Australia.
Bushfires in Australia have killed more than 25 people, decimated Australia's wildlife, and are expected to rack up historically high damage costs of multiple billions of dollars — and they're still burning.
During and after a natural disaster, response organizations need accurate information — every minute counts in saving lives. Real-time information helps paint a more complete picture of where affected people are located, so that resources like food, water, and medical supplies can be efficiently distributed where they are needed most. We launched Facebook Disaster Maps specifically to help fill information gaps during these events. So when the Australia fires began, we quickly shared real-time maps with our more than 100 Data for Good partners. Those maps illustrate how populations are evacuating and whether they have access to cellular networks, which are helping response organizations optimize their response efforts. To help support and amplify the efforts of our community, we will also be matching up to AU$1 million in donations made to GlobalGiving and donating AU$250,000 to the Australian Red Cross.
Currently, Disaster Maps in Australia are being used by a range of national and international relief, response, and academic organizations. Direct Relief, a humanitarian aid organization focused on health and emergency response, is using these tools to analyze evacuation proceedings and has plans to distribute more than 500,000 respiratory masks to the Australian states of Victoria and New South Wales. Direct Relief first used Disaster Maps to respond to the Thomas Fire and Montecito mudslides of December 2017 and January 2018 to learn how large numbers of people behave during crisis events and to develop insights about how best to respond to medical needs.
How Facebook Disaster Maps Help
Traditional forms of data often do not provide an accurate real-time view of affected areas, which makes it extremely difficult to understand how to best direct response efforts. To combat gaps in information, Facebook Disaster Maps are generated within 24 hours of disaster striking, then refreshed daily throughout the event. The data in these maps is gathered from people using the Facebook app who have chosen to turn on Location Services and opt into a feature called Location History, which can be modified at any time under Privacy Settings. Access to this near real-time data on evacuations, displacement, and network connectivity access means disaster response agencies can act quickly and efficiently to save lives. Plus, continuously updating information allows them to respond to changing circumstances on the ground during and after the event. To assist with the bushfires, four maps have been shared: the South Coast of New South Wales; East Gippsland in Victoria; Green Wattle Creek Fire in New South Wales; and the Cudlee Creek Fire in South Australia.
Such real-time information helps responders effectively deploy resources to serve the neediest survivors and protect vulnerable populations by painting a more complete picture of where affected people are located. Disaster Maps' Facebook population density map for the bushfires clearly illustrates the quick and massive evacuation of Batemans Bay over the course of several days, from December 31 to January 3, as fire swept over the town.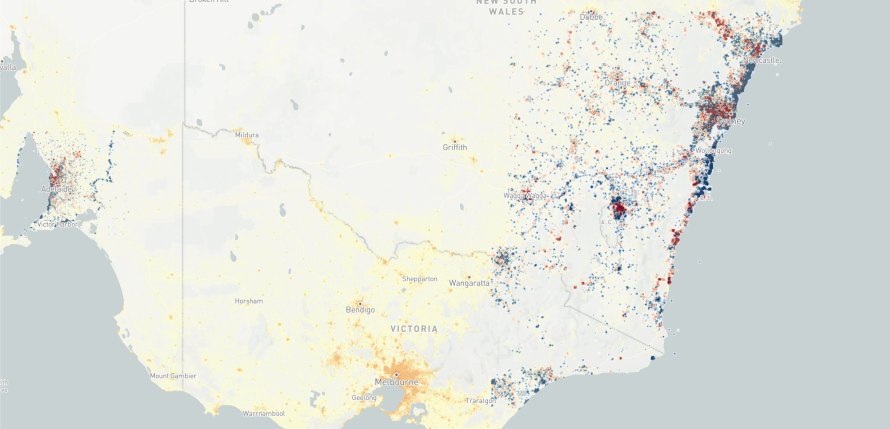 These maps allow responders to quickly get a read on how people are actually behaving during a specific emergency, rather than making assumptions or predicting behaviors based on past events. They're proving to be a remarkable tool for responders to the catastrophic Australian bushfires, the second-largest fire event ever recorded globally based on land size, which so far have destroyed more than 15 million acres, more than seven times the acreage of the shocking California fires of 2018 or last year's Amazon wildfire. At least a billion animals have been killed, wiping out multiple species of native Australian wildlife, including 30 percent of the world's koala population.
Since its inception, Facebook Data for Good has generated Disaster Maps for hundreds of natural disasters, including Hurricanes Dorian and Barry, Typhoon Tisoy in the Philippines, and the recent earthquake in Puerto Rico. In addition to guiding response efforts, universities and researchers are also using Disaster Maps to analyze how disaster-affected populations utilize social services, what prompts them to obey evacuation orders, and how social ties affect their resilience after a disaster.
More Ways to Help
As part of our efforts to assist with the bushfires, we are donating AU$250,000 to the Australian Red Cross to support relief and recovery efforts. We will also match up to AU$1 million in donations made to GlobalGiving, which will distribute the money to local nonprofits working on recovery efforts.* Donations made through our Crisis Response pages for the bushfires across New South Wales or the bushfires across Victoria and South Australia will be matched up to AU$1 million.
*Facebook waives 100 percent of fees for donations to charitable organizations. Learn more about Facebook fundraisers and crisis response.  
The post Facebook Disaster Maps Help Those Affected by Australia's Bushfires appeared first on About Facebook.