Lights, Camera, Holograms! Oculus and the Historic Los Angeles Theatre Surprise Audience With Live Immersive Experience
Tonight in downtown Los Angeles, moviegoers at a 'Rogue One: A Star Wars Story' screening got more Vader than they'd expected. At a popular film event series co-hosted by Cinespia, the historic Los Angeles Theatre debuted an immersive way for people to experience what it might be like to step into virtual reality. The one-of-a-kind experience featured characters and scenes from popular VR titles Beat Saber, Moss, Echo Arena, and Vader Immortal: A Star Wars VR Series. The presentation, made in collaboration with Oculus, was a surprise treat for attendees and made use of new technologies and techniques designed to immerse a live theater audience and get a taste of what VR feels like.
The thing about VR is that it's hard to describe to anyone who's never tried it. The cocktail of 3D visuals and sound, plus haptic feedback and social presence, all merge to create larger-than-life moments that defy easy description. Oculus and Cinespia created this immersive experience with a four-minute presentation that showcased popular VR experiences, including Vader Immortal: A Star Wars VR Series. The experience was made possible with a combination of lasers, projectors, and practical effects to create an immersive demonstration for a live audience.
The presentation kicked off with a 2D video of Beat Saber, a wildly popular rhythm game. The footage went dark but then resumed as a whirlwind of 3D movement and sound that transported everyone in the room to a virtual playground. Moss, a popular adventure game, then took the audience through a forest temple of magic and mayhem, ending in a faceoff between a slithering snake and Quill, the game's heroic mouse. The crowd was then zapped to deep space for a look at Echo Arena, a zero-gravity sports game, where the auditorium transformed into an orbital space station, and people got to see 3D characters engaged in combat.
And finally, 42 years after Star Wars: A New Hope first amazed audiences, fans were treated to a holographic projection of the dark lord himself, Darth Vader. He appeared in front of the crowd and brought down the house—almost literally—through the power of the Force and special effects wizardry; theater walls crumbled, lava gushed through the cracks, and the crowd went wild. Audiences were then invited to continue the experience after the movie with on-location demos of Vader Immortal on Oculus Quest.
To create this experience, Oculus worked closely with VTProDesign, a team of engineers, programmers, and designers to conceptualize and build the demonstration. The process started with a picture-perfect 3D scan of the building. This allowed the team to create a 16K x 8K resolution spherical map powered by 22 high-powered projectors. And that's just the start. The team then employed an arsenal of lasers—16 in all—to map the venue space in greater detail and create volumetric beam and aerial effects. The crew even designed a set of custom lasers to project into the crowd itself.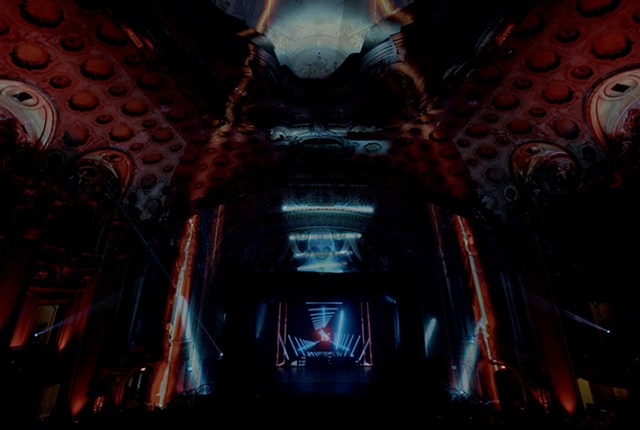 To give the illusion of 3D objects floating around the stage, the engineers had to build a custom hologram mesh screen. They didn't stop there, though; to enhance the holographic effects, they placed a jumbo LED video screen 25 feet behind the scrim to produce a parallax effect. As a final touch, the team cooked up a suite of practical effects to merge with and amplify the digital ones, like fog rolling in to bolster projections and confetti to simulate in-game particle effects. The show wasn't just a visual spectacle, either; the team built a custom sound solution using 22 channels of audio and custom tracks to boost the production even further.
After the movie, guests had the opportunity to explore the Los Angeles Theatre, a renowned movie palace rarely open to the public, with full bars and concessions, and a DJ dance party in the ballroom. Fans were even encouraged to dress up for Cinespia's custom photo booth to take the experience home with them.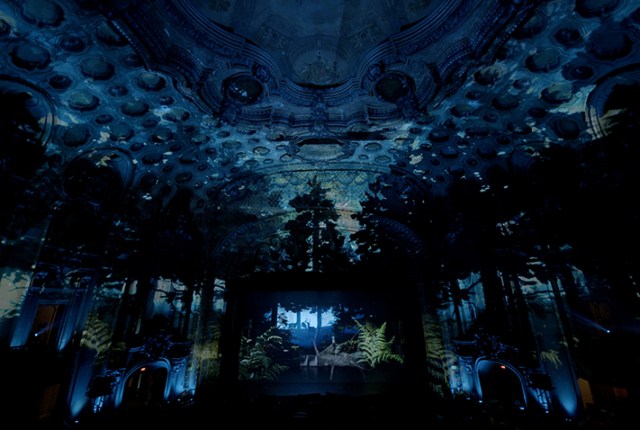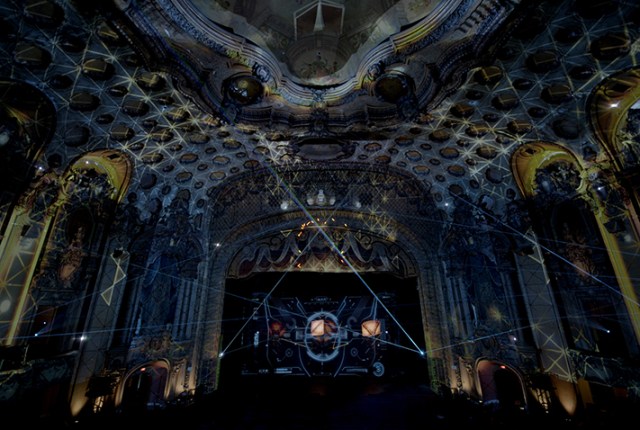 The post Lights, Camera, Holograms! Oculus and the Historic Los Angeles Theatre Surprise Audience With Live Immersive Experience appeared first on About Facebook.
Updating Special Ad Audiences for housing, employment, and credit advertisers
On June 21, 2022 we announced an important settlement with the US Department of Housing and Urban Development (HUD) that will change the way we deliver housing ads to people residing in the US. Specifically, we are building into our ads system a method designed to make sure the audience that ends up seeing a housing ad more closely reflects the eligible targeted audience for that ad.
As part of this agreement, we will also be sunsetting Special Ad Audiences, a tool that lets advertisers expand their audiences for ad sets related to housing. We are choosing to sunset this for employment and credit ads as well. In 2019, in addition to eliminating certain targeting options for housing, employment and credit ads, we introduced Special Ad Audiences as an alternative to Lookalike Audiences. But the field of fairness in machine learning is a dynamic and evolving one, and Special Ad Audiences was an early way to address concerns. Now, our focus will move to new approaches to improve fairness, including the method previously announced.
What's happening: We're removing the ability to create Special Ad Audiences via Ads Manager beginning on August 25, 2022.
Beginning October 12th, 2022, we will pause any remaining ad sets that contain Special Ad Audiences. These ad sets may be restarted once advertisers have removed any and all Special Ad Audiences from those ad sets. We are providing a two month window between preventing new Special Ad Audiences and pausing existing Special Ad Audiences to enable advertisers the time to adjust budgets and strategies as needed.
For more details, please visit our Newsroom post.
Impact to Advertisers using Marketing API on September 13, 2022
For advertisers and partners using the API listed below, the blocking of new Special Ad Audience creation will present a breaking change on all versions. Beginning August 15, 2022, developers can start to implement the code changes, and will have until September 13, 2022, when the non-versioning change occurs and prior values are deprecated. Refer below to the list of impacted endpoints related to this deprecation:
For reading audience:
endpoint gr:get:AdAccount/customaudiences
field operation_status
For adset creation:
endpoint gr:post:AdAccount/adsets
field subtype
For adset editing:
endpoint gr:post:AdCampaign
field subtype
For custom audience creation:
endpoint gr:post:AdAccount/customaudiences
field subtype
For custom audience editing:
endpoint gr:post:CustomAudience
Please refer to the developer documentation for further details to support code implementation.
First seen at developers.facebook.com
Introducing an Update to the Data Protection Assessment
Over the coming year, some apps with access to certain types of user data on our platforms will be required to complete the annual Data Protection Assessment. We have made a number of improvements to this process since our launch last year, when we introduced our first iteration of the assessment.
The updated Data Protection Assessment will include a new developer experience that is enhanced through streamlined communications, direct support, and clear status updates. Today, we're sharing what you can expect from these new updates and how you can best prepare for completing this important privacy requirement if your app is within scope.
If your app is in scope for the Data Protection Assessment, and you're an app admin, you'll receive an email and a message in your app's Alert Inbox when it's time to complete the annual assessment. You and your team of experts will then have 60 calendar days to complete the assessment. We've built a new platform that enhances the user experience of completing the Data Protection Assessment. These updates to the platform are based on learnings over the past year from our partnership with the developer community. When completing the assessment, you can expect:
Streamlined communication: All communications and required actions will be through the My Apps page. You'll be notified of pending communications requiring your response via your Alerts Inbox, email, and notifications in the My Apps page.

Note: Other programs may still communicate with you through the App Contact Email.

Available support: Ability to engage with Meta teams via the Support tool to seek clarification on the questions within the Data Protection Assessment prior to submission and help with any requests for more info, or to resolve violations.

Note: To access this feature, you will need to add the app and app admins to your Business Manager. Please refer to those links for step-by-step guides.

Clear status updates: Easy to understand status and timeline indicators throughout the process in the App Dashboard, App Settings, and My Apps page.
Straightforward reviewer follow-ups: Streamlined experience for any follow-ups from our reviewers, all via developers.facebook.com.
We've included a brief video that provides a walkthrough of the experience you'll have with the Data Protection Assessment:
Something Went Wrong
We're having trouble playing this video.
The Data Protection Assessment elevates the importance of data security and helps gain the trust of the billions of people who use our products and services around the world. That's why we are committed to providing a seamless experience for our partners as you complete this important privacy requirement.
Here is what you can do now to prepare for the assessment:
Make sure you are reachable: Update your developer or business account contact email and notification settings.
Review the questions in the Data Protection Assessment and engage with your teams on how best to answer these questions. You may have to enlist the help of your legal and information security points of contact to answer some parts of the assessment.
Review Meta Platform Terms and our Developer Policies.
We know that when people choose to share their data, we're able to work with the developer community to safely deliver rich and relevant experiences that create value for people and businesses. It's a privilege we share when people grant us access to their data, and it's imperative that we protect that data in order to maintain and build upon their trust. This is why the Data Protection Assessment focuses on data use, data sharing and data security.
Data privacy is challenging and complex, and we're dedicated to continuously improving the processes to safeguard user privacy on our platform. Thank you for partnering with us as we continue to build a safer, more sustainable platform.
First seen at developers.facebook.com
Resources for Completing App Store Data Practice Questionnaires for Apps That Include the Facebook or Audience Network SDK
Resources for Completing App Store Data Practice Questionnaires for Apps That Include the Facebook or Audience Network SDK
First seen at developers.facebook.com