Kicking Off Giving Season on Facebook and Instagram
The holiday season is all about giving back to the people and causes you care about. And this year, to help you give back in easy and impactful ways, we're matching donations to nonprofits on GivingTuesday and launching new products to make giving back seamless on our apps.
$7M Donation Match
GivingTuesday is celebrated on the Tuesday following Thanksgiving, December 3 this year, and is a day to support nonprofits. This GivingTuesday, we'll match up to $7 million in donations to US nonprofits made through fundraisers and the donate button on Facebook. And to ensure we help as many causes as possible, our match will have a per-nonprofit and per-donor cap. See the full terms of our GivingTuesday donation match.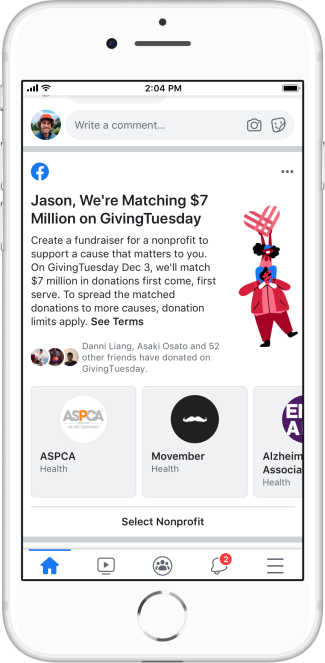 We're also working with nonprofit organizations to build a feature on Facebook that will make it easier for people to donate not just money, but also volunteer to donate their time to causes they care about. We hope to launch this feature next year.
New Fundraising Tools
Fundraiser Stickers in Facebook Stories:

The fundraiser sticker in Facebook Stories is a new way for people to rally their friends behind a cause and raise awareness of fundraisers. In just a few taps, you can add a fundraiser sticker to your story to promote a specific nonprofit or personal fundraiser. The Latin GRAMMYs just used this new feature to drive people to their fundraiser for the

Latin GRAMMY Cultural Foundation

.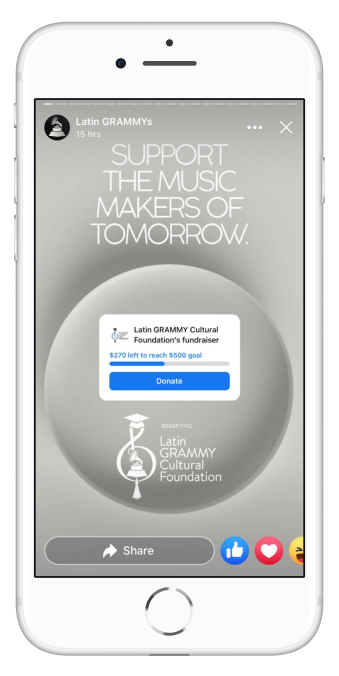 Gaming for Good — Charity Livestreaming:

About a year ago, we started testing charity livestreaming tools with a small group of gaming creators in the US, and during the test, 25 gaming creators raised more than $180,000 for charity.

Today, we're launching

charity livestreaming tools for all Facebook Gaming Level Up creators and partnered creators in regions where fundraising tools are

available

on Facebook

.

During a livestream, gaming creators can now select causes for viewers to support, set donation goals, add a donation progress bar and share donation alerts within a livestream video.

Gaming creators can choose from the full list of charities available for fundraisers in their given region and people can donate while watching a livestream.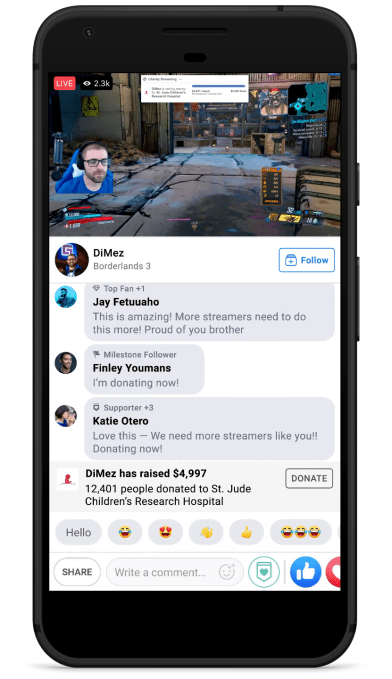 Instagram Donate Button on Business Account Profiles:

The new Donate button on Instagram allows nonprofits with

business accounts

to raise money directly from their profiles, making it even easier for their communities to support them.
We know every dollar counts, so 100% of what's raised through nonprofit donate buttons and fundraisers on Facebook and Instagram goes directly to the organizations. Last month, we shared that people have raised over $2 billion for causes they care about using our tools, and we're grateful for your passion and commitment to giving back together.
The post Kicking Off Giving Season on Facebook and Instagram appeared first on About Facebook.
Best Practices for Designing Great Messaging Experiences on Messenger
We recently reminded our community of the upcoming policy changes to the Messenger platform that will go into effect on March 4, 2020. These policy changes were designed to improve the messaging experience between people and businesses by driving timely and personally relevant conversations — prioritizing conversations started by people and related follow-up communications.
To help businesses best adapt to these new policy changes, here are some tips on the best practices to adopt when designing messenger experiences:
1. Respond quickly and set customer expectations on response times
People expect businesses to respond quickly and provide timely updates. We have found a strong correlation between responsiveness and successful business outcomes.>
2. Make it short and sweet
Make sure to communicate your key points succinctly and early on in your message. This aligns with people's expectations for messaging as a channel and increases readability. Messages that are short and to the point can also be read clearly in message previews.
3. Leverage Messenger features to send high value messages outside the 24 hour standard messaging window
Successful businesses know the options available to send messages outside the standard messaging window and use them effectively.
Message tags – use tags to send personal, timely and important non-promotional messages. Businesses can use tags to send account updates, post purchase updates, confirmed event updates, and human agent responses.
One-Time Notification – allows a page to request a user to send one follow-up message after the 24-hour messaging window has ended. This can be used for cases such as back in stock alerts where a person has explicitly requested the business to send out a notification. Make sure that the message matches the topic the user agreed to receive the notification for and this message is fully communicated on the first attempt. You may also want to prompt people to interact with your notification in order to restart the standard messaging window.
Sponsored Messages – use sponsored messages for broadcast promotional updates to customers you've interacted with in Messenger. Sponsored messages support Facebook ads targeting and have built-in integrity controls to help us safeguard the user experience in Messenger.
4. Focus on customer value
Ensure your messages clearly communicate customer value – especially notifications sent outside the standard messaging window. Sending out low value messages makes it more likely that customers will tune out or block messages from your business altogether. Businesses using Messenger's platform should consider adjusting push parameters for valuable messages that don't require immediate action.
5. Provide audiences with options to choose from
Consider giving your audience additional control over the type of content they will receive via Messenger. For example, you may allow the user to select specific types of account alerts or post-purchase updates provided they comply with the Messenger platform policies.
We believe following these simple guidelines will help to ensure a businesses' messaging efforts will be effective and drive outcomes, while providing customers with pleasant and valuable interaction experiences that encourage them to continue engaging with the business on Messenger.
Two Billion Users — Connecting the World Privately
We are excited to share that, as of today, WhatsApp supports more than 2 billion users around the world.
Mothers and fathers can reach their loved ones no matter where they are. Brothers and sisters can share moments that matter. Coworkers can collaborate, and businesses can grow by easily connecting with their customers.
Private conversations that once were only possible face-to-face can now take place across great distances through instant chats and video calling. There are so many significant and special moments that take place over WhatsApp and we are humbled and honored to reach this milestone.
We know that the more we connect, the more we have to protect. As we conduct more of our lives online, protecting our conversations is more important than ever.
That is why every private message sent using WhatsApp is secured with end-to-end encryption by default. Strong encryption acts like an unbreakable digital lock that keeps the information you send over WhatsApp secure, helping protect you from hackers and criminals. Messages are only kept on your phone, and no one in between can read your messages or listen to your calls, not even us. Your private conversations stay between you.
Strong encryption is a necessity in modern life. We will not compromise on security because that would make people less safe. For even more protection, we work with top security experts, employ industry leading technology to stop misuse as well as provide controls and ways to report issues — without sacrificing privacy.
WhatsApp started with the goal of creating a service that is simple, reliable and private for people to use. Today we remain as committed as when we started, to help connect the world privately and to protect the personal communication of 2 billion users all over the world.
The post Two Billion Users — Connecting the World Privately appeared first on About Facebook.
Facebook, Instagram and YouTube: Government forcing companies to protect you online
Although many of the details have still to be confirmed, it's likely the new rules will apply to Facebook, Twitter, Whatsapp, Snapchat, and Instagram
We often talk about the risks you might find online and whether social media companies need to do more to make sure you don't come across inappropriate content.
Well, now media regulator Ofcom is getting new powers, to make sure companies protect both adults and children from harmful content online.
The media regulator makes sure everyone in media, including the BBC, is keeping to the rules.
Harmful content refers to things like violence, terrorism, cyber-bullying and child abuse.
The new rules will likely apply to Facebook – who also own Instagram and WhatsApp – Snapchat, Twitter, YouTube and TikTok, and will include things like comments, forums and video-sharing.
Platforms will need to ensure that illegal content is removed quickly, and may also have to "minimise the risks" of it appearing at all.
These plans have been talked about for a while now.
The idea of new rules to tackle 'online harms' was originally set out by the Department for Digital, Culture, Media and Sport in May 2018.
The government has now decided to give Ofcom these new powers following research called the 'Online Harms consultation', carried out in the UK in 2019.
Plans allowing Ofcom to take control of social media were first spoken of in August last year.
The government will officially announce these new powers for Ofcom on Wednesday 12 February.
But we won't know right away exactly what new rules will be introduced, or what will happen to tech or social media companies who break the new rules.
Children's charity the NSPCC has welcomed the news. It says trusting companies to keep children safe online has failed.
"Too many times social media companies have said: 'We don't like the idea of children being abused on our sites, we'll do something, leave it to us,'" said chief executive Peter Wanless.
"Thirteen self-regulatory attempts to keep children safe online have failed.
The UK government's Digital Secretary, Baroness Nicky Morgan said: "There are many platforms who ideally would not have wanted regulation, but I think that's changing."
"I think they understand now that actually regulation is coming."
In many countries, social media platforms are allowed to regulate themselves, as long as they stick to local laws on illegal material.
But some, including Germany and Australia, have introduced strict rules to force social media platforms do more to protect users online.
In Australia, social media companies have to pay big fines and bosses can even be sent to prison if they break the rules.
For more information and tips about staying safe online, go to BBC Own It, and find out how to make the internet a better place for all of us.