Privacy Matters: Facebook Pay
By Erin Egan, VP and Chief Privacy Officer, Public Policy
Today we're introducing Facebook Pay, which will provide people with a convenient, secure and consistent payment experience across Facebook, Messenger, Instagram and WhatsApp. When it comes to payments, security and privacy are paramount. That's why we take extra steps to protect your payment information.
You can set up Facebook Pay app-by-app or choose to set it up for use across apps (where available). That means we won't automatically set up Facebook Pay across the apps you are active on, unless you choose to do so.
You can also choose to add a PIN or use your device biometrics, such as touch or face ID recognition, to add an extra layer of security when sending money or making a payment. Facebook will not receive or store your device's biometric information.
How does this impact data collection?
As with previous payment options on our apps, when you make payments with Facebook Pay, we'll collect information about the purchase such as the payment method, transaction date, billing, shipping and contact details. We designed Facebook Pay to securely store and encrypt your card and bank account numbers.
How does this impact the ads I see?
As with our other products, the actions you take with Facebook Pay can be used for purposes such as to deliver you more relevant content and ads, to provide customer support and to promote safety and integrity (e.g., to investigate violations of our payments policies). For example, if you buy a baseball glove on Facebook Marketplace, you might see an ad for a baseball bat.
The card and bank account numbers you provide will not be used to personalize your experience or inform the ads you see.
To learn more about the information Facebook collects and how it's used, check out our Data Policy and How Ads Work.
What choices and controls do I have?
You'll be able to add or remove payment methods, view transactions and initiate customer support directly from Facebook Pay. And if you choose to set up Facebook Pay across apps, you will be able to view your payment history across the apps all in one place.
You can also choose whether you want to opt in for email marketing from businesses you shop from or nonprofits you donate to. For example, if you purchase an item on Instagram or Facebook Marketplace or donate to a fundraiser, businesses and nonprofits will only be permitted to use the email address provided with your purchase or payment for marketing purposes if you opt in.
Who sees my information and activity?
Only you can see your payment and transaction history within Facebook Pay. Your activity, such as payments or purchases, will not be shared with your friends or to your profile or feed, unless you choose to share it.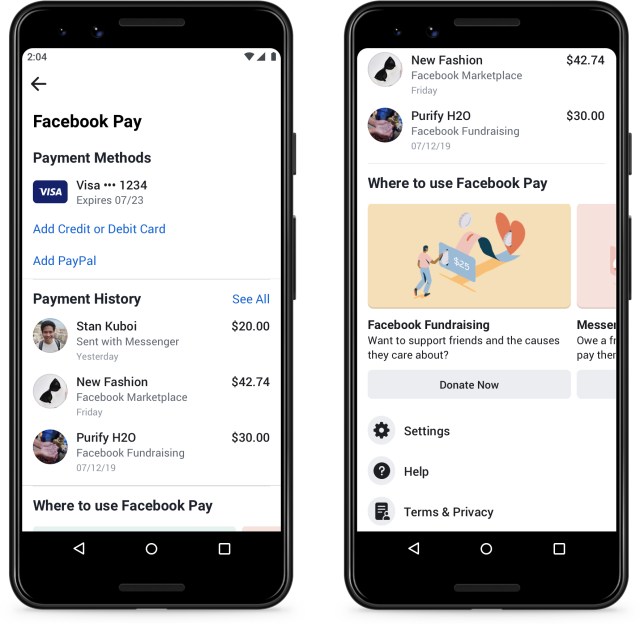 When buying from a business on Instagram or Facebook Marketplace, we'll share only the information needed to support the transaction, such as shipping and contact details, with merchants.
For more information, visit pay.facebook.com.
The post Privacy Matters: Facebook Pay appeared first on About Facebook.
Updating Special Ad Audiences for housing, employment, and credit advertisers
On June 21, 2022 we announced an important settlement with the US Department of Housing and Urban Development (HUD) that will change the way we deliver housing ads to people residing in the US. Specifically, we are building into our ads system a method designed to make sure the audience that ends up seeing a housing ad more closely reflects the eligible targeted audience for that ad.
As part of this agreement, we will also be sunsetting Special Ad Audiences, a tool that lets advertisers expand their audiences for ad sets related to housing. We are choosing to sunset this for employment and credit ads as well. In 2019, in addition to eliminating certain targeting options for housing, employment and credit ads, we introduced Special Ad Audiences as an alternative to Lookalike Audiences. But the field of fairness in machine learning is a dynamic and evolving one, and Special Ad Audiences was an early way to address concerns. Now, our focus will move to new approaches to improve fairness, including the method previously announced.
What's happening: We're removing the ability to create Special Ad Audiences via Ads Manager beginning on August 25, 2022.
Beginning October 12th, 2022, we will pause any remaining ad sets that contain Special Ad Audiences. These ad sets may be restarted once advertisers have removed any and all Special Ad Audiences from those ad sets. We are providing a two month window between preventing new Special Ad Audiences and pausing existing Special Ad Audiences to enable advertisers the time to adjust budgets and strategies as needed.
For more details, please visit our Newsroom post.
Impact to Advertisers using Marketing API on September 13, 2022
For advertisers and partners using the API listed below, the blocking of new Special Ad Audience creation will present a breaking change on all versions. Beginning August 15, 2022, developers can start to implement the code changes, and will have until September 13, 2022, when the non-versioning change occurs and prior values are deprecated. Refer below to the list of impacted endpoints related to this deprecation:
For reading audience:
endpoint gr:get:AdAccount/customaudiences
field operation_status
For adset creation:
endpoint gr:post:AdAccount/adsets
field subtype
For adset editing:
endpoint gr:post:AdCampaign
field subtype
For custom audience creation:
endpoint gr:post:AdAccount/customaudiences
field subtype
For custom audience editing:
endpoint gr:post:CustomAudience
Please refer to the developer documentation for further details to support code implementation.
First seen at developers.facebook.com
Introducing an Update to the Data Protection Assessment
Over the coming year, some apps with access to certain types of user data on our platforms will be required to complete the annual Data Protection Assessment. We have made a number of improvements to this process since our launch last year, when we introduced our first iteration of the assessment.
The updated Data Protection Assessment will include a new developer experience that is enhanced through streamlined communications, direct support, and clear status updates. Today, we're sharing what you can expect from these new updates and how you can best prepare for completing this important privacy requirement if your app is within scope.
If your app is in scope for the Data Protection Assessment, and you're an app admin, you'll receive an email and a message in your app's Alert Inbox when it's time to complete the annual assessment. You and your team of experts will then have 60 calendar days to complete the assessment. We've built a new platform that enhances the user experience of completing the Data Protection Assessment. These updates to the platform are based on learnings over the past year from our partnership with the developer community. When completing the assessment, you can expect:
Streamlined communication: All communications and required actions will be through the My Apps page. You'll be notified of pending communications requiring your response via your Alerts Inbox, email, and notifications in the My Apps page.

Note: Other programs may still communicate with you through the App Contact Email.

Available support: Ability to engage with Meta teams via the Support tool to seek clarification on the questions within the Data Protection Assessment prior to submission and help with any requests for more info, or to resolve violations.

Note: To access this feature, you will need to add the app and app admins to your Business Manager. Please refer to those links for step-by-step guides.

Clear status updates: Easy to understand status and timeline indicators throughout the process in the App Dashboard, App Settings, and My Apps page.
Straightforward reviewer follow-ups: Streamlined experience for any follow-ups from our reviewers, all via developers.facebook.com.
We've included a brief video that provides a walkthrough of the experience you'll have with the Data Protection Assessment:
Something Went Wrong
We're having trouble playing this video.
The Data Protection Assessment elevates the importance of data security and helps gain the trust of the billions of people who use our products and services around the world. That's why we are committed to providing a seamless experience for our partners as you complete this important privacy requirement.
Here is what you can do now to prepare for the assessment:
Make sure you are reachable: Update your developer or business account contact email and notification settings.
Review the questions in the Data Protection Assessment and engage with your teams on how best to answer these questions. You may have to enlist the help of your legal and information security points of contact to answer some parts of the assessment.
Review Meta Platform Terms and our Developer Policies.
We know that when people choose to share their data, we're able to work with the developer community to safely deliver rich and relevant experiences that create value for people and businesses. It's a privilege we share when people grant us access to their data, and it's imperative that we protect that data in order to maintain and build upon their trust. This is why the Data Protection Assessment focuses on data use, data sharing and data security.
Data privacy is challenging and complex, and we're dedicated to continuously improving the processes to safeguard user privacy on our platform. Thank you for partnering with us as we continue to build a safer, more sustainable platform.
First seen at developers.facebook.com
Resources for Completing App Store Data Practice Questionnaires for Apps That Include the Facebook or Audience Network SDK
Resources for Completing App Store Data Practice Questionnaires for Apps That Include the Facebook or Audience Network SDK
First seen at developers.facebook.com