By Erin Egan, VP and Chief Privacy Officer, Public Policy
Today we're introducing Facebook Pay, which will provide people with a convenient, secure and consistent payment experience across Facebook, Messenger, Instagram and WhatsApp. When it comes to payments, security and privacy are paramount. That's why we take extra steps to protect your payment information.
You can set up Facebook Pay app-by-app or choose to set it up for use across apps (where available). That means we won't automatically set up Facebook Pay across the apps you are active on, unless you choose to do so.
You can also choose to add a PIN or use your device biometrics, such as touch or face ID recognition, to add an extra layer of security when sending money or making a payment. Facebook will not receive or store your device's biometric information.
How does this impact data collection?
As with previous payment options on our apps, when you make payments with Facebook Pay, we'll collect information about the purchase such as the payment method, transaction date, billing, shipping and contact details. We designed Facebook Pay to securely store and encrypt your card and bank account numbers.
How does this impact the ads I see?
As with our other products, the actions you take with Facebook Pay can be used for purposes such as to deliver you more relevant content and ads, to provide customer support and to promote safety and integrity (e.g., to investigate violations of our payments policies). For example, if you buy a baseball glove on Facebook Marketplace, you might see an ad for a baseball bat.
The card and bank account numbers you provide will not be used to personalize your experience or inform the ads you see.
To learn more about the information Facebook collects and how it's used, check out our Data Policy and How Ads Work.
What choices and controls do I have?
You'll be able to add or remove payment methods, view transactions and initiate customer support directly from Facebook Pay. And if you choose to set up Facebook Pay across apps, you will be able to view your payment history across the apps all in one place.
You can also choose whether you want to opt in for email marketing from businesses you shop from or nonprofits you donate to. For example, if you purchase an item on Instagram or Facebook Marketplace or donate to a fundraiser, businesses and nonprofits will only be permitted to use the email address provided with your purchase or payment for marketing purposes if you opt in.
Who sees my information and activity?
Only you can see your payment and transaction history within Facebook Pay. Your activity, such as payments or purchases, will not be shared with your friends or to your profile or feed, unless you choose to share it.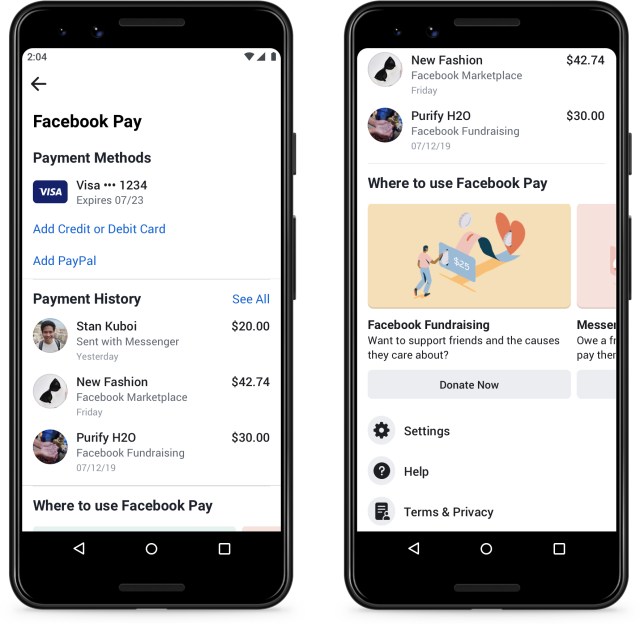 When buying from a business on Instagram or Facebook Marketplace, we'll share only the information needed to support the transaction, such as shipping and contact details, with merchants.
For more information, visit pay.facebook.com.
The post Privacy Matters: Facebook Pay appeared first on About Facebook.
Helping Prevent Discrimination in Ads that Offer Housing, Employment or Credit Opportunities.
iscrimination has no place on Facebook, and our advertising policies have long prohibited unlawful discrimination. Over the last year, our auditors have released two progress updates on Facebook's Civil Rights Audit and we reached a historic settlement with leading civil rights organizations. As part of the settlement, we introduced a new process for how advertisers based in the US, or trying to reach audiences in the US, can buy ads that offer housing, employment or credit opportunities. These ads are known as Special Ad Categories and are restricted from using the following targeting criteria: age, gender, ZIP code, multicultural affinity or any detailed options describing or appearing to relate to protected characteristics.The Latest News from Facebook for Business
Facebook Brings WhatsApp Integration to Its Revamped Crisis Response Tool
Social network giant Facebook is adding a WhatsApp button to crisis response tool, its disaster-reporting and communications feature where a user requests or offers help during a time of emergency. The tool is being used in 300 crises in more than 80 countries presently.
The new feature will allow people in affected areas to provide real-time information related to any disaster, TechCrunch.com reported on Tuesday.
Formerly, replies to requests on Facebook's crisis response pages could only be sent with Facebook Messenger.
The update allow the social network to provide this information to state and local officials, as well as federal relief agencies such as Direct Relief and the National Alliance for Public Safety GIS Foundation.
Facebook is also expanding its Data for Good tools, using its data to provide relief organisations with information on where to distribute supplies, based on aggregated, anonymised data.
Additionally, Facebook is also updating its disaster maps to be more accurate in collaboration with agencies such as the International Displacement Monitoring Centre.
The new features will allow for photo and video sharing within the Crisis Response centre on Facebook.
Crisis Response originally developed out of a handful of features that help family, friends and communities support one another in the wake of a disaster.
Facebook to Allow Transfer of Photos, Videos to Google, Other Rivals
Facebook started testing a tool on Monday that lets users move their images more easily to other online services, as it faces pressure from regulators to loosen its grip on data. The social network's new tool will allow people to transfer their photos and videos directly to competing platforms, starting with Google Photos. The company said it will first be available to people in Ireland and will be refined based on user feedback.
The tool will then be rolled out worldwide in the first half of 2020.
US and European regulators have been examining Facebook's control of personal data such as images as they look into whether the tech giant's dominance is stifling competition and limiting choice for consumers. Facebook CEO Mark Zuckerberg has reacted by calling for new rules to address "data portability" and other issues.
Facebook said that as it worked on a new set of data portability tools, it had discussions with policymakers, regulators, and academics in the UK, Germany, Brazil, and Singapore to learn about which data should be portable and how to protect privacy.
The company is developing products that "take into account the feedback we've received and will help drive data portability policies forward by giving people and experts a tool to assess," Steve Satterfield, director of privacy and public policy, said in a blog post.