Starbucks Holiday AR arrives on Instagram
The holidays are back, and whether you prefer your seasonal beverages pumpkin spice or peppermint flavored, Starbucks has some festive treats in store. Beginning November 7, patrons can enjoy four limited edition cup designs — each of which springs to life with its own augmented reality (AR) effect on Instagram from Facebook, helping to make the holiday season a little more magical.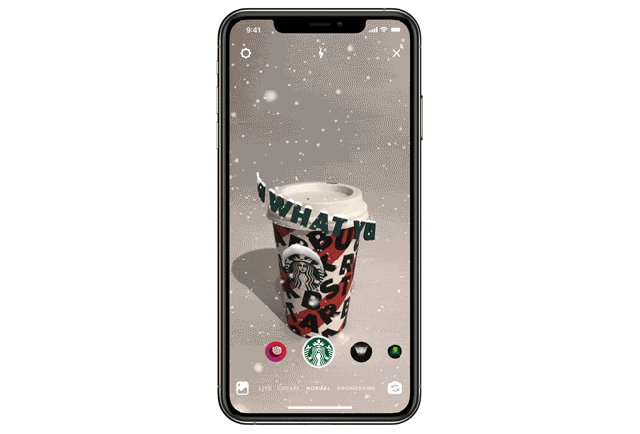 Sharing their holiday-themed cups on social media is already a tradition for many jolly coffee drinkers, and AR effects let Starbucks add a new layer of fun and interactivity to the experience. To join the fun, open Instagram, navigate to the Starbucks profile, and click on the effect gallery (the third button from the left). Select an AR effect, then click "try it" to open your camera. Next, point the camera at one of the holiday cups and watch as the magic unfolds. You can capture photo or video of the experience and share it to your Instagram Story — don't forget to tag @Starbucks to share your shots.
Starbucks built its holiday-themed AR effects using Facebook's Spark AR platform, including new computer vision technology that lets the camera identify which of the four cups it's looking at to trigger the correct effect. Target tracking lets the camera track the cup's location within its field of view and anchor the AR content onto it. A select number of Starbucks locations will also feature special signage to remind patrons to try the tech out in person.
Augmented reality helps people share special moments with family and friends in new and interesting ways. With the holidays approaching, we're excited to work with Starbucks to spread some cheer across Instagram. Now, the outside of your cup is as fun as the deliciousness inside it.
The post Starbucks Holiday AR arrives on Instagram appeared first on About Facebook.
Winners of our first Facebook Online Hackathon announced
Expanding on our annual Developer Circles Community Challenge and the in-person hackathons we held across North America last year, we were excited to launch our brand new Facebook Online Hackathon series for global developers earlier this month.
We know that building opportunities like hackathons are a great way for aspiring and experienced innovators to develop new skills, grow their networks and ship breakthrough solutions – whether they're creating their first-ever coding project to showcase in a job interview, or bringing that advanced engineering idea to life.
We also know that providing special access to product resources, mentoring and trouble-shooting helps set developers up for success when applying new technologies to solve challenges. That's why we're committed to supporting the journey and experience of all developers on our platform.
For our first hackathon in this new series, we opened up three tech tracks for participants – Artificial Intelligence (AI), Augmented Reality (AR) and Messaging – and offered up to $21,000 in cash prizes, as well as the opportunity to join us at our annual developer conference, F8 2021.
Given the many social issues currently arising around coronavirus (COVID-19), we were also inspired to see developers ship a range of projects aimed at addressing some of the challenges being experienced as a result of this global pandemic.
Our winners
Artificial Intelligence (AI)
Creating intuitive solutions using PyTorch
First place ($3,000 + an invitation, flights and accommodation for F8 2021):
Torch Drowsiness Monitor
A drowsiness and attention monitor for driving featuring PyTorch's Computer Vision
Second place ($2,500):
PneumoScan
A radiology tool built on PyTorch supporting the COVID-19 pandemic
Third place ($1,500):
hep-recommender
An AI-based system for recommending scientific articles
Augmented Reality (AR)
Building immersive solutions using Spark AR's World Effects
First place ($3,000 + an invitation, flights and accommodation for F8 2021):
Rabbit Coder
An AR solution teaching programming concepts in the form of a puzzle
Second place ($2,500):
COVID-19 Coronavirus
An educational AR experience on the virus, its impact, and prevention measures
Third place ($1,500):
RollercoastAR
A gaming experience enabling users to customize and create an AR roller-coaster simulator
Messaging
Empowering conversations using Messenger
First place ($3,000 + an invitation, flights and accommodation for F8 2021):
ReWise: AI-powered revision bot
An interactive Messenger bot to help students revise their coursework
Second place ($2,500):
Sign Language Dictionary Bot
A Messenger bot enabling users to upload to sign language videos for dictionary definitions
Third place ($1,500):
MathPhysy
An online tutoring service for maths and physics delivered through Messenger
Congratulations to these inspiring innovators and thank you to everyone who participated!
New hackathons coming soon
Remember, this is just the beginning. Keep an eye out for the next online hackathon in our series by signing up for our Facebook for Developers email newsletter.
For those keen to continue building, I also wanted to let you know about another special hackathon announced yesterday.
#BuildforCOVID19 Global Online Hackathon
We've seen time and time again that our developer ecosystem is passionate and purposeful about leveraging technology to deliver software that builds community and solves real-world problems.
As we all consider the timely and meaningful action we can take to tackle issues related to COVID-19, there's never been a better time for our community to ideate and innovate together.
I'd therefore like to take this opportunity to encourage as many of you as possible to join the new #BuildforCOVID19 Global Online Hackathon that is being supported by Facebook alongside other companies and platforms in the tech industry, as well as partners including the World Health Organization and the Chan Zuckerberg Biohub.
Submissions for the hackathon officially open on Thursday March 26; however you are welcome to register now to start brainstorming.
Thank you again to all of our hackathon participants around the world!
Together we can achieve more.
Pausing Individual Verification
In response to the coronavirus (COVID-19) outbreak, Facebook has been supporting the global public health community's work to keep people safe and informed. We've announced a number of actions we're taking to make sure everyone has access to up-to-date, accurate information, as well as steps to stop misinformation and harmful content while supporting global health experts, local governments, businesses and communities.
We also recently announced we're temporarily sending content reviewers home. We want to make sure our platform remains a safe place for people to connect during this time, but with a reduced and remote workforce, we must make temporary changes to our operations.
As a result, we've paused individual verification for developers. We'll resume verification as soon as we can. Business verification will still be available. We are continuing to monitor other impacts this may have on our processes, and we'll provide updates as the situation evolves.
While we're working to minimize disruptions, we anticipate that this change will cause inconvenience for our developer community. We appreciate your patience and partnership as we navigate through this unprecedented time together.
Messenger Partners with Developers to Provide Government Health Organizations with Free Services to Respond to Coronavirus Pandemic
Today, we're announcing two initiatives to support government health organizations in combating the coronavirus pandemic. We're partnering with our developer community to provide free services to government health organizations and UN health agencies to help them use Messenger to scale their response to the COVID-19 crisis. In fact, Argentina's Ministry of Health and Ministry of Innovation is launching a Messenger experience today to provide timely and reliable information about coronavirus. We're also creating an online hackathon and inviting developers to build messaging solutions that address challenges related to the coronavirus such as social distancing and keeping people educated and informed.
Free Developer Resources for Government Health Organizations
Communities around the world are dealing with quarantines and other disruptions to daily life because of the coronavirus outbreak. Our mission to help people connect and be closer together is more important than ever, and it's critical we provide people with full access to the latest and most reliable information. As is common in any crisis, people are using digital channels like Messenger to stay connected and get information from trusted health authorities that are on the front lines fighting this global pandemic.
To that end, we're launching a global program to connect government health organizations and UN health agencies with developers that can help them use Messenger most effectively to share timely and accurate information, and speed up their responses to concerned citizens. Our developer partners have offered to provide their services free of charge to these organizations during this crisis. Developers will help with things like automating responses to commonly asked questions, which can take some of the burden off of overwhelmed staff. They'll also show these organizations how to share updates with their audience most effectively and how to seamlessly transition from automated conversations to chatting with a live person when necessary.
Today, Argentina's Ministry of Health is launching a Messenger experience, with support from Botmaker.com, to answer questions from the public about the coronavirus, and to provide fast, reliable and official advice 24 hours a day. Organizations like UNICEF and Pakistan's Ministry of National Health Services, Regulations & Coordination (NHSRC) are also using Messenger to ensure people have the latest information about COVID-19.
Dr. Zafar Mirza, the Special Assistant to Pakistan's Prime Minister on Health, said, "Facebook's support on the global coronavirus crisis will be crucial for strengthening public awareness and empowering our citizens with key health tips that will keep communities safe in Pakistan and around the world. The Messenger experience allows our Ministry to scale our support and serve citizens seeking up to date information on the coronavirus, while keeping our helpline open for more critical cases."
Given the need to share timely information about the coronavirus is critical to keeping communities safe and informed, we are also making it possible for government health organizations and UN health agencies to proactively send important updates related to COVID-19 to people already messaging them.
Online Hackathon to Tackle COVID-19 Social Issues
We're also partnering with hackathon provider Devpost to invite developers around the world to participate in an online hackathon leveraging the Messenger platform to build messaging solutions that address COVID-19 issues like social distancing and keeping people educated and informed.
Participants will be encouraged to build both global and local solutions and will receive unique access to Messenger-related content, including Facebook Live tutorials with product experts and a range of educational materials to support innovation. Winners will get mentoring from Facebook engineers to help make these solutions a reality. They'll also receive invitations to attend F8 2021, including flights and accommodations, and will be given the opportunity to participate in the F8 hackathon.
Developers who are interested in participating can subscribe to the Facebook for Developers newsletter for updates.
We're committed to leveraging our resources and Messenger's reach, tools and technology to ensure government health organizations and UN health agencies around the world have the resources they need to share timely, accurate information on the coronavirus to keep people safe and informed.