Reach people who are actively shopping with ads in Facebook Search Results
If you do not wish to have your ad campaigns extend to general search results and/or Marketplace, do not select "Automatic Placements", and when selecting placements, make sure you deselect Facebook Search Results and/or Marketplace placements.
Advertising across the entire Facebook family of apps and services gives our system more opportunities to efficiently achieve results for your business. In a Facebook IQ study, we found that brands' audiences who saw ads across Facebook, Instagram, and Audience Network had 8x higher conversion rates than audiences only exposed to a single ad on Facebook.1
Additionally, internal Facebook research showed that opting-in to Facebook News Feed and Marketplace generally results in a lower cost per incremental lift for mid-funnel brand metrics than News Feed alone. This research also showed that consumers' perceptions of brand favorability and brand quality remained neutral or positive.
Introducing Star Wars-Themed Messenger Features
Excited, we are, to celebrate the premiere of Star Wars: The Rise of Skywalker, by giving fans the opportunity to share their passion for the movie through a series of limited-edition Messenger features that include a chat theme, reactions, stickers and AR effects. 
Designed in partnership with Disney, the features bring the Star Wars galaxy to your very own Messenger chats. The reactions and stickers allow you to express yourself using all of your favorite Star Wars: The Rise of Skywalker characters, from both sides of the Force.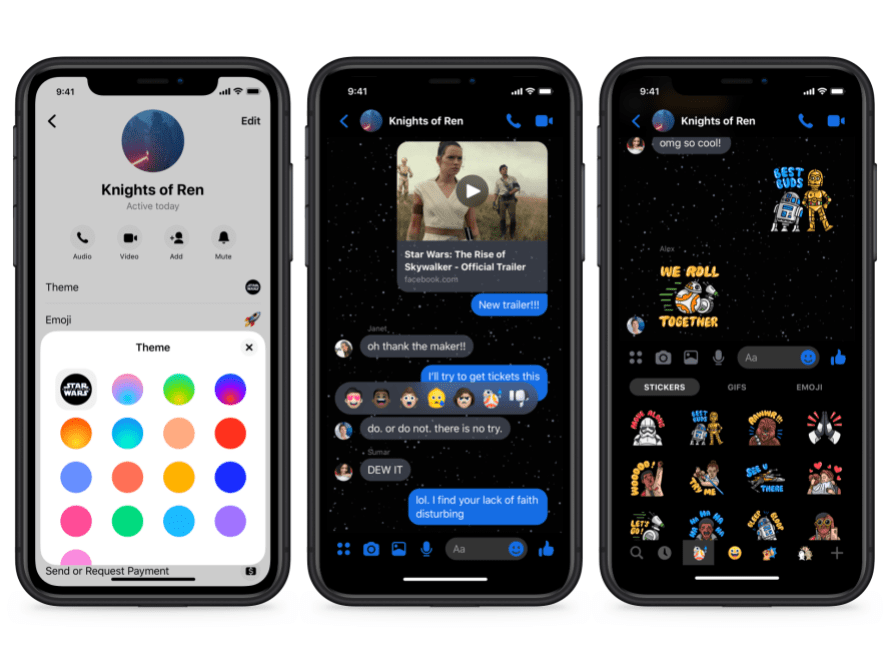 We've also teamed up with Disney to create limited-edition AR effects that will have you feeling like you're a part of the galactic action when you're making Messenger video calls and taking photos using the Messenger camera. First, jump into hyperspace and travel to a whole new world with the Lightspeed Effect. Then, you'll be able to see yourself as part of the Resistance, gliding through the galaxies in Poe Dameron's X-Wing with the Cockpit Effect. And don't forget about the battle of the Dark vs. Light side of the Force! Now, you can use the Dark vs. Light Effect to choose your side.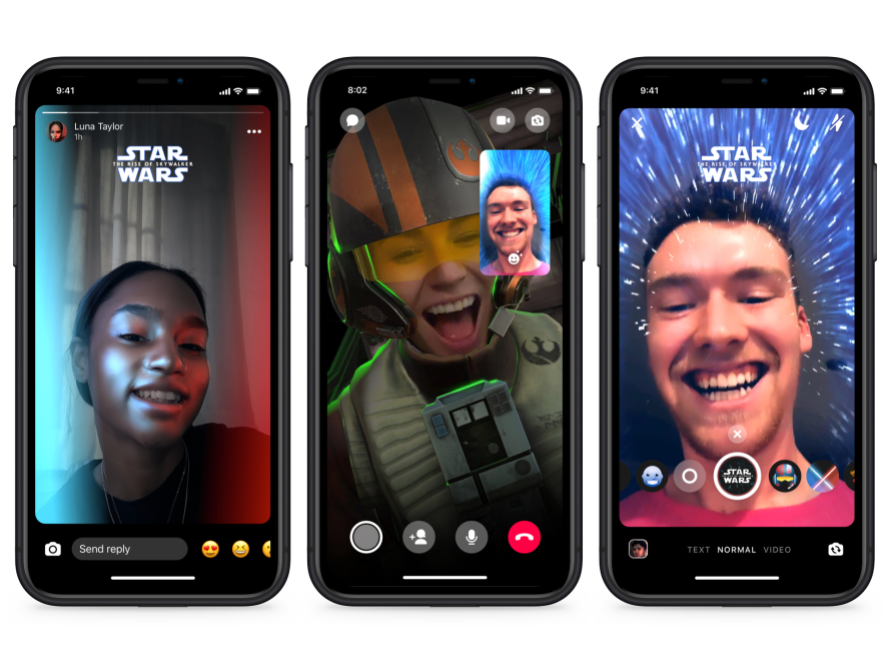 Messenger brings a community of over one billion users closer to the people, places and passions they care about. We are thrilled to be partnering with Disney as they premiere the final installment in the Skywalker saga, one of the most beloved movie franchises of all time.
To turn on the Star Wars chat theme, open a Messenger thread and tap the name of the thread at the top to open the thread settings. Then, select "theme" where you'll find the Star Wars chat theme. 
May the force be with you! 
The post Introducing Star Wars-Themed Messenger Features appeared first on About Facebook.
Social Commerce Market Expected to Deliver Dynamic Progression until 2028| Facebook …
The Social Commerce Market report gives a purposeful depiction of the area by the practice for research, amalgamation, and review of data taken from various sources. The market analysts have displayed the different sidelines of the area with a point on recognizing the top players (Facebook, Pinterest, Tencent, Weibo, Alibaba, Etsy, Fab, LinkedIn, PayPal, Qwiqq, Reddit) of the industry. The Social Commerce market report correspondingly joins a predefined business market from a SWOT investigation of the real players. Thus, the data summarized out is, no matter how you look at it is, reliable and the result of expansive research.
This report mulls over Social Commerce showcase on the classification, for instance, application, concords, innovations, income, improvement rate, import, and others (B2B, B2C, C2C) in the estimated time from 2019–2025 on a global stage. In like manner, the overall Social Commerce market report reveals knowledge identified with the type of product, its applications, customers, prime players, and various components agreeing with the account. This first data demonstrates critical contenders and their definite picture of the general Social Commerce market. Other than this, the report further demonstrates expected market power, challenges, and prospects in the Social Commerce market.
Request for Sample Report @ https://www.intenseresearch.com/market-analysis/global-social-commerce-market-2018-production-sales-supply.html#request-sample
The report gives a broad explanation of the presence of the Social Commerce market in different regions and countries. With an extensive regional analysis of the Social Commerce market, the research analysts make an attempt to unveil hidden growth prospects available for players in different parts of the world. They accurately estimate market share, CAGR, production, consumption, price, revenue, and other crucial factors that indicate the growth of regional markets studied in the report. They also shed light on the presence of prominent players in regional markets, and how it is making a difference in the growth of the regional markets. The main objectives of the research report elaborate the overall market overview on Social Commerce market dynamics, historic volume and value, robust market methodology, current & future trends, Porter's Five Forces Analysis, upstream and downstream industry chain, new technological development, cost structure, government policies & regulations, etc.
Social Commerce Market report segmentation on Major Product Type: Laptops and PCs, Mobiles, Tablets, E-readers, Internet-enabled TVs
The global version of this report with a geographical classification such as
North America (the United States, Canada, and Mexico)
Europe (Germany, UK, France, Italy, Russia, Spain, and Benelux)
Asia Pacific (China, Japan, India, Southeast Asia, and Australia)
Latin America (Brazil, Argentina, and Colombia)
The Middle East and Africa
Reason to buy Social Commerce Market Report : –
1) Breakdown of the sales data at the country level, with sales, revenue and market share for key countries in the world, from 2014 to 2019.
2) The Social Commerce competitive situation, sales, revenue and global market share of top manufacturers are analyzed emphatically by landscape contrast.
3) Describe Social Commerce sales channel, distributors, customers, research findings and conclusion, appendix and data source.
4) The details of the competitive landscape outlined in this report are likely to provide an analysis of the prominent industry vendors, their growth profiles, strategies, and tactics, etc., that would help investors in decision-making.
5) To project the size of Social Commerce submarkets, with respect to key regions (along with their respective key countries).
6) To strategically profile the key players and comprehensively analyze their growth strategies.
7) Focuses on the key global Social Commerce players, to define, describe and analyze the value, market share, market competition landscape, SWOT analysis and development plans in the next few years.
This report contributes an overall summary of the global Social Commerce market, including business perspectives, market strategies, assembles data related to various business firms, its year of establishment, contact information, market outline, sales revenue, industry segments, the business' most prestigious location, and regional presence. The report includes several plans and policies related to the Social Commerce industry, moreover, it describes the management process, product appearance, manufacturing cost, and market volume. In addition, the global Social Commerce market report implicates financial usage, the quantity of product, chain format, demand and supply ratio. This report justifies the various business trends followed by the marketing sectors as well as the distributors of the Social Commerce industry.
Inquiry for Buying a report @ https://www.intenseresearch.com/market-analysis/global-social-commerce-market-2018-production-sales-supply.html#inquiry-for-buying
The next part also sheds light on the gap between supply and consumption. Apart from the mentioned information, the growth rate of the Social Commerce market in 2023 is also explained. Finally, the possibility analysis of new project investment is done in the report, which contains a comprehensive SWOT analysis of the Social Commerce market.
Facebook closes Ayatollah Khamenei's Arabic page
TEHRAN – Facebook has closed the Arabic page of Leader of the Islamic Revolution Ayatollah Ali Khamenei, which had more than 100,000 followers.
According to Press TV, the page was closed after being recently put under restrictions for allegedly violating the social media giant's terms of service.
It comes as many observers have criticized Facebook for what they consider the U.S.-based company's political bias in dealing with online activity.
Last month, the U.S. State Department called on social media giants to take down the accounts of Ayatollah Khamenei and Foreign Minister Mohammad Javad Zarif amid protests over petrol prices, which prompted the government to shut off the internet.
"One of the things that we are calling on are social media like Facebook and Instagram and Twitter to shut down the accounts of Supreme Leader Khamenei, Foreign Minister Zarif and President Rouhani until they restore the internet to their own people," U.S. Special Representative for Iran Brian Hook told Bloomberg.
In recent years, social media giants – including Facebook, Twitter and Instagram – have closed thousands of accounts allegedly tied to Iran and Russia under the pretext of fighting what they call "misinformation" campaigns.
In August 2018, Facebook announced it had targeted hundreds of accounts allegedly tied to Iran and Russia.
"We removed multiple pages, groups and accounts for coordinated inauthentic behavior on Facebook and Instagram. Some of this activity originated in Iran, and some originated in Russia," it said.
The targets were identified as "networks of accounts misleading people about what they were doing," Facebook's chief executive Mark Zuckerberg said back then.
Among the accounts was one belonging to the Quest 4 Truth (Q4T) Iranian media organization, which promotes Islamic values.
Facebook further wrote in bold text, "We've removed Pages, groups and accounts that can be linked to sources the U.S. government has previously identified as Russian military intelligence services. This is unrelated to the activities we found in Iran."
The Facebook investigation was prompted by a tip-off from cybersecurity firm FireEye.
FireEye has claimed the Iranian activity included "anti-Saudi, anti-Israeli, and pro-Palestinian themes" and advocacy of policies favorable to Iran such as the 2015 nuclear deal, to which the U.S. was a party before pulling out in May 2018 in defiance of the international community.
"It really shows it's not just Russia that engages in this type of activity," said Lee Foster, an information operations analyst with FireEye.
Facebook said it had worked closely with law enforcement in both the U.S. and the UK on the investigation, and had briefed the U.S. Treasury Department and State Department as Washington has imposed sanctions on Tehran.
In a simultaneous move, Twitter Inc (TWTR.N) and Alphabet Inc (GOOGL.O) also acted on FireEye's claims and removed hundreds of accounts said to be tied to Iranian "actors," which are said to be promoting Iran's geopolitical agenda.